Hybrid Events Guide: how to plan your next hybrid event in 2022
Hybrid events continue to be a crucial part of the marketing roster.
In our latest guide, we explain why they are important and detail a step-by-step process to plan your next hybrid event.
In the past two years, changing customer expectations towards responsiveness and personalisation as well as pandemic-related restrictions have made digital outreach critical for event marketers.
The resulting digitalisation has led to a significant shift in the B2B event models.
Enterprises are reinventing their strategies to offer hybrid events that blend offline and online components.
These events can accommodate both in-person attendees and a virtual audience. This includes those who cannot travel to the venue or are still wary about attending physical meetups.
With hybrid events, organisers can provide the face-to-face experiences necessary at exhibitions and trade shows as well as curated digital journeys for prospecting, nurturing and closing customers.
So how do you leverage the physical and digital channels to organise a successful hybrid event?  
In this guide, we will cover:
What is a hybrid event?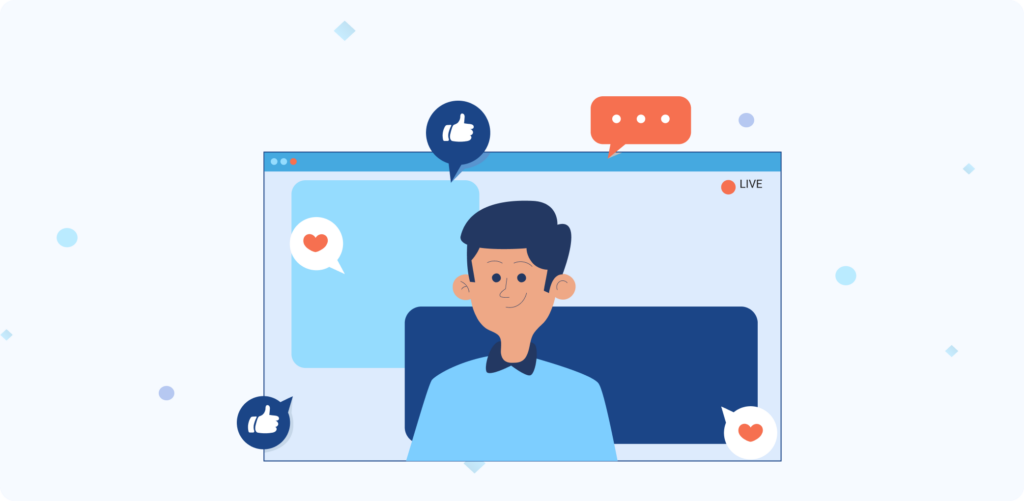 Hybrid events are a new type of meeting format that combines in-person interactions with virtual elements.
This allows participants to attend the event physically at the venue or online from a remote location.
The definition of a hybrid event has become more expansive today. They are considered unified experiences that meaningfully bridge the live and virtual audiences. The in-person and online events can be hosted simultaneously or separately as per the needs of the organiser.
Difference between physical, virtual and hybrid events
New event planners might feel confused about what hybrid events are and how they differ from traditional meetings.
Here's a simple explanation:
Physical events are in-person gatherings where you can meet and interact with other attendees and exhibitors. These events happen at a physical location such as conference halls and convention centres.
Virtual events are held completely online where participants can log in from any part of the world, communicate and connect through the online event platform.
Hybrid events include elements of both physical and virtual events and allow for a more flexible and accommodating experience for attendees.
Why are hybrid events important?
In 2020, virtual events grew in popularity as 'quick fixes' for cancelled and postponed in-person events.
This allowed the events industry to stay connected and keep their business operations afloat.
After two years, it's a remarkably different picture today.
Vaccine mandates and safety protocols at venues have made people feel more comfortable meeting face-to-face again.
Organisers are also returning to physical shows at a faster pace than before, as this report shows.
Despite this, the digital element will continue to play an important role for the following reasons:
Flexibility

Convenience

Lower operational costs

Ability to deliver marketing campaigns at scale

I

nsulate events from any potential physical disruption 

New avenues for content sharing, exhibiting and sponsorship

Create new revenue streams and lead generation opportunities through online channels
In fact, 54% organisers believe these 'phygital experiences' (physical + digital) will play a crucial role in the future.     
This is because a full return to live can be at risk due to several factors. This can be the threat of new Covid variants, uneasiness among attendees towards physical events (especially those with pre-existing medical conditions)  as well as issues like cost, distance and accessibility.
What are the benefits of hybrid events?
Hybrid shows are a great way to bring together a large group of people from geographically diverse backgrounds.
Anyone from a remote corner of the world can participate if they have a computer and internet connection.
You essentially lower the barrier to entry for both demographics – those who want to attend, but can't, and those who are unsure if your event is worth their time.
This increases your reach immensely, as you broadcast your event to a larger audience than ever could be possible in person.
Here are some other advantages of hybrid events:
1. Greater flexibility
Hybrid events offer a greater level of flexibility in the event of travel disruptions.
Hosting a live event with no digital fallback is risky especially when technology is so accessible and prevalent.
Hybrid events add to your portfolio to ensure you have a successful event, no matter what.
2. More sponsor opportunities
Hybrid events offer sponsors multiple opportunities for sponsorship, including increased reach and reportable metrics.
Sponsors are always on the look for new ways to justify their expenses these shows can provide data to back up these expenditures.
They can be valuable for sponsors in a number of ways – including the increased lead pool and the ability to communicate with interested parties 1:1 as well as online virtual attendees.
3. Reduced environmental impact
Reduced travel has had a significant impact on the environment. For example, when the lockdown was in force, the global average road transport activity fell nearly 50% from 2019 by the end of March 2020.
Hybrids events reduce headcount requirements and help in moving towards carbon neutrality.
Moreover, the increased focus on sustainability and 'net zero' indicates organisers will continue to lean on digital to fulfill their corporate social responsibilities.
4. Feed your marketing pipeline
Repurpose and reshare digital content to keep a steady stream flowing to your audience.
Streaming your event also has the added benefit of ensuring you don't forget to record anything.
You can also determine future marketing campaigns from attendee interactions with your previous content.
5. Improved return on investment (ROI)
Hybrid events offer increased ROI due to their greater reach and scalability.
A virtual event platform doesn't require crews for set-up and take-down and can scale down live events while scaling up their online presence.
As a result, the bottomline is reduced, top-line revenue rises and cost of customer acquisition also goes down.
6. Valuable data
Hybrid events provide valuable data that is difficult to measure offline.
This includes data on attendees' actions and engagement, as well as website clicks and social media posts.
By collecting this information, you can better serve your attendees and turn them into customers.
Checking how many people your posts and theirs reached will give you a better idea about how your event affected brand awareness.
It helps you answer questions like:
How many repeat attendees attended your event?
What indicators did your event give you about what kind of products a lead is interested in, or how qualified they are?
How much of your yearly revenue can be attributed (at least in part) to your events or touchpoints within your events?
Utilising data collected about your audience demographics and behaviours will enable you to personalise your sales and marketing approach.
This in turn will help you to convert your attendees into customers and drive revenue.
Examples of hybrid events
Case study 1: Informa Market's Global Licensing Team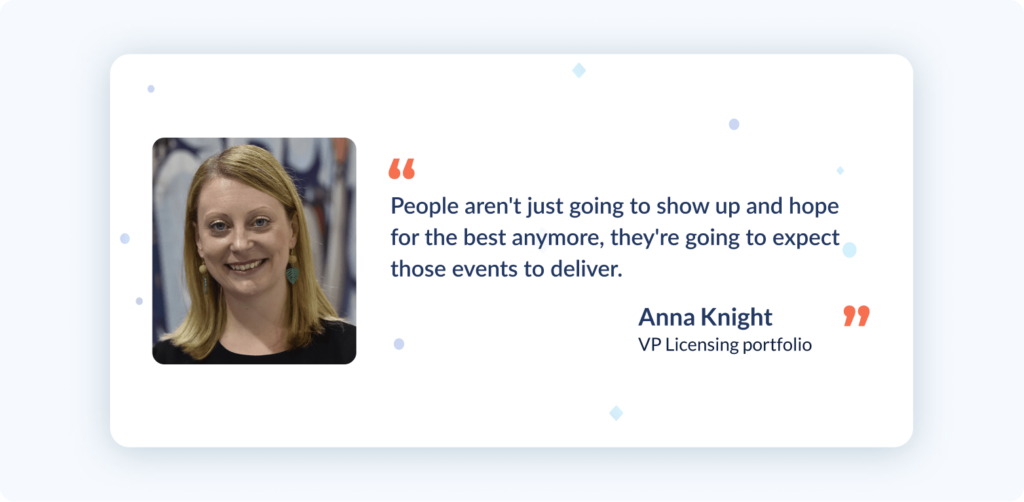 More than three-quarters of event professionals believe there is a digital skills shortage when navigating the online transformation of the industry, according to a poll.
Anna Knight, vice-president of licensing at Informa Market's Global Licensing Group (GLG), restructured her team when the pandemic struck.
Even though the outbreak forced GLG's hand, the result was no temporary measure.
They now had a new strategy and an enriched proposition for a rapidly evolving audience. 
By the second half of 2020, Anna's team had begun asking questions of both its exhibitors and attendees to establish what they would want from a hybrid event in 2021. 
She told ExpoPlatform:
"We talked about the idea of a simultaneous hybrid event and it tested poorly.
"When customers are onsite they really only want to concentrate on those meetings, they don't want to have virtual meetings at the same time. 
"What came out of that was that when they are at in-person events, they miss out on certain connections, they miss out on people that kind of walk past their booth, or perhaps have a five-minute conversation with someone but wanted that conversation to be longer – or to involve other team members."
GLG developed a system that enabled follow-up by tracking activity throughout the event – an integral part of its hybrid trade show model.
Combining the lead-retrieval data of the in-person event with the accountability of the online system would provide attendees with the best of both worlds.
Anna said:
"The online event now has a dual purpose, the first purpose being for those who weren't able to attend in person to still have some kind of event experience.
"Secondly, this follow-up idea where perhaps you only had a very short conversation with a customer and you want to use this online event to follow up with them."
Attendees were convinced of the value of the hybrid proposition as it:
Combined the serendipity of a live event with the accountability of an online event
Offered an unprecedented level of personalisation
For more on this case study read our full review.
Case study 2: Pet Fair Beijing 2021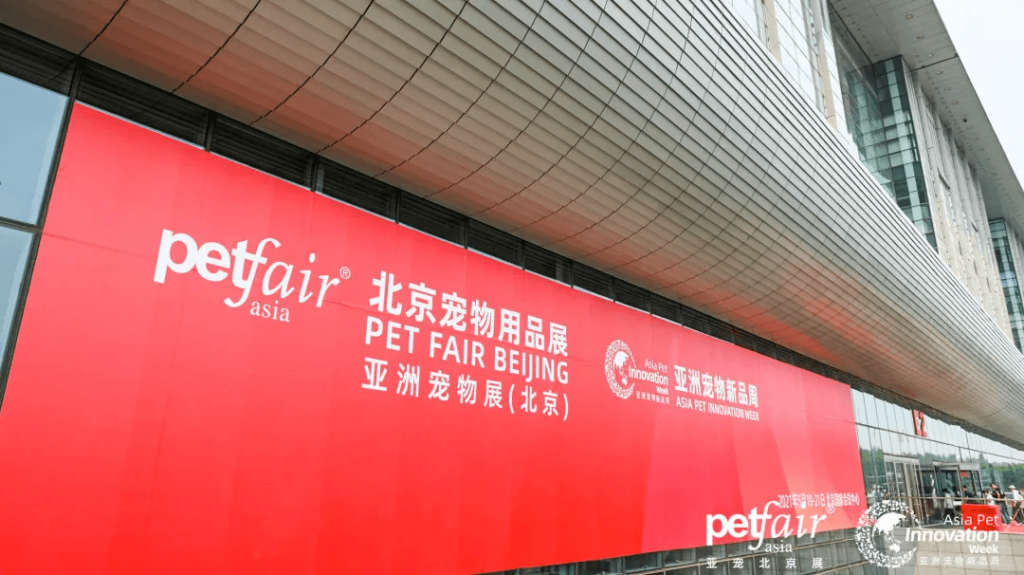 Pet Fair Beijing is a trade show organised for pet supplies in the Asia Pacific region.
It primarily caters to pet industry manufacturers and brand distributors across North China.
In 2021, the organisers VNU wanted to cater to the international market but travel restrictions played spoilsport.
They decided to opt for a hybrid format – the physical show would be held at the Beijing National Convention Centre and a virtual counterpart for their international audience.
VNU tied up with ExpoPlatform for their event tech needs as they required a platform with:
Strong matchmaking functionality
Virtual sponsorship and monetisation tools
Multilingual facilities to connect global buyers and local exhibitors
The ensuing event generated significant interest from overseas buyers. Using the hybrid format helped the organisers shine the spotlight on new Asian products and successfully opened up new markets for business dealings.
Read the full case study here.
Types of hybrid event models
Organisers can consider different hybrid event formats depending on the needs of their audience and business goals.
These goals revolve around education, networking and brand promotion.
Community-based model
For exhibitions and trade shows, a community-based model is a great option.
This can be in the form of a year-round marketplace where buyers and sellers can connect with each other and conduct business activities any time.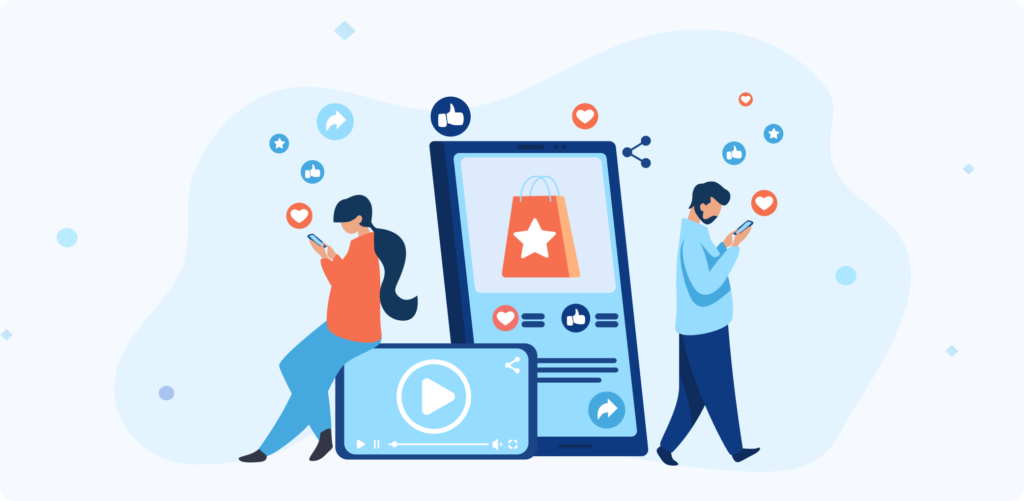 A hybrid event model based on a community-driven approach would have:
A large annual live event as the main engagement forum for participants

A series of virtual events that cover niche topics in great detail, modeled after the primary event, such as a webinar series

Digital networking sessions like Happy Hour meetups, one-to-one sessions and group meetings

365-day membership subscription to a community-based marketplace. A platform like this would bring together buyers and sellers, allow them to share new content and announce product launches on a regular basis.
Learn more about how to build and nurture an online marketplace to support your events with our free ebook the Marketplace Blueprint.
Global digital model
This model uses digital channels and allows you to pitch domestic events with a potential international following to global audiences.
It's a cost-effective way to reach out to new customers and maximise your business and networking opportunities.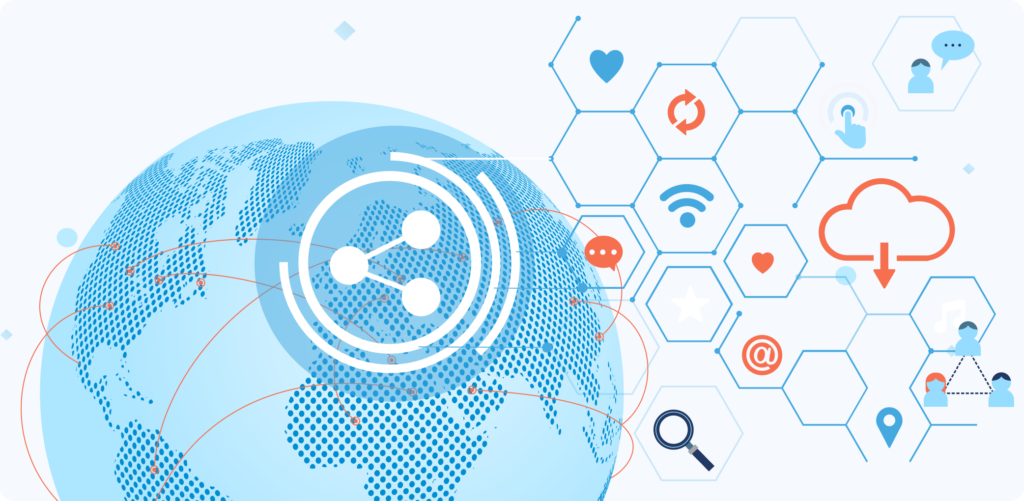 A global digital hybrid event model can be set up as follows:
Set up a local physical event with hosts and moderators in person. This will facilitate smooth transitions from live audiences to virtual audiences.

Build parallel digital events linked to the main event but with a regional flavor. Bring onboard language translators and industry professionals from these regions.

Stream live sessions online to increase the event presence effect.
Networking-focused model
Networking events are popular as they allow people to focus on building new business relationships, cementing existing ones and exploring new opportunities. These events include industry conferences, roundtables, trade shows and exhibitions.
A networking-focused hybrid event model mixes three main elements: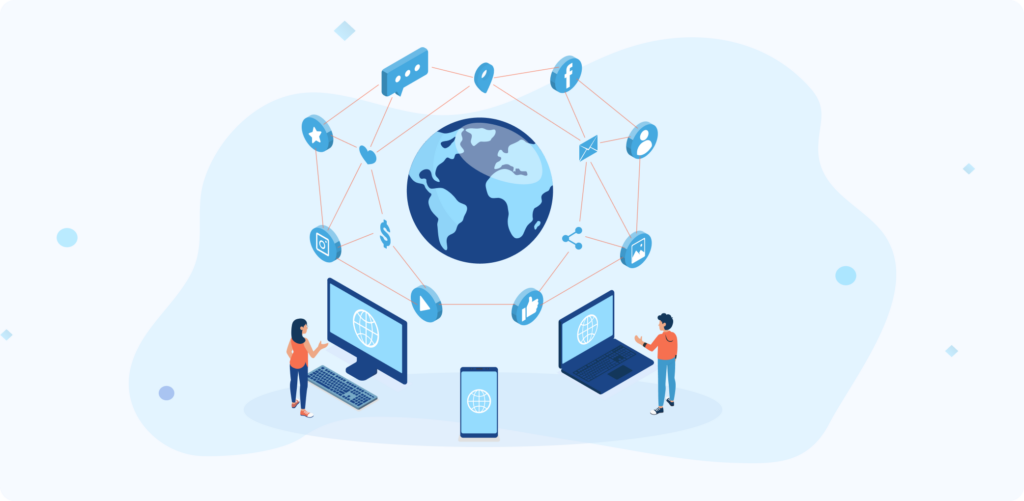 A main physical event where a limited number of participants are allowed according to local safety regulations.

Digital networking events held before and after the main event – attendees can connect and interact with each other, aligning their goals and business interests.

On-demand training and workshops for attendees in different time zones.
VIP experience model
Many event participants are willing to pay a premium to get an exclusive experience at business events. For these participants, the extra fee is worth the curated VIP experience that provides them greater value and opportunities.
A hybrid VIP-experience model would include: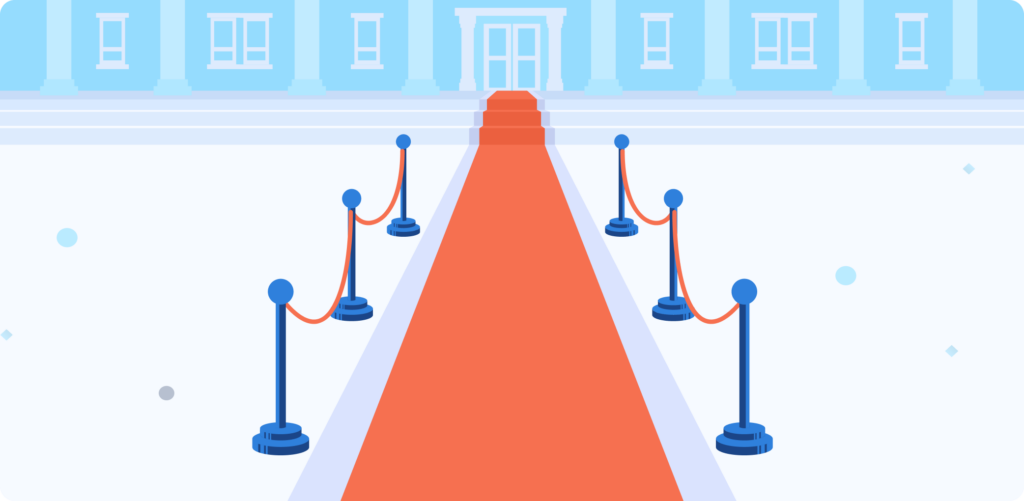 A main live event accessible to all participants, but with paid access to exclusive content, training and workshops for continuing education credits.

Personal VIP access to session speakers and industry experts through one-on-one virtual meetings.

Additional opportunities to sponsor and exhibit, access to hosted buyer programmes and advanced analytics to gauge virtual engagement success.
Before adopting one of these models, it is important to lay out your goals and objectives to build a feasible hybrid event solution. This will help you decide exactly what features and functionalities serve your event.
Four Golden rules to create a successful hybrid event
#1 Quality matters. Ensure the production values are top-notch 
A hybrid event with high production values immerses your audience into the experience and boosts engagement significantly.
Since many attendees are likely to sign up virtually, it's important to provide them a premium, cinematic feel right at their homes, just like watching a big-budget Netflix movie.
To ensure a top-class experience, it's important to hire a skilled production team. They can attend to the technical aspects as well as handle the venue requirements such as audio/video (A/V), WiFi, conference rooms, designated spots for live-virtual meetings etc.
Here's a list of things to focus on:
Make sure there is proper lighting for live streaming.

Check all the computers, AV equipment, mics and HD cameras days before the event.

A technical support team should be available at all times. These can include a video recording crew, photographers, sound engineers, video engineers, event tech platform staff etc.

Test the live stream several times before the event goes live. Smoothen out any potential issues around video, audio and conduct integrity tests and dry runs beforehand. If there are any lags, faulty sound or frozen screens, you won't be getting any good press!
#2 Keep your remote audience engaged
Live events provide numerous tangible experiences to engage attendees. These can be showcases, exhibitor booths and face-to-face meetings.
In comparison, virtual attendees have a world of distractions to deal with and just one notification can drift them away from an online session.
Organisers can use different strategies to keep the remote audience engaged, such as:
Crafting highly personalised event journeys from the first touchpoint to the last

Offering language translation support for participants in different countries

Having virtual emcees to navigate through sessions and encourage participation

Online event moderators to handle queries and comments in live chats

Gamifying activities on mobile event app such as quizzes, contests, leaderboards using social media hashtags
#3 Select a reliable event technology platform that meets your needs
An event technology platform that meets your goals and weaves the in-person and virtual experiences seamlessly is key to executing successful hybrid events. 
The platform you select should offer a broad array of tools and functionalities for both offline and online audience engagement, management and marketing.
This includes built-in features for registration, meeting and messaging, speaker management, online networking, lead capture, webinars and more.
The best way to find out what works for your event is to:
Test out different demos

Present any specific requirements to event tech providers

Check their prior experience in hosting a similar show
Ensure you take the right precautions before choosing your online event platform.
#4 Spread your entire event over several weeks, even months!
An effective way to make your event more accessible it spread it over a few months instead of sticking with the conventional 3-day model.
How would this work?
The first step is to bring together your target audience on a single platform, preferably an online community or marketplace. 

You can start building buzz around your event by conducting webinars, virtual get-togethers, educational sessions, training and workshops. The level of engagement in these online sessions can be analysed to shortlist your attendees.

Once this event concludes, you can again conduct follow-up webinars and sessions on your community platform. Sharing teasers of future events and other promotional activities adds new audience numbers.

This new pool of new and existing members can be nurtured for business opportunities and promote your future events. It creates a cyclical process that provides more value, leads and business growth, year after year. 
Now that the rules are clear, it's time to do a deep dive into actually planning a hybrid conference or exhibition. 
Reade what industry-leading experts recommend for building virtual and live events in the future.
A step-by-step guide to planning a hybrid event
When creating a hybrid event experience, you must pay attention to all aspects involved before, during and after the event.
Here are some insights on the skills to manage this format.
Below is a detailed guide to help you plan a successful hybrid event.
Before the event
Step 1. Build your audience
With hybrid events, you can significantly increase audience participation by reaching out to the right people across the globe.
The greater accessibility offered by virtual events means there are endless opportunities to get more people signing up.
To reduce the noise, you need to build a carefully curated list of your target audience. You can segregate them on the basis of age, gender, location, occupation, job role, job seniority, hobbies, interests, social media groups they are active and more. For an exhaustive list, refer to this checklist. 
Knowing how to use attendee data to better target your audience is key to achieving your organisation's goals. Read our guide to using this information for hybrid events.
Set up a year-round event community:
Digital is a big factor in the planning and execution of hybrid events.
Building your event audience should not be a one-off activity but happen all year round. 
A popular way to do this is by creating an online marketplace that brings your potential audience together and primes them for collaborative business opportunities and negotiations.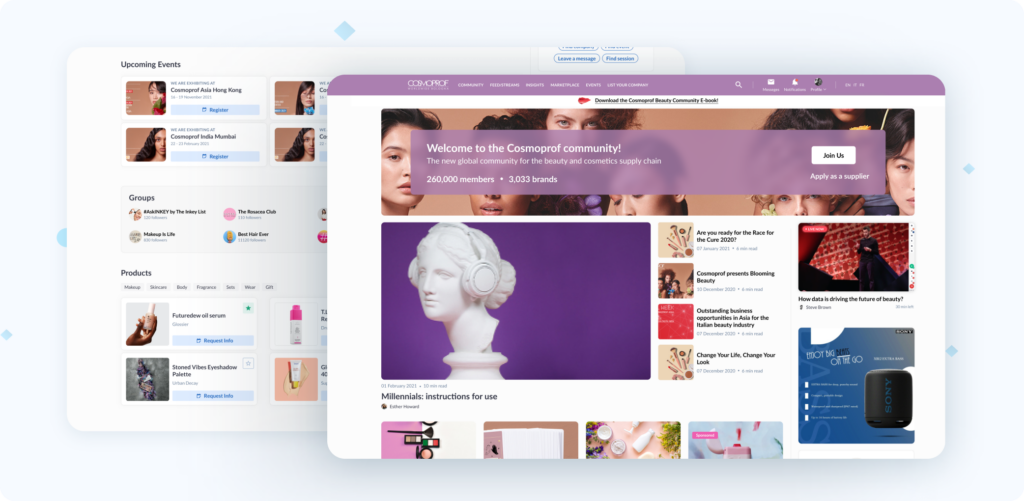 On this marketplace, your audience – the buyers and sellers can interact with each other, read and share content, discover new products, sign up for newsletters, attend webinars and receive communication for your events. As an organiser, you can create targeted communication for members showing greater engagement with your event promotion posts.
This helps create an 'ever-available' pool of attendees for your next hybrid event.
Step 2.  Set up your event marketing tools
Create event website
A responsive, SEO-friendly event website allows you to communicate the value of your event to visitors and provide the necessary information.
You can share details like the event agenda, speakers, sessions, exhibitors list and other special offerings. 
It is essential to create one that has an eye-pleasing UI. This means having an interactive lobby on the home page to attract visitors as well as functions like messaging, branding and sponsorship options to encourage industry interest.
Build mobile event app
An intuitive, user-friendly mobile event app serves as a powerful tool of engagement for in-person attendees at the hybrid event.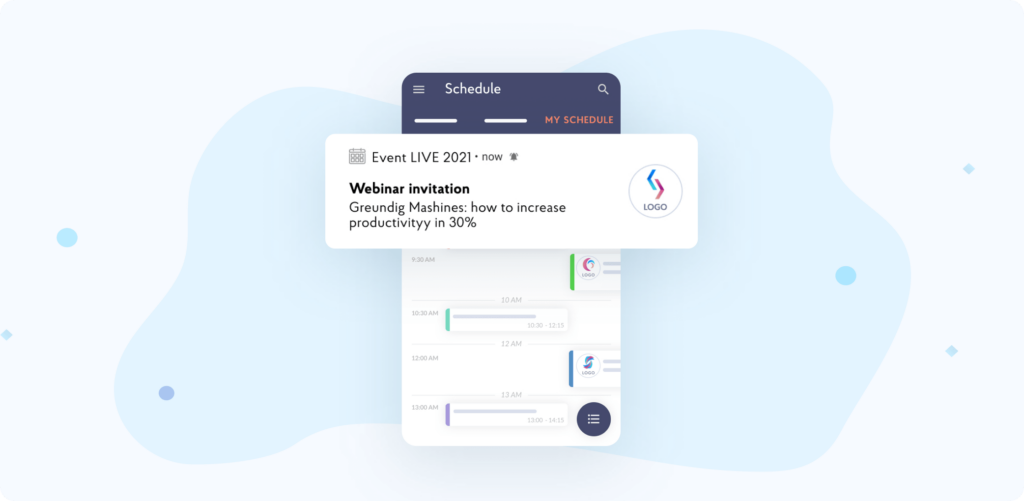 Attendees can download the event app from the Google PlayStore and App Store. They can use it to navigate around the event venue, network with other participants, set up meetings, send messages, participate in polls, surveys and do a lot more. 
With a mobile event app, you can keep attendees engaged throughout the event by sending reminders, alerts, news, event updates via push notifications.
Bear this in mind: event technology connection and real-time attendee data are the priorities for boosting hybrid event marketing, according to a survey.
Step 3.  Event registration
For online registration, attendees can fill out the form on the event website or through integrated third-party apps and social media profiles. They can pre-fill the different fields if they are an existing member of the community or by following a personalised invite link.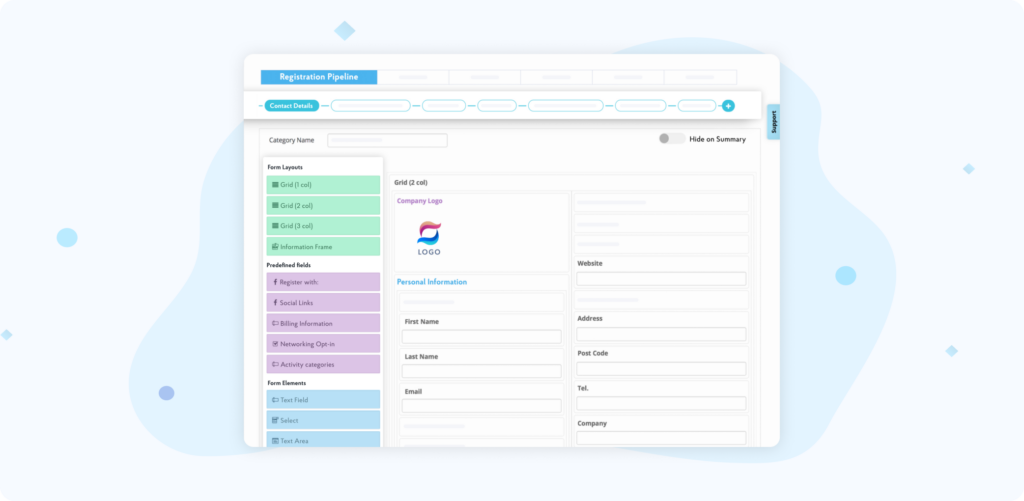 The registration process can be supported by the following features:
Payment processing

. PayPal and Stripe are among the most popular options among event tech providers. Participants can purchase premium access and get exclusive benefits including individual sessions with speakers and industry experts, training and workshops, access to early product demos and more.

Abandoned forms

. At times, attendees fill out part of the form but get distracted or are unable to complete it. The abandoned form features enable them to start right from where they left off, with their details saved.   
Step 4.  Connecting your audience
AI matchmaking
Once registration is complete, the information provided by attendees and exhibitors, as well as their past behavioural patterns, is used for AI-powered matchmaking . They get personalised recommendations to connect with relevant people, content and products.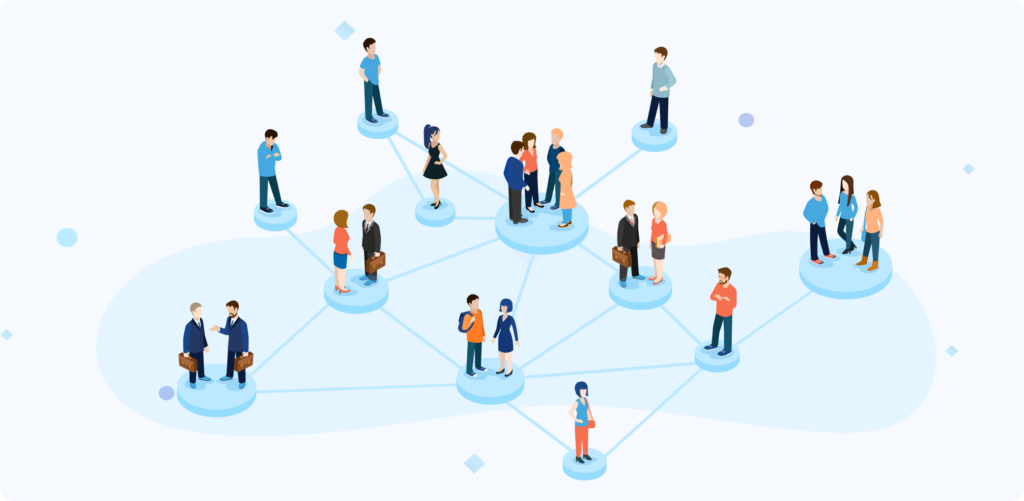 The matchmaking algorithm is dynamic in nature and keeps improving based on the decisions made by the attendees. Whether the suggestions made are to their liking or not, one can indicate through a thumbs up and down and get more options until they find the perfect match. 
Messaging and meeting scheduling
Once the attendees and exhibitors have made their meeting selections, they can use the event website or the mobile event app to connect with their preferred matches, send them personal messages and set up meetings.
Depending on whether the event participation is virtual or in-person, the meetings can be arranged online through virtual meeting rooms or at physical locations. The scheduler displays the availability of participants and their respective time zone to help online attendees around different parts of the world connect with ease. Once confirmed, the meeting is added to the event agenda of those participants.
Step 5.  Hosted Buyer Programme
You can create high-level networking opportunities at hybrid trade shows by connecting exhibitors to pre-qualified buyers (usually a senior executive with strong decision-making powers) through a hosted buyer programme.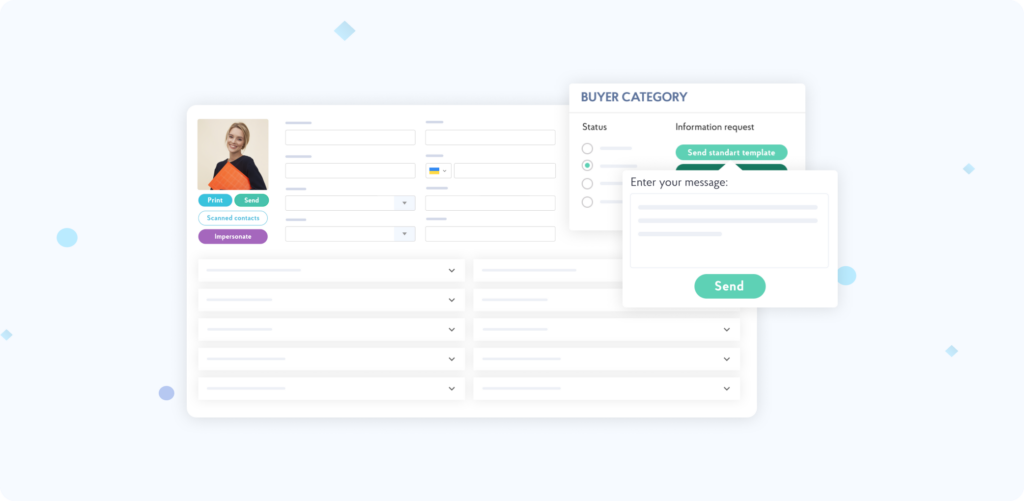 You can craft a personalised hosted buyer experience by using an AI-powered hosted buyer management platform,. This increases the sales potential and ROI of your event. Here's what the attendee journey looks like:
Visitors register on the platform and are onboarded to the dashboard after they are qualified by the organiser.

The buyer/visitor can browse and request their own meetings through recommendations made by the AI-matchmaking software and also receive meetings suggested by the organiser.

The buyer can accept or reject the meetings, which happen both online and at the event venue. Once the meetings are over, they can provide feedback, which is recorded on the data-driven dashboard.
Read about ExpoPlatform's hosted buyer partnership with Rego to offer customers VIP concierge and digital sales services.
During the hybrid event
Step 6.  Accessing the event
Virtual attendees who are part of your online community can gain online access to the hybrid event as part of their existing membership. Their profile is pre-populated onto their dashboards and they can edit fields like contact details, professional information, and matchmaking settings.
For new registrants, visitor profiles include information and preferences filled during the event registration. These can be edited any time.
The dashboard for virtual attendees also provides an overview of meeting statistics, profile completeness, profile activities and other analytics.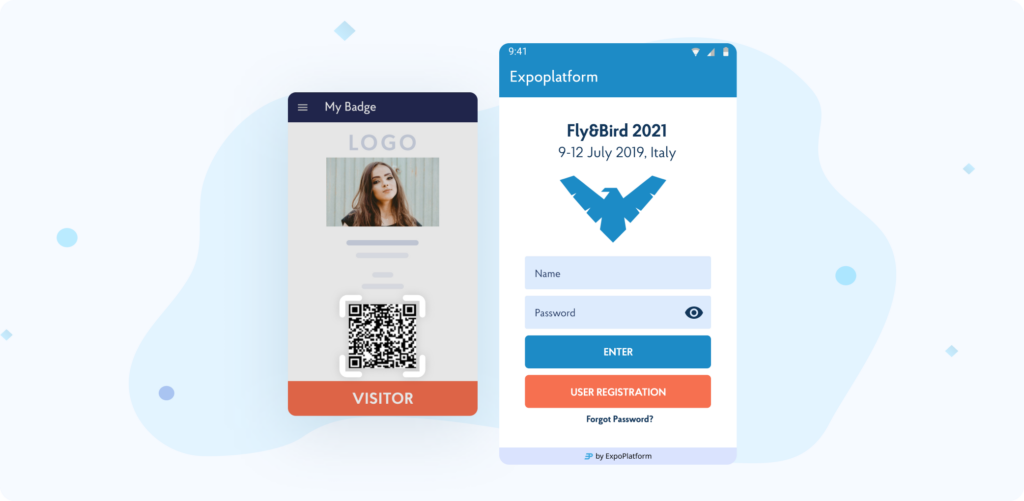 Physical attendees have different options to log in to the event. They can:
✔ Download the official branded event app from the Apple or Android app store and sign in using their usernames and passwords from registration.
✔ Use the visitors' Digital Badge page on the app to gain contactless access to the event (beneficial in case of stringent safety regulations). Alternatively, they can download and print a badge in advance from the event platform. 
Step 7.  Navigating the event venue
The event app provides in-person attendees with a hassle-free navigation experience to move around the show and explore different meeting rooms, breakout rooms and exhibitor booths. Attendees can navigate through the event with indoor mapping and wayfinding. The routing functionality is based on users entering where they are, and where they are heading to.
An interactive 3D floor plan can be used to build a customised layout of the event venue with clearly defined conference rooms, exhibition stands and stage areas. This floor plan is easily accessed from the mobile event app, allowing attendees to smoothly navigate from one location to another.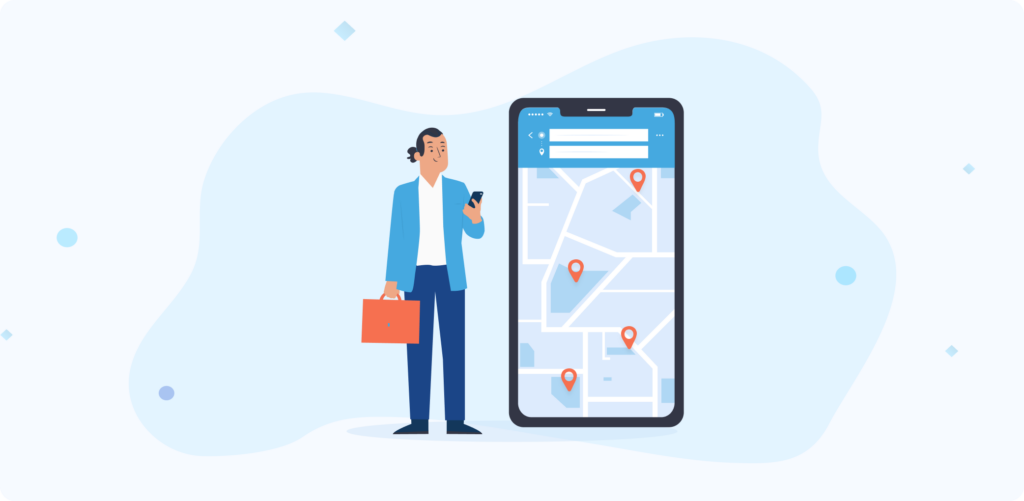 Step 8.  Hybrid event content delivery
The effectiveness of content delivery is a key factor to the success of your hybrid event. Based on your event goals (educational, promotion, networking), you can deliver your content in different formats (check hybrid event models section) depending on which is the most engaging for your live and virtual audiences.
For instance, speaker sessions, keynotes and breakouts could be live-streamed, while other content like videos and presentations can be pre-recorded. Since attendees would be located in different time zones and unable to attend all the sessions, the content at hybrid events should be available on-demand, during and after the event. 
It's also important to plan a sponsored content strategy that allows sponsors to customise their brand content at the event venue, on the virtual platform and within the mobile event app.
Important points to keep in mind:
Use live Q&A sessions, social media feeds and live chats to encourage both physical and online attendees to post their comments, share content and ask questions

If you live stream your in-person sessions, keep them concise and to the point, as the virtual audience tends to have a shorter attention span

Host multiple live sessions for Q&As and breakout topics so your geographically diverse virtual audience can easily participate

Certain sessions and presentations can be shared with those who couldn't attend the event, whetting their interest for the next event
Step 9.   Connecting with Exhibitors
Interacting with virtual stands
While in-person attendees can simply walk up to different exhibitor stands at the venue, the virtual audience can visit the exhibitor's online profiles and explore digital exhibitor stands on the event platform. 
Event participants can chat with service representatives, browse and favourite products, request information and explore content such as company brochures at the online stands to indicate their interest for potential business opportunities.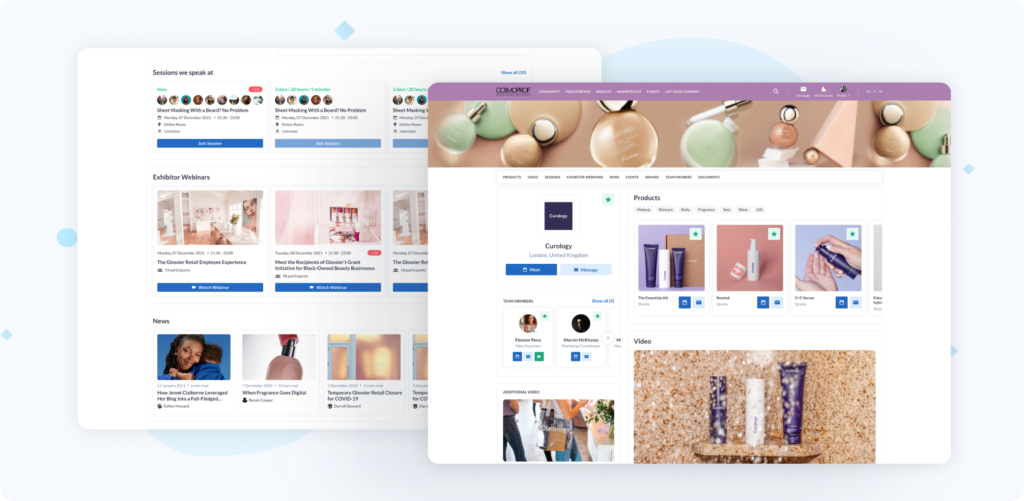 An example of this can be seen through hybrid booths introduced by Rego – which they estimate can allow exhibitors convert around 40% of leads at shows they don't even attend in person.
Lead Capture
Exhibitors can scan the digital or physical badges of attendees through the badge-scanning features in the exhibitor section of the event app. The attendee information can be saved in the exhibitor's repository of contacts and used to qualify potential leads, among other things.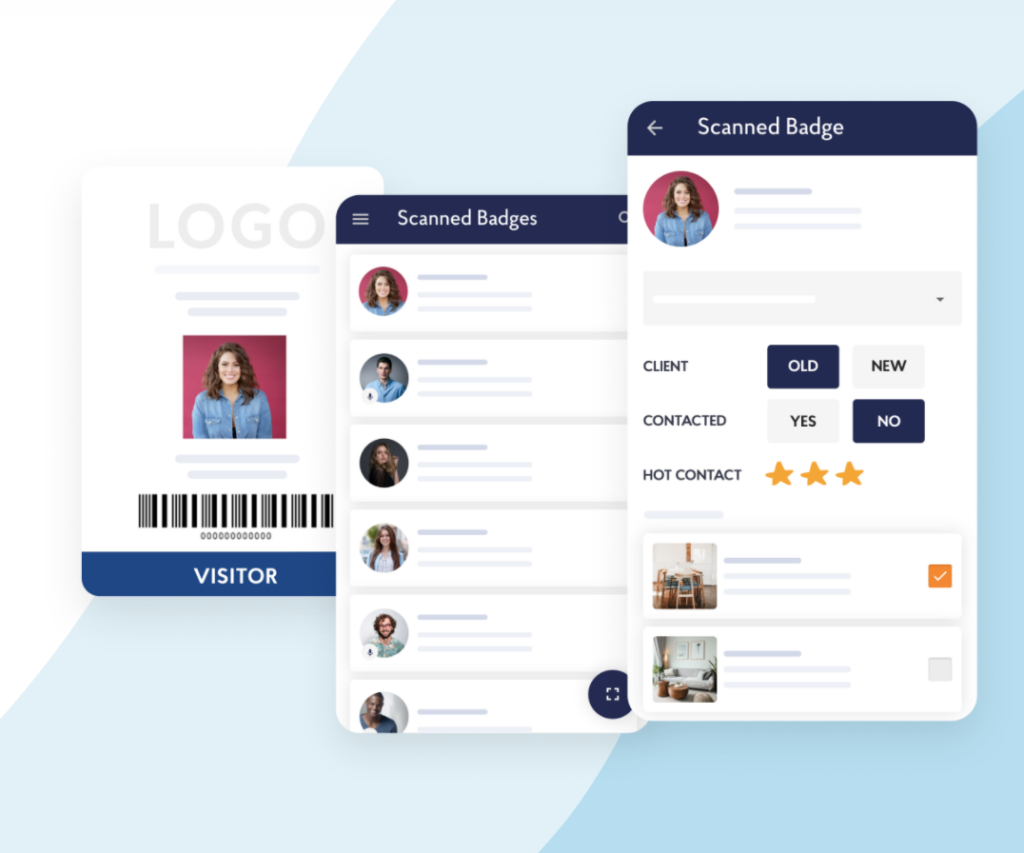 You can use lead capture technology to:
Scan barcodes and QR codes on the mobile event app and capture real-time attendee data

Segregate scanned contacts as per ratings and add notes to contextualise interactions

Get data-driven reporting for contacts list using analytics dashboard
Both the above steps allow exhibitors to rate and categorise leads, helping them streamline the lead management process.
Read here to find out more about to best use attendee data from your hybrid event.
Step 10.   Attending Meetings
After the initial conversations and discussions, meetings are scheduled and added to the event agenda.
Notifications in the event platform and mobile apps are triggered in advance to alert the attendees about an upcoming meeting.
The meetings are held at a predetermined location like a booth or a breakout area for physical attendees where exhibitors can scan and check you in, while virtual attendees simply need to select the online option and sign in virtually. 
There can also be dedicated online meeting points at the event venue where physical and virtual attendees can connect with each other at a mutually convenient time.
After the event
Step 11.   Measuring the impact of your hybrid
The hybrid event's success can be measured by analysing the post-event analytics. These include all virtual event metrics such as profile views, attendee engagement, likes and favourites, clicks on sponsored ads and banners, directory searches and more.
Similarly, the physical event scans and in-person meeting data is stored for analysis and reporting purposes.
Exhibitors and organisers can view all these analytics and numbers through their respective dashboards. This also allows them to easily export data into CRMs to generate insights for post-event follow-up and improve the attendee journey for future events.  
Final step –  Post-event activities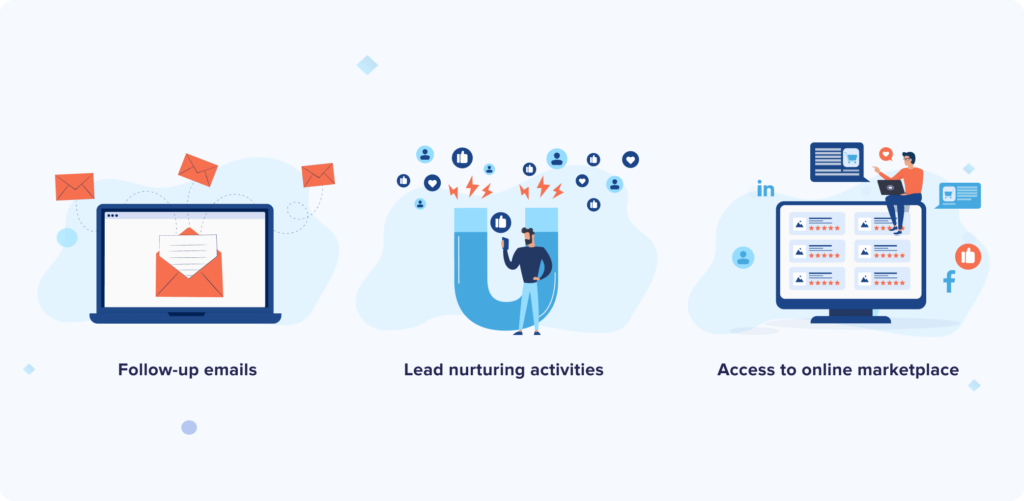 Keep your audience engaged and nurture them into potential leads through these activities:
Follow-up emails
A well-crafted email highlighting the major talking points of different sessions and attendee feedback is the easiest way to connect with your audience after the event. These emails can include:
Links to downloadable content such as eBook, white papers, presentations

Access to replayable, on-demand content like different event sessions and webinars

Incentives to attend the next event
Lead nurturing activities based on attendee engagement score
Attendee interactions and actions at both online and offline touchpoints can be evaluated and assigned an 'engagement score' to nurture leads. Following are some lead generating activities you can consider:
Schedule meetings and consultation calls to understand the attendee needs in detail

Share relevant content to help them make an informed decision

Offer a live demo or free trial of the products and services available
Sharing access to online marketplace
Encourage attendees to join community forums on the event website or social media channels like LinkedIn. For hybrid exhibitions and trade shows, onboard buyers and sellers to an online marketplace where they can connect all year round. This will serve as a common platform to drive productive conversations, conduct business and provide a ready-made pool of attendees for your next hybrid event. 
Download The Hybrid Blueprint to get experts insights and tips to create successful hybrid events. Here's what you will learn:
Conclusion
There are now more ways than ever to increase engagement and revenue in our industry than ever before – but some are still not seeing the digital opportunities.
Timothy Skennion, managing director of Derabo Advisory Group, believes too many organisers are missing out on monetisation through a hybrid event model because they are "hyper-focused" on in-person exhibitions.
He told ExpoPlatform: "For the innovative event producer, hybrid events provide a blank canvas for reinventing the event experience – for attendees and sponsors alike – through unlimited formats, content and engagement opportunities.
"I have advised organisations to embrace hybrid events as an opportunity, as opposed to viewing them as a burden. 
"I believe that hybrid events create new and measurable opportunities to enhance the attendee experience and drive increased value for sponsors – opportunities that are limited at purely live or digital events."
Once post-event activities conclude and you have a fresh set of engaged prospects and leads, you have an opportunity that must not fizzle out.
Complete the circle by helping your new and existing audience play an active part in your event community.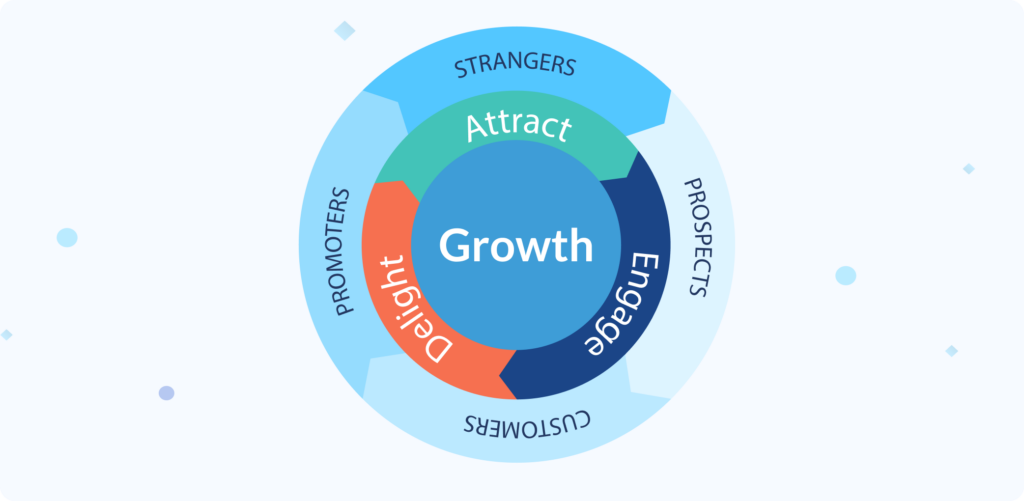 This way, you can effectively make the transition from the traditional linear funnel model to the 'flywheel model' where your past and future marketing activities will trigger each other to create a perpetual lead generation engine, boosting business growth both in the short and longer-terms. 
We hope you enjoyed reading this article and found it useful. At ExpoPlatform, we want to help you build better events and communities. Please get in touch and ask for a demo here. Thank you.
Editor's note: This post was originally published on March 30, 2021 and has been updated for accuracy and the latest event industry trends.