Organisers 'missing out' on hybrid event monetisation
Many organisers are missing the monetisation opportunities of a hybrid event model because they are "hyper-focused" on in-person exhibitions, according to an industry leader.
Timothy Skennion, managing director of Derabo Advisory Group, believes physical shows – in their legacy form – no longer present the same opportunities as they did before the pandemic.
He pointed to the large number of virtual options now available which he thinks could put off a potential attendee from buying a ticket to a live event.
However, Timothy urged organisers to "embrace" the hybrid future by exploring what opportunities there are to further monetise audiences.
He told ExpoPlatform: "For the innovative event producer, hybrid events provide a blank canvas for reinventing the event experience – for attendees and sponsors alike – through unlimited formats, content and engagement opportunities.
"I have advised organisations to embrace hybrid events as an opportunity, as opposed to viewing them as a burden. 
"I believe that hybrid events create new and measurable opportunities to enhance the attendee experience and drive increased value for sponsors – opportunities that are limited at purely live or digital events."
Timothy believes not all organisers are willing to embark on this approach as the industry has not typically been good with technological progress.
He said: "There is a reluctance. Maybe it's just because it's ingrained in the minds of the event producer, an industry that historically has not been terribly innovative. 
"I think many conference producers or organisers are still hyper-focused about delivering on the day of the event. 
"They are missing opportunities pre and post-event to drive engagement and ultimately monetise both their attendees and sponsors."
His comments come as an Event MB State of the Event Industry Survey reports only 10% of event professionals have found new revenue sources from switching to virtual over the pandemic. 
Meanwhile, 68% claimed future exhibitions would follow a hybrid model and 51% said their in-person events would be smaller.
Only 16% said their shows would be the same size when they return, with 12% saying they would remain virtual.
The digital transformation was put on turbochargers last year when the pandemic forced organisers to face up to a virtual future.
A number of formats were pursued and experimented with, including everything from trying to recreate a live experience to trying out augmented reality technology.
Despite "apprehension" from event producers, Timothy believes now is the time to capitalise on the potential brought through hybrid events.
He said: "Over the past year, event organisers have been forced to pivot from live events to virtual events, and are now forced with making the inevitable move back to – or inclusive of – live or hybrid events.
"There has been noticeable apprehension amongst conference producers as they make the shift towards hybrid events and this apprehension is understandable."
He pointed to a number of questions organisers might have about this growing format.
'I see them as terrific opportunities'
Among these include what the definition of a hybrid event is, whether expectations of attendees differ from those at a purely live or virtual event, as well as how to create and measure value.
Timothy added: "As an organiser considers the expectations of both attendees and sponsors, they must be mindful of the return on investment (ROI) of both of these constituencies. 
"From an attendee's standpoint, it's their time – for sponsors, event sponsorships represent a  significant marketing investment. 
"For event producers, the apprehension comes around how they can ensure that they are meeting their sponsor and attendee expectations. 
"Beyond that, what can they improve upon the typical experience? 
"With hybrid events – going back to what I see as an opportunity to implement technological innovation that have really scaled over the last year – there's some apprehension from companies about which technology solutions to partner with, how to implement, how to get the most out of them. 
"These are just new challenges that they need to operate around, but I see them as terrific opportunities they need to exploit."
An example of how opportunities from a hybrid format are being missed can be found in the Event MB survey, which had 9% saying there were no positives from the switch to virtual.
However, 38% said they had experienced an increase in reach and 9% said it gave them "long-term community engagement" – as well as the 10% who said they had found new revenue sources.
For more information about planning a hybrid event read our complete guide.
Timothy believes one of the biggest opportunities for organisers arising from this transformation comes in user data.
The managing director said he "recognises" the concerns around how that attendee information is used, but told event producers to focus on how it can be used to improve experiences for the visitor and sponsor.
His comments come amid an industry debate over control of this data, as not all event technology platforms handle this information in the same way.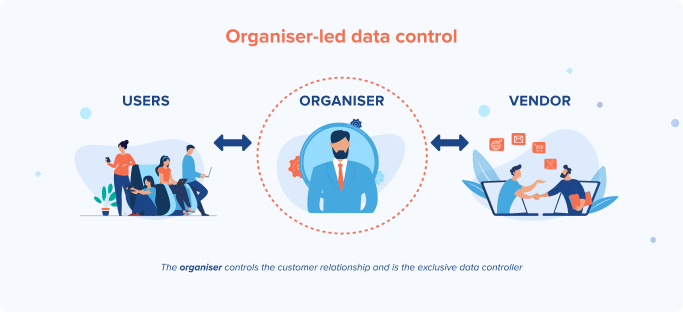 It was sparked after an UFI panel discussion involving online event platform leaders who set out their stances, which was then followed by an UFI Connects debate involving organiser CEOs.
An organiser-led model sees the organiser own the relationship with their customer as data controller, with the technology platform as the processor for the duration of the contract.
This information can be used for a single event or multiple events in a portfolio to make for a seamless journey.
In a vendor-led model, it is the platform that can own the direct relationship with your customers and share that data with other organisers.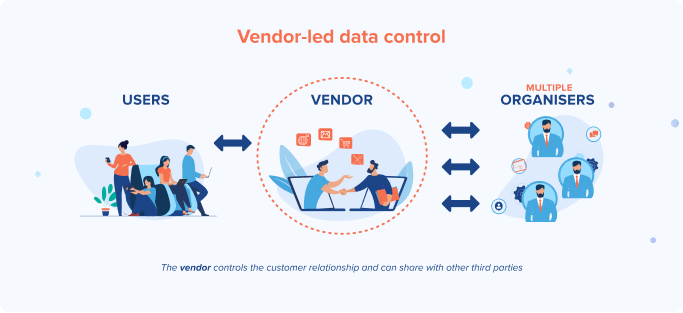 Timothy added: "I appreciate the concerns over attendee data – especially given the ongoing questions related to ownership of attendee data – but I would focus on the opportunity. 
"You have such detailed, nuanced and actionable data points available which didn't exist a year ago. 
"From my standpoint, it's less about ownership and more about how an organisation leverages this data to learn more about their attendees to ensure that they can meet their individual needs – based on what the data tells them – while providing increased value to sponsors.
"It's about being able to deliver content in real time, based on certain data points that you are  able to collect – whether it is collected during the registration process, through a pre-event nurturing process, post-event – whatever it might be. 
"To me it's more about how one identifies and acts on these new opportunities that this influx of data provides."
Here is our quick summary of the data policies from some of the main event platforms: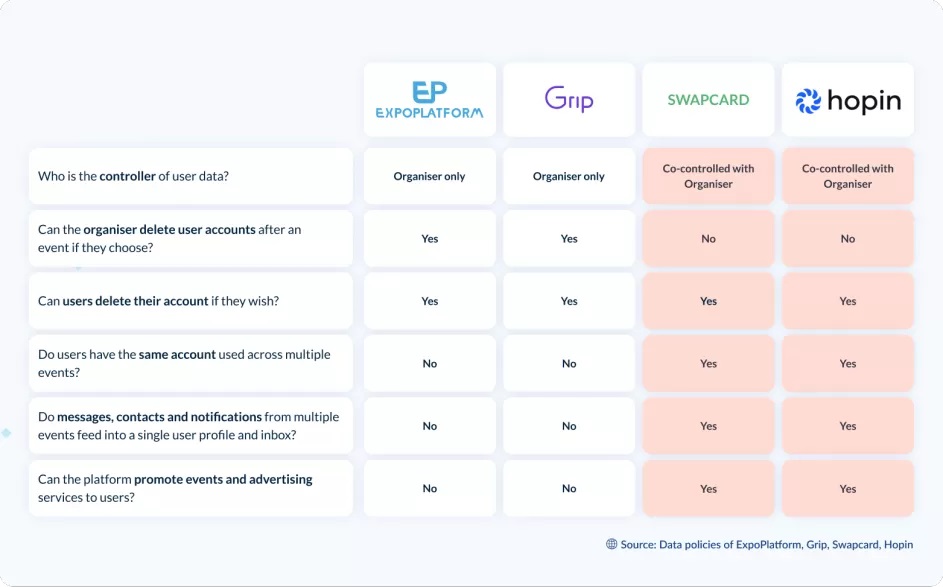 ExpoPlatform estimates there is around 20 times more attendee information available through online vendors than purely physical shows.
This growth in information opens doors to a number of new ways to increase value for attendees and sponsors, according to Timothy.
But to do this event producers need to start thinking about options which are available to them "pre-event and post-event", which he believes must involve creating a 365 community through an online event platform.
The benefit of such an approach is it can increase engagement year-round by delivering "always on" content, marketplaces which can traffic leads over 12 months as well as virtual or hybrid events.
Vendors such as ExpoPlatform allow organisations to target potential customers and engage existing ones throughout the year, with a seamless experience from articles, to webinars, to hybrid events.
Timothy added: "From a monetisation standpoint, I think there's much less of an opportunity to monetise your attendees on the day of the event than a year ago. 
"Attendees can be overwhelmed by virtual event options – many of which are free of charge – and as such, they are less likely to buy a ticket. 
"Event producers must force themselves to think beyond the day of the event and find opportunities to engage and monetise their audience pre-event and post-event. 
"To provide opportunities for their sponsors to engage with attendees pre-event and post-event, thereby extending the value of sponsor investment from one day to, ideally, 365 days."
The Event MB survey – which had 401 responses from event professionals – found almost 50% reported an increase in attendance since switching to virtual, with 9% saying it was a "dramatic" rise.
However, 24% of the respondents raised engagement as the biggest challenge to switching to virtual – an area where Timothy sees massive potential.
He believes the route to making a success of a hybrid future comes through delivery of high-quality live events and then continuing to create opportunities to engage with customers afterwards.
This could be through content programmes, subscription opportunities as well as future paid-for events.
In terms of sponsors, he believes their expectations are the same from a virtual event as they are in the physical sphere.
This is that they still want to gain access to a targeted audience, share their thought leadership and expertise and drive qualified leads.
'Event producers need to decide what they are trying to accomplish'
Timothy said: "By creating an incredible event experience and keeping attendees engaged post-event, event organizers can create additional opportunities to monetise their audience post-event – extending event investments for all stakeholders well beyond the day of the event. 
"It's about understanding what's important to attendees today that might not have been a year ago. 
"What expectations do attendees have that they may not have had a year ago? The same is true with sponsors. 
"Ensuring that, as an event producer, you remain aligned with both your attendee and sponsor expectations."
Organisers can also use tools to engage audiences before an event, thereby building anticipation and interest of what is yet to come.
Timothy added: "Event producers need to decide what they are trying to accomplish. 
"What is their end goal? What value are they attempting to drive? What competitive differentiation are they trying to achieve? What sponsor experience are they trying to deliver? What attendee experience are they trying to create? 
"From there – what tools, solutions, resources, and strategy do they need to implement to get there? And ultimately how are they measuring success in a quantifiable way?"
Download ExpoPlatform's Hybrid Blueprint ebook and learn how to make a success of hybrid events.
Transformation Stories is a six-part series with exclusive insights from industry leaders about the future of events.