Virtual event monetisation: an organiser's complete guide
A wealth of options for virtual event monetisation have opened amid the digital transformation our industry has been through since 2020.
ExpoPlatform's latest ebook – the Monetisation Blueprint – sets out how organisers can make the most of opportunities brought through these new channels.
This includes extending the life cycle of your in-person show through online content, driving up digital revenue and engaging with communities year-round.
Luke Bilton, ExpoPlatform's chief growth officer, said: "More than anything it needs leadership to fully commit themselves to the new exhibition model – to set a clear, ambitious path towards building an omnichannel business that connects buyers and sellers throughout the year, combined with a firm belief that in-person events will remain the high point of engagement."
While we have previously set out a brief walkthrough on how to drive digital revenue, here is our complete guide on virtual event monetisation.
Here's what all we will cover:
Read on for expert insight, in-depth analysis and easy-to-follow steps to make the most of this new landscape.
Virtual event monetisation – what is different?
The move of exhibitor marketing spend to digital has been accelerated out of necessity caused by the pandemic.
A recent Exhibition Think Tank (ETT) survey of members showed how organisers are expecting this investment to shift following Covid-19.
Spending on pure tradeshow activities is predicted to decline, with exhibitors anticipated to increase investment in digital content, hybrid events and training of their own teams.
Research suggests planners will be shifting their budget model to place more emphasis on virtual event monetisation.
It is expected this digital component is going to rise from just 2% before the pandemic to 25% moving forward.

Stand sales are also expected to drop from 78% to 50% of the revenue mix. 
It comes as 83% of B2B buyers surveyed in a McKinsey study have found digital – either ecommerce or remote sales – to be equally or more effective than the traditional approach.
Lessons can be learnt from the business-to-consumer world in how online marketplaces such as Amazon saw a huge increase in sales during the pandemic – and continues to dominate.
Learn how to set up your own online marketplace with our free Marketplace Blueprint.
The choice for organisers is to either be part of the online buying and selling, or to miss out entirely.
This shift to online has come alongside a change in consumer priorities – they now value outcomes over ownership.
The subscription economy has grown by 435% over nine years with the move in that direction looking like it will keep accelerating, according to Zuora research.
Netflix, Spotify and Amazon Prime have all succeeded with this model.
The message is clear: people want more control over how they work, connect and purchase.
This subscription model creates predictable, recurring revenue streams for businesses and can be used by exhibition organisers to have suppliers subscribe for a year of activity rather than a one-off event.
What virtual event monetisation solutions are there?
There are three main types of sponsored digital solutions for virtual event monetisation: thought leadership, branding and lead generation services.
Virtual platforms can give an organiser a large amount of inventory before, during and after an event.
Here's a rundown of some of the available options:
Branding

Online advertising
Event sponsorships
Mobile app sponsorship
Community group sponsorship
Podcast sponsorship

Thought leadership

Sponsored conference sessions
Sponsored editorial
Breakouts and workshops

Lead generation

Marketplace profiles
Webinars
Ebooks and whitepapers
Push notifications
Download the Monetisation Blueprint for an easily adaptable guide for maximising these monetisation opportunities.
Segment you client base
Organisers should package their inventory into a series of easy-to-buy bundles with pricing to reflect the value your customers will receive at each tier.
This is because not all exhibitors are equal, with a wide range of budgets and expectations.
An important consideration when drawing up your digital packages is to have solutions which will suit companies of all sizes.
Luke has explained how any organiser aiming to hit the 25% digital revenue target should have a package which is easy to roll out across an entire client base as the first step in boosting this part of the budget.
He told how the "long tail" segment of clients account for around 70% of customers and targeting them is crucial to raising digital revenue to 25%.
Luke said: "To grow revenues from 2% to 25%, you should start with the long tail of exhibitors, which can account for more than 70% of digital revenue.
"Only then should you offer higher-value sponsorship of the new products you've created to your bellwether and mid-tier clients and get their buy-in to help you develop and grow."
He added: "It feels like the days of digital just being 5% of the profit and loss are long gone."
The major and mid-tier accounts should then be offered higher-value sponsorship of new products which have been developed.
Higher-range packages can then be sold to mid-tier and "bellwether" key accounts, with each priced relatively and with potential to be paid for annually.
A monetisation journey
This leads to the idea of building a virtual event "monetisation journey", a concept which has been developed by MBB-Consulting Group.
The aim of this approach is to bring live and digital B2B products together in a way that makes sense for exhibiting companies.
It should also allow them to get visibility and leads throughout the year.
One element is the physical stand, but there are also other virtual event monetisation opportunities to offer within the industry such as online panel discussions or digital product presentations.
A subscription model may be suitable here, where an exhibitor can choose to pay an annual fee for a touchpoint package which includes a certain number of digital and live elements.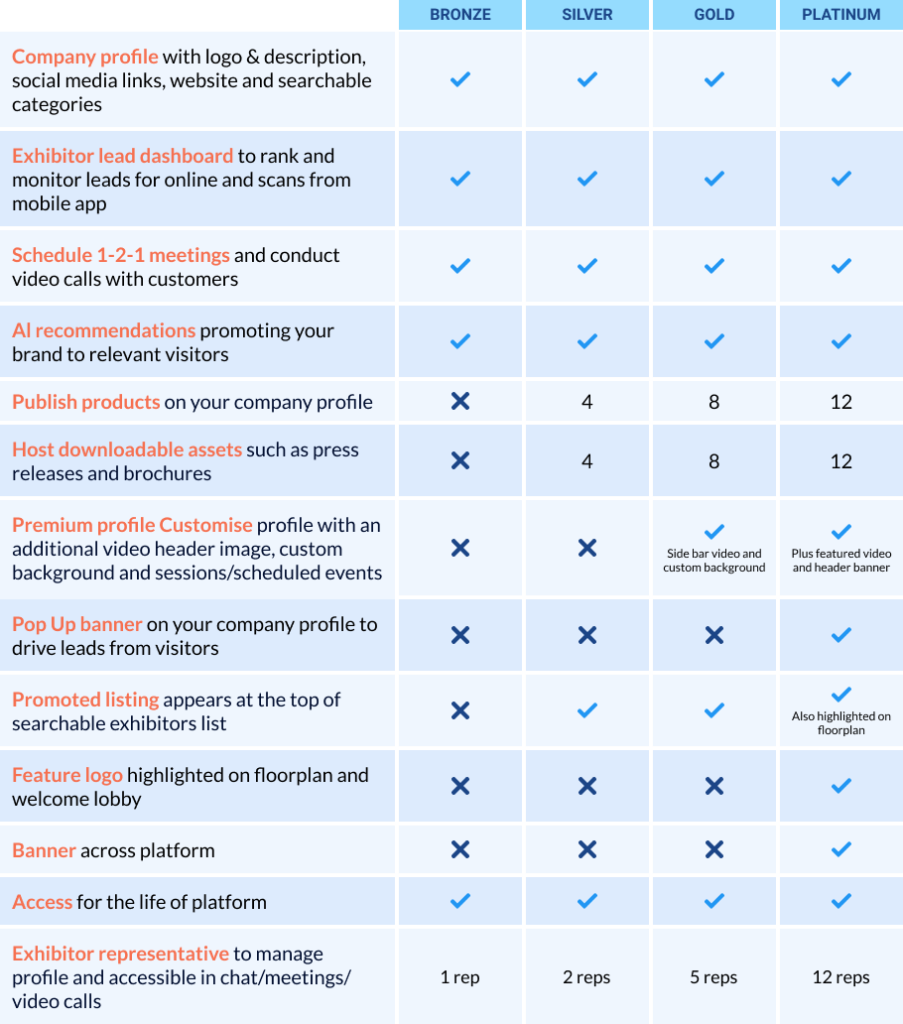 For instance, a basic plan "monetisation journey" could see a smaller firm purchase a tabletop of about 20sqm for a live event with an online product tour for one month and a virtual panel discussion at another time of year.
This foundation subscription would be the base level offering sold to all clients, while a large business would then be able to pay for extras on top of that.
For instance, it could include a stand of more than 50sqm in a physical show as well as two panel discussions, two industry talks, an online award, online stand and virtual product tours across four months.
It is important this monetisation journey is designed with three elements in mind: exclusivity, urgency and purpose.
Exclusivity:

a limited inventory of in-person and online options is a tried and tested way to encourage bookings. 

Urgency:

these options can have limited availability – such as spaces sitting in on a panel discussion – which makes it important to reserve tickets sooner.

Purpose:

make sure your offerings deliver results for sponsors and audiences. The relationship built between customers and brands becomes a community through content which is mutually beneficial. 
How to monetise virtual event attendees
Organisers can also find new monetisation opportunities through attendees by creating a tiered-approach for virtual and in-person products or services.
This can begin with free online content which is open to all, as complementary components like this act as adverts for your products and brand awareness.
These offerings attract people who have an interest in what you are selling and search online for it, while also opening up engagement with them.
The second tier involves potential customers signing up, as these people are already drawn in by the content but may now want access to exclusive articles, showcases or products.
Content such as expert insights or webinars can then become available to them once they have signed up and logged in. 
A third tier could include paid-for access to VIP content, such as being able to connect with mastermind groups or think tanks as well as an annual pass to an event series.
The same approach here should be used as mentioned in the "monetisation journey" – exclusivity, urgency and purpose.
In this attendee example, organisers should limit spaces available to online content to make it exclusive to those who have subscribed.
This audience can then be targeted by giving them a fear of missing out (FOMO) – such as "only a few spaces remain" to industry leader presentations or panel discussions.
The purpose of this is to keeps customers engaged with content, informing decisions and improving products for a better return on investment (ROI).
Make sure there is transparent ROI
To remain competitive, the event industry needs to be transparent about how marketer budgets are being spent.
This is because today's marketers are used to using Linkedin, Google and Facebook – platforms which all show real-time statistics.
Providing customers with useful data about who is engaging with their profile and content is now a must – organisers can no longer expect rebookings year after year without proof of ROI.
Brian Field, chief operating officer of Emerald, believes this kind of data is now an "absolute necessity" for organisers to satisfy chief marketing officers.
He told ExpoPlatform: "Covid-19 has forced everyone into realising that technology – whether it's rented or owned – is an absolute necessity.
"Organisers can't just go back to a pre-Covid-19 way of doing things because the way things used to be done – coupled with the absence of performance data – has been increasingly challenging for chief marketing officers (CMO) seeking hard calculations of ROI. 
"Being able to use data and supporting tools to generate clear measures and metrics around ROI is required. We have to do it.
"Covid-19 has accelerated the need for broader technological adoption, which is something the industry was going to have to do anyway."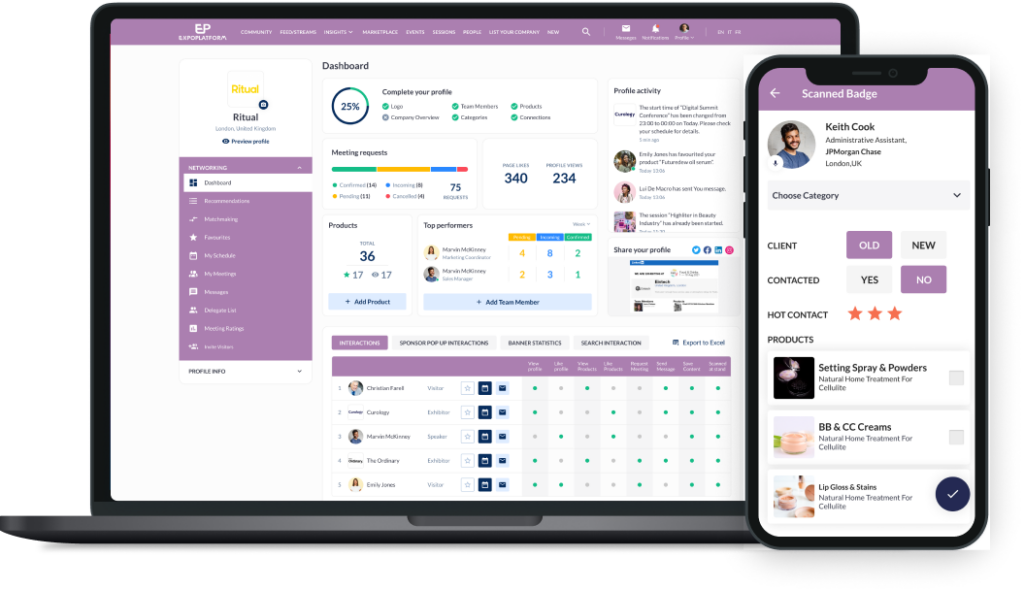 Virtual event platforms provide exhibitors a real-time dashboard of information about all customers who have engaged with them
Integrated mobile apps allows for lead scanning of badges – barcodes or QR codes – which is available for visitors and exhibitors‌, who can rate and categorise leads and add notes.
All leads captured are stored in an exhibitor's dashboard, bringing together online and offline results together into a single view.
Find out more about these opportunities in our free ebook.
How to adapt your team for peak virtual event monetisation
The digital transformation of events has given organisers room to rethink how they structure sales teams.
It has also raised concerns over whether the traditional event planner has "credibility" to handle this changing landscape.
There are now so many different channels for promoting content, engagement and marketplaces which can be handled in different ways.
The explosion of data has also landed organisers with a wealth of information they either do not have the talent of the time to make the most of.
Luke said: "The number one asset event organisers have is a large volume of high-quality data.
"Audiences an exhibitor wants to reach at the live event will be just as relevant online.
"This should give instant credibility – or at least a seat at the table – if the organiser can create a compelling offering."
Two schools of thought exist about how to restructure teams to make the most of this new landscape: specialists or generalists.
However, after consulting with industry experts ExpoPlatform reached its own conclusion – probably a bit of both is best.
This would include a key account team trained and incentivised on selling everything, plus digital specialists ready to jump in and support as required.
Why is virtual event monetisation important?
As previously mentioned, digital revenue is now set to grow from being just 2% of an organiser's budget to 25%.
Missing these opportunities we have highlighted is not an option in today's uncertain economy.
It comes as corporate travel could be cut by around 20% of its pre-pandemic levels as the digital transformation of industries continues, according to new research.
McKinsey & Company's study looked at sectors of people who travelled for business in 2019 before grouping them by the likelihood of them going back after the pandemic.
The "never returning" segment was found to have made up one-fifth of corporate travellers pre-pandemic, which offers firms an opportunity cut costs on work trips.
But you don't have to take our word for it – Timothy Skennion, managing director of Derabo Advisory Group, has set out the importance of taking advantage of our industry's hybrid future.
He told ExpoPlatform: "For the innovative event producer, hybrid events provide a blank canvas for reinventing the event experience – for attendees and sponsors alike – through unlimited formats, content and engagement opportunities.
"I have advised organisations to embrace hybrid events as an opportunity, as opposed to viewing them as a burden. 
"I believe that hybrid events create new and measurable opportunities to enhance the attendee experience and drive increased value for sponsors – opportunities that are limited at purely live or digital events."

Timothy added: "As an organiser considers the expectations of both attendees and sponsors, they must be mindful of the ROI of both of these constituencies. 
"From an attendee's standpoint, it's their time – for sponsors, event sponsorships represent a  significant marketing investment. 
"For event producers, the apprehension comes around how they can ensure that they are meeting their sponsor and attendee expectations. 
"Beyond that, what can they improve upon the typical experience? 
"With hybrid events – going back to what I see as an opportunity to implement technological innovation that have really scaled over the last year – there's some apprehension from companies about which technology solutions to partner with, how to implement, how to get the most out of them. 
"These are just new challenges that they need to operate around, but I see them as terrific opportunities they need to exploit."
Sponsorship is becoming increasingly important as the primary source of revenue for virtual events, according to a survey.
Preliminary results from the State of the Industry Research – Third Quarter 2021 shows 43% of professionals in our industry highlighted this form of funding as their major income in Q3.
Results from previous Event MB studies show 34% of respondents cite sponsorship in the second quarter, while this was just 29% in the first.