The week in events: Expo2020 marks another industry milestone
Your weekly event industry news round-up from ExpoPlatform: the launch of the world's biggest event since the pandemic outbreak, consulting over vaccine passports for shows in England – and questions over the future role of Big Tech in our industry.
Expo 2020 Dubai kicks off with a bang
The world's largest global gathering since the pandemic outbreak has kicked off in Dubai.
Expo 2020 will have 192 nation participants and is expecting millions of visitors amid renewed demand for international travel.
The event – which first took place in 1851 – marks another major milestone for the recovery of our industry as it emerges from the pandemic.
It's opening ceremony on Thursday featured artists such as tenor Andrea Bocelli and pop star Ellie Goulding.
The British "Fairy singer" @elliegoulding instills a sense of opportunity and possibility to unlock the potential within each one of us with the magical cotton-candy-sky performance. #Expo2020 #Dubai pic.twitter.com/3h5HNVCaBv

— Expo 2020 Dubai (@expo2020dubai) September 30, 2021
A fireworks display is to add more sparkle to the opening weekend on Friday evening.
Trixie LohMirmand, execuitive vice president of the Dubai World Trade Trade Centre, described the opening as "dignified" and highlighted the work of everyone behind the scenes who was making the event possible.
She posted: "Remarkable moment for the world to come through the pandemic with this event and especially the Arab world on it's first ever Expo here since 1851.
"Dignified opening. Delighted to be in Dubai, UAE to be a part of this great comeback and historic period of friendship, collaboration and discovery.
"As guests and VIPs come in and out on this night, let's not forget our silent stars working in the yards to make today and the next six months of #Expo2020Dubai safe and possible for everyone. We are proud."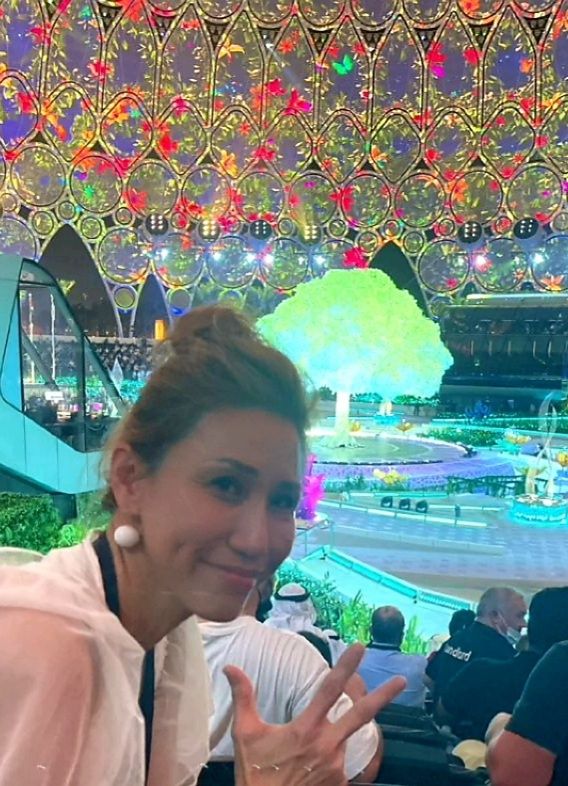 Expo 2020 will run from October to March, with DWTC as its largest venue, and is the first time that a World Exposition has been postponed to a later date rather than cancelled.
It had originally been due to take place from October 2020 until April 2021 but was held back due to the pandemic.
The show has a central plaza which is surrounded by three large thematic districts.
Each one of these is dedicated to one of the sub-themes of Expo 2020 – opportunity, mobility and sustainability.
A threat from Big Tech?
LinkedIn is considering allowing its users to charge for virtual events hosted on the social media platform, it has been reported.
The move may raise concerns among organizers as this could signal the start of the Big Tech company's attempt to take up more space in our industry.
Tech Crunch reports this is part of a larger overhaul the firm is carrying out around video and audio services.
A LinkedIn spokeswoman said: ""Amid the changing world of work and transition to a nearly all-remote workforce, LinkedIn Events has seen a surge in growth, with 21 million people attending an event on LinkedIn in 2020.
"We continue to learn from member and customer feedback and test new ways to improve the experience.
"As part of this, we are exploring options for payment in the events product based on feedback from event organizers."
LinkedIn is testing a new, paid ticketed events service https://t.co/TkxxUAKZNl by @ingridlunden

— TechCrunch (@TechCrunch) September 27, 2021
It comes after the social media platform was revealed to have invested in an online event provider earlier this year.
Meanwhile, the co-author of Reinventing Live offered his view on how Amazon Business could impact trade shows.
Marco Giberti published a piece which highlights how ecommerce went through a "decade's worth" of growth in three months, while the pandemic has been a time of massive innovation across industries.
He claims these developments will change what buyers and sellers expect from trade shows.
Marco said: "I'm not saying in any way that any of these companies or technological solutions are going to replace trade shows entirely.
"Still, they will undoubtedly change customer perception of what they want from a trade show in the future. 
"I think I will need to go back and keep reading more reports like this one, as well as talking with B2B ecommerce innovators to continue to formulate a better answer for the next decade."
Calls to 'safely' reopen Malaysian business events industry
The Malaysia Convention and Exhibition Bureau (MyCEB) has called for the for fully vaccinated business events industry to be reopened in the nation as soon as possible.
Dato' Sri Abdul Khani Daud, CEO of the country's lead agency for the sector, claimed it is crucial to understand these shows "can operate safely and responsibly" – after a period of increased immunization.
Malaysia has seen 57 postponements and 66 cancellations of international events since the outbreak of the pandemic, while MyCEB claims to have helped bring in £2 billion (RM11.4bn) to the economy since 2010.
@MyCEB, the lead agency for the #businessevents industry, has pleaded to the Malaysian Government to reopen the fully vaccinated business events industry soonest possible. #Malaysia 🇲🇾https://t.co/ZwCWeSCWrx pic.twitter.com/3Glh3nvewH

— Meeting Media Group (@HQGlobalMag) September 24, 2021
He said: "The importance of business events industry in contributing to economic recovery and affirms the government's confidence that the sector can operate safely and provide a controlled, regulated and secure environment for the commencement of business events.
"We do hope that the Malaysian Government takes this distinction into account moving forward.
"Business events industry must be reopened without further delay, as Malaysia's business events venues and facilities offer controlled environments which will ensure successful and safe events."
MyCEB is still bidding for international events which has seen 164 business events secured for between 2022 and 2030.
UK showing 'clear signs of recovery'
There are "clear signs of a steady recovery" within the UK event industry as interest grows in a return to in-person offerings, according to a new report.
BCD Meetings & Events' fifth annual What's Trending study sets out how this is leading to a cautious optimism among planners, although challenges remain.
It highlights, sustainability, diversification and delegate management as key issues facing organizers.
The report is BCD M&E's take on the state of the industry and what it's expecting globally in 2022.
Helen McCabe, BCD M&E UK managing director, said: "The impact of Covid-19 continues within the UK – however, there are clear signs of a steady recovery.
"We saw increased demand from September 2021 for smaller, domestic meetings and events as well as a further upturn of larger face-to-face events taking place from Q1 2022.
"We have seen significant evidence of business diversification during the pandemic and continue to overcome new barriers arising from the UK's withdrawal from the EU.
"Sustainability, a deeper requirement for a wider delegate management solution, plus the continuation of both virtual and hybrid events impacts the future shape of our industry."
Mark your calendar!

Our Global President, Scott Graf, will be going live on LinkedIn Wednesday, October 13th to discuss What's Trending for 2022. Follow BCD Meetings & Events on LinkedIn to tune in: https://t.co/QMRKJU3rpZ pic.twitter.com/5lFmPojUwI

— BCD Meetings & Events (@bcdme) September 30, 2021
It comes as the enforcement of Scotland's vaccine passport scheme has been delayed after facing backlash over the legislation.
First Minister Nicola Sturgeon said she was holding back legal enforcement to give venues more time to plan, following failed legal action from the nightclub industry.
The new regulations require people to show they have had two coronavirus vaccinations – or are exempt – before gaining entry to venues, large sporting or music events.
These come into effect today Friday but will not be legally enforced until October 18.
ExpoPlatform previously reported how the likeliness of vaccine passports being required across the whole of the UK grew after their introduction in Wales.
The UK Government has now called on those working in the events industry for views on their potential use in England, should Covid-19 cases increase in winter to the point at which the NHS becomes overwhelmed.
Meanwhile, it has elsewhere been reported that the UK is understood to be close to joining the EU's digital Covid-19 certificate scheme.
The move would make traveling in Europe easier for event professionals.
No Time to Die for cinema – here's what might 'save' it
David Anderson, founder of the Vision Engine, sets out how the latest Bond blockbuster will be a "shot of caffeine" for the cinema industry – but not a silver bullet.
Similar to customers in the event industry, his post sets out how film lovers have been through a transformation in expectations and will now have a new vision for the experience they want.
Daniel Craig's fifth and final James Bond film No Time To Die has received rave reviews from critics.
The cast and crew lit up the @RoyalAlbertHall for the World Premiere of #NoTimeToDie. pic.twitter.com/qs0OFiQZLR

— James Bond (@007) September 30, 2021
It was premiered in London on Tuesday following several delays caused by the Covid-19 pandemic – which David believes has been a driver for innovation in both industries.
He said: "Cinemas need to put the theatre back into the theatrical experience.
"And it starts with relentless obsession with the customer: How do they segment? What are their motivations for making the trip (not always the movie on show)? Their pain points? Their drivers of choice versus something else to do with their leisure time? What sort of customer experience would get them off the sofa and out into the rain to their local cinema? What sort of relationship do they want with their local cinema? 
"No Time To Die will not, and cannot, save cinema. Cinema can, and will, save itself by staying resilient, resourceful, and relevant, and reimagining its role in this new changing world."