A complete association event platform guide
This complete guide outlines strategies for using an association event platform to help drive up numbers and boost digital revenue.
Associations were hit hard when the Covid-19 pandemic upturned the events industry more than a year ago.
The latest MGI Membership Marketing Benchmarking Survey shows around half reported a decline in memberships over the past year, while another 45% recorded a drop in renewals – almost double the previous year.
However, those who made the transition to the virtual space were able to continue engagement with members.
With online tools such as association event platforms, they were able to provide a more innovative, accessible experience to members at a lower cost and with fewer resources.
As virtual event management technology continues to evolve and offers benefits of scalability, reach and cost-effectiveness, it will continue to play a key role in hosting association events in the coming years. 
In this guide, we have detailed the best ways to host virtual and hybrid events for associations as well as recommendations on how to select the best association event platform.
Here's all we will cover:
Digital ranking of association websites
Exclusive research from ExpoPlatform shows the top 10 association websites each receive around 330 times more social engagement on average than over three-quarters of those in the industry.
Our study of around 420 associations reveals a giant gap between those who are producing and distributing online content well and those who are not.
One of the main takeaways from this analysis is that there is a huge gulf between those who are doing this well and those who are not.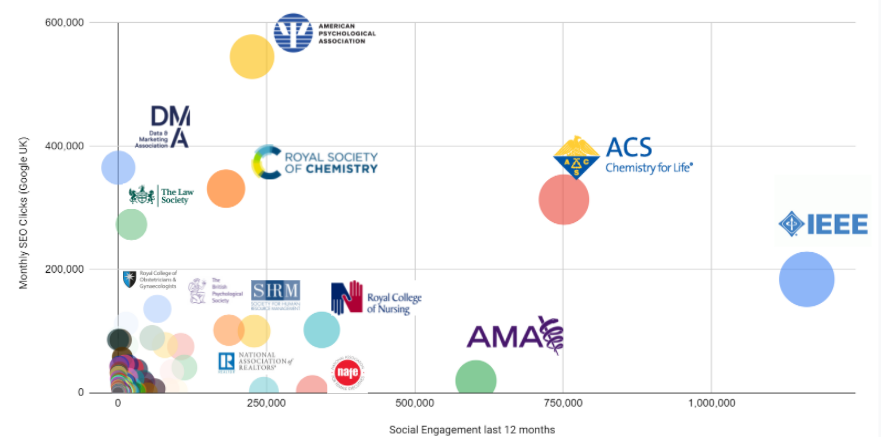 The top 10 association websites each get 392,778 social engagements on average each year, according to the research.
Meanwhile, those outside the top 100 are getting 1,174 each on average every year – more than 330 times fewer interactions.
ExpoPlatform's study also shows the top 10 websites are each getting 136,519 estimated clicks on average a month from people who have used a Google search, which is crucial when trying to build site visits.
Those outside the top 100 are only getting 1,117 – meaning the leading group has 115 times more in this form of traffic.
The main difference between the leading association websites and the rest is online content.
Longform articles with terms aimed at boosting search engine optimisation (SEO) are highly successful for some associations. 
The American Chemical Society (ACS) is among the top performers for organic searches, with articles such as Is Ammonia the Fuel of the Future ranking highly.
Chemical & Engineering News (C&EN) –  a subdomain of its main website – publishes articles that regularly rank on the first page of Google and drive monthly traffic, hitting an equivalent value of $3.18 million in paid advertisements running on Google in the US and £162,000 in the UK. 
The top performer for social media engagement is Institute of Electrical and Electronics Engineers (IEEE) which gets extremely high levels of engagement, including with "How to" articles around hot topics such as its This is How to Vaccinate the World piece.
IEEE comes out on top for online engagement in our Digital Ranking of Association Websites, receiving the equivalent value of £459,000 in SEO from Google UK each month.
Their content site Xplore has 5.3 million stories and this story in particular was shared more than 130,000 times, although IEEE also has several other subdomains which are connected to its main site.
The latest MGI Membership Marketing Benchmarking Survey shows 43% of associations raised concerns over member budgets, 50% said there was a lack of engagement, 26% cited poor brand awareness and 33% highlighted issues with competing information sources.
Despite this many are not pursuing the tactic of creating an online community which can engage memberships with virtual offerings and content.
James Hampton, director of operations at MCI UK, told ExpoPlatform that the ability to connect with those members is crucial to an association's success.
He said: "You need that extended engagement outside of the period of the event, because it really allows you to bring in more members.
"You might create an online community, that's a free community to join, therefore you could potentially have 10,000 customers that are interested in what you're talking about.
"You may only have 1,000 people that pay a subscription to be an actual member, but all the rest of the 9,000 were just happy to be part of the community."
Benefits of using an association event platform
The shift to virtual events was initially considered a temporary solution for physical meetups. But as the benefits became more evident, digital has become integral to the long-term success of business events and meetups.
James Hampton, director of operations at MCI UK, told ExpoPlatform association events are going to be designed in a "very different way" in future to meet these new expectations of attendees,
More association organisers are now looking to create hybrid events that blend face-to-face meetups with digital experiences – even as live events stage a comeback. Some of the benefits include:
Accessibility
A big advantage of having a virtual component in your association's event is the ability to reach members all over the world. Anyone with access to the internet can participate in a partial or fully online conference, including those with disabilities. In the virtual arena, you can significantly increase event participation and drive membership for your organisation.
Networking opportunities
Associations are all about meeting people, strengthening business connections and building a robust network. While the face-to-face experience is tough to replicate, you can use various tools to encourage engagement during a virtual conference. Online discussion forums, virtual breakout rooms, messaging and meeting features, live chat and AI-matchmaking can help members connect and communicate with each other as well as with speakers. 
Networking can be further bolstered between physical and virtual participants by bringing them into a 365 community, where they can interact and make business decisions year-round. Read here about how a 365 community can be created and help engage membership.
Rich data insights
Virtual events are a goldmine of attendee data. You can track the user journey before, during and after an event which allows you to get a clearer picture of your audience and their goals. With real-time data analysis, you can implement live improvements to your event and gain crucial insights on engagement statistics through polls, surveys, quizzes or feedback forms.
New content ideas
A virtual conference provides numerous options to deliver content to association members. The sessions can be recorded and repurposed as blogs, ebooks, whitepapers and podcasts or viewed on-demand later on. A lot of educational and training content can be shared before and after the event to increase event mileage, build authority and get more registrations. Read here for examples of winning content formats for associations.
Cost reduction
Being able to organise and execute events at a fraction of the cost as compared to physical events is perhaps the most enticing feature of virtual conferences. You don't have to worry about venue, accommodation, travel and food. This means significantly reduced overhead costs. The money you save can then be invested in getting the best virtual and hybrid event platform for your association. Apart from being budget-friendly, online events also allow for more innovation to improve the attendee experience.
Success using an association event platform
We will look at two examples of successful virtual events organised by associations using ExpoPlatform. 
Case study 1 – The 51st Union World Conference on Lung Health
The International Union Against Tuberculosis and Lung Disease (the Union) puts together its World Conference to bring together healthcare workers, policymakers and researchers to focus on steps and measures required to tackle tuberculosis. Due to the Covid-related restrictions, the Union chose to host the 51st edition of the global event entirely digitally.
The conference also marked the centennial of the Union and was to be attended by high-profile figures such as Dr Anthony Fauci, Bill Clinton and Tedros Adhanom. With a lot of prestige associated, it was important to have a robust platform that could handle the complexity and scale of the conference. 
ExpoPlatform was able to make a success of the stringent demands of the five-day conference through its multi-modular virtual event technology. The meeting and networking options, as well as the AI-matchmaking features created a seamless interactive experience and widespread participation by all stakeholders.
Case study 2 – Shoedex 2020 by Aegean Exporters' Association
Shoedex is Turkey's premier trade show for leather accessories. Due to losses incurred by the Covid-19 pandemic, the Turkish leather industry was in need of connecting manufacturers with international buyers. The Aegean Exporters' Association decided to organise a virtual edition of the trade show so buyers could learn more about the products, network with exhibitors and make purchase decisions in an online marketplace environment.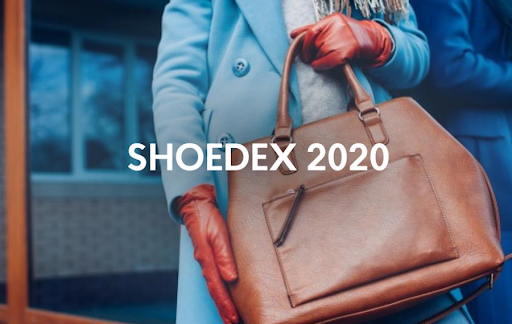 ExpoPlatform worked with the organisers to deliver a virtual approach customised to their event's requirements. For this, they conducted multiple demos and re-runs to make the experience more user-friendly. 
The three-day event brought together industry professionals from more than 59 countries and was considered such a huge success it was extended by another day on popular demand from the buyers and exhibitors.  
How to choose an association event platform
Depending on the size and complexity of your association's event, you should look at various factors to select the most suitable event technology platform. 
Features
Association events can differ greatly. One could span six weeks and have participation from thousands of attendees worldwide, while another could be a three-day event with a focused set of buyers. Virtual event platforms come in various shapes and sizes and you should select the one with the features most suited for your event.
List all the features you need. These could include an interactive event website, AI-matchmaking, meeting schedulers, live chat, built-in analytics among many more. Then select the platform within your budget, get on a demo call and finalise the contract. 
365 community option
Attendee expectations have changed dramatically with the growth of digital events. From conversations and networking happening only during the timeframe of an annual event, your audience now expects to stay connected and interact any time of the year.
To address this demand, find out if the technology provider offers 365 community solutions so your members can connect, engage and initiate conversations all year-round.
Scalability
Association events, whether they are in a digital or hybrid format, now cater to audiences all around the world. Look for a platform that can scale your event and grow it to any size you want so you can handle any surge in visitors, registrations or needs for personalisation.
Integration with other tools
Virtual and hybrid conferences are teeming with attendee data that can be used to build a more complete user persona. This allows you to create richer engagement experiences and capture quality leads. For this, the platform should offer integration with well-known sales and CRM tools like Salesforce, Zapier, SAS. Smooth exchange of data between your event tools will ensure the information is at one place, instead of being siloed.
Data policy
Event data is one of the most sensitive issues for organisers – although it also creates many opportunities. There are a number of concerns to consider over potential for privacy breach and ethical use of attendee information.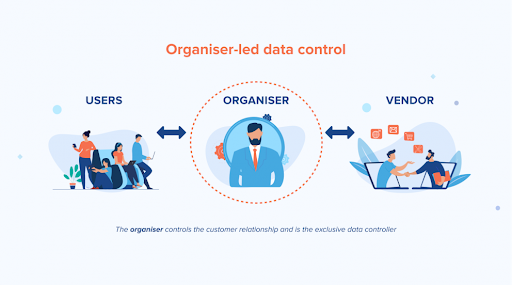 Learn more about the important questions you need to ask before choosing an online event platform – such as who controls the event data, the role of online event platforms and how the organiser-led model differs from the vendor-led model in dealing with customer data.
This graphic provides details of event data policies by the leading technology platforms for events, exhibitions and conferences. Your final decision should prioritise the privacy of the user and give control to the organiser.
Tips to host virtual and hybrid association events
Establish clear goals and objectives
Have a clear goal in mind for your association's event. This makes it easier to create content, select the right speakers and use relevant strategies to achieve your organisational goals.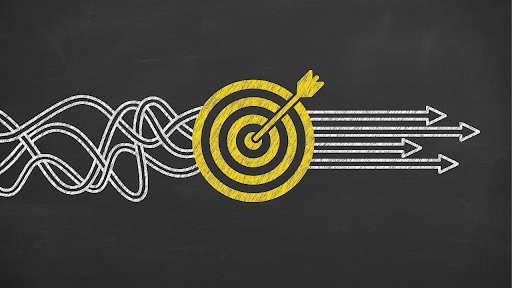 For example, if your goal is to increase recruitment, you could consider a promotion for a new membership tier during the event. If you want to drive revenue, you might look to offer incentives for renewals or new adopters.
For example, here are the objectives of the International Exhibition Logistics Association.
Create a unique experience for in-person and digital events
A hybrid event doesn't need to have physical and virtual experiences happening simultaneously. The logistics of such an event can be overwhelming for the association staff, which could be operating at a lower capacity. It is recommended to create separate, unique experiences for your in-person and virtual audience at different times. The virtual event could be an ongoing one, offering content and networking opportunities before and after the physical event.   
Ensure safety measures at the venue
It could be quite some time before the Covid-19 pandemic is truly over. This means safety measures at event venues are expected to continue for the foreseeable future.
Check with the venue whether it is equipped to handle a decent-sized crowd and has adequate precautionary measures in place. This could include sanitisation stations, temperature checks, separate packaged meals and a healthcare team for any emergency cases.   
Don't overbook the event. It will lead to overcrowding, long queues and chaos.
Hire a professional event host
A lack of engagement at virtual events compared to those which are in-person continues to be the biggest source of frustration for organisers. This challenge can be worse at hybrid events where the remote audience can feel left out as most interactions happen at the venue.
To avoid this, get a professional host to guide the event and keep moving forward. Pick moderators from the participants to manage sessions and virtual breakout rooms, ensuring your online attendees feel valued and engaged. 
Charge your virtual members less
There are several differences between the live and virtual event experience. The live event is all about those moments of serendipity and joy. You feel a sense of connection and community as you experience the event in person. The virtual event has a range of other merits – especially in terms of ease of access. 
Remote audiences aren't looking for those moments of serendipity, they want direct value through knowledge, training and networking opportunities. It makes sense to charge a lower price for virtual participation and pitch the event value accordingly. 
Build a 365 community
As you grow your association's membership, you'll find digital engagement to be key to your success. It's important for people to engage with brands on their own time and in the way that is most convenient for them.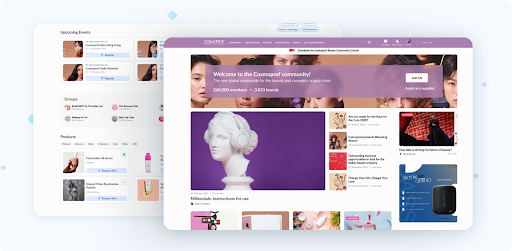 An engaged community can grow with an always-online 365 community. Members can connect, interact and engage with your association anytime of the day or year. They can also actively follow and contribute to the latest updates, post messages, join discussions and much  more.
How to promote your virtual and hybrid association events
Promotion of your virtual or hybrid association event is needed so you can get the word out. You can do this by targeting a specific audience from your database or open it to everyone in the industry. This group can then be filtered to a relevant segment based on their engagement score.
Tactics to consider:
Generate pre-event buzz by partnering with reputed industry websites for press releases. This will give a boost to your website SEO rankings as well.

Set up a series of webinars, educating participants about what to expect during the event.

Work with influencers or podcasters associated with the industry.

Organise giveaways to encourage attendees to promote the event.

Use email and social media marketing strategies to promote your event, share information and updates as well as to create hype.

Build a mobile event app with a clean, easy-to-use format which allows you to send push notifications and other event updates.
Selecting the right event platform to grow your association membership and engage your community doesn't have to be an overwhelming task.
Read these 12 reasons why ExpoPlatform is the preferred choice for the world's largest exhibitions, conference organisers and membership associations.
There's more you might like
October 15, 2021
3 minutes reading
More than 90% of attendees say the biggest thing they miss about in-person shows are human elements like networking and face-to-face meetups, according to a new survey. Findings from the research suggest this is top reason – at 93% – for delegates to return to in-person meetings again amid the live events comeback. Bramcote International ...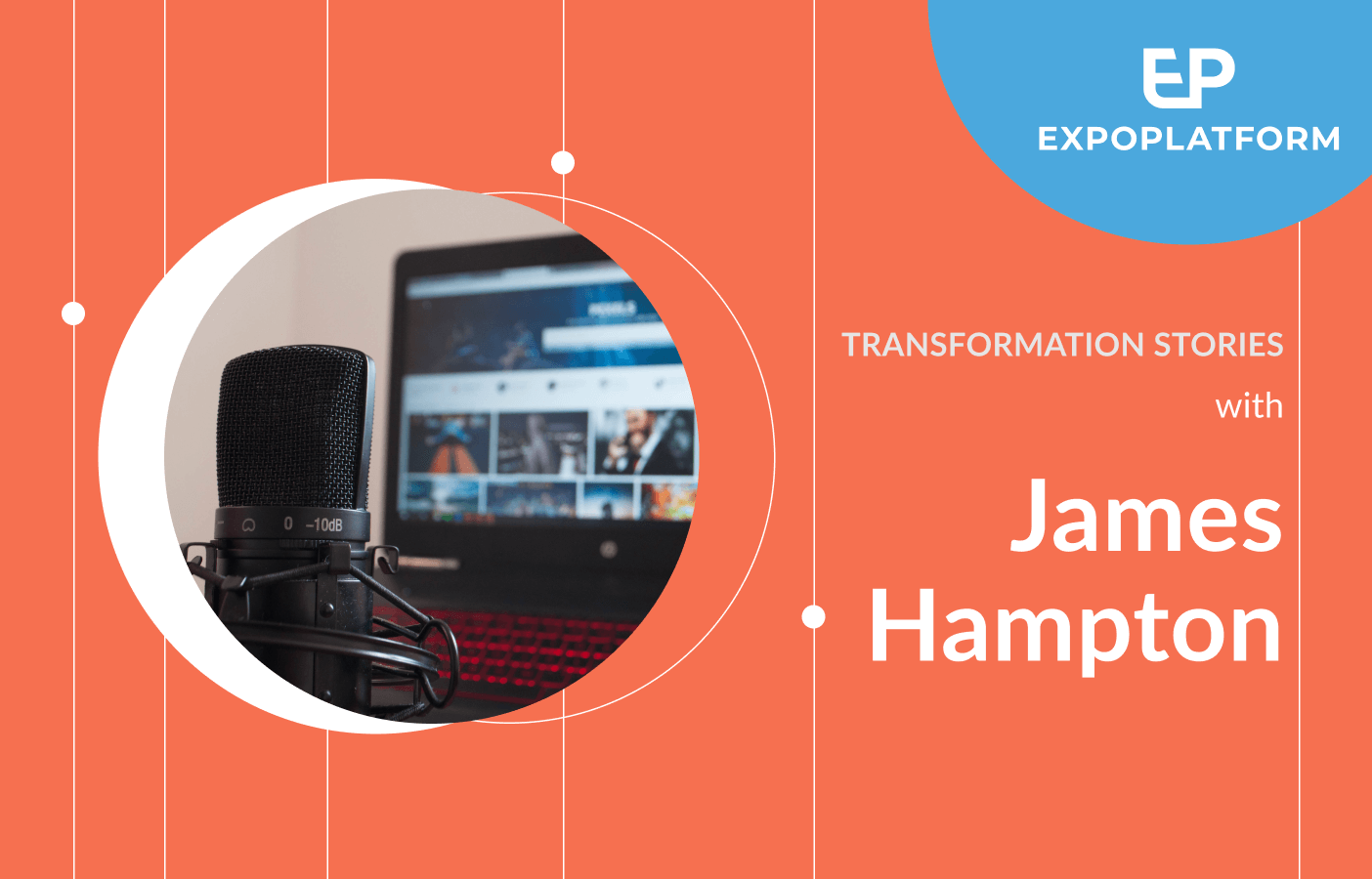 August 3, 2021
9 minutes reading
Association events are going to be designed in a "very different way" in future to meet the new expectations of attendees, according to an industry leader. Virtual and hybrid event platforms have spearheaded the digital transformation needed when coronavirus put a hold to in-person shows. But as things start to open up, a number of ...
see More articles