Association events 'will reinvent' to meet digital expectations
Association events are going to be designed in a "very different way" in future to meet the new expectations of attendees, according to an industry leader.
Virtual and hybrid event platforms have spearheaded the digital transformation needed when coronavirus put a hold to in-person shows.
But as things start to open up, a number of challenges are still facing these membership-based organisations as they try to bounce back.
James Hampton oversees a team which helps associations create strategies for growth and he recognises the "battering" the industry has taken during the pandemic.
Figures from the MGI Membership Marketing Benchmarking Survey 2021 show 47% have suffered a decline in membership numbers over the last year.
We're going to be better than we were before
The MCI UK director of operations sees the emergence of virtual and hybrid events – as well as 365 communities – as offering growth opportunities to associations who can capitalise on them.
He told ExpoPlatform: "We're a resilient bunch, we love what we do. We haven't been able to do it the way we wanted to for a while now.
"But now we've learned these new skills, we're going to be better than we were before – we're more skilled now than we were before. 
"I think it's an exciting time, because you can see events are taking a new shape, people are engaging in a different way. 
"We need to make sure the design of our event can fit that."
He added: "We're going to design events in a very different way in the future from what they've been before, because attendee behaviours have changed."
MCI Group has created two strategic documents named D.I.V.E. and F.A.S.T. to help "futureproof" associations.
The former of these is aimed at helping membership-based organisations to thrive in the digital space.
It gives advice on transitioning from purely physical meet-ups to a virtual or hybrid event and "having the right success from that".
James believes this depends on understanding how expectations from sponsors and attendees have changed.
He said sponsors may not commit as much funding as they would have previously, amid a time when organisations may be looking to make cutbacks and savings while still wanting a return on investment (ROI).
The MGI report found 43% of all associations said a fall in member or employer budgets was one of the biggest challenges they face to growing membership – almost 10% higher than the total who said the pandemic, at 35%.
MCI UK has chosen to place emphasis on working out the key elements each different sponsor is expecting, rather than just producing a "general package document" before emailing it with a hope they will buy something.
James added: "It's a conversation with a sponsor about, first and foremost, what are your objectives? How do you want to engage with the audience?
"A lot of sponsors have very much focused on content – 'what opportunities can you sell me that involve content so we can get our message directly in front of a crowd of individuals?'
"Being an advisor to our clients, we're not just not just accepting a brief and responding with a generic answer, but maybe challenging that brief."
Content is king, it's a cliche phrase but it's true
James used an example of how a symposium can be held at a physical event, but also live-streamed and recorded for virtual attendees.
The footage can then be used on-demand to watch later, extending the value of the event for the sponsor.
This is similar to how a music artist might use a platform such as YouTube, where they can promote a live show to subscribers while also making it available on their channel to be watched whenever a viewer chooses.
He said:  "Content is king, it's a cliche phrase but it's true. 
"It's what sponsors want more than anything, more than the typical advertising or the banners – it has to be engaging."
When it comes to changes of expectations from attendees, James believes the upcoming International Confex in September will give him an opportunity to personally compare the virtual and physical handling of content.
The world's leading exhibition for the events industry has been delayed on several occasions because of coronavirus restrictions and was last due to take place between June 22 and 23 before again being delayed due to a rise in UK Covid-19 cases.
He said: "I'm going to go in person one afternoon and then maybe the next day I'm going to attend virtually. 
"I'm just going to see how that experience goes, to see what engagement you can get between the two audiences as well. So I'm interested to see how that goes. 
"As an industry, we need to make sure we're doing that very well."
James believes the drastic alterations which were brought about by the pandemic have made attendees – and sponsors – realise there are other options to get value from a conference, be it physical or virtual.
MCI Group has been studying event data over the last year to see what types of content a membership typically engages with at a digital conference.
People's priorities have changed and it's going to be interesting to see how that affects the industry
Their findings have reinforced a belief that attendees prefer having a virtual option to watch on-demand.
James said: "Even though we have a large number of people registered, there wasn't necessarily a large number of people tuning in for the live sessions.
"They were more comfortable around the on demand, they were happy."
He added: "It might be that now you've got that virtual element, people don't want to spend five days away from home. 
"They might decide to go for the day as they've been working on this deal or project with someone. 
"Someone might take me out for dinner if they're trying to sell me something great and then I'll come back home the next morning. 
"I'm not spending loads of money on accommodation or expenses, I'm not spending time out of the office, I'm not away from my family.
"People's priorities have changed and it's going to be interesting to see how that affects the industry – and how people are going to return to events."
One of the most important tactics for building engagement within a membership – as well as custom – is through 365 communities, James believes.
This technology is brought through vendors such as ExpoPlatform to connect buyers and sellers, grow communities and drive business every day of the year. 
Read here for information on building an effective engagement strategy for a 365 community through ExpoPlatform.
Figures from the 2021 MGI report show 43% of associations raised concerns over member budgets, 50% said there was a lack of engagement, 26% cited poor brand awareness and 33% highlighted issues with competing information sources.
Despite this, many of these organisations make no use of an online community.
James said: "You need that extended engagement outside of the period of the event, because it really allows you to bring in more members.
"You might create an online community, that's a free community to join, therefore you could potentially have 10,000 customers that are interested in what you're talking about.
"You may only have 1,000 people that pay a subscription to be an actual member, but all the rest of the 9,000 were just happy to be part of the community."
This approach allows them to become more engaged through reading articles or taking part in discussions – making it more likely they will become a paying member.
Exclusive research from ExpoPlatform has analysed and ranked around 420 association websites by digital engagement, using tools Buzzsumo and Spy Fu.
It reveals a huge gap between those who are using content well to engage their community and other associations which get minimal traffic and engagement.
The top 10 associations each have around 330 times more social engagement on average a year than those outside the top 100.
This is 392,778 social engagements on average each year while those outside the top 100 are getting 1,174 each on average every year, according to the research.
ExpoPlatform's study also shows the top 10 websites are each getting 136,519 estimated clicks on average a month from people who have used a Google search, which is crucial when trying to build site visits.
Those outside the top 100 are only getting 1,117 – meaning the leading group has 115 times more in this form of traffic.
Longform articles with terms aimed at boosting search engine optimisation (SEO) is the sort of content which has so far been working best.
However, James expects those who want to innovate in the industry to start learning from other sectors – such as news and broadcasting – to improve their online output as well as their virtual event experiences.
He told ExpoPlatform: "I think we're going to bring more new skillsets into the industry, in terms of content creation and content producers. 
"We need to learn a lot from the broadcast business, the TV studios, the news programmes, they all do it so well.
"We need to adopt those sorts of techniques as well."
The MGI report found 63% of association executives believe that members most often join so they can network with others in the field. 
This was higher among trade and combination associations, who both came in at 69%.
A 365 community can increase member engagement year-round by delivering "always on" content, marketplaces which can traffic leads over 12 months and virtual or hybrid events.

Vendors can allow membership associations to recruit potential members and engage existing ones throughout the year, with a seamless experience from articles, to webinars, to hybrid events.
Having all the interactions take place on a common platform avoids having data in silos, allowing associations to create a personalised journey for members.
Read these 12 reasons why ExpoPlatform is the preferred choice for the world's largest exhibitions, conference organisers and membership associations.
James added:  "Some of the platforms – certainly ExpoPlatform – we like the fact they give the exhibitor or the sponsor statistics within their own dashboard.
"They don't need to come to us to ask for those – they can see them themselves.
"They can see who has interacted with them, what products these people have been looking at, if someone's favourited them and if someone's requested or held a video meeting with them. 
"They're really powerful statistics that they wouldn't have necessarily had in a face-to-face event."
Transformation Stories is a six-part series with exclusive insights from industry leaders about the future of events.
There's more you might like
October 15, 2021
3 minutes reading
More than 90% of attendees say the biggest thing they miss about in-person shows are human elements like networking and face-to-face meetups, according to a new survey. Findings from the research suggest this is top reason – at 93% – for delegates to return to in-person meetings again amid the live events comeback. Bramcote International ...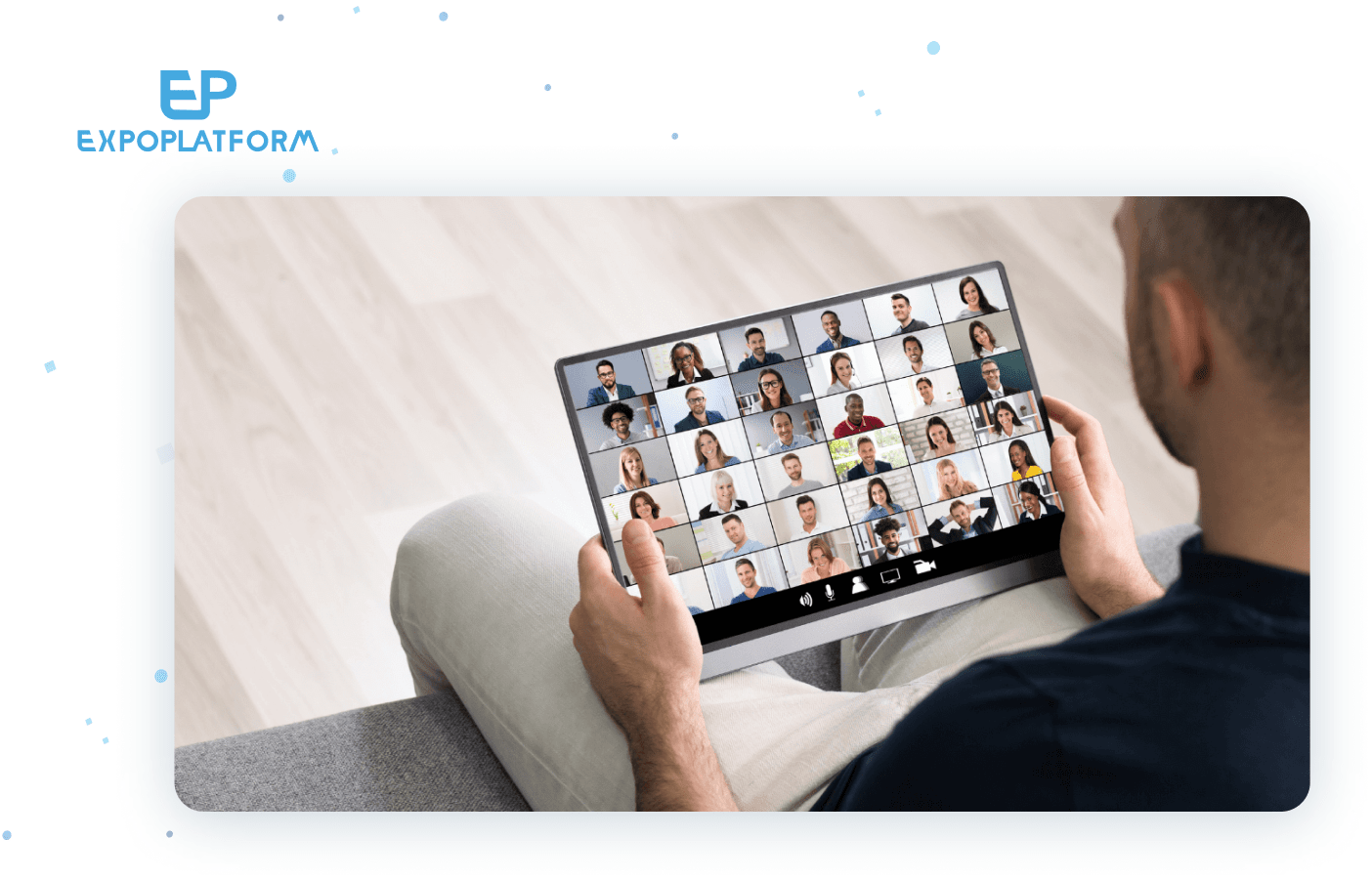 July 28, 2021
14 minutes reading
This complete guide outlines strategies for using an association event platform to help drive up numbers and boost digital revenue. Associations were hit hard when the Covid-19 pandemic upturned the events industry more than a year ago. The latest MGI Membership Marketing Benchmarking Survey shows around half reported a decline in memberships over the past ...
see More articles