Exclusive: Digital ranking of association websites 2021
The top 10 association websites each receive around 330 times more social engagement on average than over three-quarters of those in the industry, according to ExpoPlatform research.
Findings from our analysis highlights who is doing best at engaging new and existing membership online, as well as what can be learned from leaders. 
Our study of around 420 associations reveals a giant gap between those who are producing and distributing online content well and those who are not.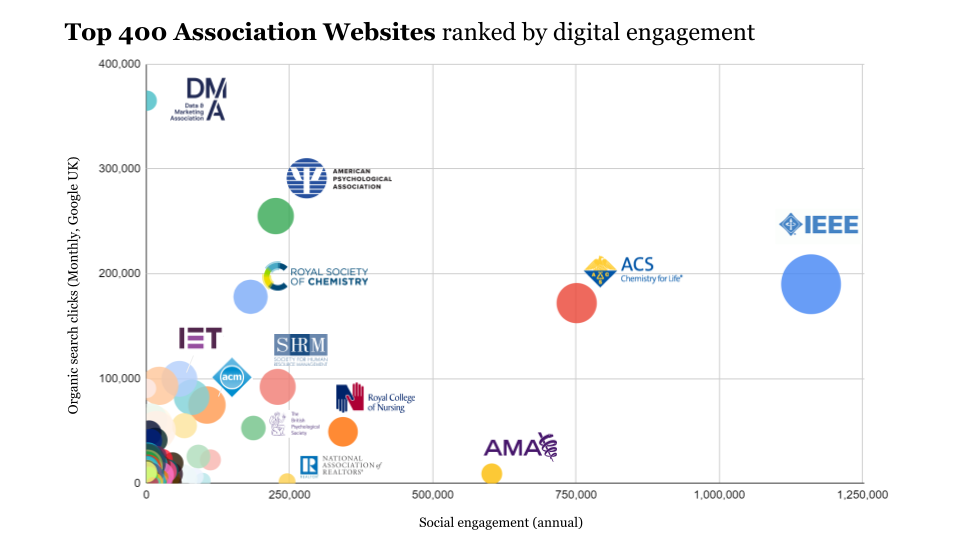 Luke Bilton, ExpoPlatform's chief growth officer, said: "Associations are at a time of real disruption.
"Ever since the start of the pandemic, almost 100% of member engagement has been digital."
Read our full guide on event platform technology for associations here.
Virtual and hybrid events were part of rapid digital transformation acceleration when coronavirus put a hold on all  conferences which traditionally took place physically.
But as the research highlights, the majority of associations have struggled to move to year-round engagement through digital channels. 
Challenges for digital-first associations
The benefits of being part of an association include continuing education, networking opportunities, learning new skills, training and certification, among others.
Many of these key benefits were forced to be carried out digitally – or put on hold – since the outbreak of the coronavirus pandemic.
An example of how associations have been affected can be found in the latest MGI Membership Marketing Benchmarking Survey, which show 80% say their annual conference was cancelled or postponed in 2020.
This annual study – which analyses the "health" of associations and satisfaction of members – also reveals memberships have taken a hit over the past year, with 47% reporting a fall in numbers.
Furthermore, 45% reported a drop in renewals – nearly double that of the previous year.
The challenges faced by associations were found to be coming from a number of directions – including finance and publicity.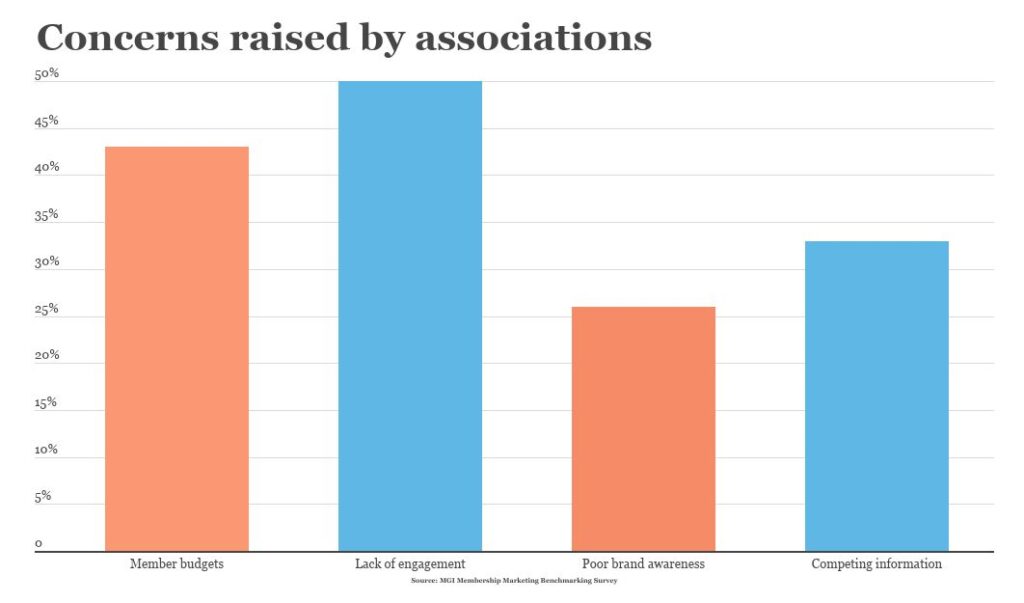 Figures from the report show 43% of associations raised concerns over member budgets, 50% said there was a lack of engagement, 26% cited poor brand awareness and 33% highlighted issues with competing information sources.

Luke added: "Three out of four of these challenges – lack of engagement, brand awareness and competitive sources of information – can be solved to an extent by a year-round approach to sharing content and building a community.

"Despite that, many still don't currently use an online community platform.
"We believe that's a big problem to be solved and one that we're trying to solve on the technology side."
The report found associations who were able to offer remote and online tools were found to record growth in engagement during the pandemic.
It also shows 22% associations reporting increases in membership over the past five years are more likely to have a specific process in place to support innovation.
Those who offered or grew the availability of online tools were found to have seen increases in engagement during the pandemic.
Analysing the top 400
ExpoPlatform's research has looked at hundreds of association websites and ranked them by performance across social channels and organic search on Google UK. 
One of the main takeaways from this analysis is that there is a huge gulf between those who are doing this well and those who are not.
The top 10 association websites each get 392,778 social engagements on average each year, according to the research.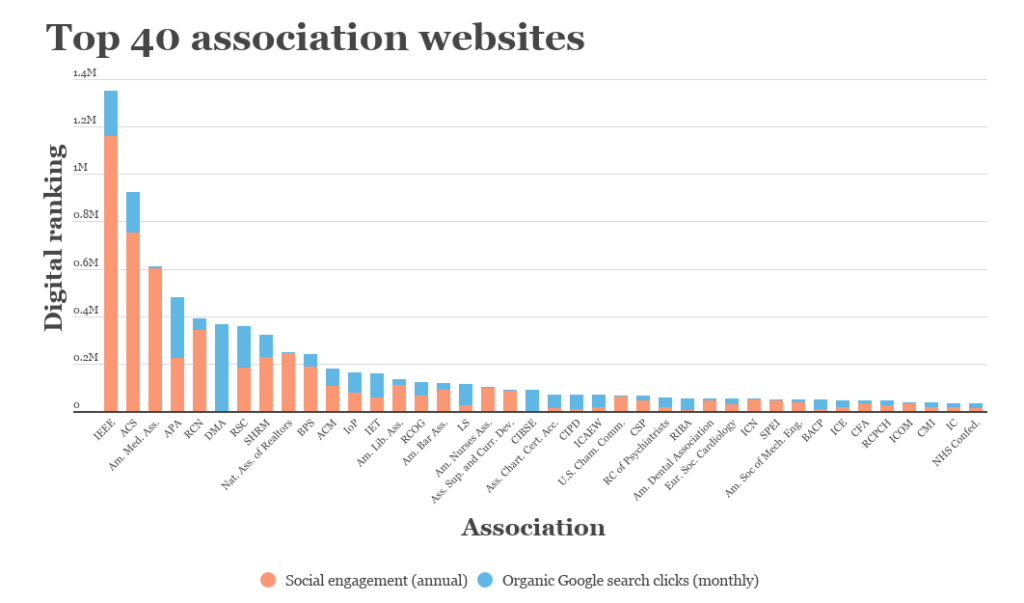 Meanwhile, those outside the top 100 are getting 1,174 each on average every year – more than 330 times fewer interactions.
MGI's report shows the most commonly used social media platforms are Facebook at 90%, Twitter at 82% and LinkedIn Public at 79%.
ExpoPlatform's study also shows the top 10 websites are each getting 136,519 estimated clicks on average a month from people who have used a Google search, which is crucial when trying to build site visits.
Those outside the top 100 are only getting 1,117 – meaning the leading group has 115 times more in this form of traffic.
The main difference between the leading association websites and the rest is online content.
ExpoPlatform's research was conducted in July 2021 using Buzzsumo and Spyfu to create a composite ranking. Download the full Digital Ranking of Association Websites 2021 below:
Lessons from digital leaders
Longform articles with terms aimed at boosting search engine optimisation (SEO) are highly successful for some associations. 
The American Chemical Society (ACS) is among the top performers for organic searches, with articles such as Is Ammonia the Fuel of the Future ranking highly.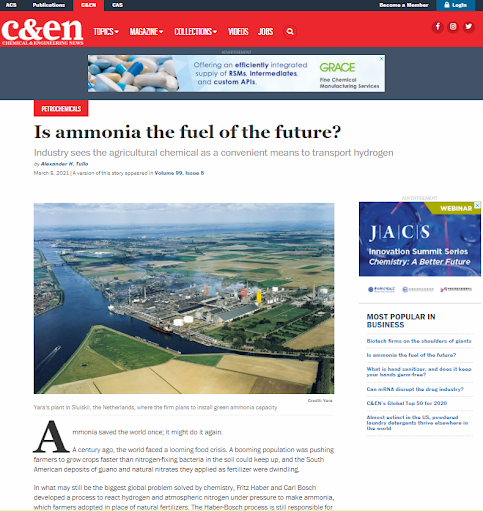 Chemical & Engineering News (C&EN) –  a subdomain of its main website – publishes articles that regularly rank on the first page of Google and drive monthly traffic, hitting an equivalent value of $3.18 million in paid advertisements running on Google in the US and £162,000 in the UK. 
The top performer for social media engagement is Institute of Electrical and Electronics Engineers (IEEE) which gets extremely high levels of engagement, including with "How to" articles around hot topics such as its This is How to Vaccinate the World piece.
IEEE comes out on top for online engagement in our Digital Ranking of Association Websites, receiving the equivalent value of £459,000 in SEO from Google UK each month.
Their content site Xplore has 5.3 million stories and this story in particular was shared more than 130,000 times, although IEEE also has several other subdomains which are connected to its main site.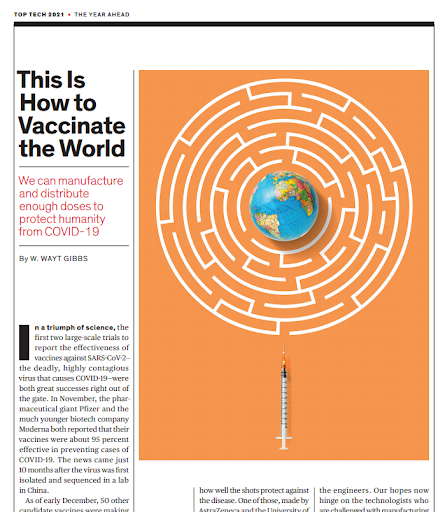 Another form of content which can reach audiences through social networks is when associations campaign on behalf of members.
The piece which was found to have the second-highest number of shares during our analysis was found on the Royal College of Nursing's (RCN) website. 
Their campaign to get signatures to a petition demanding "fair pay" for nurses received more than 117,000 social interactions.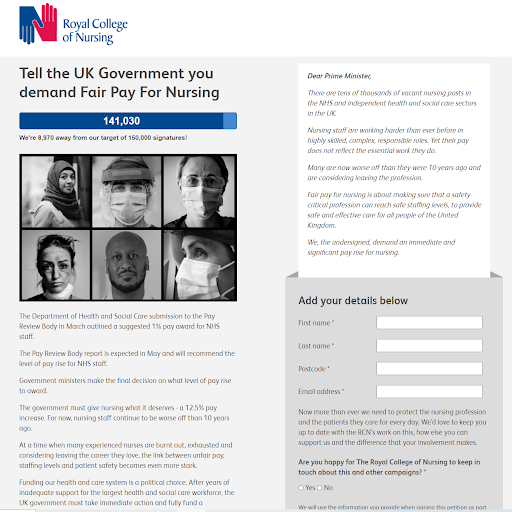 The importance of content is further backed up by the MGI report which shows being a point of specialised and current information is key for associations who report higher renewal rates.
It found executives who see continuing membership levels above 80% are "significantly more likely" to indicate members seek these kinds of resources.
Luke added: "These examples all highlight the real benefits for having a 365 membership engagement model, with content at the centre. 
"Along with acquiring potential members, a large digital presence can provide much more value for your sponsors and exhibitors to give them year-round leads and brand awareness."
Year-round engagement
The MGI report found 63% of association executives believe that members most often join so they can network with others in the field. 
This was higher among trade and combination associations, who both came in at 69%.

Across all membership types, 85% are now more likely to explore additional options such as increasing virtual development opportunities for members.
James Hampton, director of operations for MCI Group, told ExpoPlatform the ability to take advantage of online technology and build a 365 community is now "massively" important for the sector.
He said: "You need that extended engagement outside of the period of the event, because it really allows you to bring in more members – and not necessarily just members, but customers.
"You might create an online community that's free to join, therefore you could potentially have 10,000 customers or people that are interested in what you're talking about.
"You may only have 1,000 people that pay a subscription to be an actual member, but all the rest of the 9,000 are just happy to be part of that community. 
"They can dip in when they want, they can read some of the articles, they can join some of the discussions and find themselves becoming more and more engaged.
"That's the point where they become a member and you can grow your membership base. 
"From the member perspective, it's a new way for them to engage. It certainly attracts the younger audience – that's a real challenge for associations."
Build a 365 community
The benefit of a 365 community is it can increase member engagement year-round by delivering "always on" content, marketplaces which can traffic leads over 12 months and virtual or hybrid events.
Vendors such as ExpoPlatform allow membership associations to recruit potential members and engage existing ones throughout the year, with a seamless experience from articles, to webinars, to hybrid events.
Having all the interactions take place on a common platform avoids having data in silos, allowing associations to create a personalised journey for members.
James added:  "Some of the platforms – certainly ExpoPlatform – we like the fact they give the exhibitor or the sponsor statistics within their own dashboard.
"They don't need to come to us to ask for those – they can see them themselves.
"They can see who has interacted with them, what products these people have been looking at, if someone's favourited them and if someone's requested or held a video meeting with them. 
"They're really powerful statistics that they wouldn't have necessarily had in a face-to-face event."
For more information on building an effective engagement strategy for a 365 community through ExpoPlatform read more here.