How digital word of mouth can boost your event marketing
Digitized "word of mouth" event marketing can drastically boost conversion rates compared to traditional campaigns, according to an industry leader.
This online referral approach sees speakers, attendees, exhibitors and influencers all take part in promoting a live show using their own social media and email platforms.
Rachel Stephan, founder of Snöball, explained how this tactic creates credibility by reaching a much wider audience through a person they already trust and respect.
She said: "You have all these people who are going to your events – who are also part of your community – that have a stake in the event and its success.
"Having those people to help you get the word out and then promote the event and act as promoters with you can also alleviate a little bit of the pressure – or at least complement what you're doing.
"So it's not so much the organizers are always promoting their own stuff and their own event. 
"You hear it from someone else, you hear it from the speakers, you hear it from the exhibitors, you hear it from the participants.
"If you know half of them participate in getting the word out, it creates buzz, it gives credibility, it creates social proof, it creates FOMO."
Rachel, who is an expert contributor in the Events Amplified ebook, explained that a typical campaign involves a show with thousands of people coming – including speakers, exhibitors, internal teams, attendees and more.
Every group in that audience can then be mobilized and enabled to act as promoters by giving them something very easy for them to share and promote the event.
It also means they are promoting themselves because they can highlight how they will be taking part and open up for connections.
Rachel said: "Some people do it anyway – why not mobilize all of them in a way? 
"It's digitized the word of mouth, it's referral marketing – that's what we do with Snöball anyways. 
"The results are there when you see multiple times their investment or at least in terms of turn up conversions, compared to something that they might do as a pay-per-click type of campaign.
"I'm not saying this is the only way to do it – it's a combination. 
"So when you're looking at marketing an event, you have to look at the different channels and what works for you and double down on the one that is working for you."
Snöball creates shareable content for event participants so that organizers can track the success of their campaigns.
A widget can be triggered at the registration stage, which will then ask the participant to share something across social media to promote the event.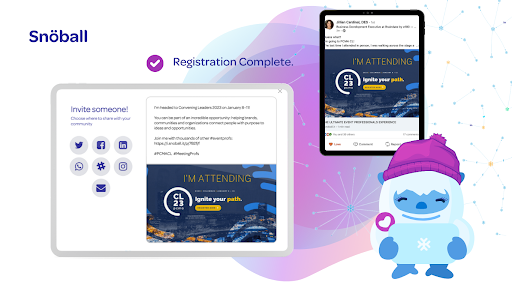 That is just the first stage, with more content being produced which can be distributed among their own channels
These can be images, videos, emails and more – with each one having an individual identity to show marketers what is working and what is not.
It allows marketers to adjust efforts over which platforms to use, which types of content and more.
Rachel said the typical engagement rate for emails they have asked participants to share is over 30%.
She added: "The idea here is to diversify the voices who are talking about your event. So you're not the only one talking about your event because people are not going to listen to it.
"It's word of mouth, but it's all tracked. Our definition of conversion is when someone has clicked on a referral link shared via Snöball and gone through the registration process and reached the confirmation page.
"You can see exactly where the referrals are coming from, where they're posting it.
"It also opens up your eyes to know if for instance your audience is exchanging between themselves on Slack or by email and not so much on social media – it helps you also shift your own strategy."
It was set out how the campaign would then move into a second phase which includes incentives for promoters, because typically they are not being paid at all.
This could typically involve giving rewards for the different groups depending on what really appeals to them.
Motivating these people to join the referral campaign through the trackable content also allows marketers to see how it is being shared in ways they wouldn't normally have access to.
Rachel said: "About 50% of our clients usually implement some sort of campaign to reward the different categories of audiences that they have, with different prizes that would be relevant to exhibitors.
"In some cases clients might say they don't see anything on social media – then we look at the dashboard and see they're still sharing it by email. 
"With Snöball, we offer 13 different social channels where the user can share. 
"Each region, each event is unique, so the audience share to the social channel that is relevant to them."
Event marketing can be expensive and many companies struggle to justify the cost, meaning organizers need to be creative and find ways to maximize their budget while still delivering a high-quality show.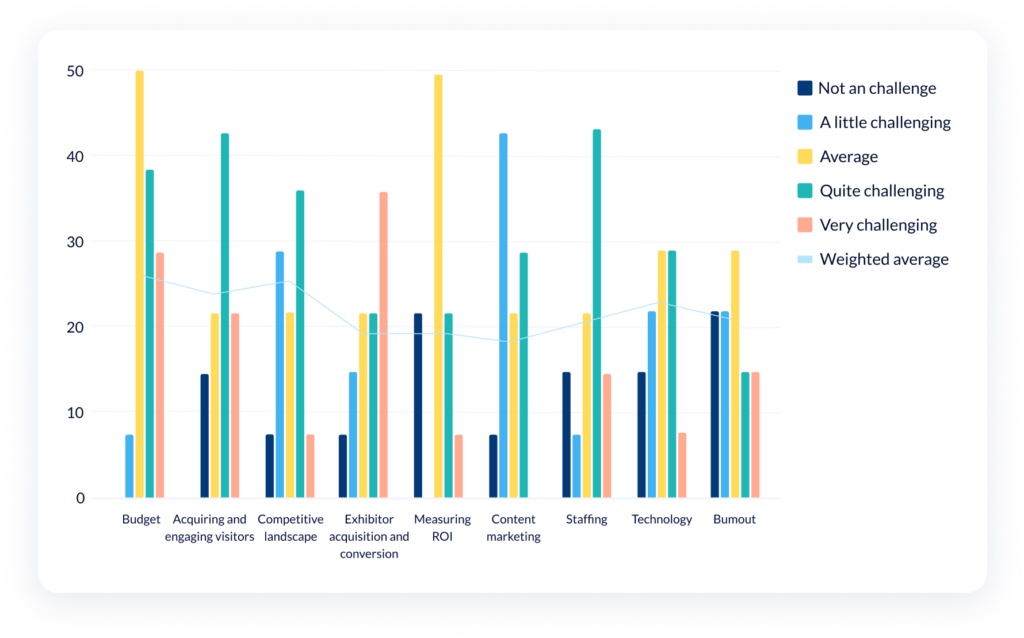 A total of 44% of respondents to the Events Amplified survey told how marketing budgets were challenging for them.
This came out as the biggest problem facing marketers in that study.
Rachel explained how budgets have also had an impact on how audiences are behaving when it comes to registering for an event.
But this is also where technology can play a part in allowing an organizer to keep in touch with them year-round.
She said: "The expectations of attendees and audience also are different.
"People are attempting to register closer to the event, they're thinking twice before they book a flight and go on site for meetings.
"So there are different opportunities for marketers and for organizers to be in touch and be closer to their community just before getting onsite or in-person.
"That's where the technology part of it lets you be in touch with them throughout the year and not wait for one time a year."
We hope you enjoyed reading this article and found it useful. At ExpoPlatform, we want to help you build better events and communities. Please get in touch and ask for a demo here. Thank you 😀