Nine event data questions for organisers choosing an online platform
Event data is one of the biggest potential benefits to organisers to emerge from the digital transformation of our industry.
At ExpoPlatform, we estimate 20 times more information is being generated from attendees since events moved to online event platforms.
This includes who they are meeting and how they are matching with exhibitor products and sessions – all powered by sophisticated AI algorithms.
Following the latest UFI data debate, we have set out what questions an organiser should ask about event data before choosing an online platform.
#1 Who controls user event data?
"This is the Amazon moment going into the bookstore, this is Facebook coming after the media companies 10 years ago. We should be very clear here: the barbarians are at the gate."
That's how Douglas Emslie, group CEO of Tarsus Group, described the position the industry is in when it comes to who controls customer data. 
GDPR – a regulation on data protection and privacy – draws a distinction between a controller and a processor.
A controller chooses the purposes and means of the processing of this data, while the processor does this on their behalf.
For any organiser wanting to futureproof their business, it is critical to remain in control of your customer data.
There are two approaches out there: one led by the organiser, the other controlled by the vendor.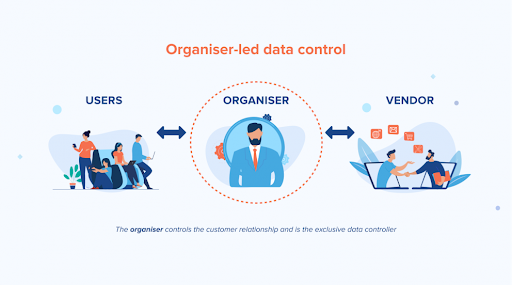 An organiser-led model means the organiser owns the relationship with their customers as data controller, while the online event platform acts as the processor.
This is similar to how registration platforms work, the customer data is "siloed" for your brand alone and the vendor does not have control of it.
In a vendor-led model, it is the platform that takes over the direct relationship with your customers and can share that information with other organisers.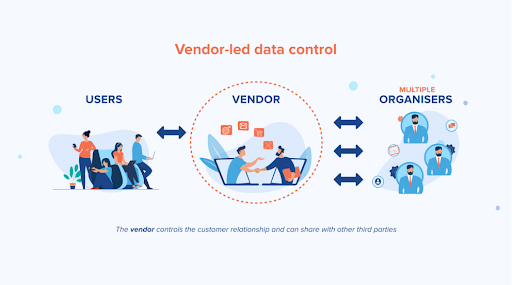 This is similar to setting a group on Facebook or LinkedIn and inviting your contacts to join – the platform is acting like a social network.
Many in the publishing industry now regret directing their audiences to follow them on Facebook a decade ago – the early 2020s could become a moment the event industry also regrets nurturing a competitor.
Although an organiser may not face any legal issues for how this information is used in this case, Clarion Events group MD Lisa Hannant told the latest UFI Connects session that a reputational risk remains for the company depending on how that data is used by a platform.
#2 Can organisers delete event data afterwards?
Can you scrap your car? If not, is it really yours?
An organiser can't remove information about their customers when they have entered a vendor-led model about who controls the data.
This is because the platform retains ownership of that relationship with users.
Meanwhile, an organiser-led model allows the company putting on an event to remove that information after it has concluded, if they choose to do so.
#3 Can users delete their accounts?
GDPR means the customer should always own their data, while platforms or organisers should act as custodians of that information.
Therefore, the user should be able to delete any information of theirs which has been gathered through an event platform. This can be done by deleting their account.
However, it is important to consider what might have happened to that data before it is removed.
A vendor-led model could allow the platform to pass that information on to competing firms, while the organiser-led model sees those putting the event on remain in control.
#4 Do users have the same account across events?
Online event platforms are capable of allowing users to have the same account across multiple events.
This can be useful to allow a customer seamless access to several events within a portfolio. 
However, it should be up to the organiser whether this should be done when they control the data.
This approach is known as "siloed data", meaning the organiser decides which events or communities the information can be used with.
Meanwhile, a vendor-led model can allow the virtual platform to use the same account for any number of events whenever it wants.
This approach often means messages, contacts and notifications from multiple events feed into a single profile and inbox.
The vendor-led model sees the relationship become Facebook-like, as the user can dip in and out of the various events running on the platform – rather than it being a single experience overseen by one organiser.
#5 Can platforms promote events and advertising services to users?
The organiser-led model makes it impossible for vendors to promote other events or advertising services to users, as the platform has no control of the data.
A vendor-led model means a platform could promote other events or advertising services when it controls the customer data.
This can be used by the vendor itself or passed to a competing organiser.
It is important to consider whether you as an organiser would wish your customers to receive adverts from competitors – especially when the platform has been paid by you to process that data.
#6 Who owns the IP?
Some vendor-led platforms own the intellectual property, including the content shared by your speakers.
This could have massive ramifications for those sharing their ideas through your event.
#7 Are you VSef compliant?
VSef is a universal data format for hybrid and virtual events.
Developed collaboratively between event organisers and online event platforms, VSef helps this information move more freely between platforms, business intelligence tools, CRM and marketing systems. 
The VSef initiative is a step towards better standards of data sharing, making it easier to export user and usage data through APIs.
#8 What can I do with anonymous usage data?
Anonymised usage information tracks all interactions a customer has with the platform.
This "firehose" of click and interaction data is an important part of how vendors optimise the online experience for users.
An online event platform needs to retain ownership of the anonymised usage data it generates for strictly limited purposes – to display analytics reports, to function properly and continue to improve. 
If an organiser has co-control they are able to access this data whenever and however it likes.
Many organisers choose to feed this usage data directly into their database for further insights.
#9 What about the future?
"We are still in testing mode, and will be far more mature in the future years – I have no doubt – about what we do as an industry with that valuable customer data," is what Hugh Jones, CEO of RX Global, told that UFI Connects session.
Even if a platform is not actively selling your customer data now, could they in the future?
Once you have given away control of your data in the vendor-led model you have no control of how it will be used.
The influx of VC and private equity money means that it's uncertain who will own these companies in the future – and to what purposes they have for visitor and exhibitor data.
Want to know more?
ExpoPlatform's manifesto for event data sets out in more detail the importance of organisers keeping control of the data, rather than giving it to platforms.
If you want to know who does what with your data, here is our quick summary of the data policies of the main event platforms.
There are two main approaches: the control of the data either stays with the organiser or the control goes to the vendor who can do as they wish, subject to applicable privacy regulations as is the case with every relationship: