Event company CEO is 'among worst jobs in world right now'
An events industry leader has said being a top organiser is "probably one of the worst jobs in the world" right now – but set out how to make it "one of the best".
Paul Miller, CEO of Questex, believes many planners need to reinvent their image from one who purely puts shows together to a team which makes connections.
He has overseen transformative projects in our industry for decades before taking on this latest position in 2018.
The company aims to drive business forward for events by using data insights and digital communities.
He told ExpoPlatform being the CEO of a company which sees itself as one which is only producing events is "probably one of the worst jobs in the world" in the current climate.
However he assured them that there is potential to make it "one of the best" in the world.
It was claimed this can be done by paying more attention to teams who deal directly with customers, while still having people who know how to put on a show and make investments there.
Paul added: "I don't dismiss that expertise – it's similar to your factory manager expertise and you need a factory manager, because they see what's really going on.
"But your marketing and sales team need to be listened to or what you end up doing is you build a better mousetrap that nobody wants. 
"That I think is the danger of being an event company versus that connections company.
"At the end of the day what I'm hearing, frankly, is that despite all of this 80% of the people I talked to are kind of happy being an event company. 
"I couldn't sleep being the CEO of an event company right now – I think that's probably one of the worst jobs in the world.
"Conversely, being a CEO of a connections company I think is probably one of the best jobs in the world right now."
Creating the connections business of the future
Paul has made some fundamental restructures to how Questex does business, including a focus on internal "centres of excellence".
The company wanted to break the "silo culture" and develop expertise so individual teams can quickly share information about what has been working across different shows.
This means for instance that content "best practices" sits in one group, as does product development best practices, banners signage best practices, database best practices and so on. 
He said: "We've gone through a massive transformation – digital revenue streams doubled in a Covid-19 environment, while our event revenue streams clearly haven't. 
"We believe that the initial thesis that there is a different way that communities are going to engage going forward has been exposed completely by Covid-19 and that it's correct.
"I wanted to break the silo culture here, but that wasn't the only reason.
"We set up a robust shared services operation so all of our event performance operations are in one group, product development and technology is in one group and the management of the database is in one group.
"We stripped all of that away from the markets and said it's going to be a centre of excellence. 
"If we see something working in Singapore that might be relevant in Las Vegas we'll share it really rapidly." 
Content
A major step to being a connection company is to have a major focus on content.
Paul urged organisers to bring someone into their team who understands the industry and is able to shape conversations around it which will engage a community.
All of the content can then be used on the company website as part of a 365 engagement approach.
He said: "You don't have to go crazy, you don't have to create the New York Times as your editorial. 
"You can produce great content that people engage with and get data from with a smaller team.
"You can get brand awareness or recognition from it and before you know it, people are saying 'hey, are you gonna put on an event – we'd like to go to it as a community' – so it's very doable."
Paul added sales teams should also be retrained so they "go beyond the transactional" and are comfortable in asking questions which can provide some more interesting insight for this content development.
Customer insight
This then has to be monitored using analytics to find out what is working and how to build out a content strategy – which can be done using free online tools.
Paul highlighted the benefits an organisation can have by establishing an advisory board made up of industry figures who can inform about what challenges or trends they are dealing with.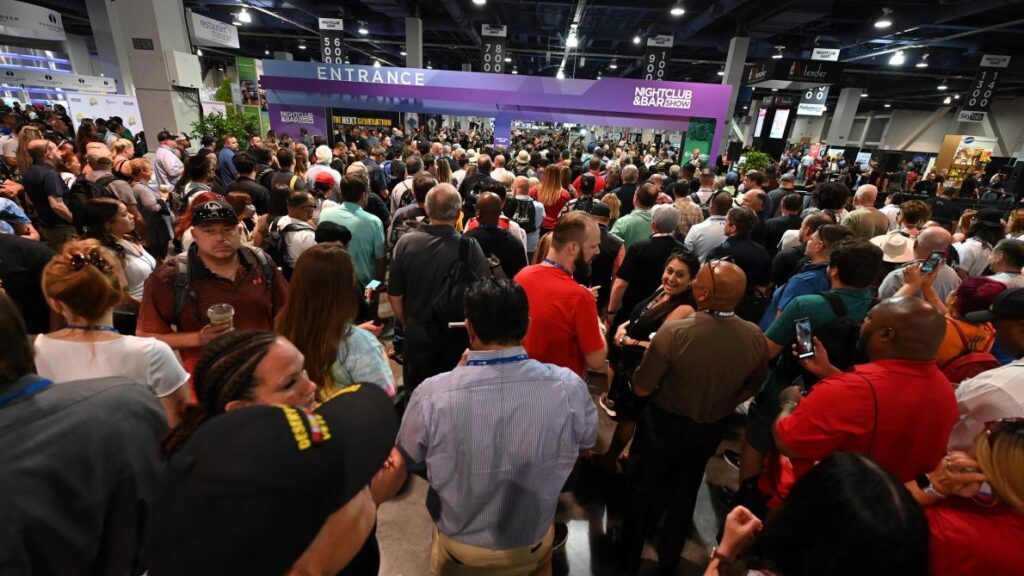 He suggested this could be chaired by the content editor as they will be able to help shape the sorts of material then being produced.
This can be followed up by putting out surveys to your newly established community to build up interactions and engagements.
Paul said: "Let your customers drive your strategy – stop thinking you know best, stop thinking you're the only one that knows how to put on an event, stop thinking that the classic barriers to entry of putting on live events are your reason for being."
This move towards a 365 connections model was already there and has been accelerated by the pandemic.
Spending on pure tradeshow activities is predicted to decline, with exhibitors anticipated to increase investment in online content, hybrid events and training of their own teams.
Research suggests planners will be shifting their budget model to place more emphasis on digital revenue stream.
It is expected this digital component is going to rise from just 2% before the pandemic to 25% moving forward.
These elements now offer great opportunities to drive revenue, increase engagement and improve the in-person experience.
How have in-person events changed since the pandemic?
An example of how listening to data to allow customers to " drive your strategy" can be found in research from Questex which highlighted a drop in overseas travel for events.
One show in Berlin was shown to have all of its attendees being a maximum of a two-hour flight away for the first time.
Although this could partly be down to Covid-19 restrictions or concerns, the company uses this information as a "signal" to prepare future offerings for clients.
Another example of how they used data science to turn a worrying situation into success was with a bar and restaurant show in Las Vegas June.
Paul said the information they were receiving highlighted that no-one from five hours away was willing to travel there for the event – despite it typically attracting an international audience.
The company decided to promote the show in the local area, which resulted in around 9,000 attendees from hospitality premises which were much more nearby.
This is further backed up by data which shows sustainability is becoming increasingly important to businesses and consumers.
International travel is by far the largest contributor to the carbon footprint of our industry, with research estimating that moving 10% of attendees online – made up of those who travel the furthest – could cut emissions by almost 90%.
Paul said: "I'm a huge believer in driving change in our industry but I'm not clever enough to know where all of this is going, but I'd like to think that collectively we're clever enough to admit there's change afoot and that we'll be able to be agile.
"Virtual events may or may not be the eventual answer, but the clever money is saying 'we'd like to bet'."
How do you measure the next generation of events
Paul  told ExpoPlatform his "wishlist" of metrics he wants the digital transformation to spearhead in live shows.
He believes the event experience can be improved using a combination of data science and traditional feedback gathering.
The latter part of this could be a followup survey, an advisory board panel, focus groups or a combination of them all. 
His desired metrics can be split into three categories: buying, networking and experience.
Buying
How many meetings moved the buyer along the journey from discovery to making a buying decision? 
Did someone make a purchase at the show? Was that purchase bigger, smaller or the same as last year? Did someone make more purchases in this show than at other shows? 
Where did those buyers go next for content? What sort of content are they reading? 
Networking

Did an attendee see the people they needed to? How many networking incidents happened at the show? 
How many booths were visited at the show? 
How many discussions took place?  How many of those were either serendipitous or planned? 
Experience
How was the show experience beyond business – food, drink, entertainment?
Which exhibit wasn't there that should have been there?
Paul also believes badge-scanning technology can be useful at in-person events for working out what was successful at an event and why.
He acknowledges there may be some privacy concerns around this which would have to be handled sensitively.
This could be done through anonymisation of a list of high-profile or key attendees who are then tracked.
Paul said: "I'm less interested in hot spots, if I'm honest with you. 
"I don't know how much of it is signal and how much is noise. 
"There's maybe a clown juggling on someone's booth and all of a sudden it's a hotspot for 20 minutes. 
"I'm more interested in whether someone spent 20 minutes at the IBM booth – that's much more interesting to me."
He added: "There are privacy issues around it, but you can aggregate that up.
"There could be 8,000 people at the show and 1,000 we had tagged as ready to buy.
"Those 1,000 people maybe spent more time on 10 booths than on the rest – all of a sudden I can go back to my entire exhibition audience and say 'this is where the buyers went'. 
"That opens up a whole layer of discussion of how you can work the show better, how we price the positions of the show."
However he still believes there are more traditional metrics which can still be used to measure an event's success.
This includes rebooking rates – to see how many exhibitors are returning – and net promoter score (NPS).
NPS was described as still "valid" despite his belief that people are paying less attention to it.
He said: "You could ignore it, because they had nowhere else to go – they're hostages. 
"However, NPS score should be top left of your dashboard.
"All of these types of data points I'd like to see."
Adapt to survive
Paul wanted to reaffirm that there is massive potential for those in our industry who are willing to adapt to change.
He added: "I do think the industry on the whole is full of very smart people who will find a way. 
"I think there'll be some big winners and some losers along the way, like there is with any kind of change. 
"Some of it I think is going to hurt us. Some of it if you get it right is going to be very beneficial."