Helping buyers and sellers connect through the product discovery platform
Virtual events have proved to be an effective medium to deliver content to attendees, but there's still much to do to connect buyers and sellers. In this article we look at the different ways you can help buyers discover the right products and make an informed purchase decision.
According to a virtual event benchmarks report by Explori, the UK-based provider of insights for the exhibition industry, the exhibitor sentiment towards virtual events is hardly optimistic. The Net Promoter Score for virtual events is a dismal -48, compared to physical events at -17. Exhibitors are also sceptical of the ROI virtual events provide, and don't view them too favourably as a means of generating leads.
"The research tells us that attendees believe virtual events are as good as in-person events for delivering content. However for both attendees and exhibitors there is an overwhelming preference for face-to-face events when it comes to networking, overall experience and doing business. This is particularly pronounced for exhibitors whose main objective for participating is to generate new leads," said Sophie Holt, Managing Director at Explori.  
While face-to-face has long been the preferred way for buyers to make their business purchases, the trend is now shifting towards a multichannel sales approach to provide an omnichannel experience. Buyers want every convenient option available to find and buy products – whether it is in-person, virtual or through online marketplaces.
The McKinsey B2B Global Pulse survey supports these insights. The survey found that eight out of 10 B2B decision-makers considered omnichannel as 'more effective than past approaches', with 41 percent stating that online marketplaces were the most popular way buyers connected with sellers, surpassing in-person (37 percent) and video (31% percent). 
The graphic below depicts how, as purchasing has moved to omnichannel, sales models are becoming more hybrid in nature. Buyer interactions are increasingly held over a combination of phone and video calls, and face-to-face visits.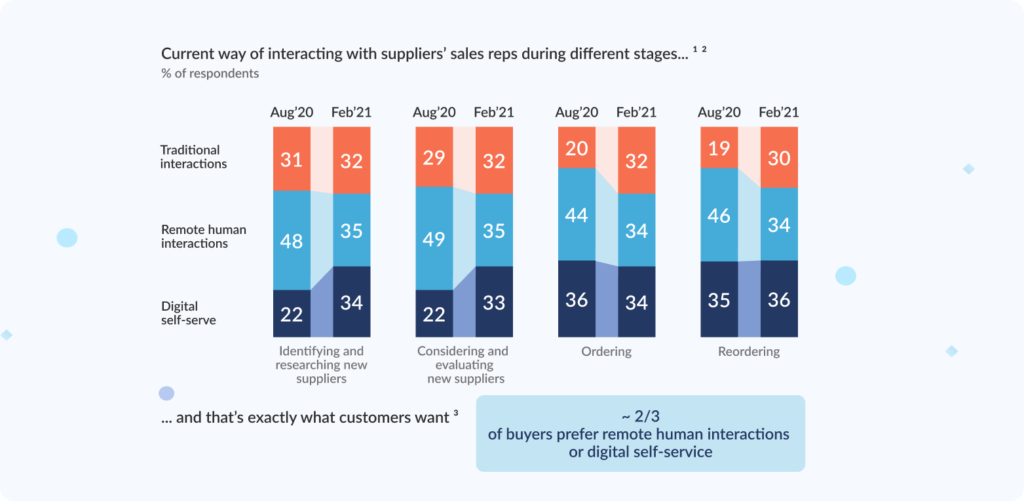 Research by Forrester shows that the B2B buying journey for 90 per cent buyers begins with a Google search. As the hybrid sales model becomes more prominent, buyers want to enquire about products and make business decisions any time of the year, rather than waiting for a three-day event window to open. It's no longer a one-way process from prospect to sale, instead organisers must provide buyers with the answers and information whenever they have a problem.
How adopting a 365 model helps
To deliver such an omnichannel experience, the first step is to develop an online platform where buyers can search for the relevant products and content, and connect with suppliers at any time of the year. A '365' marketplace model for B2B markets has been seen already in the evolution of the retail industry, where behemoths like Amazon have shifted the buying experience from the in-store, bricks-and-mortar shop model to an online one, with buyers having control of what they want to buy and when they want to buy it.
There are essentially two marketplace models that that help enhance the buyer journey through product discovery: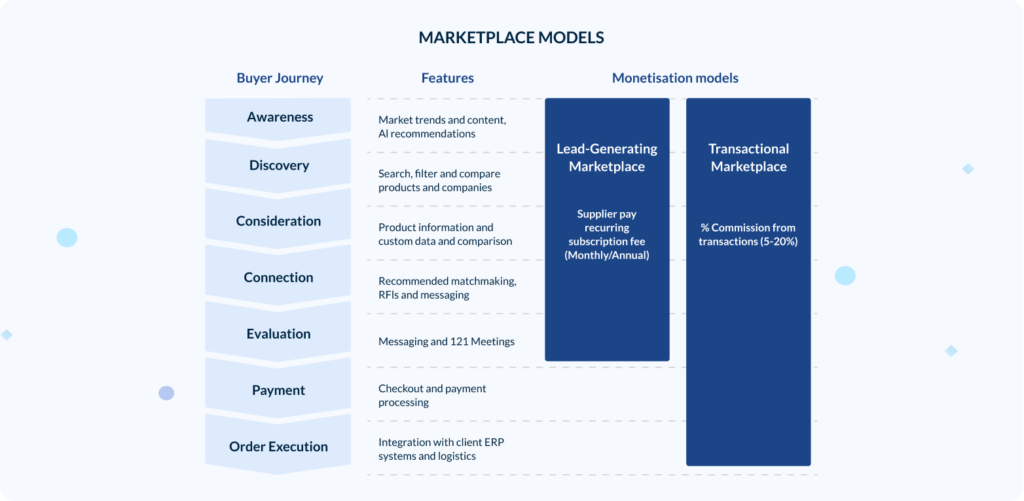 Lead generating marketplaces: These mirror the model of most events by paving the way to an initial business connection. This model is typically based on a subscription or annual listing fee, which is sold to the exhibitor at the same time during their physical presence at an event.
Transactional marketplaces: Used widely in B2C markets, where the ecommerce facilitates the entire order. This model can work on a commission basis so there is no initial outlay from exhibitors.
Let's understand how the product discovery process works by exploring the various tools and strategies at our disposal.
The Product Discovery platform 
It's easy to share content through the digital medium but the same can't be said for products, which usually require more tangible interactions at live events. As a result, exhibitors struggle to get enough leads and prove the ROI at such virtual events. 
To counter this, ExpoPlatform has established a framework for a product discovery platform where organisers can employ different tools to drive buyer-seller engagement, helping improve discoverability of new product launches to buyers, generating more leads and driving ROI.
Here is how these tools can drive product discovery:
'Person to object' AI recommendations
Most AI product matchmaking platforms focus on helping visitors connect with other like-minded visitors based on their pre-filled preferences or choices made during the event. This is akin to what you see on dating apps where the best connections are generated after matching the likes, dislikes, hobbies and interests.
However, ExpoPlatform's 'person to object' matchmaking algorithm goes beyond matching visitor to visitor. It scans thousands of profiles against user registration preferences and platform usage to generate personalised recommendations for products, content and companies.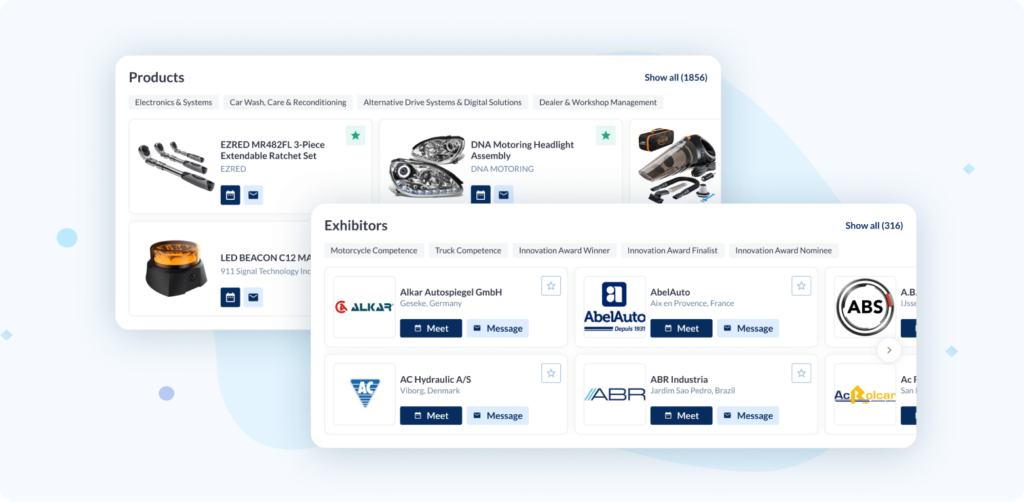 These recommendation widgets (pictured above) can appear around the event platform to provide Amazon-like recommendations, and can be included in personalised email notifications as well as event app push notifications. 
Product Showcase Hub
One of the key reasons people visit live events is to see the latest innovations and products on display. A digital counterpart can be created in the form of a 'Product Showcase Hub' where organisers can highlight new and innovative products and services, along with the relevant content.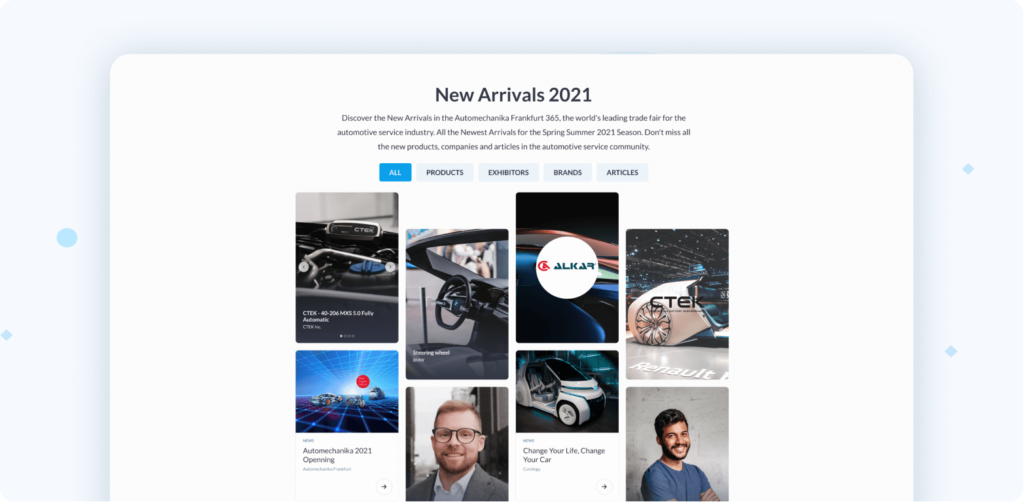 Organisers can select the products and articles they want to showcase, with the order listed either chronologically or by AI recommendations. This way the buyers can easily browse the latest products, bookmark the ones they are interested in and explore more options to make their purchase decision.
There is a solid monetisation opportunity also involved, where the organiser can highlight branded content and products by sponsors. These products and content pieces can be further promoted before, during and after the event through targeted email promotions and social media marketing campaigns.
365 Marketplace
Since the B2B buyer's journey begins with an online search, it's essential to provide them a year-round 365 marketplace where they can explore different products and connect with any supplier. Having a marketplace platform also helps organisers to fine tune their SEO strategies through measurement and tracing, attracting the top users with buyer intent.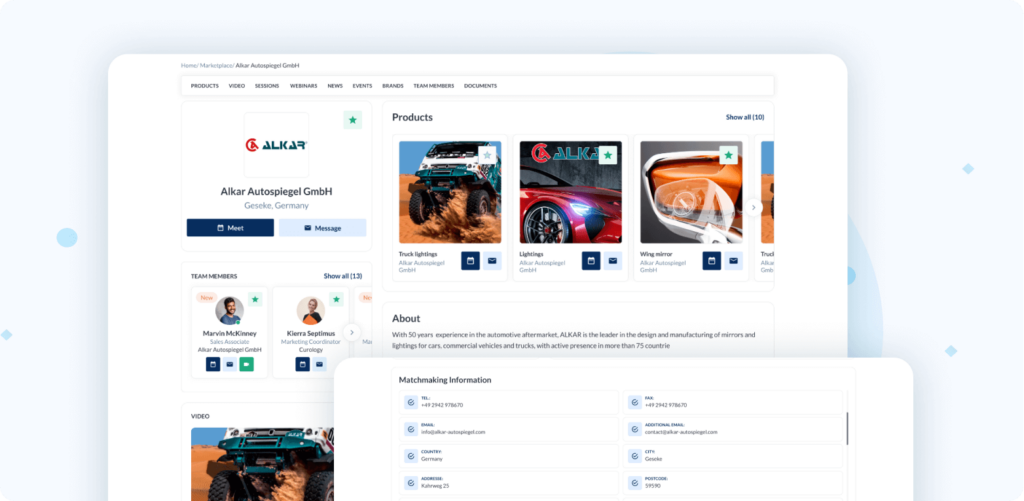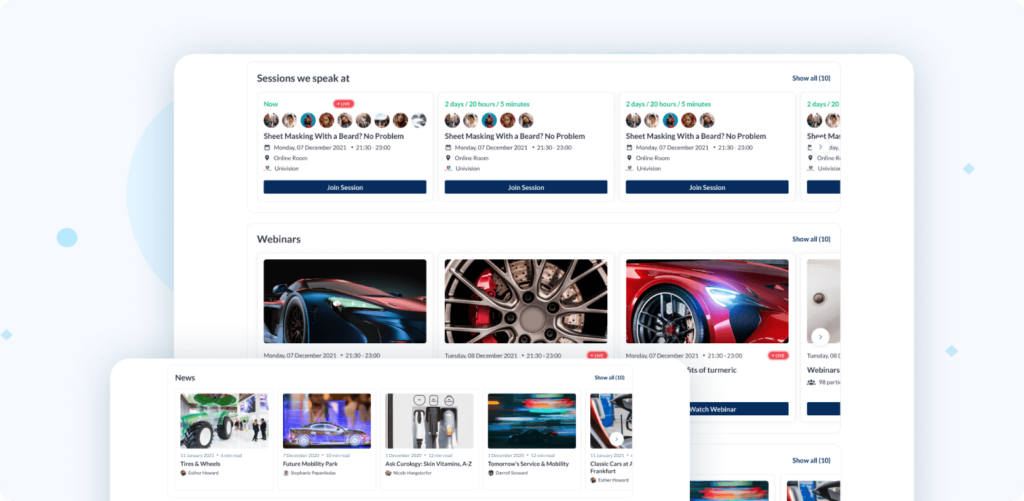 A company profile is the starting point when it comes to establishing the exhibitors' presence on the platform, complete with a dashboard to help them meet and network with customers. The exhibitors/suppliers listed in the marketplace can update their profile, post company news and share information about their product. 
The platform includes options for rich company profiles, where exhibitors can create engaging profiles by listing more types of content, including video and customised backgrounds and pop-ups to capture leads. There are also excellent monetisation opportunities available through enhanced year-round exhibitor profiles (think silver, gold and platinum packages with different features to promote and upsell to clients) and premium listings where the premium exhibitors can showcase their products at the top of the marketplace. 
Tenders and RFQs – Product finder tool
Once a prospective buyer wants to purchase a product or service, they send a Request For Quote (RFQ) to a range of suppliers before making their decision. Product Finder, a tendering tool, helps make this procurement process easy for buyers. With this tool, a buyer can send requests to multiple suppliers at the same time, generating leads at scale for exhibitors. 
The Product Finder widget (pictured below) is built on the AI-powered marketplace and helps find the relevant products tailored to a buyer's specifications.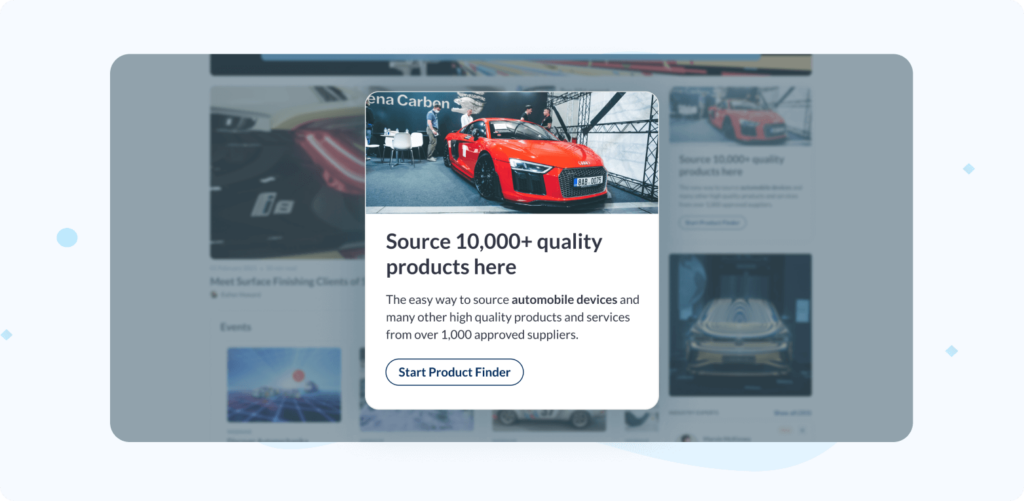 Here's a simple three-step process that explains how this tool works: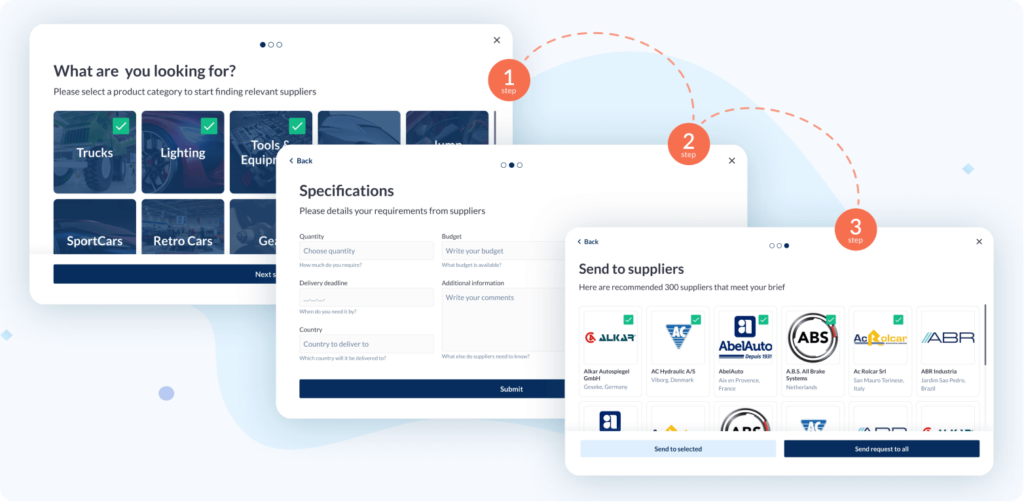 Step 1 – The buyer selects the product categories which interests them.
Step 2 – Buyer fills out a short form describing their requirements – budget, quantity, any customisations, delivery address.
Step 3 – The RFQ is sent to any suppliers in the marketplace that best fit the requirements. Suppliers can respond to the RFQ directly through their messaging dashboard.
Hosted buyer module
Hosted buyer management platforms with advanced AI capabilities can transform a complicated buyer journey into a simple one. A hosted buyer programme allows buyers to cut through the noise, save time and network with exhibitors specifically selected for producing appropriate products and solutions.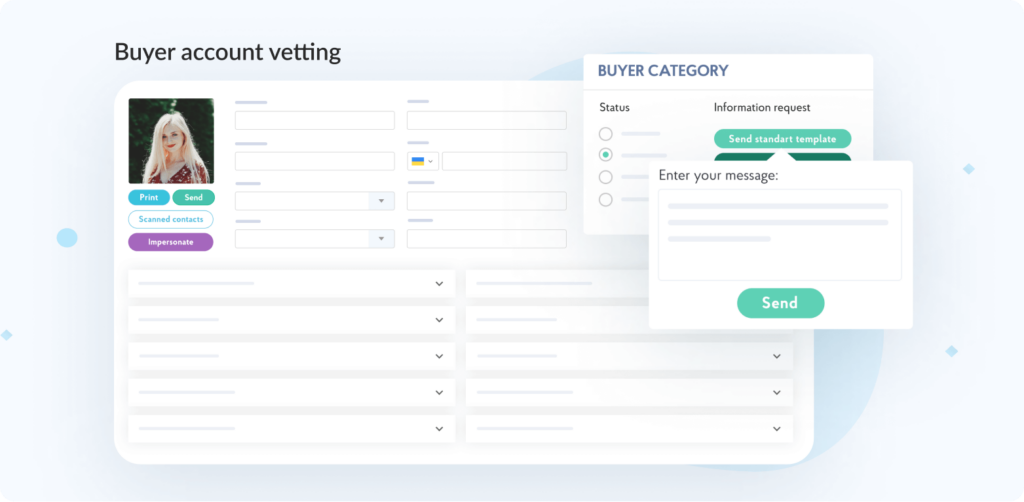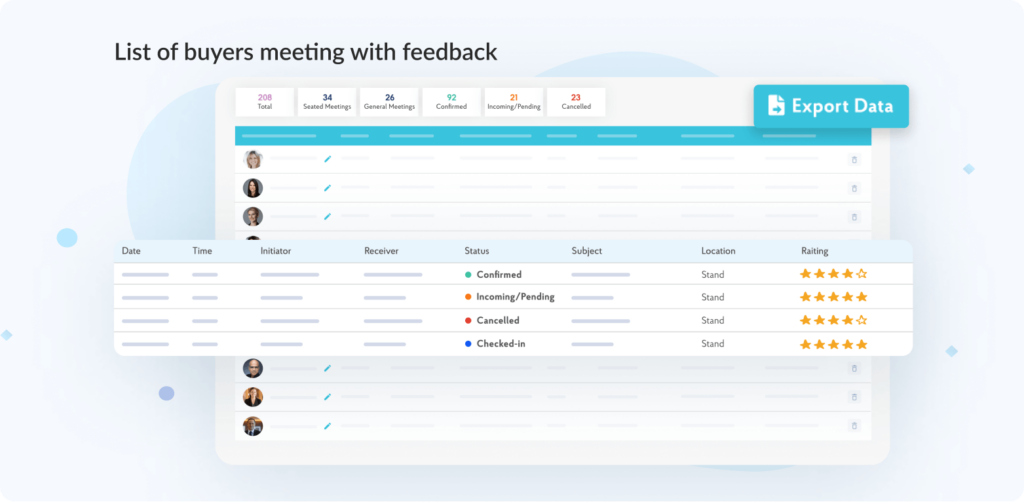 Meeting qualified buyers enables exhibitors to reduce efforts and resources on marketing collateral, giveaways and product demos, helping them justify ROI. 
Here is a detailed guide on how you can bring buyers and sellers together using an online hosted buyer software module.
Sponsorship and advertising
A key aspect of running a successful event is to promote the exhibitors and their products across the event platform with high visibility sponsorships. This sponsored content can be used to drive traffic to the exhibitors' virtual booth, highlighting key offerings and products. As a result, exhibitors get a healthy stream of leads, helping them scale up new business opportunities.
Sponsorship and advertising can take different forms, such as:
Sponsored content and breakouts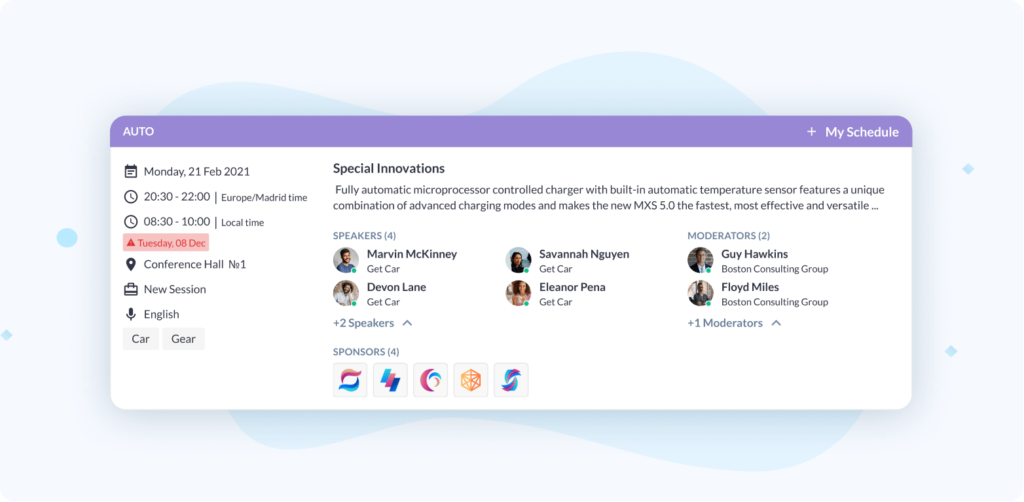 Sponsored sessions include the logo and branding of sponsors associated both in the agenda and within individual sessions itself.  Clients get the leads of all attendees of a session they sponsor.
Display advertising and video pre-roll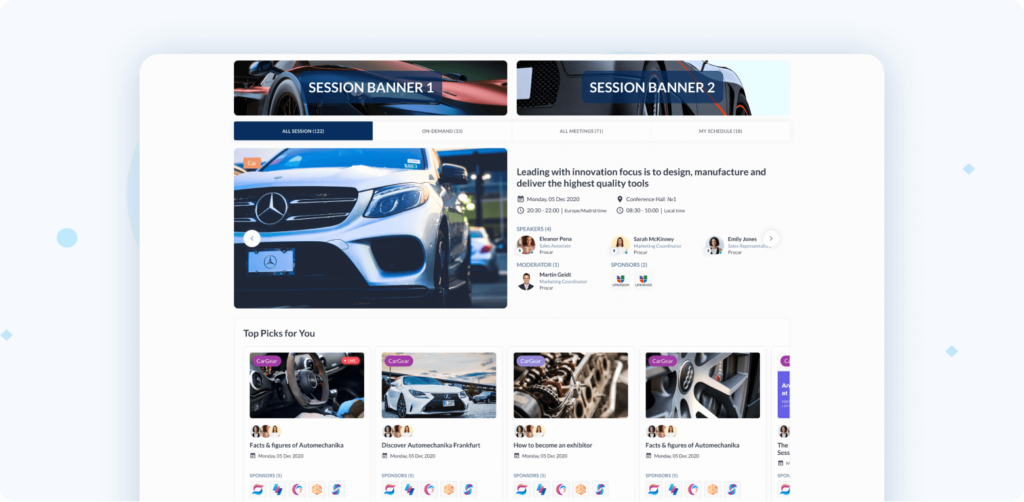 Display advertising can be displayed across the site alongside content sessions and exhibitor listings, driving response to exhibitors. Videos pre-rolls can can be played in advance of content sessions served based on a) matchmaking algorithm or b) content track.
Push notifications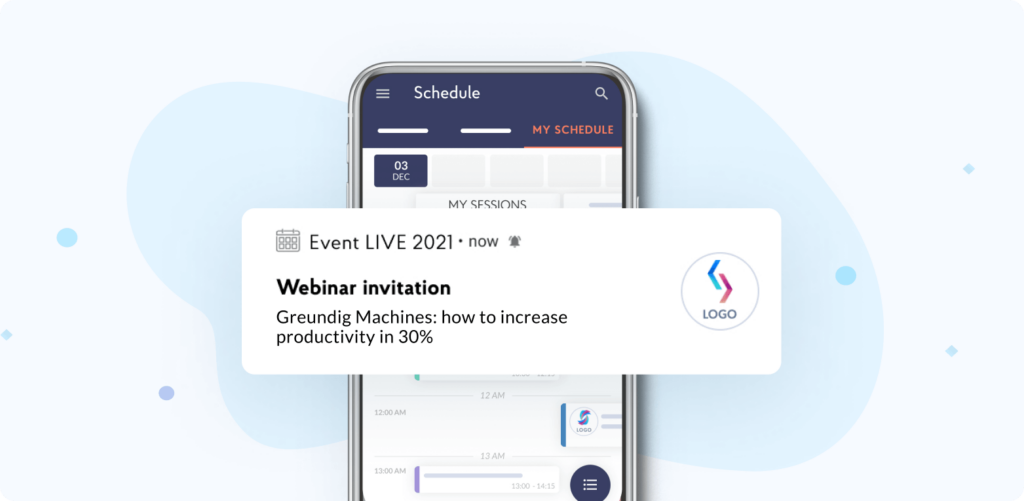 Attendees using the web app or mobile app receive a popup message on their screen or smartphone. Organisers define the content, date and time of the 'alert' – for example, announcing a product demo or directing attendees to the virtual booth. Messages can be sent to all attendees or targeted to specific groups.
Real-time exhibitor leads
Unified exhibitor dashboards give suppliers the opportunity to see who is engaging with their content and profile, and depending on the degree of interaction and interest shown, it enables them to make contact with the prospective buyer. Here is how it streamlines the process to get more buyers onboard:
Lead analytics



Exhibitors and sponsors get richly detailed analytics which give them real-time statistics on their performance basis different metrics

    Self-service dashboard



     Exhibitors can manage their leads and track audience interactions         through banner ads, pop-ups and search results.

Badge scanning

By scanning badges at live events through the mobile event app and using lead scoring to qualify relevant leads, the dashboard can be consistently populated with buyer information.
Conclusion
The emergence of online B2B marketplaces is opening up new product discovery opportunities across various industries, offering benefits such as the ability to automate transactions and reduce costs, through e-invoices for example. When combined with the tools mentioned in this article, their role becomes more potent in accelerating the process to bring buyers and sellers together under one virtual roof. 
To summarise, the product discovery platform helps in:
 Matching buyers and sellers

Providing necessary product information to buyers and market information to sellers

Aggregating information goods (public and private e-catalogues)

Facilitating physical delivery, logistics and payment

 Establishing trust and ensuring market integrity
For more about ExpoPlatform's ability to drive product discovery and facilitate connections between buyers and sellers, reach out to Mark Gordon m.gordon@expoplatform.com