Gunnar Heinrich: The Art of Smart Events and Metrics
The "real art" of building a data-driven events business is to stick to the rule of "twenty's plenty" when it comes to metrics, according to an industry leader.
Exhibitions have witnessed a significant growth in the amount of digital information now available to organisers – with ExpoPlatform estimating it to have grown by a factor of 20 over the last few years.
Gunnar Heinrich, CEO of Munich-based adventics, believes the key to making a success of this is to focus your attention on metrics which can help you achieve your company's goals.
This means aligning KPIs with your corporate strategy – if you want to grow in Asia , for instance, you need a measurement for that.
Gunnar highlighted how our industry is in a "new world" which required greater focus and recommended sticking to the rule of "twenty's plenty".
He told ExpoPlatform: "Event organisers are not always used to basing their decisions on data because sometimes it's quite new for them, especially if we are talking about the new KPIs we can now derive from an events platform.
"It's super easy to have tonnes and tonnes of numbers on your dashboard, but twenty's plenty.
"There should be no more than 20 KPIs which drive your entire global business.
"The real art is to work on these 20 KPIs – what are the really important numbers for you and your business?
"These numbers must be derived from your corporate strategy – if your strategy is to internalise your business then you need a KPI to measure that.
"Otherwise you can't see if you're going in the right direction
"Especially now, we're in a new world with the event industry – it's super important that you think about the right KPIs and don't have 100 different numbers."
Convincing businesses to be data-driven
Many German organisers are state-owned and play a key role in supporting businesses around their regions.
This can create a problem for those trying to convince shareholders to add digital elements as the link to how it meets this goal is not clear.
Gunnar believes the key to this is setting out how you will first play an important part in the community, but also make more profit.
He said: "If you are talking to organisers who are state-owned, they will tell you it's interesting to be able to do part of their yearly revenue with digital business, but don't know how to approach this new area.
"Because before the pandemic it wasn´t the objectives of their shareholders, as their shareholders told them they are a supporter of the local, commercial infrastructure so they should support the businesses in their region.
"This role is currently changing to first serve the community or industry in the community and to make profit from this enhanced business model.
"It's then much easier to talk to these people about what we can do with digital strategy and monetising on data."
Smart Events: Getting to the 'real truth'
Research by ExpoPlatform revealed that shaping products through customer insight is the most valuable opportunity for the event industry through data science.
Event professionals gave our survey feedback on how they see the digital revolution of our sector shaping up, with over two-thirds of respondents (68%) choosing this area as their top priority.
This was closely followed by being able to provide a 360 view of customers (65%) and personalisation of experiences (62%).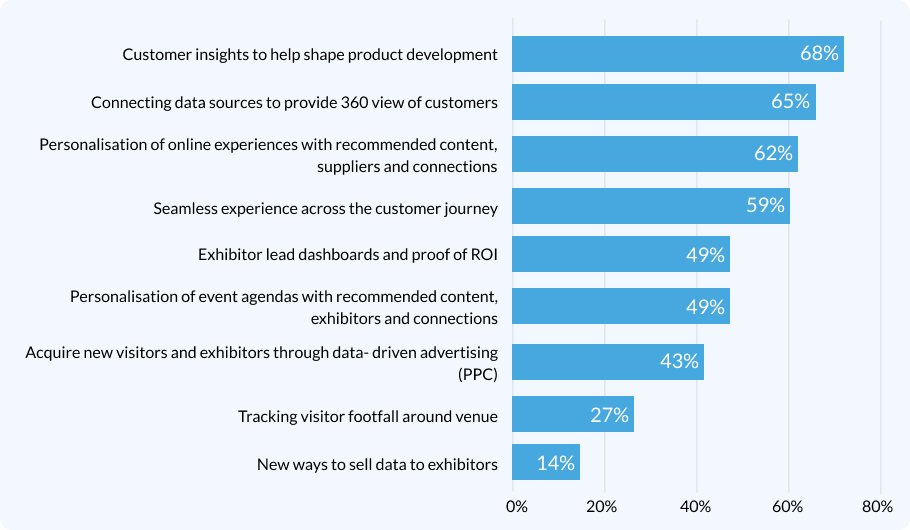 The findings are included in ExpoPlatform's new AI Blueprint ebook, which provides practical guidance on using data science in events.  
Gunnar echoes these findings by saying this information can give you an honest picture of an attendees engagement through their behaviour.
He said: "Their behaviour tells you the real truth – who did they meet, which stand did they visit, where was it, what did they search for, what topics did they read on the email communication, what websites did they visit, which products did they look at on the online platform.
"This has huge potential, where companies like ExpoPlatform can help in the future because they prestructure all the data for you to show you the real truth. 
"Now you can profile your attendees much better and you can make more business with this information."
The last two years of running virtual events have generated a huge rise in event data, familiarising organisers and participants with digital tools – all of which can be used to measurably improve customer experiences at live events.
A Smart Event is an in-person event that uses digital technology to increase the value of the experience for all participants.
This show format uses technology to enhance key points of the journey for visitors and exhibitors, pre, during and post event.
Competing for the right talent
Once an organiser has decided to bring in digital elements, the next stage is to rework your business model and bring in data scientists to your team.
A real challenge for event organisers is being able to attract the right people to join their teams.
Businesses who can bring in real talent are then able to unlock insights into the data which they are gathering.
However, Gunnar sees competition and a lack of strategy as holding back progress in this area.
He said: "For the last few years we have been working within a digital transformation of our industry. 
"We have been helping managers with their digital strategies, but of course there is still a huge lack of data scientists in our industry.
"There is still a war for talents – why should a very good data scientist go to a trade show or organiser?
"In Munich here we have Google's German headquarter, Apple's German headquarter, Microsoft's German headquarter and BMW's headquarter. 
"So why should very smart data scientists not go there, where they pay double the money a typical organiser can pay?
"It's a problem, but we need these people in our industry too."
Gunnar believes the crucial first step in overcoming these obstacles is to "build a story" around how the industry can be attractive to talented data scientists.
That means explaining how much innovation and expertise there is involved in events and showing them how their skillset can benefit from that.
He said: "The first thing you have to have in place to attract potential candidates for this role is to build a story around that – make your industry attractive.
"We find the industry attractive because we work for this industry and we know how attractive it is.
"We should learn from the markets we deal with and build an attractive story, then we can also attract high potential people in the data segment."
He added: "An organiser or exhibition company should know what the value of data is and what their strategy around data is – and this is definitely a topic for the C-level as well.
"It's very common that you talk with managers and they describe it as the new oil for our industry or that attendee data are the gold nuggets of our industry.
"Quite often this is more a common feeling, but missing a detailed plan on how to monetise these assets.
"What's the value of your golden nuggets? What are you doing with the data and how do you monetise the information you have?"
Keeping control of data
Another finding from ExpoPlatform's ebook research backs up claims from heads of some of the largest event planning businesses in the world that control of data must reside with them, rather than the technology provider.
An incredible 97% of exhibition organisers told the ExpoPlatform survey it's at least very important to take control of their data.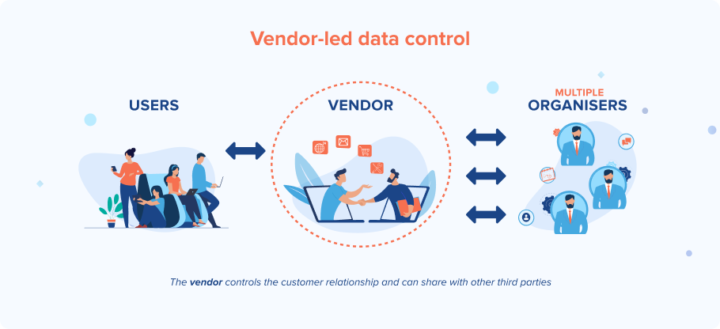 Gunnar is among those top industry professionals to stand by the importance of taking responsibility in this area.
He said: "If you lose control of this data – or even worse if you allow other parties to use this data for their own purposes – you throw away your most important assets.
"It's super short sighted."
The threat of Big Tech

There is huge potential for data science to help businesses in our industry to grow, but Gunnar believes there is a threat from Big Tech and other industries discovering the exhibition segment if organisers do not move fast.
He pointed to the likes of Alibaba, LinkedIn and Meta as being potential competitors who already have expertise in this area.
That's why he sees event technology providers as playing a key role in supporting organisers on this journey.
Gunnar said: "You have different roles within organisations such as CFOs, CMOs, sales people and of course strategy people.
"They have this gut feeling that data is somehow important, but they cannot get a grip on how to really make a business out of it.
"We can and we should all help them because there are so many outsiders of our industry linked to this, so there is a threat coming.
"Maybe you have a nice venue, but you will not be in the power position. 
"You will not automatically be in the driver's seat driving the community, this will be left to others.
"We should take care as we are still in a good position, but we need to move forward." 
We hope you enjoyed reading this article and found it useful. At ExpoPlatform, we want to help you build better events and communities. Please get in touch and ask for a demo here. Thank you.