Event app market to double in value by 2028 – report
Figures from the Insights Partners show the technology was worth $1.2bn last year but is projected to grow at a CAGR of 14% over six years.
Key reasons for the growing adoption of mobile event apps 📱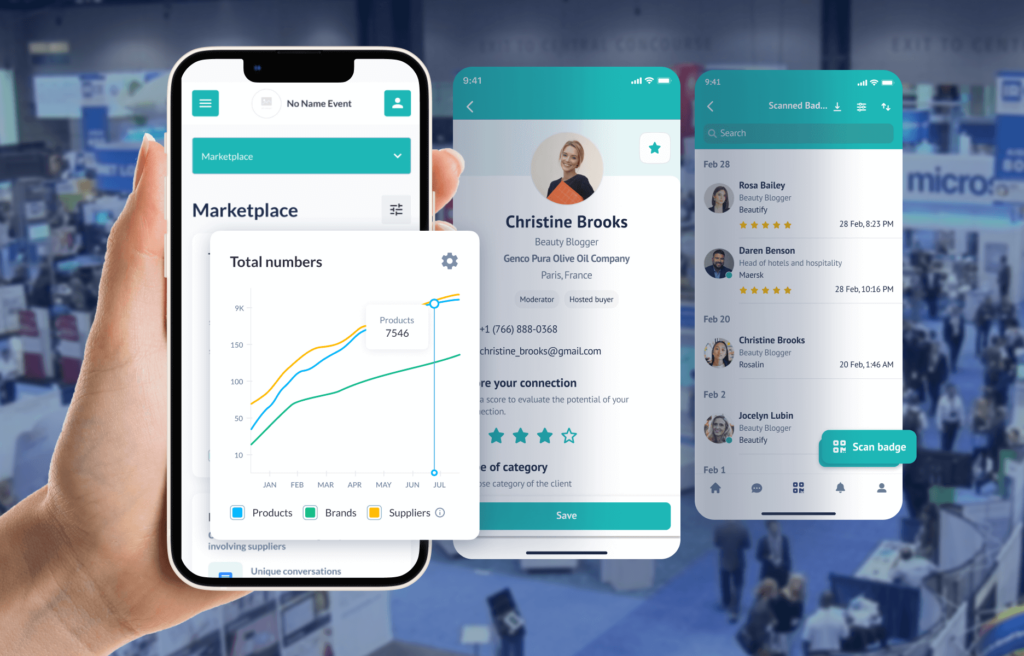 The popularity of mobile event apps has surged like never before. These apps provide convenience and efficiency for both organizers and attendees at exhibitions.
Updates happen instantly, making it easier to create connections without worrying about missed opportunities.
The seamless user experience also eliminates stress. All this happens with an intuitive app that's tailored to the event's needs.
Everything is at the participants' fingertips – speakers' bios, session descriptions, social network integration, special offers, booth details, content access and more – it's all integrated into one app allowing everyone to get the most out of the event.
Luke Bilton, Chief Growth Officer at ExpoPlatform, said: "We're seeing a real ramp up in mobile app adoption at live events. There's various studies around this and generally mobile app adoption at events seems to be 2 to 3 times what it was pre-pandemic." 
Here are some reasons why the adoption of event apps is rapidly increasing:
Recovery of exhibitions sector 📈
The exhibition industry is on track to make a full recovery in 2023 in most global markets, according to UFI's latest Global Exhibition Barometer Research.
More events = greater use of event tech like mobile apps.
Increasing digitization of events – evolution of Smart Events 👨‍💻
The landscape of B2B events has undergone a drastic transformation. Tech is prevalent everywhere and organizers are looking to create more live shows powered by modern event tech solutions.
Mobile apps are a crucial part of this digitization and nearly every major show has one.
Integration of networking and content distribution solutions 🤝
Event apps now come with advanced networking software like AI matchmaking algorithms and hosted buyer software suites.
Organizers can also enable easy content access and distribution for attendees by incorporating QR codes.
Also read: Learn how to properly use QR codes to improve your live event experience
Rising investment by enterprises in mobile event apps 💲
More businesses are investing in event apps as it improves management efficiency, boosts engagement levels and provides the ability to create branded touchpoints.
Increased focus on sustainability 🌳
Organizers are looking to make their shows more sustainable and work toward the Net Zero Carbon Events pledge.
Mobile event apps can help play a crucial role in offsetting the carbon footprint of your event. You can:
Plan and manage entire events through the app – replacing manual processes

Eliminate paper use – the customer journey can be done through various touchpoints on the app. You no longer need to create lanyards, paper forms and more.

Allow attendees to access digital brochures and catalogues, removing the need for any printed marketing materials.

Plant a tree by simply booking a demo or confirming a meeting on the app under ExpoPlatform's Meetings Make Trees initiative.
Chris Pendley of Messe Frankfurt highlighted the sustainability aspect of mobile apps in their shows.
He said: "We've implemented the badges into the mobile app and did some PR around it saying we're going to be a little more sustainable. Things like that have given us an uptick in adoption rates."
Integration of event management software into mobile apps 🔗
Different automation solutions, customer relationship management software (CRMs) and other collaboration platforms like interactive floorplans are being integrated to create Smart Mobile Event Apps.
These apps can handle a plethora of tasks and functions to deliver high value to the audience.
Miguel Neves of Skitft Meetings said: "If you make the app necessary for the event or, there's something that's really important to do that is so much better to do on the app, I think that really drives that adoption." 
Read more: How ExpoPlatform's partnership with Crowd Connected is making its event app more location-aware
12 event app features you should consider to create Smart Events 😎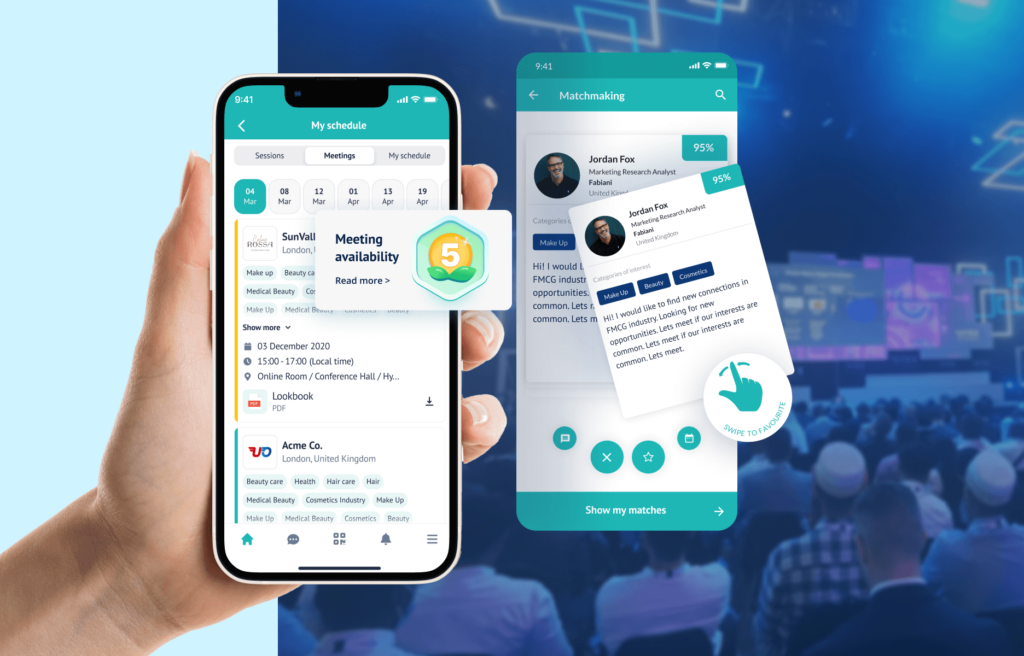 For organizers, mobile event apps provide a data-backed landscape that ensures greater engagement and new monetization opportunities at events.
This includes and is not limited to generating additional revenue through customized buyer journeys, advanced networking via AI matchmaking algorithms and acceleration of the sales pipeline with an improved lead retrieval process.
These event apps have the power to create Smart Events with a high success rate – if you know which features to include.
In a recent webinar, Dahlia El-Gazzar of DAHLIA+ Agency said: "You have to figure out what you are going to put in that mobile – that is just going to be essential for any stakeholder of any event to have a great experience."
Here's a checklist:
✔ Standalone container app 👗
A single app is used for a specific event or multiple events of a similar nature e.g if there are multiple fashion events happening under the same umbrella brand.
Benefit 👉 You can access different events and their content with a single download – no need to install separate apps on your mobile each time a new event happens.
✔ Custom homepages and theme 🏠
Create a customized homepage with your event's branding and theme to include the necessary information for your audience.
Benefit 👉 All the info like login details, profile page, contact numbers and links are provided to help the attendee explore various aspects of the event and boost engagement.
✔ Personalized agenda builder 📓
Attendees can use this feature to create their own personalized agenda for the event.
Benefit 👉 Attendees can cut through the noise to attend the sessions most relevant to them and save time.
✔ Live session streaming 🎦
Helps you stream different sessions directly from the event app.
Benefit 👉  You can gauge the real-time audience reaction and feedback and make necessary corrections.
✔ Meeting scheduler and messaging 📩
Ability to set up meetings, share relevant documents and communicate privately with other participants within the app.
Benefit 👉 Encourages knowledge sharing, networking and boosts community building.
✔ Interactive floorplan 🐾
Use indoor mapping and blue-dot wayfinding to help attendees navigate smoothly at the venue location.
Benefit 👉 Attendees can move from one location to another in the quickest way possible e.g. they can search for meeting rooms, breakout areas and different booths without having to ask for directions.
✔ Lead scanning 🤳
Real-time lead scanning and scoring helps organizers track contacts, qualify prospects and work on lead nurture campaigns.
Benefit 👉 Increase exhibitor leads at live shows by as much as 250%. Best of all, it also works without the internet.
✔ Product Tinder view 💟
It's a Tinder-like product finder where users can swipe right and left to select or ignore products.
Benefit 👉  Attendees can get details of relevant products, browse product catalogs and view more info in a simple manner.
✔ PDF lookbook 📗
A marketing document that displays an image gallery of products, reviews, walkthrough videos and testimonials.
Benefit 👉 Attendees get a quick and clear look at exhibitor profiles that aids decision-making.
✔ Digital monetization 💱
Digital sponsorship opportunities through banner ads, splash screens, featured search and premium exhibitor profiles.
Benefit 👉 Helps create multiple revenue streams to drive business growth and improve event ROI.
✔ Exhibitor catalogue search 🔎
Search exhibitor cards to view complete profiles and details.
Benefit 👉 Sort and filter relevant exhibitor cards based on business needs.
✔ Permission levels for different user types 🚪
Organizers can allow selective access to different materials and content to their audience.
Benefit 👉 Helps create tier-based access to exhibitors and attendees based on the package they select – improves event monetization.
Want to know how you can drive more value for your audience through Smart Events? Read the organizer's guide to learn more.
We hope you enjoyed reading this article and found it useful. At ExpoPlatform, we want to help you build better events and communities. Please get in touch and ask for a demo here. Thank you 😀