Event Website Builder: A Complete Guide
An event website is the first point of contact for your audience to find out more about your event. You can promote your show, provide necessary information and instruction, use it as a portal for registration and payments and do a lot more. This guide will help you understand how an event website builder makes the website creation process incredibly easy.
Here's everything we'll cover in this piece:
The importance of creating a website for each new event becomes more apparent as you grow your business. A professional online presence is great for promoting your shows and keeping attendees informed about upcoming experiences.
That being said, building an event website isn't always easy. The digital world is growing at a rapid pace and there is a high demand for websites that are accessible, interactive, user-friendly, mobile-responsive and customisable.
Hiring experts to get it done in-house or outsourcing it to a firm can also be expensive. A good solution lies in website builders.
However, not all have the desired functionality to create a professional-looking website that also caters to specific content and features.
Finding a specialised event website builder can help you build an interactive website for your exhibition or tradeshow with minimal to none design skills or coding knowledge.
You can create a customised site from scratch or choose from thousands of pre-built templates to get going for your event. Now, let's go into more detail.
What is an event website builder?
Smart exhibitions and tradeshows need a mix of digital and offline elements to be successful. Many organisers use event management software to manage the details of their events.
This also includes a website builder module that enables the creation of websites for different shows.
Event website builders help bridge the gap between software and web-based solutions. They help you create an engaging virtual experience for your audience without coding skills or graphic design knowledge.
These tools streamline the process of creating an interactive visitor website with custom branding and content, integrating a calendar, ticketing, registration, FAQs, social media sharing as well as other features as needed.
For example, ExpoPlatform's website builder module allows organisers to quickly set up a beautiful, mobile responsive website using one of three pre-configured templates.
The Drag and Drop feature allows significant flexibility and customisation. This allows marketers to quickly create websites with unique looks and UI to represent your event.
Why do you need an event website builder?
An event website is something that's exclusive to your show. That means it's usually not accessible outside the period of your event.
An event website builder makes it easy to create a high quality site for your event, especially if you lack technical skills or don't have time to learn the intricacies of coding.
Such a website helps promote your event and sell tickets online. It also acts as a digital guest book, where visitors can leave their contact information and receive reminders about the date of the event.
An interactive, well-designed site can boost registrations, attract sponsors and generally make things easier for visitors.
Choose the right event website builder
The right event website builder can massively boost the online presence of your show. There are a few things you should keep in mind while choosing one.
This includes the size of the event, the target audience, your budget, features and integration options.
First, consider the size and scope of your event. Will you need a lot of customisation options? Do you need a platform that can handle a large number of attendees?
For example, if you are hosting a large-scale event with a broad audience, it may be worth investing in a fully customised website builder. If, however, you are hosting a smaller event with a more niche audience, a cheaper and simpler option may be more appropriate.
Second, think about your budget. There are a variety of event website builders on the market and their prices can vary significantly. Make sure to get a few quotes before making a decision.
Third, make sure your chosen event website builder has the features and functionality needed to promote your event. Take some time to read reviews of various event website builders. This will give you a good sense of each platform's features and capabilities.
Finally, check whether the event website builder offers the ability to integrate with other systems such as CRMs. Integration features help make organising a show easier by allowing you to track leads, manage sales leads and measure ROI.
Types of event website builder
Tradeshow event website template
A tradeshow event website is a platform where businesses and individuals can showcase their products and services to a wide audience. It has product directories, exhibitor manual, mobile app integration and lead nurturing capabilities. This means having networking elements like AI matchmaking and meeting and messaging features.
Example: Pharmapack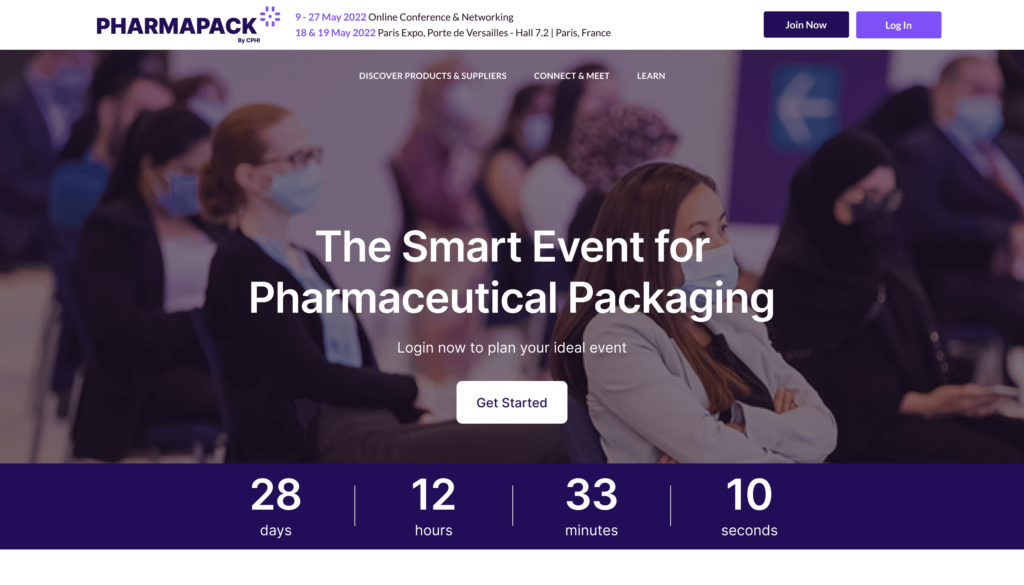 Associations event website template
An event website template for associations should provide help with creating invitations, keeping track of RSVPs, attendee interests, post-event feedback surveys and more.
Example: British Society for Haemotology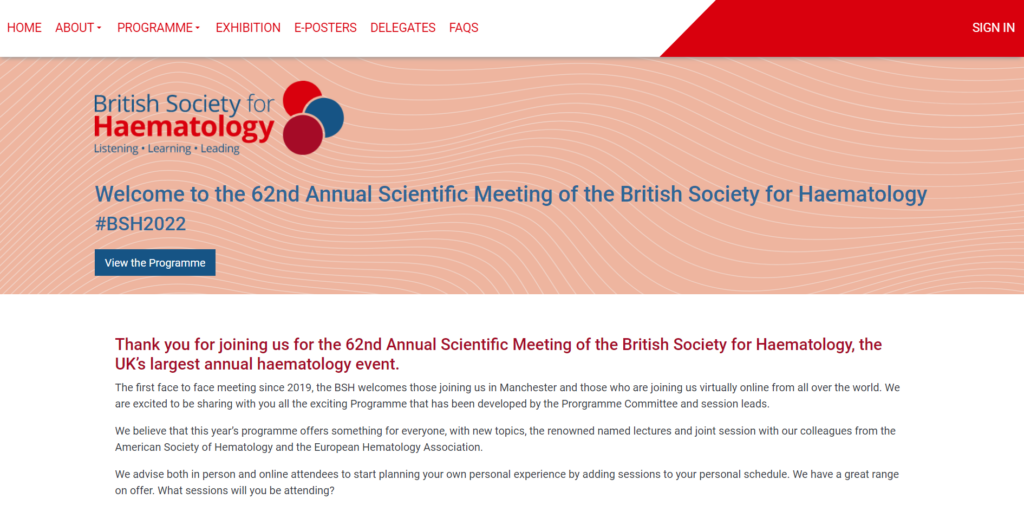 Conference event website template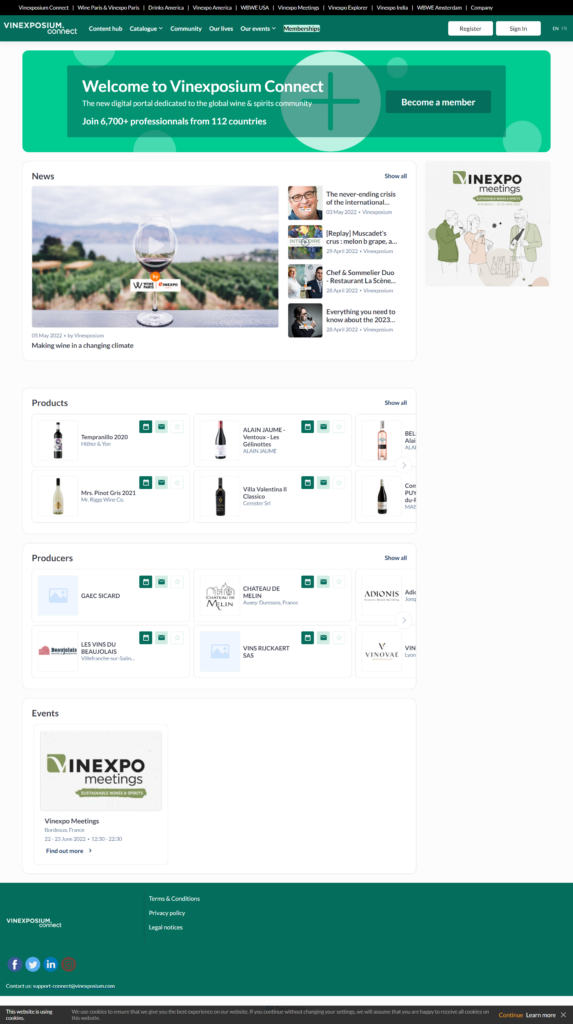 Features and benefits of an event website builder
Organisers can benefit from specialised event website builders like ExpoPlatform in various ways:
Easy to design and customise your event
Intuitive Drag and Drop website builder‌
Allows you to create your own design by pulling in videos, image carousels, speaker galleries, exhibitor products, testimonials, sponsor logos, news, event agenda social media and more.
Fully mobile responsive‌ website builder 
Optimises content for smartphones and tablets and ensures all pages load quickly and easily on any device. This helps users view the event details wherever they are.
CSS customisation of fonts and branding
Change the look of your event website to match your brand with CSS customisation. You can change colours, text sizes, font types and even add your logo or company name.
Supports custom HTML/JavaS‌cript 
Use custom HTML and JavaScript to add event-specific features to your website such as a countdown timer, a custom registration form or a live chat widget.
Clone pages for fast setup
Create multiple versions of your site using clone pages. These allow you to quickly set up new pages without having to start from scratch.
Setup and Integration

Pre-integrated with other modules‌, such as agenda builder
Integrated with other modules to help manage everything from one central location, streamlining the workflows and getting access to a wealth of data and analytics.
Easy tool integrations
Get crucial data and analysis about your website by integrating it with tools like Google Analytics.
SEO-friendly Sitemap, meta tags, etc.
SEO sitemaps and meta tags can help your website builder create an event website that is more easily found by potential attendees. Optimising your website for search engines ensures it appears higher in search results – making it more likely that people looking for the relevant information will find your site.
In addition, using relevant keywords in your sitemap and meta tags can help prospects find your site when they are searching for information about events like yours.
Custom URL and email domain 
A custom URL is a unique address that can be used to access your event website. An email domain is a domain that is used to send and receive email messages. Using a custom URL and email domain makes your event website more professional and easy to find.
URL slugs on pages‌
A URL slug is a short code that is appended to the end of a URL to identify a specific page or piece of content. Slugs are typically used to improve the readability and SEO of a page or post and can be customised to reflect the content or subject matter. You can use the website builder's URL slugs to identify the event's date, location or theme.
SSL security certification support‌
SSL (Secure Sockets Layer) is a security protocol that encrypts data sent between a web browser and a web server. SSL is typically used to protect sensitive information, such as credit card numbers and passwords. Many event website builders now offer SSL security certification as an option for their customers. This helps ensure that event information is kept safe and secure.
Data capture forms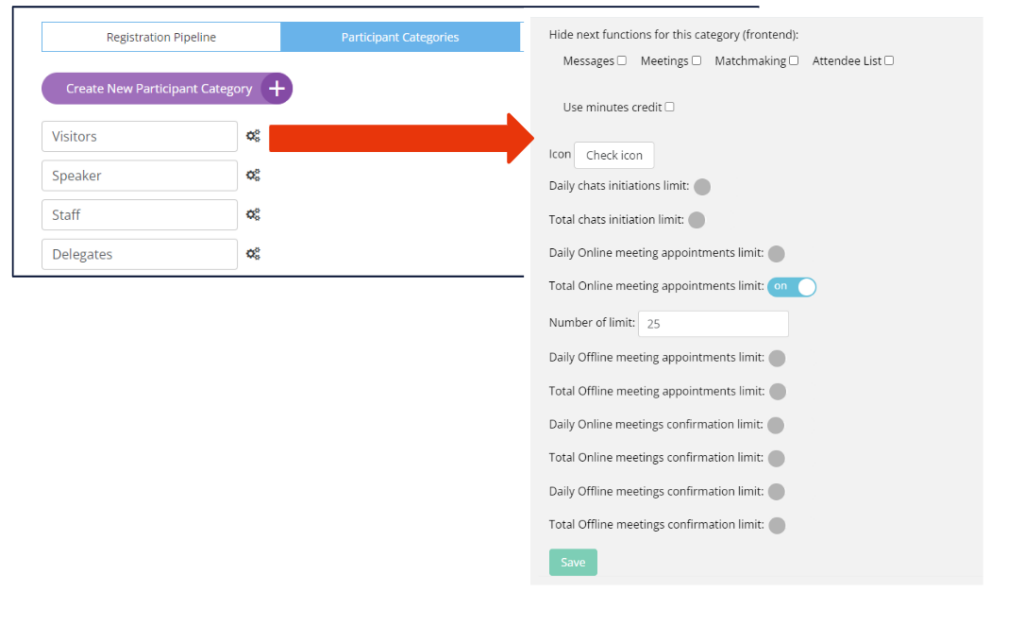 Custom form builder
A custom form collects information from your attendees. This includes their contact information, their preferences for the event and other details you want to capture.
Easy to setup data capture and gated downloads
An event website builder should easily set up data capture and gated downloads. Data capture allows you to gather information from your attendees, while gated downloads let you control what content your attendees have access to.
Best practices and tips for success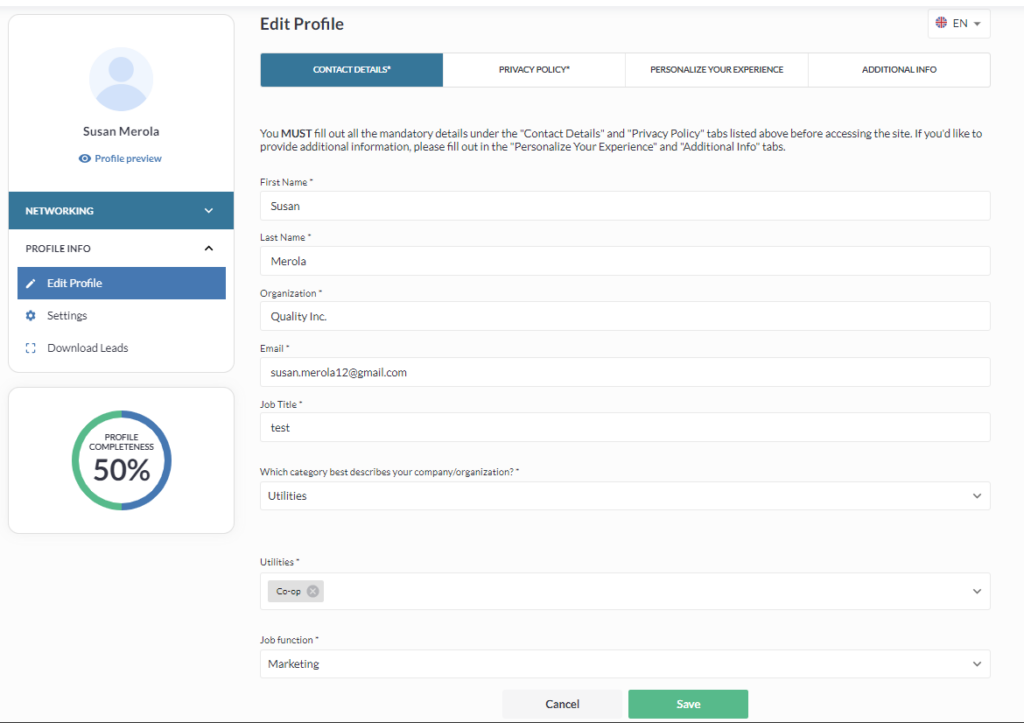 Here are some best practices you should follow while using an event website builder:
Consider how the event or community site fits in with existing organiser sites – including the different audience journeys between sites.

Allow sufficient time for the URL and email address to be set up, including sufficient testing time.

Consistency across all of the organiser's data systems is key.

There are numerous configuration options available so it's recommended to map out the ideal visitor and exhibitor experience and use it as a guide.
Do a thorough site walkthrough before launching to exhibitors.
The organiser's audience insight and engagement strategy should drive the content on the site.  Consider the following:
What are the things that visitors are excited about – new products, new exhibitors or educational content? These should be featured on the home page.

Which items should be visible to everyone and which should only be shown to registered, logged-in users?

Not everyone in your audience will be technically proficient. Add tutorials, walkthroughs and how-to content in an easily accessible resources page.

Will the audience include people who don't normally attend physical shows?  It may make sense to include some brand or portfolio content.
Also…
Be sure to

map out the journey for visitors registering directly on the site and for any being added via import or via API.

Sponsors for sessions must be added into each session.

All sponsorships should be validated by viewing them on the front end.
Conclusion
The digital transformation of live shows and the rise of Smart Events means ignoring website builders could really impact your live show.
A properly functioning event website serves as the venue for your audience and is crucial to creating a solid first impression. It's not limited to just nice aesthetics, it means strong functions to generate ROI, improve networking, share content and drive engagement at your show.
Event website builders provide a convenient way to create a professional-looking platform for your show. The website builder you choose depends on your needs and budget.
If you need a simple website for a small event, you can use a free website builder. If you need a more complex website for a large event like an exhibition or tradeshow, you can opt for a dedicated website builder.
Learn how you can create an interactive, SEO-friendly event website with ExpoPlatform without typing a single line of code.
We hope you enjoyed reading this article and found it useful. At ExpoPlatform, we want to help you build better events and communities. Please get in touch and ask for a demo here. Thank you.