Metaverse can 'help event organisers thrive' – Meta leader
Big Tech giants should not be seen as a threat to event organisers but instead as a way to help them "thrive and make money through the metaverse", according to a Meta leader.
Andy Mihalop, vertical marketing lead EMEA, told ExpoPlatform how the company formerly known as Facebook is concentrating on building a virtual and augmented reality platform which can help businesses make money.
Concerns have previously been raised that Big Tech players such as Meta could be moving into space occupied by traditional event organisers, with social media giants such as LinkedIn already showing an interest.
Andy said: "I don't think it's our core business. Our core business is really to build the hardware, to build products and platforms to enable you to thrive and make money through the metaverse.
"It's a completely new world and I think it's the next wave of tech. It is going to come and if you're working in the event space as an exhibition organiser, you need to be aware of how that technology is going to evolve and how quickly you can start to think about making that shift.
"The biggest opportunity at the moment is just understanding how the hardware works – what virtual reality actually is. You've almost got to try it to start to understand the potential.
"That's the place to start – get yourself a set of Oculus, experiment with it, see what virtual reality actually feels like – because it's pretty amazing."
Oculus is Meta's virtual reality headset which allows users to enter the metaverse. One of the barriers to opening up this new world to consumers and businesses is the cost of the technology, however it is suggested that prices could drop as the market grows.
Andy's comments come as ExpoPlatform gets set to stage its own event focussing on the topic, alongside Event Industry News (EIN). How the metaverse will transform tradeshows takes place online on Thursday 4pm GMT. Here's what we'll cover:
What is the Metaverse and why does it matter to the exhibition industry?
What trends are there? 
What could this mean for tradeshows in the next five years?
What issues does it raise for the exhibition industry?
How to get started

Keynote speaker will be Nick Rosier, digital director at 2Heads, while there will also be input from our CEO Tanya Pinchuk, our CGO Luke Bilton and Adam Parry from EIN. Register here to join the session.
What does the metaverse mean for our industry?

We're hosting an exclusive session alongside @ExpoPlatform_ and with keynote speaker Nick Rosier, Content & Digital Director @weare2Heads to find out.

Register here – https://t.co/piTg9ECGxr#EventProfs #EventTech #Metaverse pic.twitter.com/Rj2P5M4YzJ

— Event Industry News (@EventNewsBlog) March 22, 2022
Meanwhile, CEO of Meta Mark Zuckerberg, announced his company would be pursuing the metaverse — a futuristic digital world – late last year.  He delivered a 90-minute online presentation which included talk about teleporting, holograms and communicating "across different layers of reality".
The company's Reality Labs division – which makes the virtual reality goggles, smart glasses and other future products – lost more than $10 billion in 2021 as it built the business. However, this development is key to securing their vision of an online world where people would share virtual experiences across different platforms.
For context, the $10bn investment in the metaverse is more than five times the amount paid for the Oculus VR business in 2014 and 10 times what it paid to buy Instagram in 2012.
But it's a bet that the company is willing to place and estimates for growth could suggest why. For instance, figures from Statica show how the market size for augmented and virtual reality is due to grow to nearly $300 billion by 2024 – up from $30.7bn last year.
The Meta CEO has even been claimed this metaverse will free people from screen addiction and enable more genuine human connection. Our industry has witnessed its own virtual transformation recently, but has seen a strong return to in-person experiences with digital enhancements: Smart Events.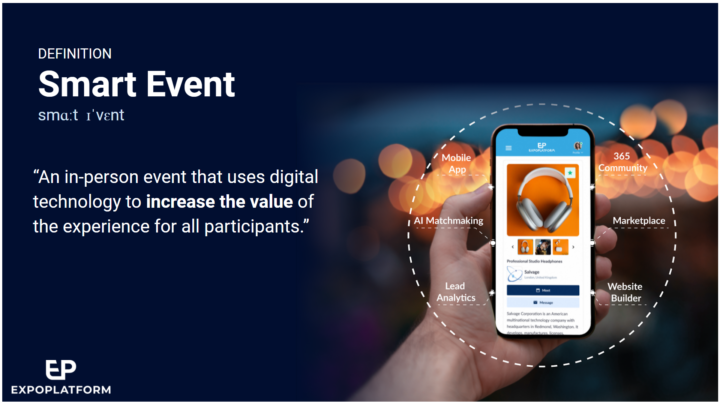 Andy had been speaking at International Confex in London when he told how there would be opportunities for event planners to make money from virtual and augmented reality, however the technology is still in its "early days".
Download our free Marketplace Blueprint ebook to learn how to bring ecommerce to your business.
He said: "It's definitely coming. When you think about how the industry had to shift from physical to virtual events, it's a step on from that. From an events perspective, it's going to be an amazing opportunity to participate and interact in more ways than you could ever imagine previously.
"The metaverse is coming, we are just going to see an escalation in platforms and technology that will enable it. We're still at a very early stage. It's much more about building an awareness about how this is developing."
We hope you enjoyed reading this article and found it useful. At ExpoPlatform, we want to help you build better events and communities. Please get in touch and ask for a demo here. Thank you.