Smart Events defined: What event professionals want in 2022
Smart Events in 2022 – what does it mean and what do event professionals want? Well, we've gathered industry feedback to find out exactly that.
Exhibition Think Tank (ETT) and ExpoPlatform brought together a group of industry professionals to define Smart Events, the benefits and to discuss the areas of focus for the year ahead.
Find out what this format means and why ETT club members believe that 40% of events this year will be Smart Events.
What is a Smart Event?
A Smart Event is an in-person event that uses digital technology to increase the value of the experience for all participants.
The last two years of running virtual events have generated a huge rise in data, familiarising organisers and participants with digital tools – all of which can be used to measurably improve customer experiences at live events.
Tanya Pinchuk, CEO of ExpoPlatform, said: "A Smart Event is an in-person event with extensive use of technology, where we simplify the visitors' and exhibitors' journey and make participation more effective.
"There are two things that have become clear: firstly, we we will still be in a pandemic situation for several months.
"We have to understand that our events have to be improved and enhanced to improve visitor and exhibitor experience.
"Secondly, our audience is quite mature already with technology because they use technology personally all the time – and they have high expectations.
"They now demand a better experience and a better journey compared to their  previous (pre-pandemic) experiences."
Download our free AI Blueprint ebook to learn how to utilise data science for Smart Events in 2022.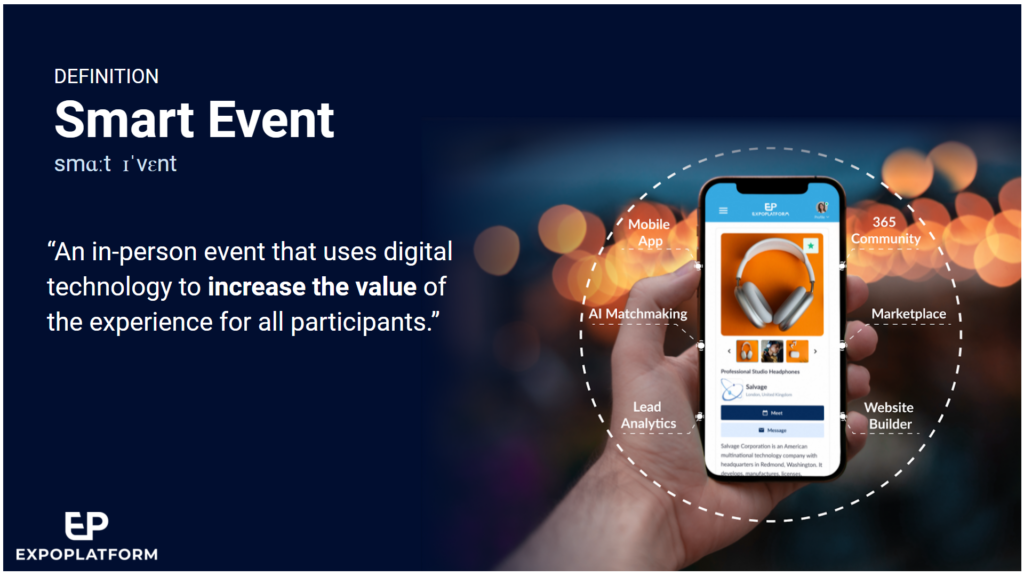 How do Smart Events create value?
Smart Events use technology to improve key points of the customer journey for visitors and exhibitors, pre, during and post event.
Pre-event planning and discovery
The pre-event journey is when visitors and exhibitors are registered and encouraged to login to a web-based platform to prepare for the event. Building a personalised agenda of meetings, connections and content to attend. Hosted buying can be helpful in preparing VIP groups of delegates for the event.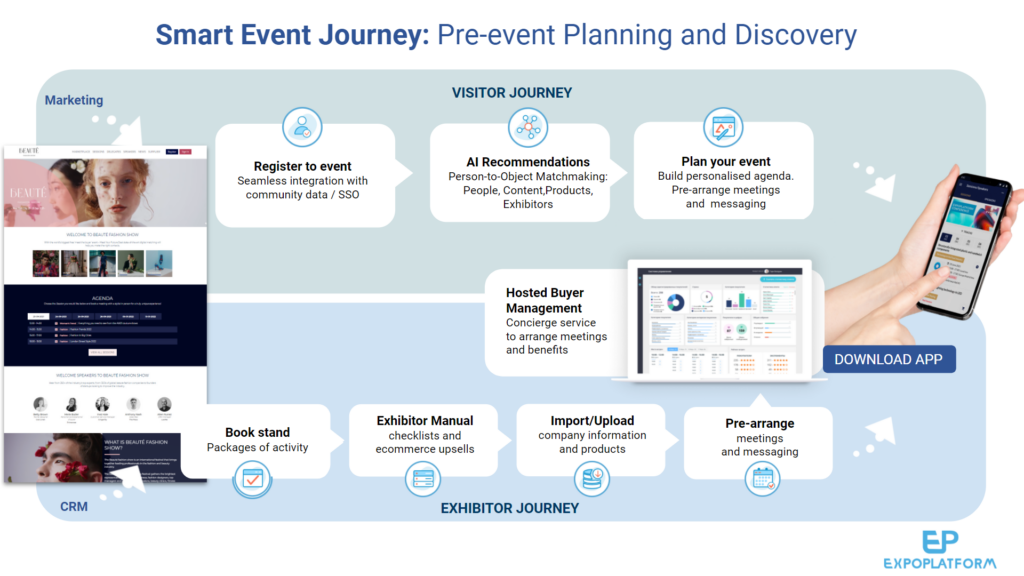 During the event and post-event engagement
The live experience utilises a mobile app to improve the in-person experience with navigation, updates on meetings and agendas, as well as facilitating lead scanning. The journey can be augmented with location analytics services to improve the wayfinding around the venue and additional analytics.
Engagement can continue after the event through hosting of on-demand content sessions as well as the continuation of meetings and messaging on a 365 platform.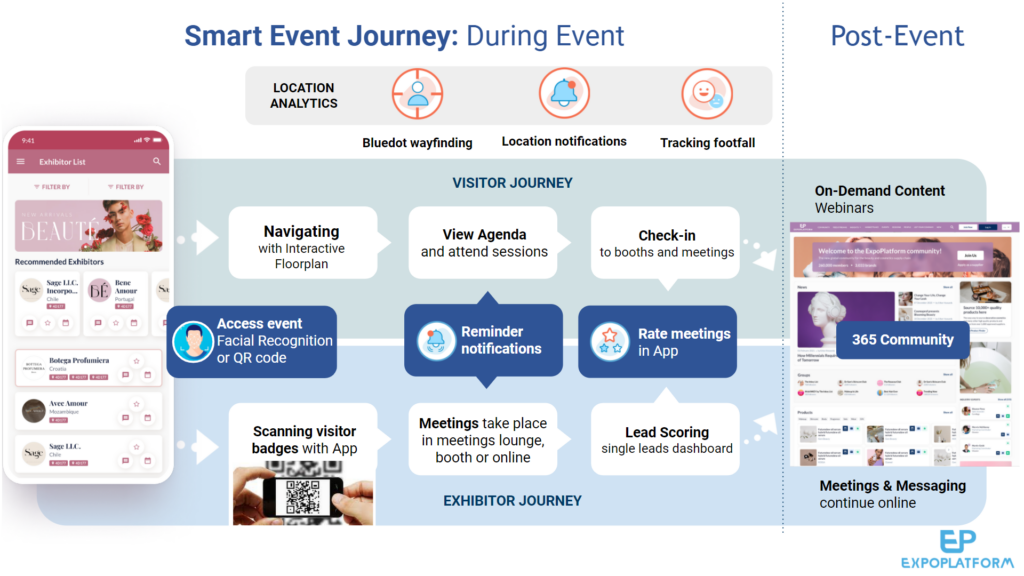 There are at least nine key ways in which a Smart Event can improve live experience by adding value to visitors, exhibitors and organisers:
Pre-event planning and discovery: Participants can discover relevant exhibitors and contacts ahead of time so they can pre-arrange meetings.
Personalised experiences: Recommended agenda, exhibitors and products for a more tailored show.
Increase exhibitor ROI: Real time lead dashboards to increase the number of leads and opportunities to meet their visitors.
Navigation and wayfinding: Help participants to navigate the venue with a mobile app which utilises beacon tracking.
Create customer insight: The wealth of data gathered produces valuable behavioural insights to help shape future offerings.
Seamless access: Remove barriers to entry by connecting 365 community and event data sources.
Extend reach: Capture content for livestream or on-demand offerings to engage remote audiences and extend its lifecycle, creating new monetisation opportunities.
Increase revenue: Monetisation opportunities from Smart Event integrated packages and digital upsells to exhibitors. Revenue also available from access to on-demand content
Easy to pivot: More capability to switch to hybrid or virtual formats during uncertain times when restrictions may be imposed.
Each of these areas can make measurable improvements to the value participants receive and to the NPS of an event.
What are the priorities for 2022?
ETT Club members were asked to rank on a scale between one and five how important a number of areas are for Smart Events moving forward.
It comes as our findings show around 40% of shows will be held in this format in 2022.
The survey reveals that 65% rated 365 community engagement as being in the top two tiers of importance, with the vast majority saying this would be down to news and editorial content.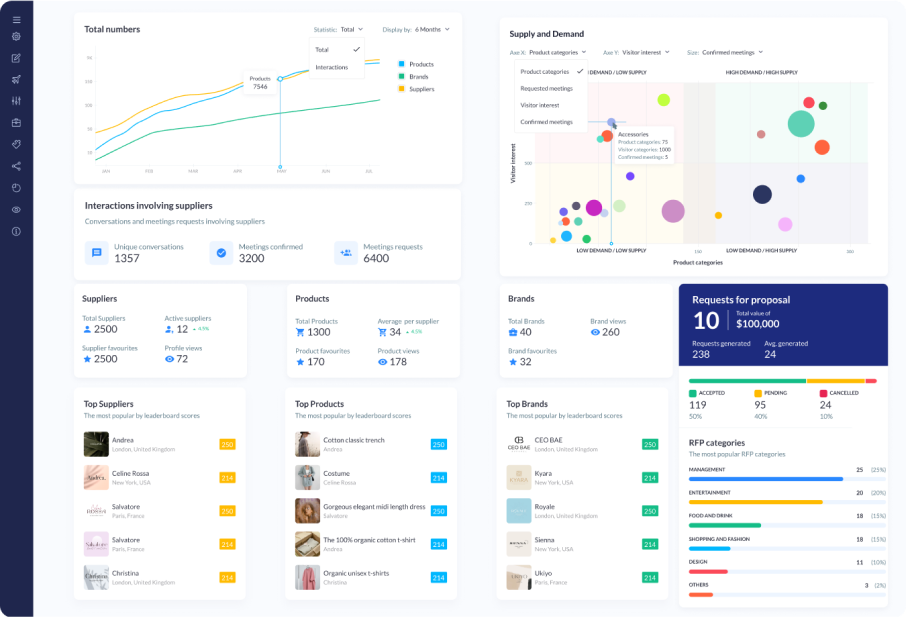 Further findings from the survey also show 71% placed hosted buying and matchmaking in the top two brackets of importance, with the same proportion doing so for lead analytics and ROI for exhibitors.
More than half (52%) ranked a seamless experience between live and online in the same tiers, with the same percentage doing so for personalisation of in-person experiences.
Luke Bilton, ExpoPlatform's chief growth officer, added: "When you think of some of the most valuable companies in the world – be they Amazon, Spotify, Google or Facebook – their whole business is around taking huge amounts of data and giving you something that is personalised and relevant to you.
"That's the role that technology can provide within an exhibition, taking a huge amount of information and giving you the list of the essential things that you need."
A total of 35% rated location-based tracking in these top tier levels, however a further 26% rated it as of medium importance.
These results were backed up by breakout groups during the session, where members talked about what they expect from Smart Events in 2022.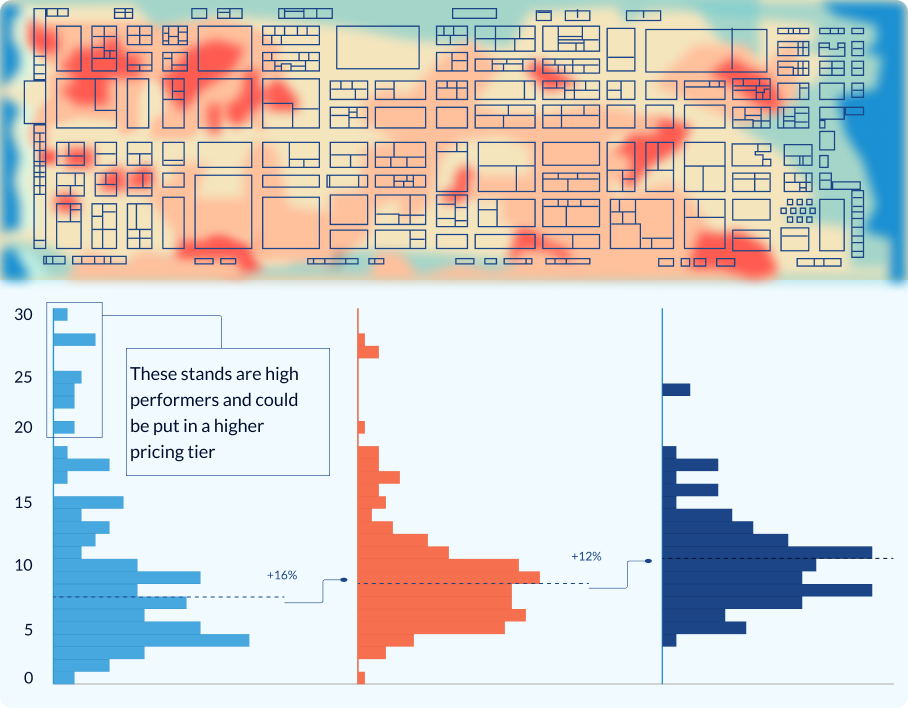 Here are some key goals of a Smart Event raised by contributors during that discussion:
Make sure participants know what is on offer: "Communication is key for everything we want to achieve and offer. Through miscommunication, wrong expectations can be created."
365 engagement: "Live is the peak of the year, but we can connect and consume content year-round on the same platform." Another added: "Continuity of the experience is most important. Pre, during and post-event in one single interface, experience. and process."  "Shift the business model to running digital events and 365 communities".
Matchmaking using AI: "Make the trade fair experience better, smarter and more efficient. Understanding which matches I need when and why. Getting people to interact, physically and online."
Understanding the information: "Analysing data in a holistic manner to understand needs and cater to them."
Increase exhibitor ROI: "Convincing an exhibitor that participating at an event is a good spend of their budget."
We hope you enjoyed reading this article and found it useful. At ExpoPlatform, we want to help you build better events and communities. Please get in touch and ask for a demo here. Thank you.