How to structure your event sales team for a digital world
The events industry is constantly evolving and adapting to new technologies and business models. 
But the growing importance of digital tools and strategies in the sales process is one which needs special focus today. 
Organisers are now faced with the challenge of restructuring their teams to incorporate both traditional salespeople and digital specialists.
This guide will address the pain points of their customers and support them both offline and online.
Download the Monetisation Blueprint to find out more about increasing your digital revenue.
Who are digital specialists? 👩‍💻
When we talk about event sales teams vs digital specialists, it's not that the former only have face-to-face meetings and don't know "how to use Linkedin" – it's about the type of product they know how to sell.
The adoption of modern event tech tools like AI matchmaking and hosted buyer programmes has given rise to a new type of salesperson who is an expert in experts in digital advertising, lead generation programmes and more.
What do industry experts say? 📢
Many industry leaders believe it's necessary to have a skilled workforce equipped with a) a solid understanding of digital products and b) that can unlock the potential of Smart Events ⤵
Tesi Baur, founder of MBB-Consulting Group said:
"I don't think that our exhibitors are turning their heads to us when they are seeking the right digital products. We need to gain the trust of our customer when it comes to digital and hybrid products."
Charlie Cracknell, managing director of Inspired Minds said: 
"Digital and live events sit side-by-side, but they're two very different business models, returning different kinds of revenues and profit margins. It takes different skill sets and conversations. Unless we realise that, collectively, we're not going to progress.
"Bringing in more tech-savvy staff into your sales team can help you navigate this new world – they have expertise which can help your team understand the language and potential this new business model can offer."
Donna Shaw, former COO of Rego said:
"People that have evolved and embraced the technology will be the ones that come out the other end accepting that you can bring in external skill sets to support your own – making your event even better."
How do digital specialists fit in with your core sales team? 🤝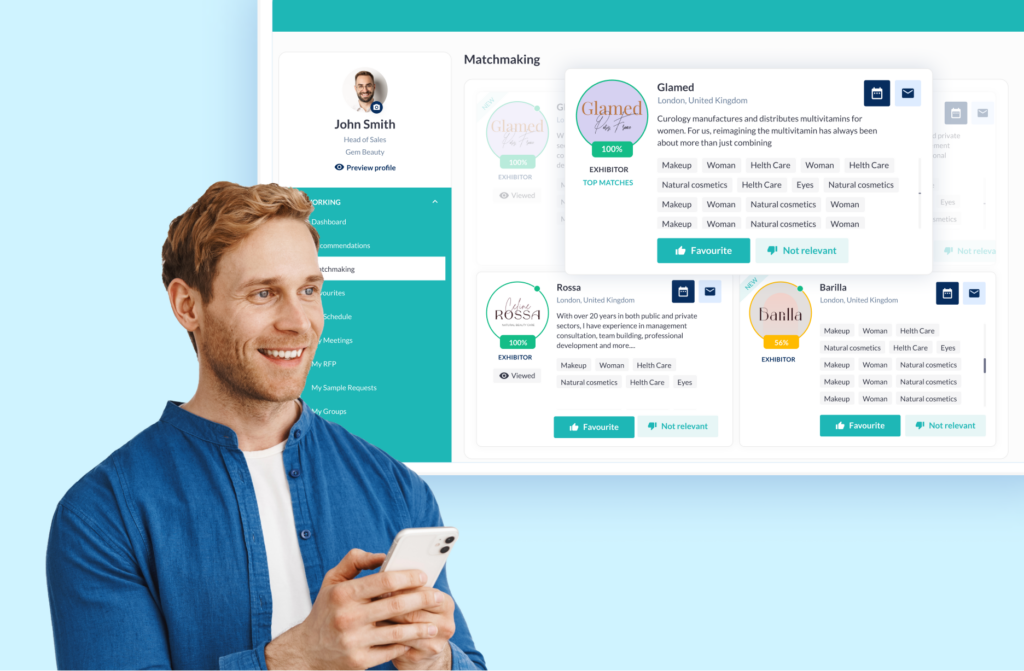 It is recommended to have a single key account manager under which the sales and digital team can work together. This ensures:
A seamless customer experience

Easy communication for any concerns or requests

A unified vision while supporting customers
Anna Knight, SVP of licensing at Informa Markets said: "Our exhibitors were pushing us to offer showcase pages and matchmaking services outside of the show cycle.  They told us they are prepared to increase investment if we can prove the value and combine products into a single bundle – 'don't make me sign four different contracts.
"We used to have specialist sales teams split by events and media. Now that approach doesn't make sense anymore and we have one team selling all solutions to an account."
Tips to restructure your team 💡
Here are some ways to bring both core sales and digital specialists and help them work towards a unified vision:
#1 Clearly define the roles and responsibilities of each team member
Traditional salespeople should focus on building relationships and networking, while digital specialists should be responsible for implementing and managing online campaigns.
#2 Foster collaboration and communication between the two teams
Your core sales team and tech specialists can learn from each other and bring different perspectives and skills to the table. Encourage them to work together and share insights and ideas.
#3 Provide training and support for team members to develop their skills
Traditional salespeople should be trained on how to use digital tools and strategies to reach and engage with prospects. Digital specialists should be given the opportunity to learn more about face-to-face sales techniques and the events industry.
Conclusion
The right mix of core event salespeople and digital specialists can give your brand a massive reach and convert a wider range of prospects and clients. 
With the right balance of skills and collaboration, your team will be well-equipped to succeed in the new event industry landscape.
We hope you enjoyed reading this article and found it useful. At ExpoPlatform, we want to help you build better events and communities. Please get in touch and ask for a demo here. Thank you.