How event tech can give tradeshows a hosted buyer experience
Eventprofs should bring a hosted buyer experience to tradeshows using technology "as much as possible", according to an industry leader.
Paul Miller, CEO of Questex, told ExpoPlatform how a VIP concierge program of meetings often has triple the NPS of their exhibitions.
Now he believes organisers can learn lessons to bring that type of experience to the showfloor by using digital insights, particularly content consumption habits.
He said: "We're finding NPS scores are triple the tradeshow scores and they're also ahead of the conference scores.
"The experience at a tradeshow at its worst is you shack up to an airport and a hotel. You're probably a little annoyed by some bad travel experience right now because it ain't fun traveling.
"Then you may have to line up for a badge to get into a show and then you have to navigate to find relevant connections."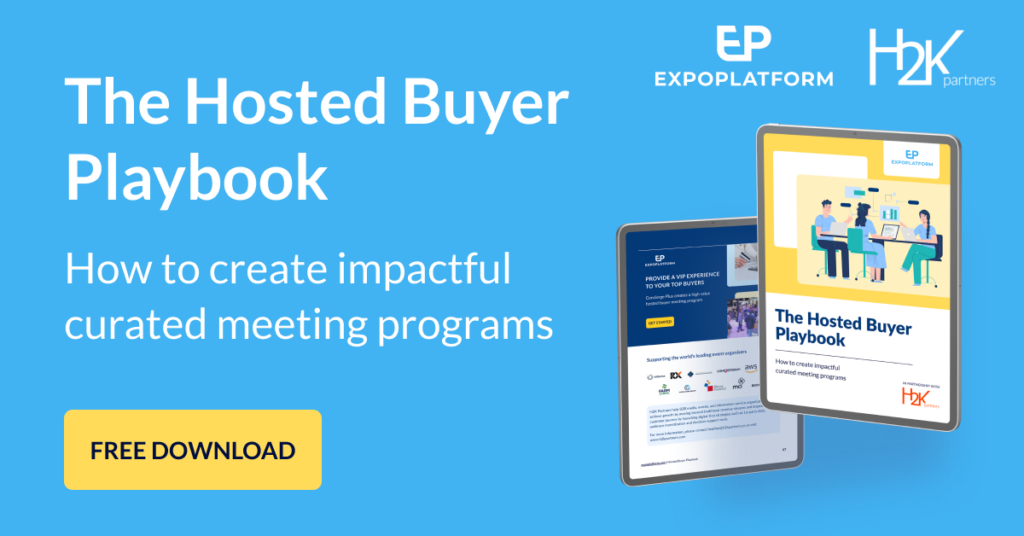 He added: "The NPS score is about what they think about that experience. Hosted buying is the exact opposite to that experience.
"Everything is curated, every meeting is set, you get a personal agenda, the networking is normally intimate.
"It's not abnormal for us to see these NPS scores – but if we're seeing such good scores, why not try to bring that experience back into the tradeshow as much as possible?"
Content consumption
Questex is concentrating on what can be learnt from digital content consumption to curate better meeting programs based on user behaviour.
This is because what participants describe as their interests can sometimes miss key points out, or even just be rushed to get through a registration process quickly.
Paul believes what they are actually reading can point out some areas of interest that are not obvious from a registration form.
An example could include if a gym owner is using the website to look at yoga-related content – such as products, webinars and stories on companies in that area – a picture emerges where an organizer can match them with sellers.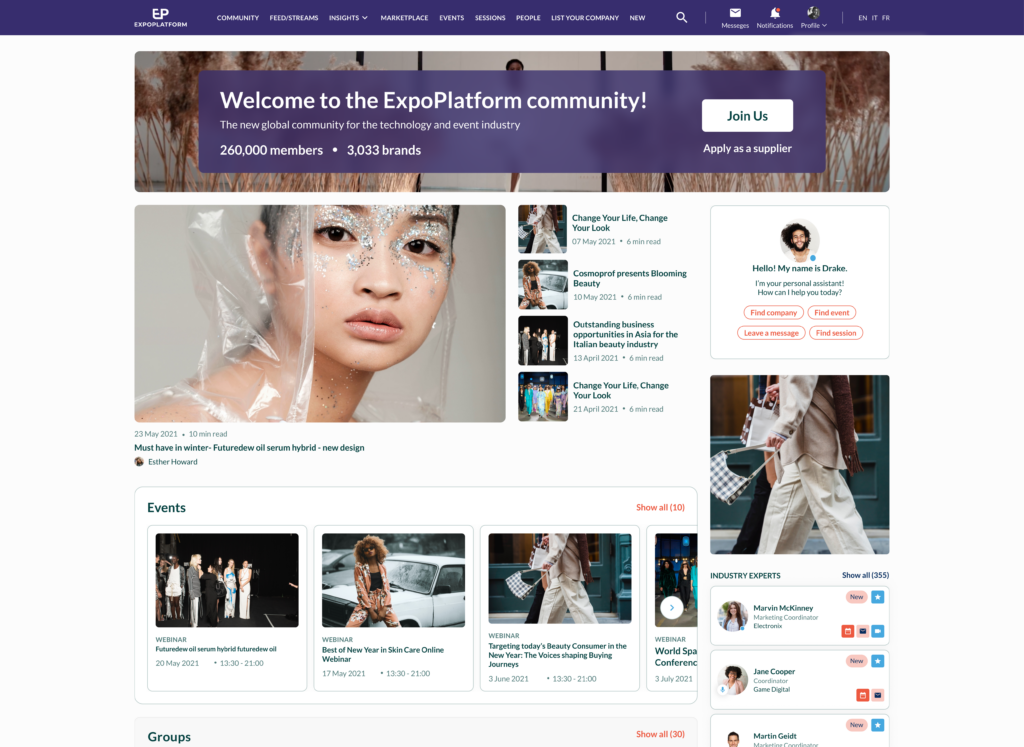 Paul argues this sort of experience will be attractive to buyers even when they aren't being hosted in a more traditional way – hotels, transport or meals.
He said: "People are willing to pay for efficiency and time and if you can guarantee that they'll come – you don't have to host them.
"Certain people obviously are used to being hosted – they like being hosted.
"They probably bring their significant other and they make a vacation of it.
"As long as the business interaction is professional and there's work being done, I think it's fine either way. However, these costs clearly impact margins.
"I do think over time content consumption habits are going to make it much more efficient for organisers to curate and make suggestions for meetings."
The timeframe which is most important to be considering content consumption was between six and 12 weeks before the event, depending on the industry.
Those habits become the real pointers because it shows there is potential willingness to buy if their digital footprint shows consistent interest in certain products.
Paul added: "The beauty of a hosted buyer is that they're really further down the funnel.
"If you can tell them about four other meetings you think they might like based on interests.
"They normally turn around and go 'wow this was a really efficient meeting for me'.
"At its best, it's Amazon-style consumer prediction. At its worst, it's just throwing people in a room who said they're interested in something so have a meeting – that doesn't last very long, value wise."
Hosted Buyer 2.0
A hosted buyer program has always been an exclusive experience where efficiency and productivity are key to its success.
That means matching the right people together over a few days to do business which would normally take at least six months.
Questex and other organisers could also pay for travel, accommodation and other expensive meals as part of the package.
Paul believes this is "the traditional model" but there is now room to depart from that in some circumstances.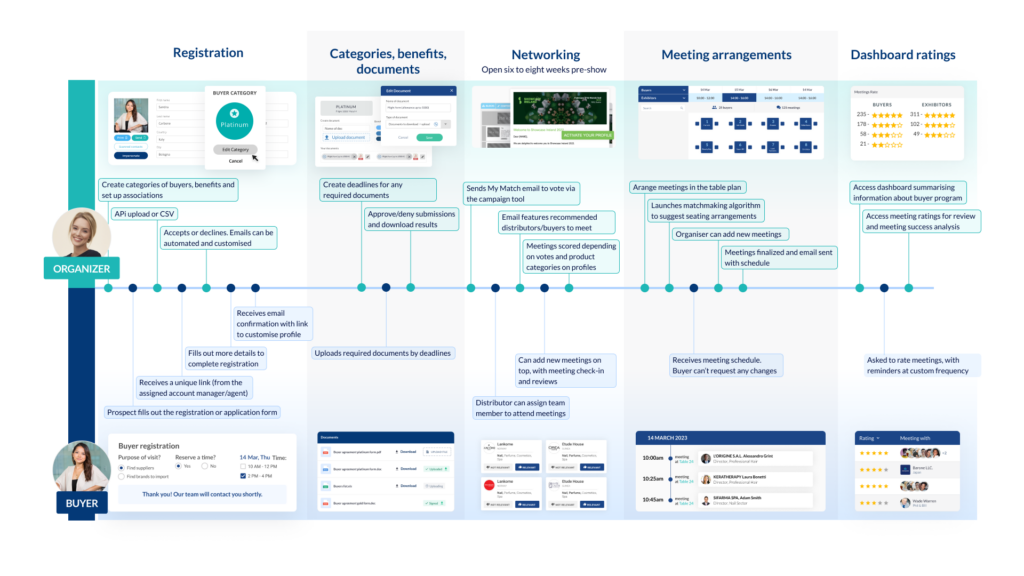 Being the best "party planner" or focusing on the "best resort" is a low barrier to entry and not a sustainable competitive advantage.
He said: "In my mind, what's really happening is that the idea of a hosted buyer event and a separate conference or separate trade show are now merging.
"People are seeing value in seeing great high qualified buyers who might sign up to attend the meetings.
"But then they'll go on to the show floor and in some cases, they'll attend the conference.
"The traditional hosted buyer model didn't really explore any more value for the attendee than putting buyers and sellers together – which, of course,  is high value.
"But you start to think that we have all of these people in a really nice resort, why don't we offer them education or offer them the opportunity to look for some serendipitous moments?"
Paul sets out that mass personalization can be "onerous" because eventprofs can be fully focused on the operations side, rather the experience side.
But inspiration can be taken from musical festivals where revellers don't have the whole show tailored to their taste, but are able to go to genre-specific stages with groups similar to those they already enjoy.
He said: "It's not completely personalized, but it's personalized enough to say there are areas of interest here that you might be more attracted to than others.
"The reason why it's onerous to do mass personalization is because we were primarily focused on the exhibitor at the tradeshow – I think we were focused on putting on a "tradeshow."
"We were focused on the exhibition hall and the electricity and the union and the carpeting, all of which are important.
"But what's it like if you live the day in the life of an attendee, what's it like to attend the show?"
Focus on experience
Event technology can be used to improve the experience of participants in a similar way to hosted buyer programs, according to Paul.
He believes industry professionals can sometimes forget about how it feels for someone to be at their show because they focus too much on the numbers.
Questex places a major focus on experience for buyers and sellers as part of its Hotec offerings.
Paul gave an example of a show manager who saw long lines of people waiting to register describing it as "great" – because that showed there were lots of attendees.
This ignores how those visitors were feeling while queuing just to get into the venue, lowering morale before they have even been given a chance to take part.
Paul said: "It's not really the experience that you'd want your customers – who have paid for the privilege in a lot of cases – to go through.
"As an industry, we sort of forgot the attendee customer. We spent more time on the logistics, the operations, the planning and the execution.
"We've got to use technology – we've got to use apps, we've got to use software, we've got to use pre-event behaviours to just enhance the experience.
"It's not going to be perfect – you cannot make the experience perfect for 20,000 people over three days, you just can't.
"But can we make it better? I think we were already doing it with hosted buyers, so why not bring some of those elements over to the larger tradeshow."
Three steps to a successful HBP
Paul set out his three main components to a successful curated meetings program, while highlighting how event tech can make them even better.
He said: "What makes them successful is number one, they're extremely efficient. So there's not a lot of wasted time. 
"Number two – If you do them well, you get some terrific networking and the networking happens normally in the evenings or the breakfasts that are around the meetings.
"Number three – to be honest with you – if the buyer's or seller's don't get new ideas or new solutions they let you know very quickly that this was the wrong audience. 
"It was either the wrong buyers or the wrong sellers. So there's no hiding in a hosted buyer event – they either work or they don't. 
"What's happening now is software is starting to help make those connections even more valid – and that's where it gets quite exciting."
We hope you enjoyed reading this article and found it useful. At ExpoPlatform, we want to help you build better hosted buyer programmes. Please get in touch and ask for a demo here. Thank you.