Event tech helps 'every step' of hosted buyer programs
The right event tech platform can help with "every step" of creating high value hosted buyer programs, according to an industry leader.
David Hidalgo, show director at IBTM Americas, places proof of value and data analysis as central to building good connections and convincing exhibitors to take part in tradeshows.
Using event technology can streamline these processes and help give proof of return on the investment participants are putting in.
David was one of the expert contributors to our Hosted Buyer Playbook. Download it now for a practical guide to RO-driven curate meeting programs.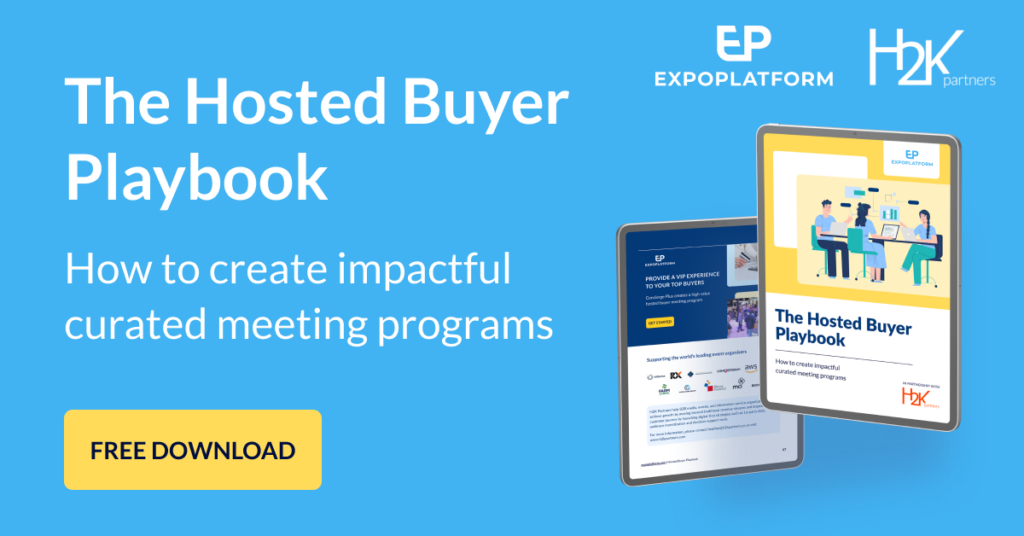 He said: "People decide to attend an event if it offers good, profitable return on investment, not just in terms of money – but in terms of inspiration, connections, networking, educational opportunities and time.
"Today, people are more strategic in everything – investments, selecting a provider, which events they want to attend.
"One of the most important things for event planners today is to show the reasons why they have to invest their time in an event."
David set out how he believes event technology can help with many processes in creating a hosted buyer program, including:
The prospection to reach buyers from all regions

The registration form to get worthy information

To send the hosted buyers relevant information about their participation
He highlighted how the right event tech platform can help with "every step" of the program by cutting out wasted time using different devices.
Having all of this data in one place also helps for AI-powered curation of meetings.
He added: "The matchmaking algorithm helps to make agreed targeted business appointments only – with exhibitors who have a mutual interest."
IBTM Americas 2022 involved 520 hosted buyers with 9,720 one-to-one meetings taking place.
The show is described as the "connection bridge" for the events industry across the two continents.
David believes the ability to present clear information about what the benefits involved are is increasingly important to convince decision makers to take part.
He said: "Today, analytics of the data that we're providing to our clients is very important.
"Maybe the decision maker today is not the same person from in the past. 
"They understand numbers. They understand return on investment, they understand profitability.
"We need to convince people who are not connected to the centre of this industry that investing in your event is the most important investment of the year.
"It's a different way to explain our business value, because we're not selling shoes, we're selling ideas. 
"It's a different negotiation, so for that reason it is very important to share the right information, the specific information and the metrics that they need to make a decision."
Hosted buyer program is 'like a marriage'
Hosted buyer programmes are "like a marriage" where an organiser's role is to make the right connections where high-value business can be done, according to David.
He claims up to 80% of meetings that are accepted will result in trade going forward between the supplier and buying.
It means two days of participation in a curated meeting programme could advance business by at least "six months".
David said: "The main benefit of a hosted buyer meeting is to ensure that they will have a very high quality connection during the show.
"Of course it is not the only person they will connect with, but it's how tradeshow planners can ensure that they have high quality business connections. 
"This is maybe the most important element, because when you use the matchmaking platform, you can make connections with different people who have an interest. 
"But of course, this action doesn't show that you really have a connection with him because at the end of the day, it is like a marriage. 
"There are two people – the provider is the submitter and the other side is the buyer.
"If the buyer doesn't want to accept the connection or the meeting appointment, it's impossible that I can force an appointment between them.
"But if they accept the invitation with the provider, 80% have an interest in doing business with these exhibitors."
David set out his three main components for the perfect buyer-seller match:
The solution – exhibitor´s services – should match with the event and buyer´s needs to generate mutual interest.

The appointment should be taken in an adequate  space to get a comfortable conversation that allows them to have an introduction and the presentation of specific projects.

The exhibitor should do a follow up of the offer every specific period and the buyers should give them feedback, even if they don't hire the exhibitor´s services.
He added: "In one shot of two or three days, you can advance six months of business for your company – six months in only two days."
Tinder for business
Participants in hosted buyer programmes need to think of it as "Tinder for business" when seeking out good connections, according to David.
He believes exhibitors who manage their profile clearly and strategically are a lot more likely to secure meetings with people they can do business with.
This involves providing as much information as possible to the organiser's platform – and being realistic.
David said: "Sometimes the client doesn't understand very well how to manage their profile on a matchmaking platform.
"Of course you can aspire to connect with them, but frankly speaking everybody has to understand their potential – what is their possibility of getting any feedback?
"To get that client you need to be more strategic. Try to connect with clients that you really have a possibility to get business with, connect and get feedback – and of course set an appointment.
He added: "We ask for a lot of information to understand what they want. When we know what they are looking for, we are ready to recommend them and help them connect or make business. 
"This is very demanding because an event planner today has to manage a lot of information, a lot of data and we need to be very smart to understand the data. 
"What is their preference, what is their profile, what region, services, quality and in terms of timing.
"When we are planning the hosted buyer programme, we are not just planning to attract high-end buyers – the super buyers, the kind who have millions of dollars to invest in events. 
"We need to be strategic in order to balance the hosted buyer programme with buyers who are very high quality but at different levels. 
"This is the reason to measure the profile of an exhibitor – what is the business they are looking for, what is the perfect plan for those kinds of companies? 
"Because the perfect plan is not perfect for everybody – it is perfect for a specific kind of service or provider. 
"We need to balance the hosted buyer product in terms of identifying the buyers which can connect with the suppliers we have in the platform."
David believes event technology can make this process "easier", with digital platforms able to deliver good analysis about connections from the profiles.
But he claims human involvement is necessary to weed out those who are not giving the right information.
He said: "Platforms make things easier, because they deliver a lot of metrics and information about connections from the profile of the people.
"But when we're talking about a physical event, it is different because people sometimes declare something that is not always real.
"The reality is sometimes different to the expectation that the client has, but my commitment and the commitment of my team is to always qualify in order to understand if they are really the right buyers. 
"We are delivering business – I'm trying to deliver a real buyer and not a fake buyer."
We hope you enjoyed reading this article and found it useful. At ExpoPlatform, we want to help you build better hosted buyer programs. Please get in touch and ask for a demo here. Thank you.