Empower exhibitors & sponsors with your virtual trade show
There are numerous reasons for event organisers to shift their trade shows to a virtual setting. You can cater to a broader audience, generate quality leads and increase ROI, all without racking up a big expense list. Once you have decided to create a virtual trade show, you need to consider the various ways it can bring value and opportunities for your exhibitors and sponsors.
Having envisioned the ideal online trade show and decided on a suitable event model, you should first address the concerns of your exhibitors who may be wary of the new format. By providing practical solutions, easy access to information, and increasing their exposure to attendees, you can reassure them of their desired return-on-investment (ROI).
To earn this confidence, you must consider the fundamental reasons companies exhibit at their events and work up from there.
1. Visibility
Exhibition stalls in physical events allow exhibitors to showcase their products and services through live demonstrations to potential leads, as well as providing market insight and a better understanding of their competitors. When the event transitions into the virtual medium, that degree of visibility remains essential.
And in the virtual theatre of operation, we have many tools that promote this visibility.
Virtual exhibition booths enable exhibitors to share company and product information, and relevant images, videos and downloadable content, with users. Digital sponsorship is a great way to help them spread their brand awareness, including sponsored listings, display banner ads, marquee texts, push notifications, sponsored news items, sponsored search results, sponsorship mentions on individual sessions, pop-up cards on exhibitor profiles and targeted ads in virtual meeting rooms.
There are many unexplored online channels that can be tapped for promotion and engagement. Social media integration enables exhibitors to present branded ready-to-post media to the right audience, and to receive communication from their audience in return.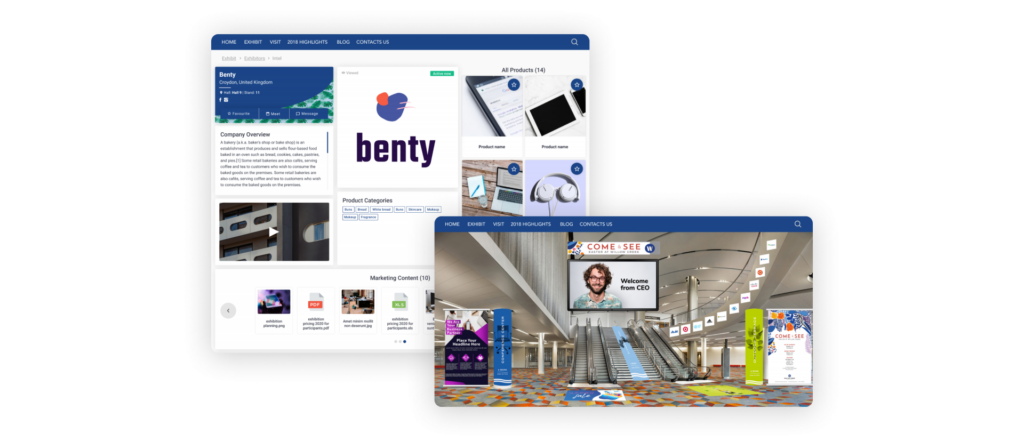 2. Lead generation

 
The ultimate objective of exhibitors is doing business. Physical trade shows help them connect with their target audience and build a relationship that eventually leads to conversion. As an event organiser, it is important to anchor a virtual trade show to this objective and provide the right online tools for lead generation.
Exhibitors can be empowered through features such as AI-backed matchmaking. This intuitive functionality is unique to the virtual component of an event, providing smart recommendations by matching visitors to relevant products, people and content (based on their interests and requirements). Finding qualified leads in such a streamlined manner will save them time, energy and money.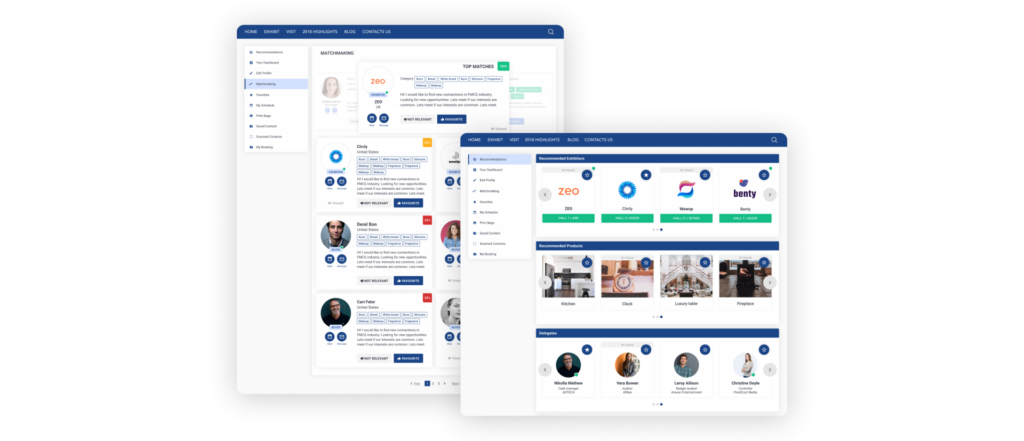 3. Networking
To give exhibitors an interactive, engaging experience when hosting the trade show online, features such as group chat rooms, one-on-one text, audio and video chat, online meetings, scheduling should be introduced. This will aid business-driven conversations and the development of meaningful connections and, better still, these interactions can begin prior to the event and be stretched up to the subsequent edition, because the e-platform will still be available.
However, while event-tech companies will provide varying degrees of networking functionality, it must not absolve the exhibitors of all duty. Being pointed in the right direction is just one part of the process; they must make the effort to communicate with potential leads just as they would at any physical event. Event tech companies increase the efficacy of the process, they don't supplant it.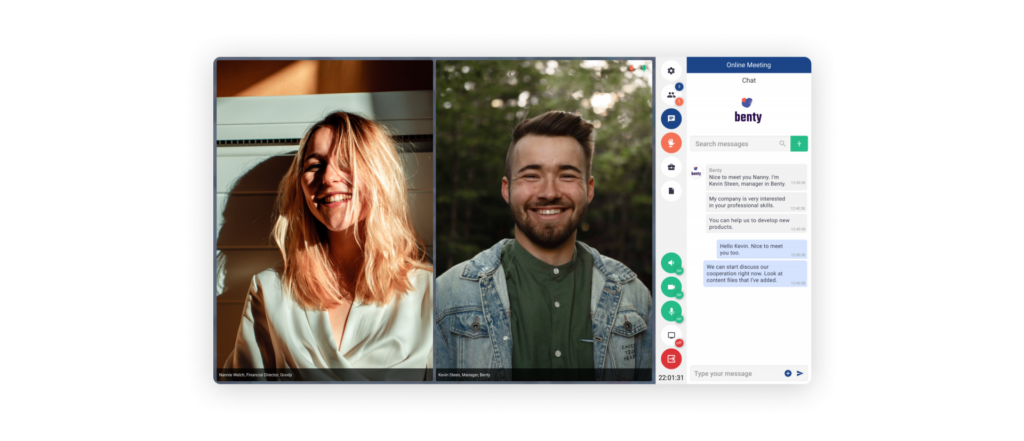 4. Performance Insights
Trade show organisers measure several specific data points at physical events, such as visitor count, demographics, dwell-time, maximum engagement/populated areas and customer journeys.
Hosting the trade show online widens the scope of data collection, as well as making the tracking of user data easier and more accurate. Organisers can show the value earned from the event to their exhibitors and sponsors by sharing real-time attendee insights. This includes data on profile views and favourites, view time for each product listed and document downloads, quantifying their event ROI and affording them a better understanding of potential customers.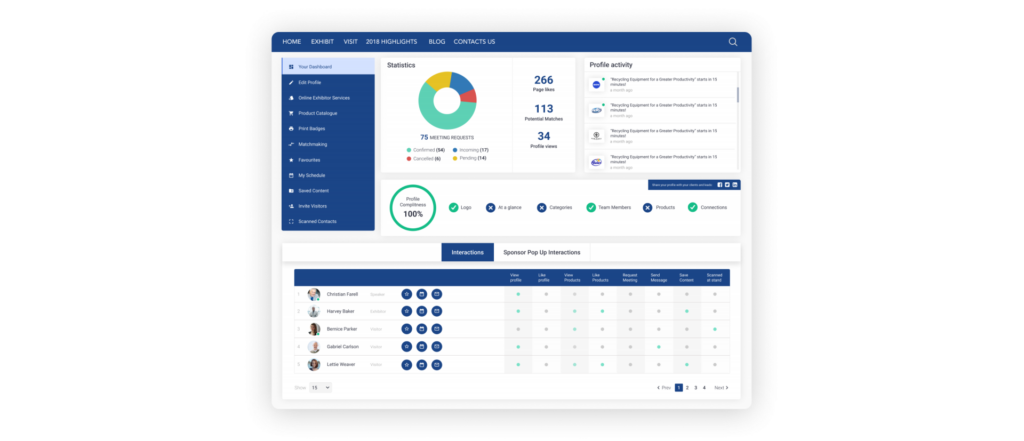 In a nutshell
As an event organiser, you must be aware of the doubts and questions that arise in the minds of exhibitors and sponsors when the event format is changed. Not everyone is familiar or comfortable with the online model. As yourself what the audience wants from the event and assess their likely online behaviour by reviewing historic participation in previous (physical) events.
With a clear understanding of an event audience's goals from an online component, one can make an informed decision about the tools and online resources to carry the true value of their event online. Select an event-tech partner that best matches your requirements and provides the functionality the audience wants, not just what is possible or looks good aesthetically. A virtual trade show will be in good hands with a dedicated account manager and a responsive customer service team.