The Three Cs of a 365 Community
There are three crucial components to cultivating a vibrant 365 Community – content, connections and commerce.
This guide will show you how to tackle each area and build a business model which works year-round. However, every event audience is different and should be treated so in how you move towards this approach.
It means the weighting you put on each component should vary depending on customer needs. Now let's go into some real detail on each.
Download the Community Blueprint for your full in-depth guide on how you can build a year-round events business.
Content
Content is the lifeblood of your community. It is where you make your value proposition real every day, with new useful content to engage your industry. 
It's content that keeps your social media channels active and engaging. It's content that makes your email newsletters get opened. It's content that starts to pull in new audiences through search engines.
But there is a problem: the market is saturated. It's getting increasingly hard to compete with the sea of online content. Every day there are 720,000 hours of YouTube videos uploaded, 7.5 million blog posts published and 835 million Tweets tweeted.
There are dedicated news organisations for all sectors. Publishing press releases is not enough to cut through the noise. Your success is determined by whether your content is useful and different enough to add real value to your community.
Listen hard to find out what your audience's painpoints are and find the best possible way to solve them.
Content formats
Set yourself apart from the competition by creative use of content formats. If all your competition relies on text-based articles, a more visual approach might work. 
Creating tools like cost calculators or checklists can be far more useful than the written word. It's worth testing a range of content formats to see what resonates with your audience.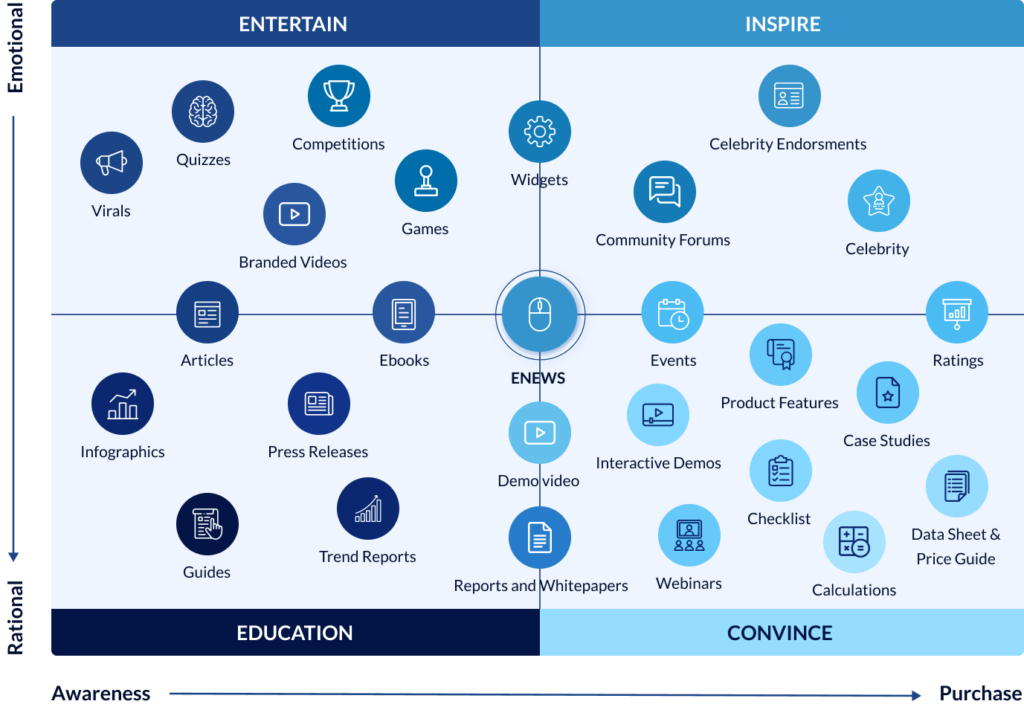 Luke Bilton, ExpoPlatform's Chief Growth Officer, set out how he generated more engagement with a story by a simple change of approach.
He said: "A few years ago I wanted to test a hypothesis that it was possible to take a lot of the guesswork out of creating content, to make sure that time wasn't being wasted.
"To do this I used a social listening tool to identify the highest trending story in the security industry over the last 24 hours. Then we created a 60-second video about it and uploaded it to Twitter.
"The results were pretty conclusive – the interactions on Twitter were 28 times higher than average and by far the most engagement we'd ever seen on this account."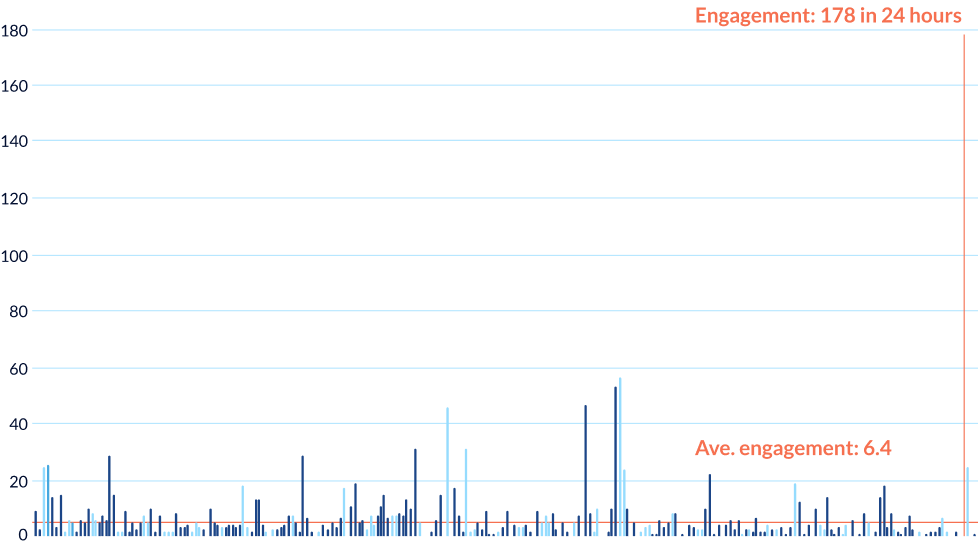 This shows that you do not need to have a huge editorial team. Adopting a data-driven approach so you can know which horses to back can make a massive impact.
Simon Albert, managing director at Messe Frankfurt, said: "I see a little bit of a comparison to Netflix and the cinema. You constantly want to be able to watch a film whenever you want. Yet, we still love the experience of a cinema. The experience of the sound and everything else is great."
Who do you need?
Content needs a dedicated specialist. Their role is to garden your community, nurturing it with high-quality content which keeps your audience engaged. Here are the skills your editor will need:
 

Hard journalism skills such as copywriting and interviewing members

Willingness to experiment with different multimedia formats e.g. infographics or videos

Curiosity about what analytics are telling them
How can you distribute it?
"If content is King, distribution is Queen – and she wears the pants," are the words of former BuzzFeed employee Jonathan Perelman. 
You need to think about the best way to distribute everything you make. Creating the best content in the world is pointless if no one knows about it.
Some content campaigns have distribution baked in from the start. SEO-focused articles are aimed at getting those clicks from online searches. Listicles about topics such as who is most influential in your community's industry are designed to be well shared through social media.
Everything else should be included in email marketing and social media. Get your editor and marketer working closely together, meeting each week to review the results and try new things. 
Content funnels are a useful way to align content and marketing efforts. Take your main topics and create a network of output which can acquire, convert and engage your audience around them.
For more on how to do this read our interview with Joe Pulizzi, founder of the Content Marketing Institute.
Connections
The role of an event organiser is making connections. We bring people together. But the way people do that really has changed – and so has the job of an organiser. 
Paul Miller, CEO of Questex, put it like this: "I couldn't sleep being the CEO of an event company right now – I think that's probably one of the worst jobs in the world. Conversely, being a CEO of a connections company I think is probably one of the best jobs in the world right now."
What do some of the most successful companies of the last decade all have in common? They put machine learning at the core of the experience they offer customers.
Machine learning is a branch of artificial intelligence (AI) which focuses on the use of data and algorithms to improve its accuracy. The algorithms can be trained to take a huge library of stuff and make it personalised to you – no two people have the same experience.
It's how Spotify makes 70 million tracks into a playlist of songs you might like, it's how Tinder finds potential dates from a list of 57 million people, it's how Amazon can turn 350 million products into targeted recommendations. 
AI is fundamental to the success of these businesses and should be just as important for exhibition organisers moving forward. It is an approach which needs to be applied to people, content, products and exhibitors. 
This allows for targeted recommendations in your community year-round and at the physical event. Your community platform should do this by pulling together information from a variety of data sources.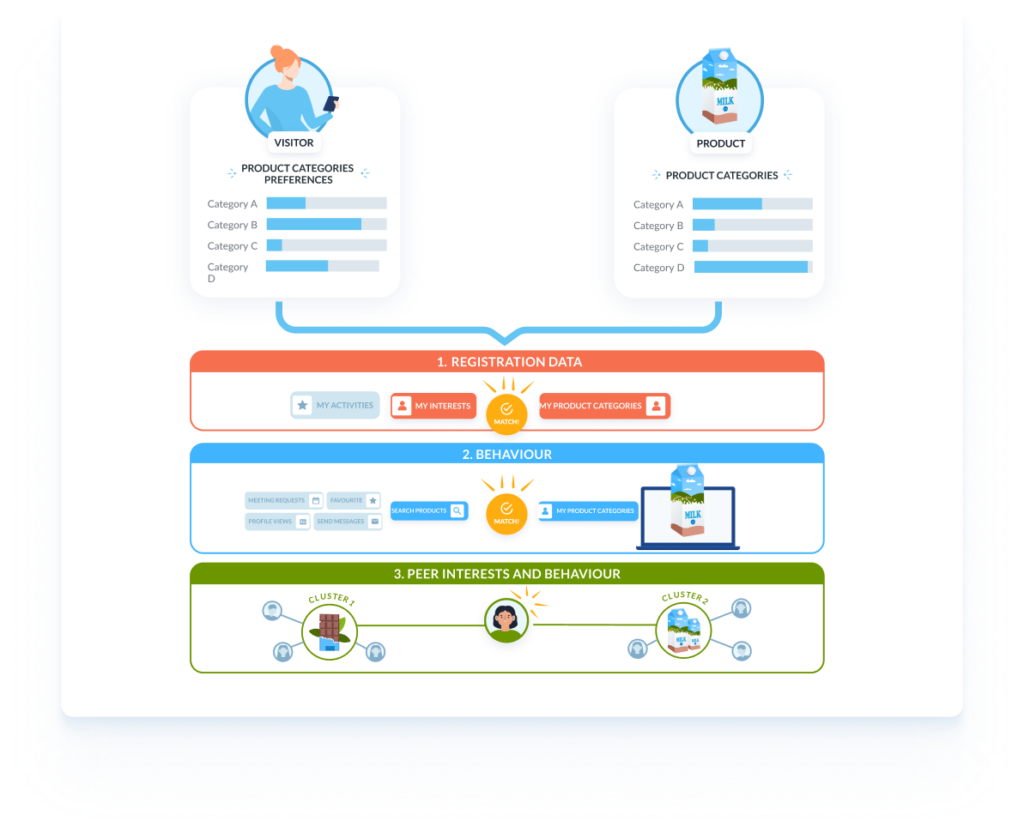 One of your goals is to create a year-round networking experience similar to what audiences are familiar with from attending virtual events. However, experience has shown us that simply having the technology available to allow people to connect is not enough. How do you make sure your community is going to use the platforms?
Event organisers have some advantage over massive horizontal players like LinkedIn. This is because they know the subject matter knowledge of an industry and how different micro-communities can connect.
 There are a few tools at your disposal to create networking opportunities: 
 

Community Groups

can be used to encourage discussion to continue around niche topics.

 

Hosted Buying

is where your team can schedule meetings on behalf of buyers and sellers with a concierge service. It can be a really effective way to encourage meetings. 

 

Online Meet-ups

for a particular micro-community which can be categorised by topic or by geography.
Commerce
Connecting buyers and sellers year round online is important. But why? The answer is simple: buying and selling does not wait for an event.
When a buyer has a problem, they want it solved quickly. That's why 95% of B2B sales start with online search.
The move towards online has only been accelerated by the lockdown restrictions. Ecommerce adoption increased by a decade in the first six weeks of the pandemic, according to a McKinsey & Co study. 
Marketplaces exist in every vertical to connect demand from buyers with a carefully curated list of sellers, creating year-round business connections. It's also important to realise the competitive online landscape your brand exists in.
There are likely already many marketplaces in your space. But where exhibition organisers have a head start is twofold: your brand is trusted and you have relationships with suppliers.
RD Whitney, CEO of the Community Leaders Institute, said:  "Event organisers have the right ingredients to work with: they have a brand that's recognised and trusted, they have an active readership and attendees, they have content – and they've got buyers and sellers that want to connect with each other."
Having a marketplace in your portfolio is now an essential building block to create an omnichannel experience. The world of retail has talked about this for some time. It means allowing a combination of in-person, remote and digital transactions.

A customer can begin their journey in one channel, purchase through another, then receive customer service through a third. This allows buyers to flow seamlessly between digital and in-person experiences at their own convenience. 
Combining your physical tradeshow with an online marketplace means you as a B2B organiser can also offer this kind of experience. Bear this in mind: a recent McKinsey study found 94% of B2B decision-makers say the new omnichannel sales model is as effective or more compared to the sales model they used before the pandemic. For context, that's up from 65% in April 2020.
What kinds of marketplaces are there?
A key distinction to make on the overall scope of the marketplace is whether it will process payment. The two main options to consider are whether it should:
Mirror the model of most events by making the initial business connection in a

lead-generating marketplace

, usually based on a supplier listing fee or subscription.

Deliver the entire order with e-commerce in a

transactional marketplace

.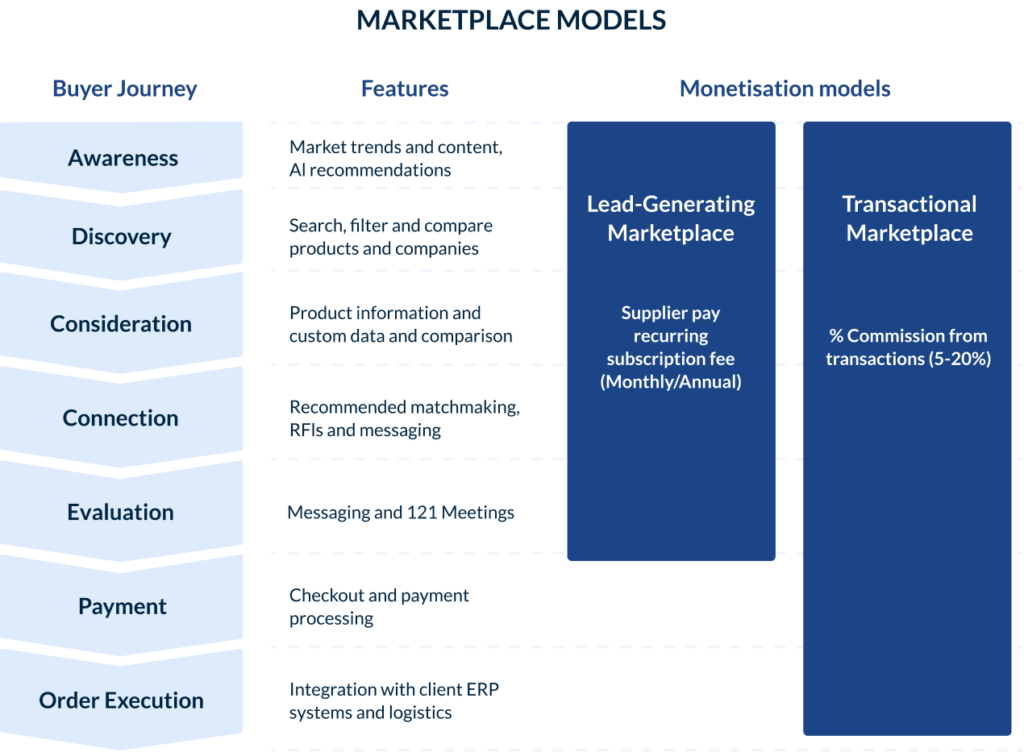 For more on this download our Marketplace Blueprint.
Conclusion
No two communities are the same, so the most important principle is to take a data-driven approach to finding the areas of whitespace where you can create new value for your industry. 
Putting data at the heart of your community means researching the Three Cs of your value proposition. It also means having the capabilities to test new content approaches and measure results in a fast feedback loop where every headline is an opportunity to learn.
You can find out more about how a 365 Community can drive growth – growing audiences, engagement and revenue – with our Community Blueprint. Download it for free now.