How community content is key to boosting ticket sales
A three-part "amazing content" gameplan is key to building a community around your events and boosting ticket sales, according to an industry expert.
Joe Pulizzi, founder of the Content Marketing Institute (CMI), has set out what he believes are the key steps to building a 365 engagement approach around your shows.
He is the founder of several startups and is best known for his work in content marketing, having first used the term in 2001.
Speaking to ExpoPlatform, he described the instrumental role publishing regularly had for the success of his business.
Joe said: "Most event companies just run events. There's nothing wrong with that, but to build a community you need to deliver an amazing content experience every day – at least that's what we believed at CMI. 
"Everyday we delivered a how-to post to help our audience do their jobs better. Every Tuesday we would do a Twitter chat that talked about a key challenge in our industry. Every Friday we would deliver a strategic insight via our email newsletter. 
"Every quarter we delivered a print magazine to our community, so that they could give it to their bosses – to help them in their job. Mind you, that didn't happen all at once. It was a process."
Joe, a bestselling author of seven books, was one of the expert contributors to our latest ebook – the Community Blueprint. Download it here.
He set out three things CMI "did best" in focusing on when building its audience: 
A "world-class" blog
An "amazing" email newsletter 
The industry's "leading" research 
Joe added: "From that, we were able to build about 50,000 email subscribers. Our first year we had over 600 at our event. Four years later we had over 3,000 attendees from over 50 countries. 
"I can't tell you how much easier it is to sell in-person event tickets with an opt-in email newsletter. 
"I believed then – and still do today – that an email newsletter is the number one thing an event needs to build. An event always comes second."
Be a community content scientist
An organiser can set themselves apart from the competition by creative use of content types: doing something different. 
Tools like cost calculators or checklists can be far more useful than just the written word, so it's worth testing a range of formats to see what resonates with an audience.
Organisers who are trying to build 365 Community should act like scientists, trying to crack the formula of what resonates with your audience.
Content is where you make your value proposition real every day, with new useful information to engage your industry. 
This is what keeps your social media channels active and engaging, makes your email newsletters get opened and the thing that starts to pull in new audiences through search engines.
But the market is saturated. It's getting increasingly hard to compete with the huge wealth of online content. 
Every day there are 720,000 hours of YouTube videos uploaded, 7.5 million blog posts published and 835 million Tweets tweeted.
There are also dedicated news organisations for all sectors meaning publishing press releases is not enough to cut through the noise. 
Success is determined by whether your content is useful and different enough to add real value to your community.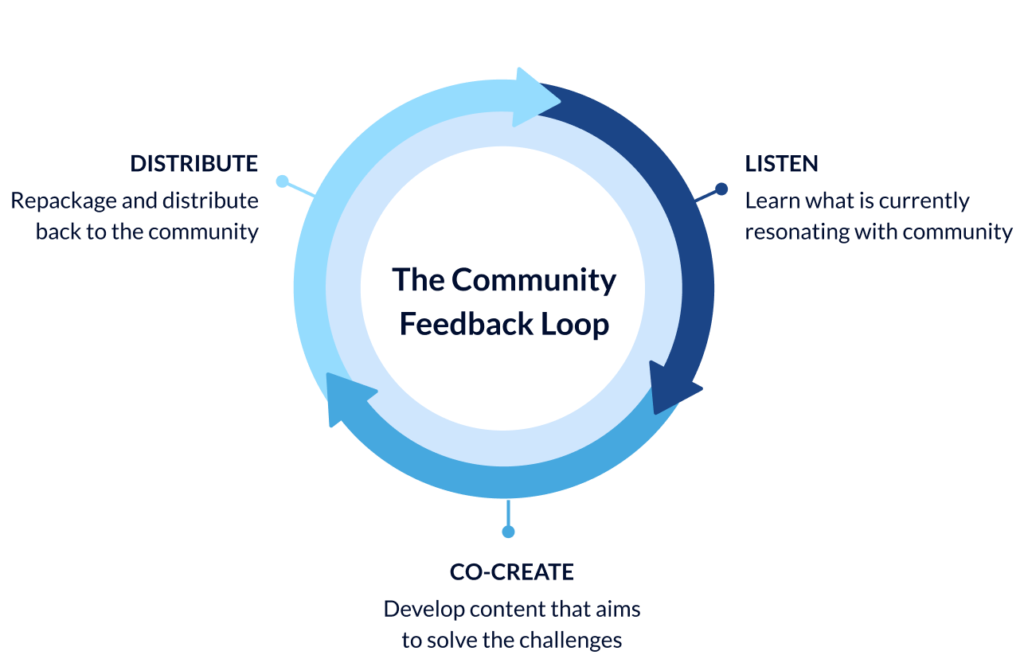 Joe said: "If you have your listening pods on, you should identify emerging communities quickly. At the CMI we monitored the performance of every blog post. 
"We tried to cover everything in our industry, even outlier ideas, and we monitored what spread. Also, when we received speaking submissions, we reviewed each one, analysing titles and phrases. 
"Key phrases that we normally didn't cover but kept coming up we did additional research on, using tools like Google Trends, to see if there was a search spike.
"But there's also nothing better than talking to your audience, which we did all the time, specifically through our quarterly research projects. 
"Whatever they were struggling with, we knew because they told us."
This 365 engagement approach has flourished since businesses were forced to rethink how they connect and inform their audiences.
It now provides a model for organisers to create year-round revenue and heighten their brand awareness using digital tools.
A 365 community can increase engagement year-round by delivering "always-on" content, marketplaces which can traffic leads over 12 months.
Findings from a recent McKinsey & Co study show 94% of B2B decision-makers say the new omnichannel sales model is at least as effective to the sales model they used before the pandemic – that's up from 65% in April 2020.
Going niche with community events
Joe highlights how in-person events will remain the highlight for many planners in the years to come, however he predicts a growth in more bespoke productions.
It comes amid concerns over travel uncertainty and increased familiarity with doing business online, requiring an organiser to have a strong argument for people to attend some of their offerings.
Joe argues that this provides a perfect opportunity for more "niche and focused" offerings with a smaller but more dedicated audience.
He said: "I believe community-focused events will boom in 2023. People will just want to see other people. I would say 2022, but the travel and paid training budgets won't return by then.
"Instead of the large mega-events, I think smaller – 500 or fewer people – will win the day, with content way more niche and focused."
We hope you enjoyed reading this article and found it useful. At ExpoPlatform, we want to help you build better events and communities. Please get in touch and ask for a demo here. Thank you.