Buying and selling has shifted online since the pandemic – here's what it means for events
The latest edition of the Exhibition Think Tank Club, hosted in partnership with ExpoPlatform, focused on helping organisers understand the changing needs of exhibitors in the evolving event industry landscape. 
The workshop highlighted the role played by the digital medium in facilitating B2B events and how it has changed the business of buying and selling for exhibitors and organisers.
Here are the key takeaways from the online workshop:
B2B buying and selling has been transformed since the pandemic began
In a world without face-to-face interactions, buying and selling has shifted largely to the online space. According to McKinsey's ongoing study of 3,600 B2B buyers, customers are increasingly comfortable doing business through digital-only channels.    
While the received wisdom is that while online ecommerce has been useful for smaller, B2C purchases, the movement of ecommerce into B2B has accelerated by a decade or more since the start of the pandemic. 
The same McKinsey research shows that the majority (59%) of B2B buyers are now willing to spend $50k+ without any face-to-face interactions, through digital self-service or video calls with a remote agent.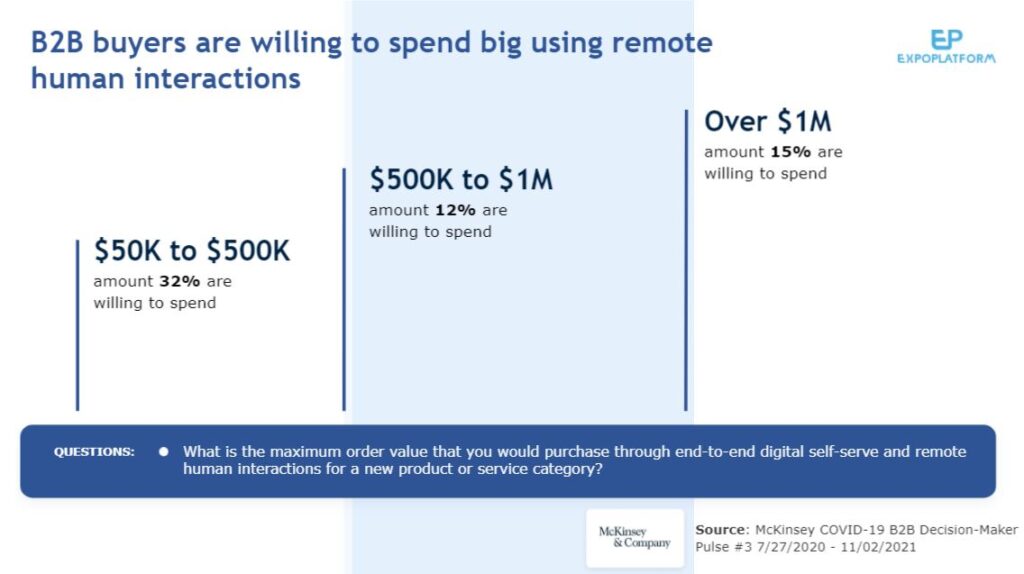 With increased traction of digital channels among buyers, the order value has also seen a steady rise, indicating a clear path for organisers to invest in designing more efficient virtual environments such as online marketplaces.
The 'traditional' virtual event does not solve the problem
In general terms, the initial reception for purely virtual events was mixed. While viewed as an effective medium to share content, the business of buying and selling in the B2B digital space (as measured by leads and matchmaking) was met with a lukewarm response.
There are a number of factors for virtual events under-performing: 
> On the supply-side, a lack of processes could be impacting virtual events' success as a sales generator. In the absence of necessary tools, people and processes, it's difficult to build on a business conversation. This sits in stark comparison to a physical exhibition stand, manned by sales reps ready to attend to your queries or showcase a product demo. 
> On the buyer-side, a key issue is that buyers are reluctant to commit to business decisions over a short time frame. Some could be exploring the options available while others might be collating the various products on display to purchase later on. Since decisions are made around the year and not necessarily during the event, organisers are looking to extend the life of their exhibitor marketplace with a 365-day approach.
 Different levels of customer adoption, but digital transformation unlikely to go backwards
"Online is here to stay. It is a bigger opportunity than it is a threat," – ExpoPlatform CEO Tanya Pinchuk.
Not all exhibitors are alike. Some have had far more success adapting to the digital space while others are sceptical of the value it offers. However, there is an undeniable truth to this changing digital transformation: it is here to stay and there is no going back.
The COVID pandemic forced exhibitors to adopt new event technologies, with varying degrees of success. Anecdotal trends discussed during the Exhibition Think Tank Club indicate almost a third of the total companies achieved significantly better results in the virtual environment, but many have not.
The adoption of individuals and companies can be plotted somewhere across the technology adoption curve, as depicted below: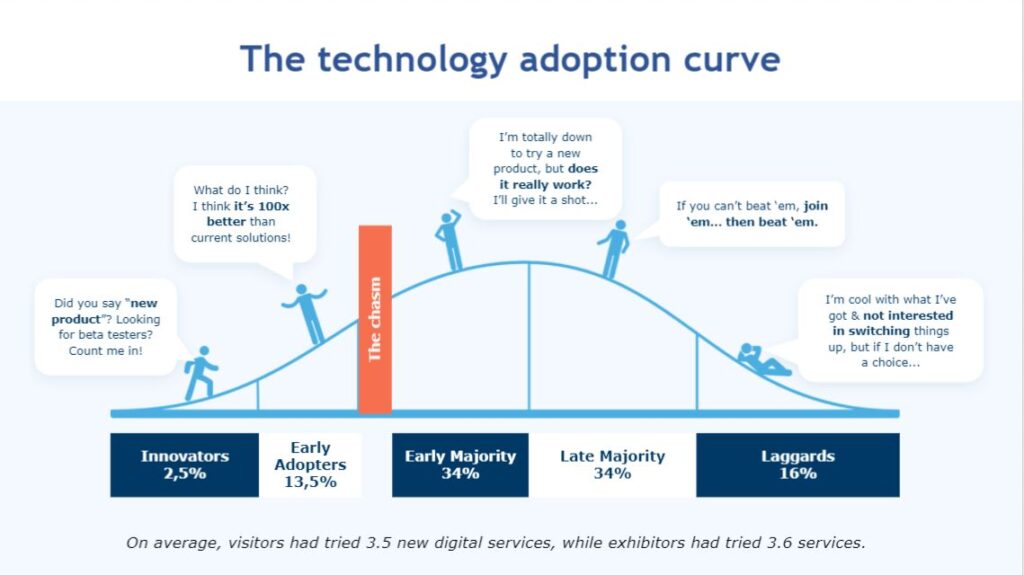 To get a more realistic picture, we interviewed two exhibitors at different levels of comfort with digital adoption.
Dominic Jones, Marketing Manager at Axis Communication, had a positive view on digital events, praising them as "highly-effective lead generation activities". According to Dominic, it was essential to push the innovation and change brought about by online events into a company's digital event strategy. He suggested a combination of live and virtual events for the sales funnel, with physical experiences used more towards the bottom end to accelerate the pipeline.
Among the challenges faced, Dominic holds the opinion it is crucial to maintain a continuous conversation with the audience throughout the year, not just over a three-day event period, lending credence to the use of a year-round online marketplace and community to engage the audience.
Kerri Keane, Event Manager at Charles River Laboratories, had a slightly different view, stating that getting acquainted with the complexities of various virtual event technology platforms meant it took them more time to plan a digital event than a physical one. 
While she is yet to see any significant returns from virtual events, Kerri stressed on the need to keep tracking the leads in order to measure ROI, and had an optimistic view on the learnings that the digital medium brought. 
"Virtual events have been a new experience for all of us and there is a learning curve involved; there is much to learn and share," she said.
More data points available than ever before
The virtual medium has significantly increased the amount and quality of data available to exhibitors and organisers. Building a more complete profile of buyers is now possible by mapping their event journey a far greater degree of granularity. 
There has been an explosion in data that can be used to demonstrate exhibitor ROI. ExpoPlatform's own research threw up some interesting statistics for online events and exhibitions:
This is incredibly valuable data if harnessed and actioned effectively. The influx of data provides opportunities for developing better tools to measure sponsorship and exhibitor ROI for both live and online interactions, helping organisers enrich and personalise the exhibitor/visitor experience.
"Ownership of this data is a vitally important issue," flagged ExpoPlatform CEO Tanya Pinchuk. "It is important that organisers make sure they retain the control of this most crucial asset – a position that ExpoPlatform outlines in its Data Manifesto."
Digital channels significantly extend global reach, increase monetisation potential and allow buyers and sellers to be connected all-year round
"With virtual playing a significant role in the future of events, tools like AI matchmaking, NFC RFID technology and instant lead capture have become massively popular. Organisers are also discovering the use of technology like digital avatars, AR and VR for new, exciting, use-cases," – ExpoPlatform CEO Tanya Pinchuk.
The new, wider ecosystem of digital solutions presents innovative ways for organisers to grow their audience and create packages that help buyers and sellers connect and engage not only during the event but all-year round through online marketplaces. These 365 online marketplaces can be anchored to a flagship event, allowing a large number of attendees to conduct business activities any time of the year, instead of being compelled to make quick decisions within a limited time frame. 
Allowing access to an 'ever-available' online marketplace also allows organisers to do a deep dive into the audience behaviour and build a more complete persona to determine their needs and wants. One can then create micro-experiences and provide greater personalisation, leading to increased engagement and exploring omnichannel monetisation opportunities.  
Conclusion
In a complex, fast-changing landscape, it's clear that buyer behaviour has evolved and online transactions are here to stay. 
It's also evident that exhibitors and organisers have to keep making the changes necessary to keep up with such a rapid shift. While virtual events work well for educational activities, training and workshops, the need to cater to provide buyers with information when they need highlights the importance of an 'always on' marketplace models.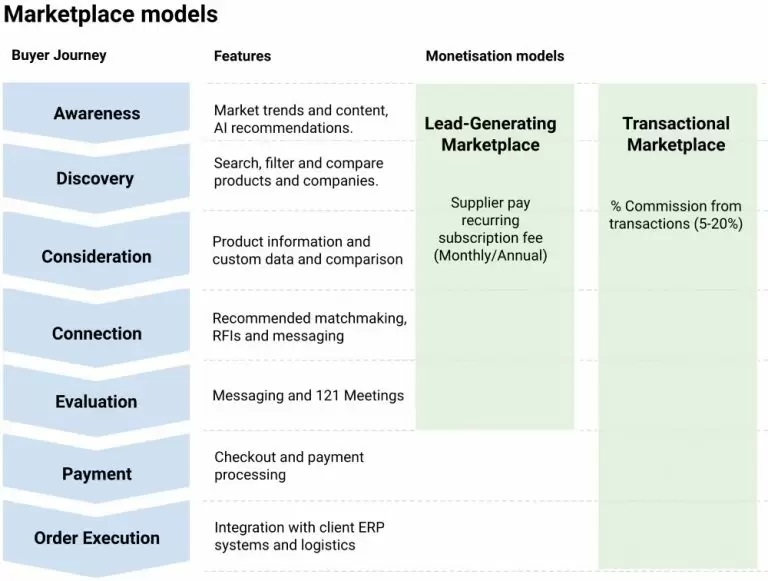 Both models above create a new pool of engaged prospects with whom sellers can further connect on the marketplace and help them make an informed decision, while allowing organisers to boost top-line growth through either subscription revenue or commissions. 
By rethinking the services an organiser provides along the customer journey, and creating new services based on all the data they are now collecting,  organisers can keep an important role in the transactions between buyers and sellers. 
For more on this topic, download the Marketplace Blueprint for advice on how to establish your own marketplace alongside an events business.