Digital Transformation World Series 2020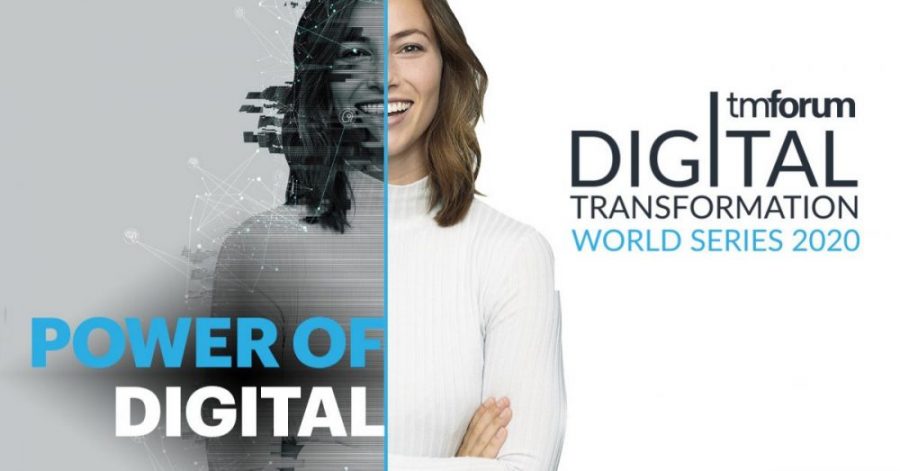 Winner: Conference of the Year at the Digital Event Awards 2021
Client Testimonial
When we needed to pivot our in-person Digital Transformation World to a virtual event, we researched over 50 solution providers and decided that ExpoPlatform was the best fit for us. We chose ExpoPlatform because it gave us the ability to create unique experience for our attendees, the backend was intuitive for our team, and we were able to seamlessly integrate our registration and marketing platforms. Our marketing team was able to use the real-time analytics and insight of our attendee's behaviors to easily shift marketing strategies. Our sponsors also found tremendous value in the real-time data from their personal dashboards to engage and do follow ups. During live event days, the ExpoPlatform team made themselves available to support us in all capacities and quickly troubleshoot any issues that arose.
Overview
The Digital Transformation World Series (DTWS) 2020 was the first ever digital-only global event hosted for communication service providers by TM Forum. Spread over six weeks, the event brought together the global telecom industry to drive collaboration, boost knowledge-sharing and help TM Forum members navigate their digital transformation journeys.
Organisers

Sector
Communication Services
Challenges faced by the organisers
For the past 30 years, the event was hosted as an in-person conference by TM Forum, an alliance of 850+ global companies spanning across 180 countries. In 2020 the organisers decided to shift the event to a virtual format in 2020, in face of the restrictions posed by the COVID-19 pandemic.
The challenges ahead were insurmountable. The 2020 version of DTWS was envisioned as a six-week long virtual series (Oct 7 – Nov 12) with thousands of attendees logging in from around the world to attend hundreds of online sessions and access endless hours of live and on-demand content. With the theme of 'Festival Collaboration', the organisers wanted it to be a highly immersive and collaborative experience for all participants. Moreover, they had also planned a CxO summit within DTWS, where many industry leaders were expected to participate. The organisers were looking for a robust, reliable and scalable online platform to handle the complexities of DTWS with ease and provide an incredible experience that would live up to the reputation of its global event.
One major priority was to offer an immersive, interactive event experience to boost engagement and collaboration amongst its members during the DTWS conference. Our team simulated a virtual environment tailored to handle multiple broadcasts and online sessions throughout the six-week timeframe.
Through iterative programming, we were able to inculcate any feedback for further improvements and created a highly dynamic and adaptive digital platform. Special provisions were made to ensure the robustness and durability of the overall virtual experience.
Interactive Event
Website
With customised drag-&-drop builder and our assistance, organisers created an interactive website with powerful capabilities.
Custom Website Templates

SEO Friendly Structure

Social and RSS Feed
Online
Meetings
Buyers connected with exhibiting companies in virtual meeting rooms and engaged in business-driven conversations.
In-built video conferencing tools

Multiple meeting types supported

Exhibitor-Product catalogues
Online
Sessions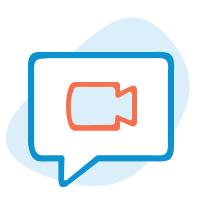 The organisers set-up the various online sessions to engage the audience virtually and provide them useful market insights. 
Multiple session formats 

Numerous engagement tools

Conference Agenda & Schedule
Monetisation
Opportunities
The organisers provided exhibitors and sponsors with numerous branding opportunities.

Sponsored listings on strategic locations

Sponsored searches and listing

Real-time insights and statistics
AI-Driven
Matchmaking
We matched the visitors to suitable products, people, content, and much more - all based on their preferences.

"Person-to-Object" matchmaking

AI-based recommendations

Ranked networking suggestions
Networking
Organisers created an online marketplace and facilitated new connections between the key players with networking tools.
Interactive exhibitor & product profiles


Meet, Message, & favorite options

'My Schedule' & 'Meeting Rooms' integration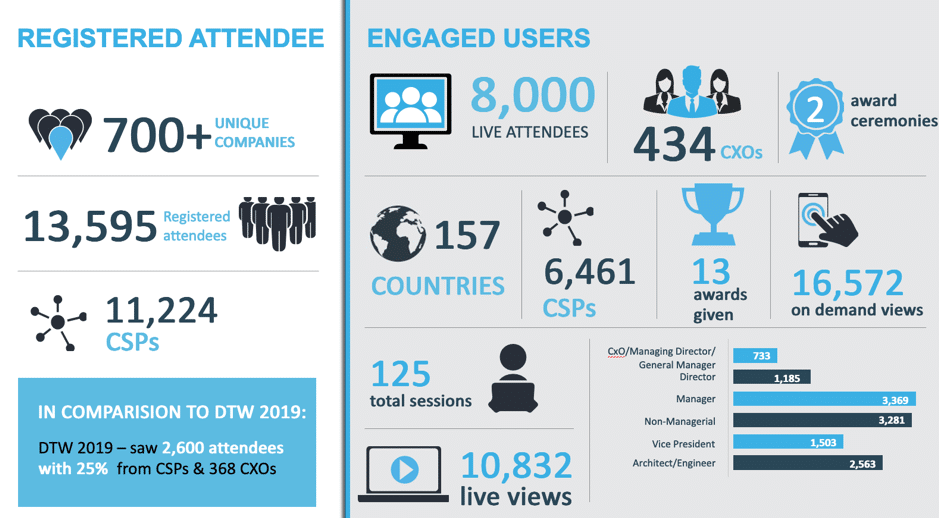 The robust scalable capabilities of our platform assisted the event organisers to run the virtual experience smoothly over the entire six-week period. A total of 152 companies collaborated on high-priority projects during the event. The CxO Summit, held for the first time ever at DTWS, was a huge hit and witnessed the active participation of many industry leaders.

ExpoPlatform is a great platform to work with for both small and big events - a great match! Their support team has been extremely helpful throughout the whole process and created great new features collaboratively. It is easy to work with because of the plug-and-play features, while still being able to keep your own brand identity.


We were pleased with the ExpoPlatform Team and its willingness to react quickly, solve problems and meet our ever-evolving virtual event needs. Attendee and exhibitor participation at the PGA Virtual Experience and Marketplace was strong - and we look forward to continued platform enhancements moving forward.


When we needed to pivot our in-person Digital Transformation World to a virtual event, we chose ExpoPlatform because it gave us the ability to create unique experiences for our attendees. Our sponsors also found tremendous value in the real-time data from their personal dashboards to engage and do follow ups.


ExpoPlatform provided a seamless experience in pivoting our flagship ILTM event to the virtual space. The platform's hosted-buyer solutions and AI matchmaking abilities added a new dimension of online interactions and networking to the event. We look forward to collaborating with ExpoPlatform for our upcoming projects.


Our goal is for the Cosmoprof platform to become more and more widespread, to better respond to the needs of companies in the sector. We are pleased with the success from our partnership with ExpoPlatform and look forward to working with the team for our upcoming events.


I know almost every technology provider on the market and I think that ExpoPlatform provides something unique. We wanted to deliver better networking options to our clients and with EP matchmaking and appointments we managed to increase visitor engagement before the event.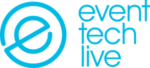 Using ExpoPlatform system to manage our data was fast and easy. With a new website our event looks modern and attractive. Pre-show online registration helped to solve a problem of queues. Our visitors were able to contact exhibitors, schedule meetings and search for products and stands, using online floor plan.

keyboard_arrow_left
keyboard_arrow_right