Shock as 'under 25% of eventprofs' exploring generative AI
Less than a quarter of event organisers are "actively exploring" the potential of generative AI, according to an industry expert.
ChatGPT-like tools made a splash this year having rapidly developed capabilities to quickly create quality content in text, image and video.
But Mark Parsons, director at Events Intelligence, told how he had been left "alarmed" after teaching a course to around 120 eventprofs about how to use these tools for exhibition planning.
He told ExpoPlatform: "What I discovered was both encouraging and alarming.
"Among these self-selected people, between 50 and 60 had never used ChatGPT or a similar large language model, only 25% had used an image generator such as DALL-E 3 or MidJourney – and fewer than five were doing more advanced things with video, code or other mediums.
"Given these event professionals self-selected to take a course on generative AI – and the feedback – this alarmed me.
"It's an easy extrapolation of the above statistics to be confident that less than 25% of our industry are actively exploring what generative AI can do."
ChatGPT allows users to refine and steer a conversation towards a desired length, format, style, level of detail and language used.
It became the fastest-growing consumer application in history at the start of this year when it hit an average of about 13 million unique daily visitors – it was later over taken by social media platform Threads.
Eventprofs can use tools like this to assist them by generating content, personalising messaging and even helping to curate a show's schedule.
The potential is so interesting that AI-powered features also came out as the most popular opportunity for technology to develop in the latest Event Tech Forecast.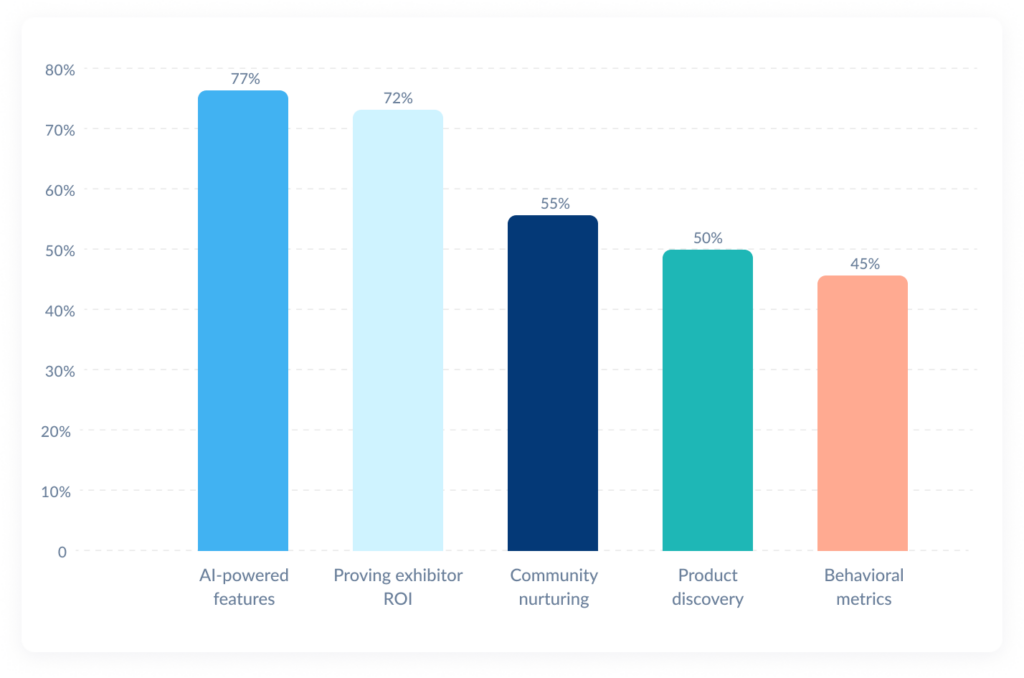 Mark said: "Why does this matter? Why does the event industry need to do anything different to what it's done for decades?
"It would be easy to argue that generative AI is just another fad, but I strongly disagree with this.
"We're at a stage where the business use cases haven't caught up with the available tools, but the pace of change in LLM development is astounding.
"At the EN Indie awards in September I shared with the audience how increasing levels of compute and improving algorithms had been leading to a 10x improvement in machine learning models each year since 2012.
"Four years ago GPT-2 couldn't count to 10, now GPT-4 can write a passable college admission essay.
"The pace of change is profound, and it will really impact those businesses which are unprepared."
The 31st edition of the UFI Global Barometer also found 62% believe this technology will directly impact event sales, marketing and customer relations – while 22% say it already does.
Algorithm-fuelled features through event tech providers like ExpoPlatform already allow for email automation, matchmaking possibilities and more.
Download the AI Blueprint ebook to learn how data science can help your events.
But Mark believes the digital transformation our industry has witnessed since 2020 will see a new chapter emerge using these generative AI features.
He said: "Generative AI technologies will, with time, enable organisers to market to a segment of one.
"We'll be able to address our sponsors, exhibitors and attendees with content which matters to them in a style which works for them via a channel which is best.
"Gone will be the drip campaigns of generic copy to mass audiences – they just won't work as mass marketing will be increasingly filtered out from social and messaging platforms.
"We're not there yet, but it's important for us to to start to experiment and discover what may be possible.
"As I'm sure those organisers who start to build tech stacks which support LLM solutions will be those who gain scale and are disruptive launchers in our industry.
"In the same way that organisers realised that they needed a robust technology platform for managing the interplay of online and offline elements of their events to compete – such as ExpoPlatform – they will realise that they need to build new skills and capabilities to use generative AI in their businesses to compete."
We hope you enjoyed reading this article and found it useful. At ExpoPlatform, we want to help you build better events and communities. Please get in touch and ask for a demo here. Thank you 😀