ETL Summit: Insights from the Future of Events series
ExpoPlatform was live at ETL Summit to showcase expert findings from our Future of Events series of ebooks.
Swathes of eventprofs tuned into the online session to hear Luke Bilton, chief growth officer, present some of the highlights from the five-part package.
Each ebook features industry leaders and bodies who provide leading advice on how to make the most of the digital transformation our industry has seen.
First up at the #ETLSummit22 check out this session from @ExpoPlatform_ 👀

Log in to catch it now or register here – https://t.co/0IBjO3SvaT#EventProfs #EventTech #VirtualEvents #ThoughtLeadership #TechShow pic.twitter.com/Gusm7KS5jW

— Event Tech Live (@eventtechlive) June 8, 2022
Luke said: "I don't think there's any more interesting industry right now than the intersection of technology and events.
"There couldn't be a more exciting time right now than this fast-changing period that we are living through."
ExpoPlatform research estimates there is now 20 times more data available to organisers than pre-pandemic.
This is just one reason why learning how to make best use of this transformation is so important.
Download the full ebook package here.
This session – Insights from the Future of Events blueprint series – offered some of the top findings included in the guides. We list them for you now.
1. A decade of ecommerce growth in three months
There was a decade's worth of ecommerce growth during the first three months of the pandemic.
Findings from McKinsey & Co. suggest lockdown rules in early 2020 turbocharged the digital transformation of buying and selling.
Luke said: "Across the globe, ecommerce adoption in the general public has accelerated by about a decade in the first three months of the pandemic.
"What we're seeing is omnichannel is absolutely essential in B2B buying and selling in a way that it really wasn't pre-pandemic.
"It's been a very, very fast transformation and we as an industry need to keep up with some of these trends."
2. Find the right value proposition
A hybrid business model is better than a hybrid event – but need to find the right value proposition
This format brings online and live elements together under a single banner event. However, a much better approach is to build a hybrid business model under the brand.
That means incorporating a 365 Community around your live shows. This increases audience growth, engagement and revenue by offering year-round interactions alongside your main events.
Luke said: "Trying to appeal to the two audiences at the same time can be a real challenge. To do that isn't just simply a case of taking what works in person events and putting it digital. It's about finding a unique value proposition."
A value proposition should be an easy-to-understand reason why your product meets a customer's needs.
Too often the 365 value proposition is simply connecting any type of industry together, but you need to go deeper to find something that resonates.
Luke said: "Break down those Three C's – content, connections and commerce – and try and rebuild those in a way which is meaningful for your particular audience. Every community, every industry is different and it's not a one size fits all."
3. The Golden Rule: you can't own the community
Some of the top contributors to our Community Blueprint affirmed the need for a 365 platform to be led by its users.
That means the Golden Rule is you can't own the community. Your job as an organiser is to facilitate its life so it can grow by itself.
Luke said: "It's your role to bring that community together – but you don't you don't own it. You can provide the platform, but really it's about the members helping members."
4. Segment your client base
The longtail segment of clients account for around 70% of customers and targeting them is crucial to raising digital revenue.
Organisers should package their inventory into a series of easy-to-buy bundles with pricing to reflect the value your customers will receive at each tier.
This is because not all exhibitors are equal, with a wide range of budgets and expectations.
An important consideration when drawing up your digital packages is to have solutions which will suit companies of all sizes.
"When it comes to monetising digital platforms, it is actually much more about the processes than it is about the technology.
"Having a flashy technology platform isn't going to sell it for you. I comes from really knowing your client base."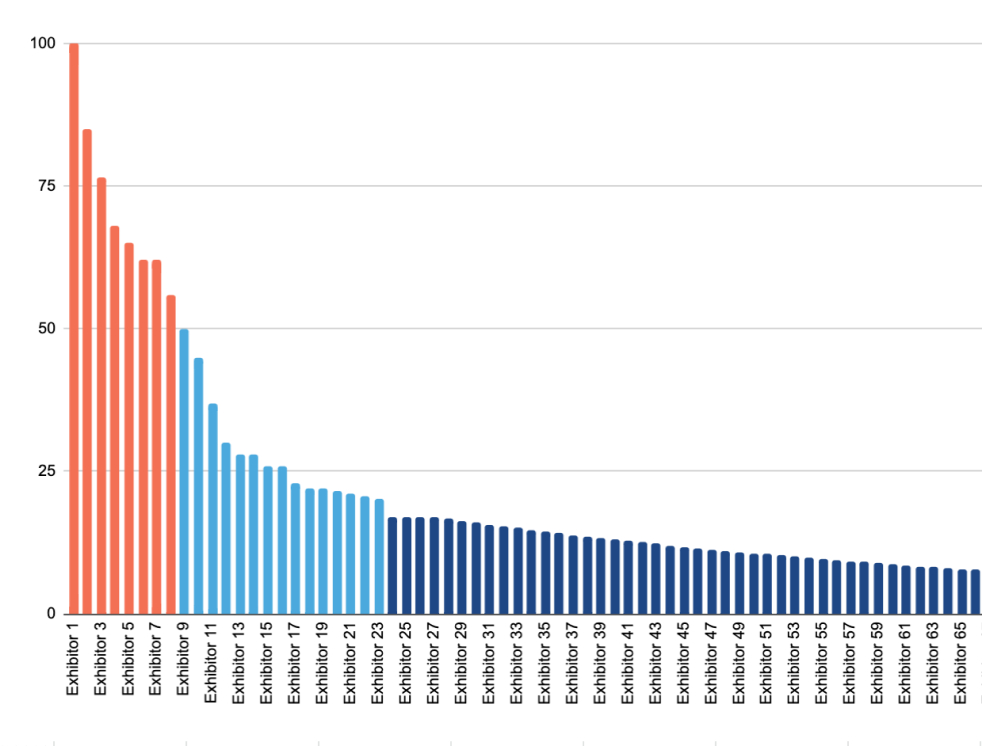 He added: "In this example, we've got the average decay curve of your top sponsors, your key accounts, your middle-tier exhibitors and then the longtail. Interestingly, most of the impact comes from that that longtail.
"They may not be as as flashy as your as your key sponsors, but being able to monetise that longtail – even for small amounts – does end up having a much much greater impact."
5. Build a tiered package inventory
Organisers can now begin to think about how they package their offerings for each segment and then price them accordingly.
An example can be used with so-called Bronze, Silver, Gold and Platinum clients. Major and mid-tier accounts should be offered higher-value sponsorship of new products which have been developed.
Higher-range packages can then be sold to mid-tier and "bellwether" key accounts, with each priced relatively and with potential to be paid for annually.
Luke said: "The smart thing to do as the world returns to in-person events is bundling together your digital and your in-person packages together into one into one which is easy to sell.
"There's nothing worse than going to a client with a 40 page media pack with all sorts of complicated different items. The more that you can bundle it together and package it up, the better for everyone."
6. Quadruple revenue with Smart Events and 365
Building a year-round online marketplace and tech-enhanced events can boost revenue by around 300%.
Estimates based on a live show with 1,000 exhibitors show a 365 option could quadruple takings – and that's a conservative figure.
The marketplace component accounts for about two-thirds of that uplift.
Luke said: "We're calculating around about 300k revenue is possible from a Smart Event. If you extend that into into a year-round 365 proposition there's a 300% increase you could get from monetising that client base.
"You can see the big thing that changes is on the marketplace side of things. So the marketplace listing is the most scalable part of a 365 proposition, representing about two-thirds of  the revenue base."
7. ROI is the most important metric
The massive amount of data now available means you need to focus on a few key metrics – with eventprofs choosing ROI as their top.
Around 44% of respondents to ExpoPlatform said that anything around return on investment is by far the most important for them.
That could also be returned on time for visitors – but it means anything which proves the value of participating is is incredibly important.
The challenge is then to create more tangible ROI which can be seen by chief marketing officers in this new digital space.
This can be done through using providers like ExpoPlatform, who can provide an omnichannel view of all touchpoints – onsite and online – under one dashboard.
8. Greatest challenges and opportunities
An exclusive survey of event professionals revealed the scale in which data has become a major focus in our industry.
The study from ExpoPlatform found that 52% ranked getting the data foundation right as the biggest hurdle, while 24% said this was organisational issues.
More than two-thirds of respondents (68%) chose shaping products through customer insight as the most valuable opportunity for the event industry.
9. Sustainability
The biggest contributor to the carbon footprint of events by far is through international travel.
Findings by MeetGreen estimate air transport makes up about 70% of the emissions created by a largescale professional gathering.
A further 10% is through car journeys, 8% on guest room energy, 4% on venue energy, 4% by train travel, 3% on food and 1% on freight.
The organisation estimates one two-day event avoided producing almost 1.8 million kg of CO2 emission to just over 8,420kg by switching to fully virtual format.
That's less than one percentage of the original figure. In-person events are going to continue being the highlight of an organisers year, but questions over sustainability are not going to disappear.
10. Data control
The data debate is well and truly over – the event organiser must stay in control.
An incredible 97% of exhibition organisers told the ExpoPlatform survey it's at least very important to take charge of this information.
Meanwhile, an UFI panel claimed the debate over who controls attendee data has been "pretty much settled" but organisers must ensure they use it in a way customers want.
Luke said: "None of the rest of this is really meaningful, unless you take complete control of your data and then start to build the systems and processes around how you actually make the best use of them."
ExpoPlatform's manifesto for event data sets out in more detail the importance of organisers keeping control of the data, rather than giving it to platforms.
We hope you enjoyed reading this article and found it useful. At ExpoPlatform, we want to help you build better events and communities. Please get in touch and ask for a demo here. Thank you.