How to make your events more profitable with 365 marketplaces
Online marketplaces are fast becoming the go-to models for tradeshow organizers to get more buy-ins for their businesses and drive revenue year-round.
According to Research and Markets, the global B2B e-commerce platform market value stood at $8,916.6 million in 2022 and is expected to grow to around $10,059mn this year. It is further projected to grow at a CAGR of 12.9% to reach $23,618.3mn by 2030.
For B2B events, online marketplaces serve as a digital extension to ensure market visibility 365 days a year ⭕
Organizers can use these platforms to connect buyers and sellers regardless of their geographical boundaries and time zones.
In this article, we will understand the different ways an online marketplace can help your events generate more revenue.
Learn more about ExpoPlatform's 365 Marketplace solutions
Why 365 Marketplaces are a must-have for your event tech stack 💻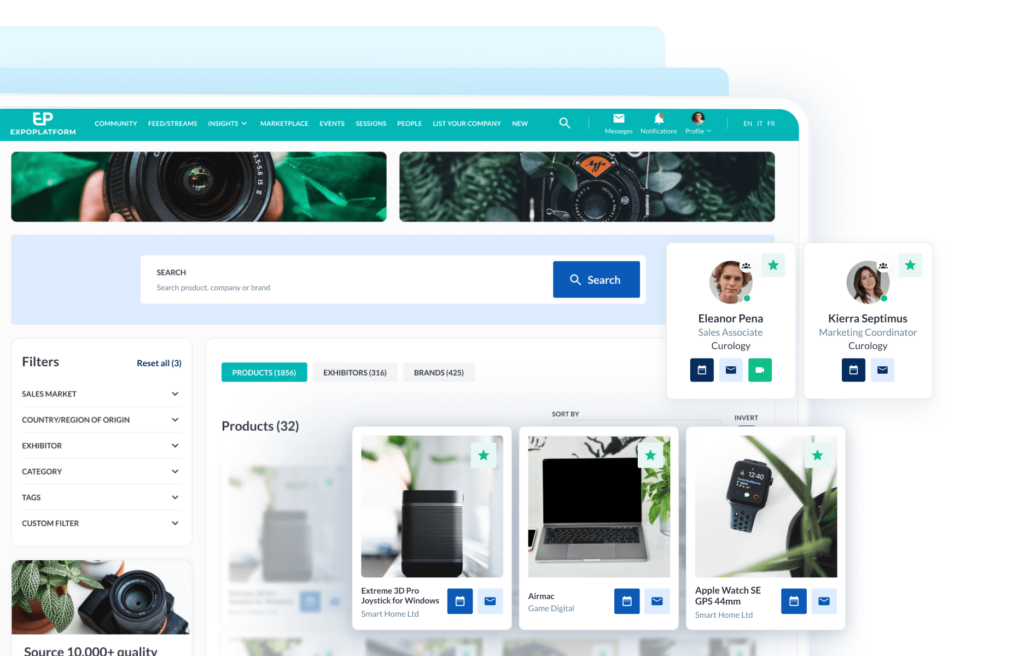 Online marketplace giants like Amazon and eBay are retail juggernauts that have played a key role in helping digital sales go mainstream 🛒
The advent of new event tech and the increasingly digital nature of events present an opportunity to create similar marketplace platforms for exhibitions and tradeshows.
Conor Riordan, editor at ExpoPlatform said: "The real transformation events need is to seamlessly transition between physical and digital experiences. 
"The first step toward this omnichannel approach is an online marketplace that connects buyers and sellers 365 days of the year."
Such 'always on' marketplaces can unlock a wealth of potential for B2B event organizers. Here's why they should be a part of your tech stack 👇
You can anchor your flagship event around marketplaces – create an engaged pool of buyers and sellers before, during and after the show.
Exhibitors can showcase products, engage directly with potential buyers and close business deals – anytime, anywhere.
Drive revenue by streamlining processes and increasing sales opportunities. Make it easier by integrating services like lead intelligence in the supplier dashboard.
Help niche businesses thrive by creating micro community groups for engagement and networking.
Facilitates upsell opportunities by using content targeted toward the buyer's preferences and needs.
Creating your own marketplace gives you full flexibility in design options and control of site settings. You can devise dynamic visual merchandising capabilities and new monetization streams while elevating the audience experience.
These efforts add up—if done right—ultimately unlocking greater ROI throughout all stages of a tradeshow's lifecycle (pre-, at-, post-event) ✔
Moreover, you will be able to stay agile and prepared in the ever-evolving and shifting industry landscape. Any adverse scenario will be mitigated once you have a well-oiled system to run your business.
👉 Also read: 10 ways online marketplaces are a bonus for eventprofs
Marketplace monetization opportunities 🤑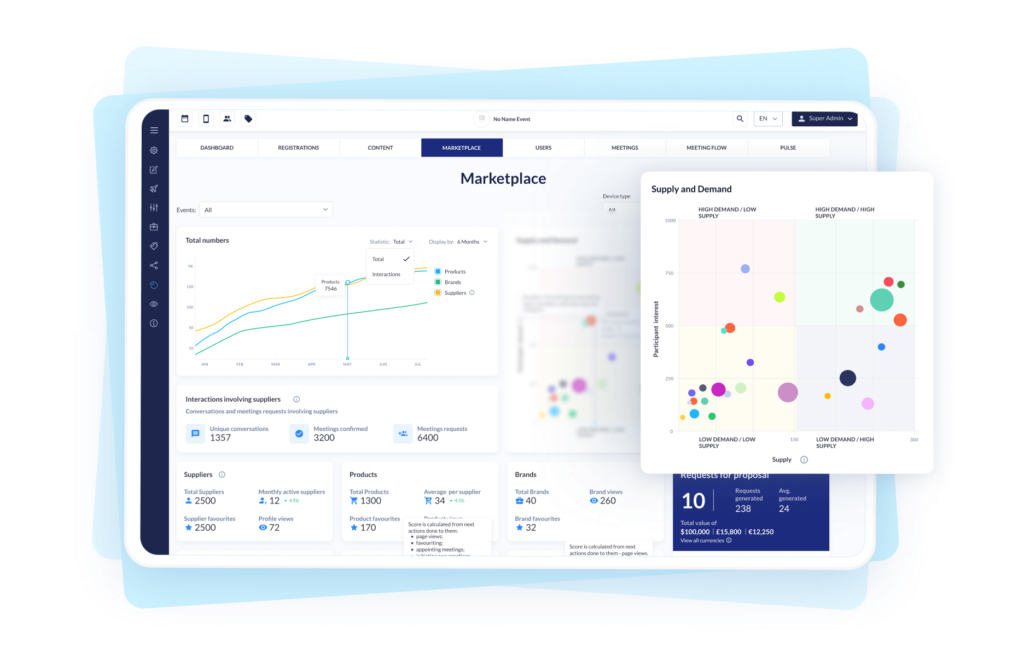 An online marketplace presents a plethora of opportunities to make money. They are infinitely scalable and offer customization options that cater to every budget.
Here are six ways you can monetize your marketplace and boost the profitability of your events  ⤵
1. Supplier listing fee: Any supplier who wants to exhibit their wares on your platform can be charged a listing fee. This can be in the form of a monthly subscription option as well as extra charges for new listings.
2. Buyer membership fee: A well-curated marketplace that focuses on quality and acts against mediocre and poor products can gain solid traction with buyers. These buyers would be willing to pay a small fee to get quality offerings.
3. Transaction fees: Charge a commission or a flat fee on every transaction that happens on the platform. This helps sellers to scale up their business and get more visibility.
4. Freemium model: Buyers and sellers can get easily started on the marketplace using the basic features that are available to all. More value-added services can be availed at additional costs.
5. Customization options: Endless options exist to monetize through customization. For example – there can be sponsored listings, an extra fee to display more products, paid content etc.
6. Sell ad space: Any advertisements for promotions and offers can be charged. Different fee structures can be available for the website version and mobile.
Did you know? You can also make money for your events using AI  👉 read more
We hope you enjoyed reading this article and found it useful. At ExpoPlatform, we want to help you build better events and communities. Please get in touch and ask for a demo here. Thank you 😀