Six ways AI helps your events make more money
If you're looking to make more money with your next event, it's time to start thinking about AI.
Smart matchmaking algorithms, multilingual chatbots and sentiment analysis are just some of the tools which can help make almost any show more interactive, productive and profitable.
Here are six ways AI helps drive positive revenue returns at your shows:
1. Data analysis to make smart decisions
As an organiser, you have to manage a lot of different data points at large-scale live events like tradeshows.
This includes tracking registrations, engagement, booth interactions, feedback surveys and a lot more.
Analysing this data with AI helps you improve future events and identify trends so you can better target your marketing efforts.
Want to learn more? Download the AI Blueprint to understand how the power of data will shape future events.
By looking into audience behavioural patterns, sentiments and intent, AI can predict what steps consumers would take in the future.
This information can be used to make strategic decisions about your pricing, product development and marketing as well as create a more efficient tradeshow strategy.
2. Save time by automating tasks
AI helps make tradeshows more efficient and cost-effective by automating tasks that would otherwise be done manually.
For example, you can automatically schedule appointments, track leads and generate reports. With AI, you don't need to manually enter all the same information – the software does this work for you.
For example, if you run a conference, you could set up automated surveys that ask questions about the speakers, schedule changes and other important details.
Or you could automatically send emails to participants when registration closes, reminding them to complete their details.
Using AI-powered tools for lead capture gives you crucial insights to personalise your approach for follow-ups. This helps you focus on your sales pitch and close more deals.
3. AI-powered matchmaking to improve networking and close business deals
Making the right connections is essential for success at events with a high footfall.
That's why more organisers are turning to AI-powered matchmaking tools to improve networking at their events.
These help your audience get real-time suggestions of who they should meet at a tradeshow based on their interests.
The AI algorithm takes into account the pre-filled preferences and the exhibitors' products or services to make the best possible recommendations.
This software is also used in the Hosted Buyer Programme module to schedule meetings with potential partners, customers or suppliers.
It helps exhibitors connect with relevant leads and maximise their chances of striking more business deals.
4. Boost event engagement – higher attendee satisfaction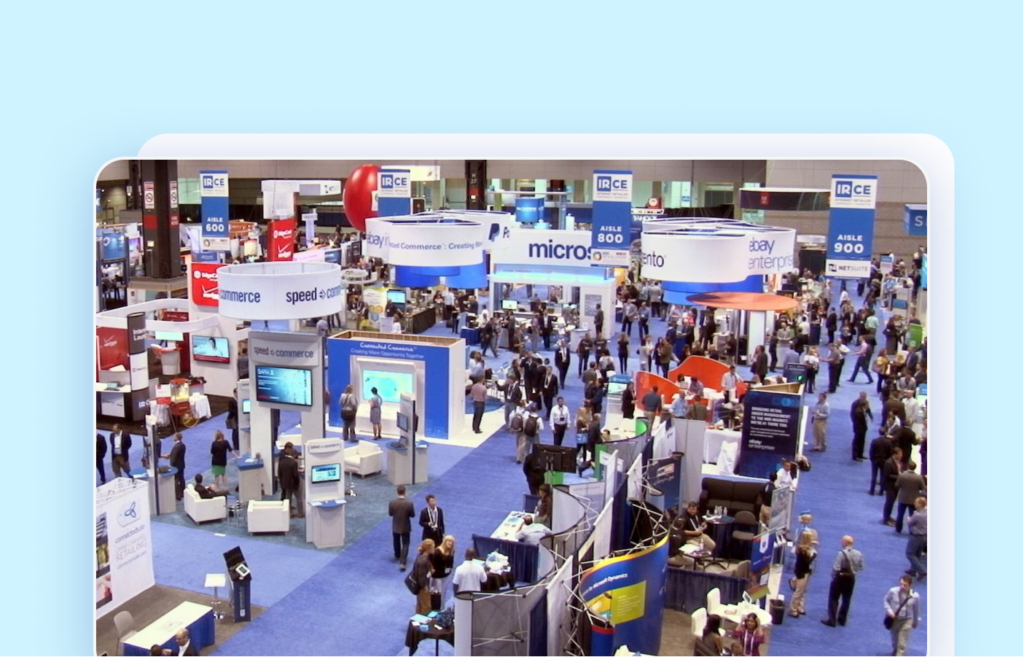 Audience engagement is essential to the success of any event.  When you use AI to personalise individual attendee journeys, you create a more engaging and enjoyable experience.
This leads to higher satisfaction among attendees and ultimately, more successful tradeshows that generate revenue.
AI improves event engagement in a number of ways. You can display personalised content, ads and offers by analysing past event data and trends.
AI can also be used to monitor social media activity surrounding an event and identify opportunities for engagement.
This information can then be used to tailor the event experience and content to better meet the audience needs.
Additionally, AI can pinpoint when users are disengaging with the event content and make recommendations on how to improve the user experience. 
5. Helps you find more sponsors
Event sponsorships are a great way to offset the costs of hosting an event, and can also be a source of valuable marketing and brand exposure.
However, finding the right sponsors can be a challenge. AI can be a valuable tool in the search for event sponsors.
By analysing large data sets, AI can identify patterns and correlations that may be difficult to spot with the naked eye.
This information can be used to target potential sponsors that are a good fit for your event. In addition, AI can be used to automate the process of reaching out to potential sponsors. 
It also allows you to target your outreach to those sponsors who are most likely to be interested in your event and customise your pitch to their specific interests.
AI can even help you track the success of your sponsorship outreach efforts and identify areas for improvement.
6. Increase global appeal with multilingual chatbots
AI chatbots are becoming more common as companies look to automate customer service interactions.
These bots are designed to mimic human conversations by responding to customers' questions or queries in natural language.
They can also translate text from multiple languages, allowing them to communicate with international audiences.
Exhibitors can automate interactions at events with visitors by using pre-recorded answers to frequently asked questions.
That way, they can focus on important aspects of the show like meeting potential buyers and partners.
These chatbots also create a better customer experience by providing visitors information about times, locations and other details about the show as well as tips about what to see or where to meet specific sellers.
Another area where AI chatbots can increase the revenue potential of your events is through language translation and multilingual capabilities.
This breaks down language barriers and makes it easier for international buyers to communicate. This massively increases the global appeal of your event, creates new revenue streams and accelerates sales and conversion rates.
We hope you enjoyed reading this article and found it useful. At ExpoPlatform, we want to help you build better events and communities. Please get in touch and ask for a demo here. Thank you.