Mobile event apps: must-have features for a Smart Event experience
The return of physical exhibitions and trade shows has been marked by a greater use of technology.
People have become more comfortable with digitisation. They expect immersive, personalised event experiences using modern software and tools as well as virtual access options if their plans change unexpectedly.
This format is known as a Smart Event – an in-person show which includes extensive use of digital technology to increase value of the experience for all participants.
For organisers, the easiest way to add a digital layer to in-person events is through a mobile event app. Using apps to boost event engagement and participation has been common, but their popularity has surged more in the post-Covid era as they play an important role in:
Building year-round community experiences

Contributing towards sustainable events by minimising the use of paper

Delivering real-time updates and content

Providing on-the-go access to remote and mobile audience
Attendees can set up meetings, build personalised agendas, navigate across the venue using interactive floorplans and do a lot more. Exhibitors can also track the success of their campaigns by examining different metrics to improve their brand presence and get a greater return on investment.
A survey by B2B growth marketing blog Markletic shows 78% of businesses using an event app say it "contributes to a positive event ROI". To better understand the appeal and value of event apps, we will cover in this article:
Advantages of mobile event apps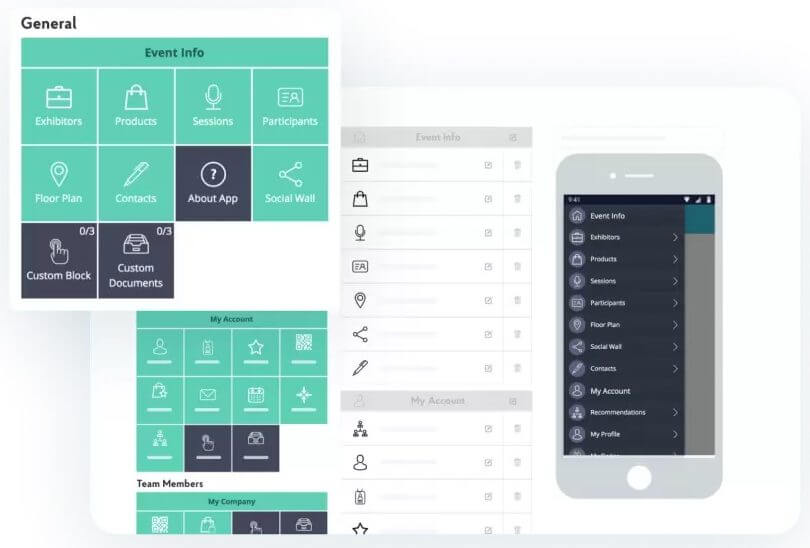 An event mobile app helps create a seamless audience experience in numerous ways. These include:
1. Meaningful interactions: engage with users through social media integration, push notifications, location-based services and more. Apps also provide a platform for delivering targeted messages to specific audiences based on their interests and preferences.
2. Streamline planning and logistics: communicate and coordinate with your attendees and exhibitors to streamline event planning. Any last-minute changes or disruptions – invite errors, speaker cancellation, new attendees turning up, issues with supplier quotes – can be resolved quickly by using an event app.
3. Personalised agendas: attendees can set their desired event agendas by adding the sessions they are interested into their personal schedules. This saves time and increases efficiency.
4. Deliver real-time content: live stream your event, share pre-approved text, video, image messages and deliver other content updates through push notifications.
5. Easy integration: enterprise mobile apps make it easy to integrate your existing systems into one cohesive experience. This means no need to develop custom code or learn multiple platforms. You can simply sync with partner APIs or avail the integration options to automate data flow.
6. Improved marketing: mobile marketing allows you to become more creative and innovative with your messaging. The right strategy can help you capture the attention of your audience by promoting your event, business, products and services.
7. Improved customer services: customer support can access real-time data and address attendee issues immediately. This helps improve audience satisfaction and loyalty.
8. Increased brand awareness: connect with customers beyond emails and social media posts by offering discounts, promotions and special deals for your events, products and services.
9. Networking and engagement opportunities beyond events: facilitate networking and content sharing beyond the limited timeframe of a physical event. Buyers and sellers can connect, interact and take business decisions throughout the year with a 365 community platform that can be accessed through the app.
10. Event feedback: understand audience expectations before, during and after the event through in-app feedback polls and surveys. Opinion and reactions shared can be used to implement real-time changes as well as adjust strategies for future events.
11. Sponsorship opportunities: sponsors can market their products and services and get higher brand visibility through strategically placed ads, splash screens and banners in the event app. Organisers can increase their ROI by using these paid sponsorship and monetisation opportunities in the app.
Let's understand how event apps can play a key role
'New paradigm' positions mobile event apps as a crucial revenue generator
Mobile events apps are likely to become a key revenue driver as the exhibition industry enters a new paradigm of data-driven innovation. This is what Mark Maydon, commercial director at Crowd Connected said while setting his vision of the role event apps would play in the future.
Speaking to ExpoPlatform, Mark said:
" There's a new paradigm – one where the app is viewed as a revenue generator and the show organiser invests in it. By making it really valuable to the user, the app gets more downloads and is more widely used at the show.
"The value proposition for this new breed of event app is centred on navigation and discovery: helping visitors do more at the show, meet more exhibitors, get to where they want to on time, or realise that something else they are interested in is there.
"Crucially that increased usage results in hugely valuable data and insight for the organiser. They can monitor and measure footfall across the whole event environment, not limited to one or two components which is typically what you get from scanning or RFID.  
"Whole show behavioural analytics allows the organiser  to operate a better show – and ultimately an enhanced P&L – because there is insight into which elements of the show are performing well and which aren't, which exhibitors are attracting footfall and which aren't and how well the show as a whole is operating." 
Let's now look at the features that constitute ROI-driven mobile event app.
Event app features you need to create smart audience experiences
1. Standalone as well as a container app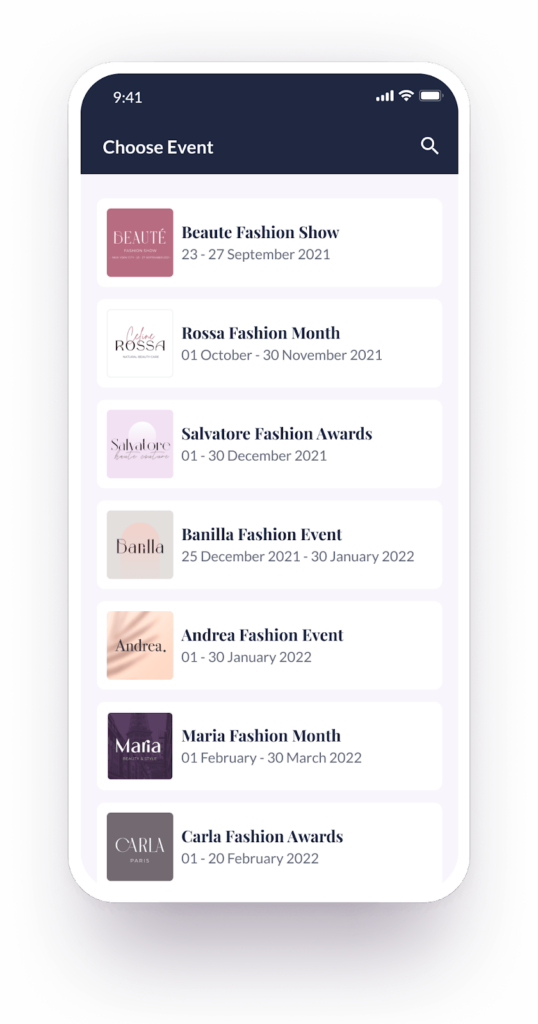 Apps can be created as a standalone version for a particular event or as a container app for multiple shows of a similar nature.
Container apps allow users to access multiple events and content with a single download.
An example of this can be seen through considering different fashion award shows scheduled throughout the year by an organiser.
A container app can bring together all these events under one umbrella instead of having a different app for each show.
If a user wants to open a specific event they can do that by selecting it from the list. One can add and view new and old events in the app.
This is especially important under the Apple iOS store spam guidelines where you can be penalised for having different versions of similar apps.
Guideline 4.3  "Don't create multiple Bundle IDs of the same app. If your app has different versions for specific locations, sports teams, universities, etc., consider submitting a single app and provide the variations using in-app purchase."
"Spamming the store may lead to your removal from the Apple Developer Program." 
2. Customised homepages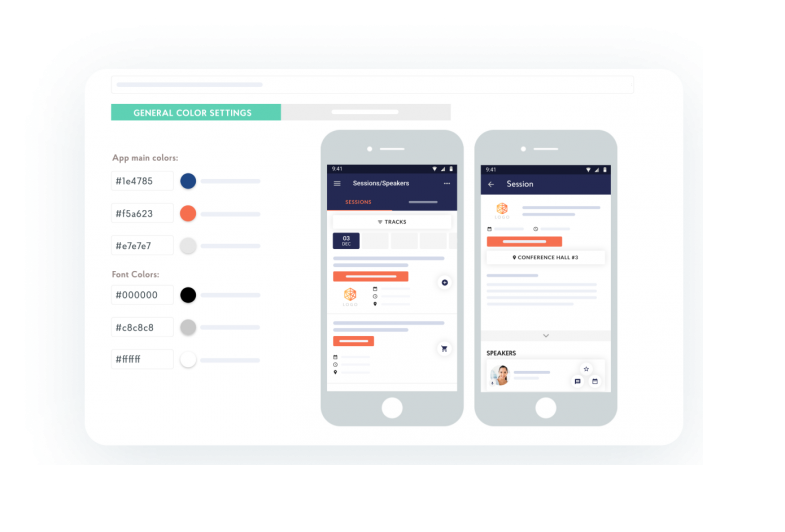 Build the right experience for your event with a custom home screen on the mobile app. 
The homepage is the first thing users see when they log into your app. It gives them all the information they need to start interacting with your app, including login details, profile pages, contact info and links to important resources.
An attention-grabbing home screen combines this information with an appealing design that aligns with your event theme.
Consider these questions to ensure the app's homepage meets your needs:
 What should my homepage look like?
 How will I display different types of content?
 Where will I place navigation buttons?
 What sponsorship options should be available?
 Will there be any special functionality?
Remember: a well-designed home screen encourages users to explore the app more and drive engagement at the event.
3. Agenda and streaming sessions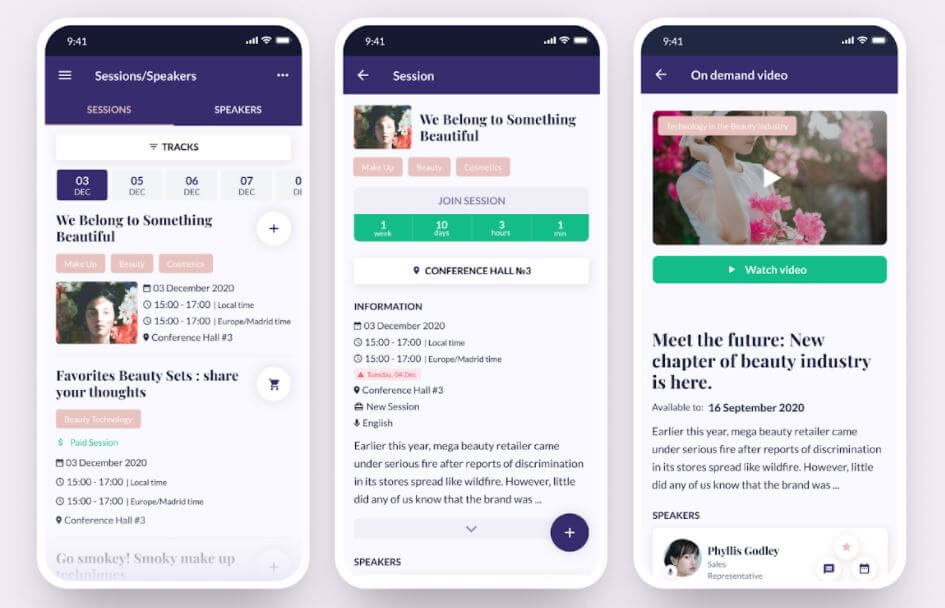 Provide options for users to personalise their event agenda. Include details, timings and location so attendees can participate in the sessions most relevant to them. 
App users should also be able to stream live video feeds from the event. This helps organisers gauge the audience reaction and feedback in real-time. Also include an option to watch on-demand videos of any sessions they have missed.
4. Meetings and messaging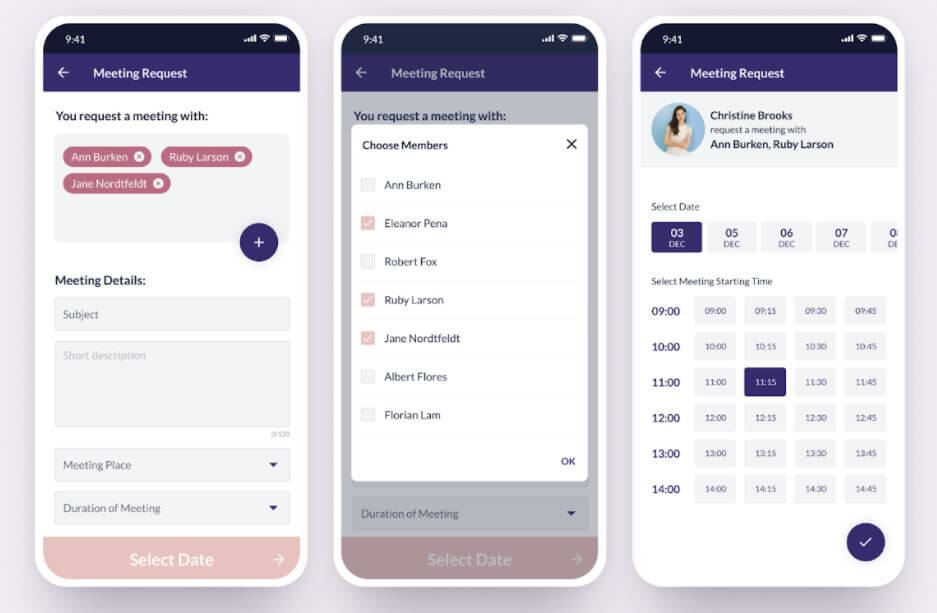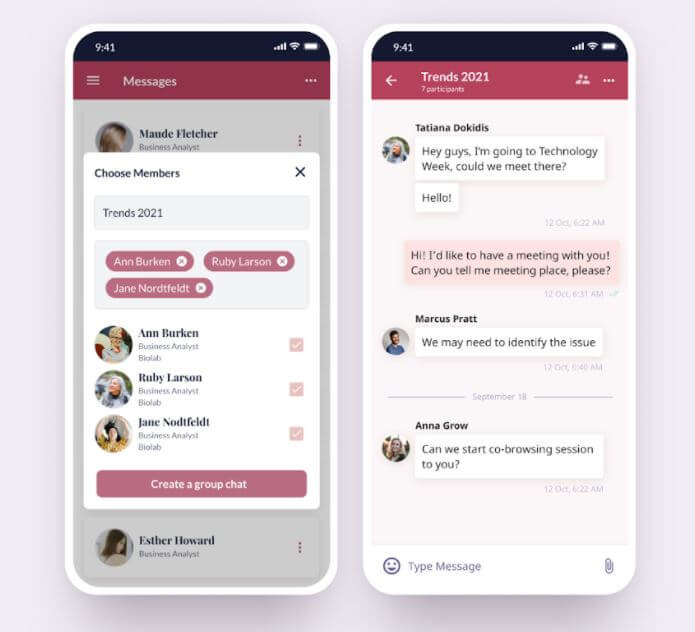 Visitors should be able to set up appointments in their calendars and connect with each other through meeting scheduler and internal messaging‌ features.
Internal messaging allows users to communicate with one another privately without having to leave the app.
Meeting scheduler lets users schedule meetings, view meeting minutes and exchange documents.
This helps increase knowledge sharing, networking and community building.
5. Lead scanning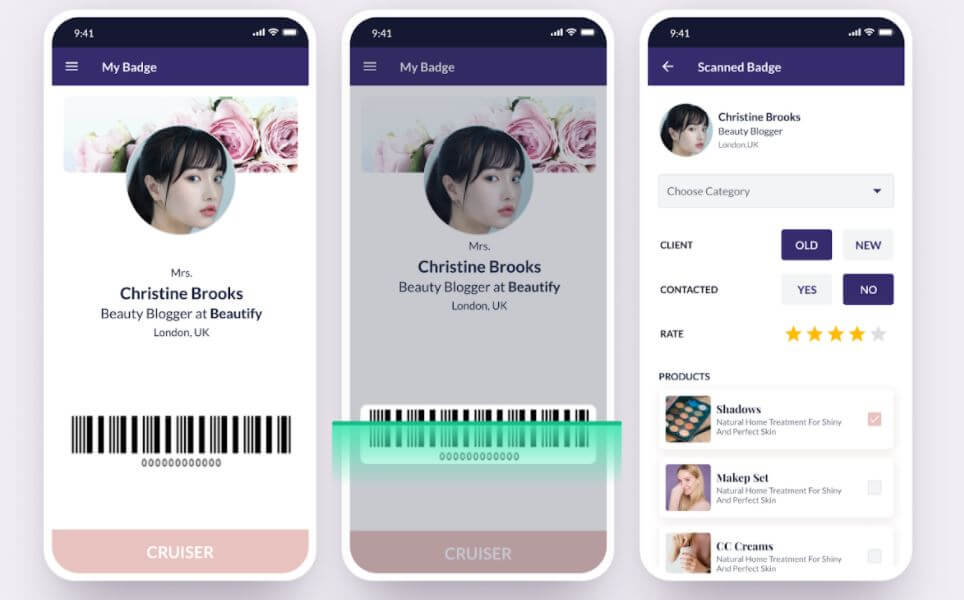 Lead capture technology allows real-time data capture of a participant through the app and helps build qualified connections with ease.
Scanning of badges – barcodes or QR codes – is available for visitors and exhibitors‌, who can rate and categorise leads and add notes.
All lead capture data is stored in the exhibitors' dashboard, bringing together online and offline results into a single view.
6. Real-time exhibitor leads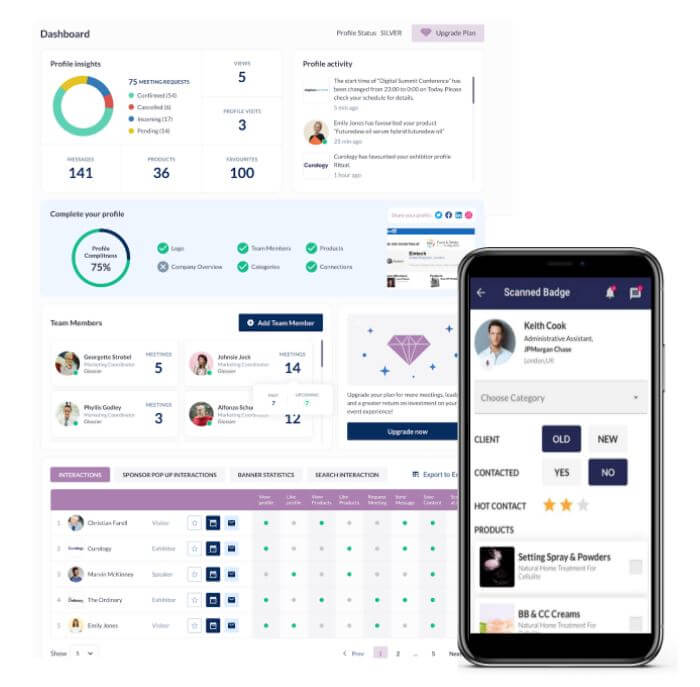 Provide detailed analytics to exhibitors and sponsors through real-time statistics on their performance. 
A self-service dashboard helps them manage their leads and track audience interactions with banner ads, pop-ups and overall search results.
Badge scanning at the live event using the mobile app along with lead scoring is fed into the dashboard. 
This helps exhibitors understand how well their marketing campaigns are performing so necessary adjustments can be made.
7. Interactive floor plan with bluedot wayfinding

Attendees get a seamless navigation experience around the event venue with indoor mapping and wayfinding.
It's like Google Maps with bluedot wayfinding – but for indoors.
They can check out different meetings rooms, breakout areas and exhibitor booths.
The routing feature is based on the visitors entering where they are and where they are heading to.
An interactive 3D floor plan is used to build a custom layout of the venue with clearly defined conference rooms, exhibition booths and stage areas.
This floor plan can be accessed from the event app to smoothly navigate from one location to another.
8. Monetisation through banner ads and splash screens
Virtual sponsorship options can be offered through:
Splash screens that appear while the app loads

P

remium exhibitor profiles with header images

Mobile banner ads with featured exhibitors, products, speaker listings, visitor pages at the top.
The banners can be set up from the admin panel, allowing you to turn on and off those in the mobile app.

9. 'Product Tinder' view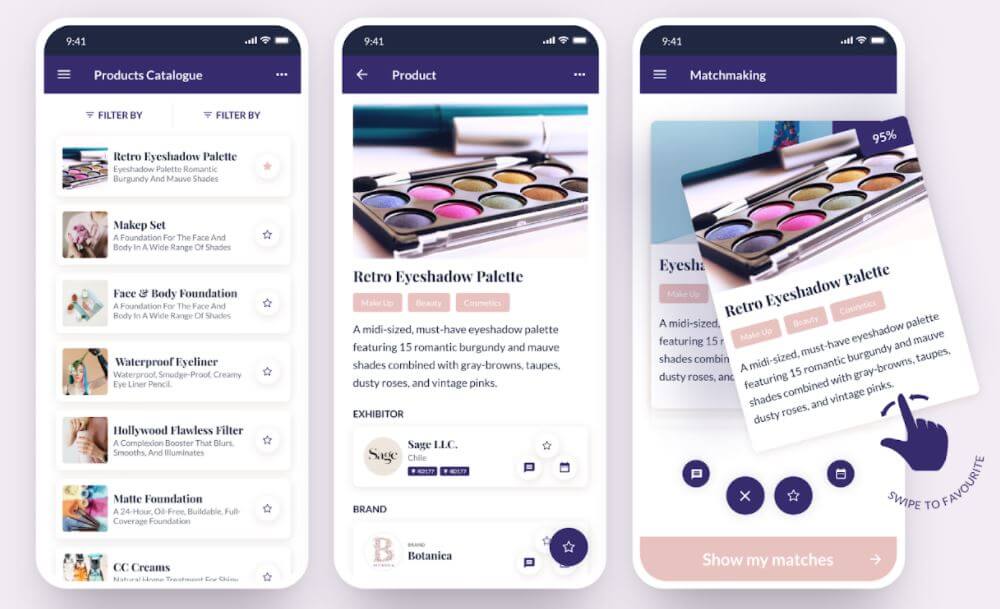 As the name suggests, the "product Tinder view" acts as a item finder for the visitors.
It uses an AI-matchmaking algorithm to connect buyers to the relevant products.
Similar to the dating app, it allows visitors to browse the product catalogue, view details and swipe right or left to favourite or ignore a product.
This helps exhibitors reach more potential customers in an easy way while buyers can discover the latest products quickly.
10. Marketing materials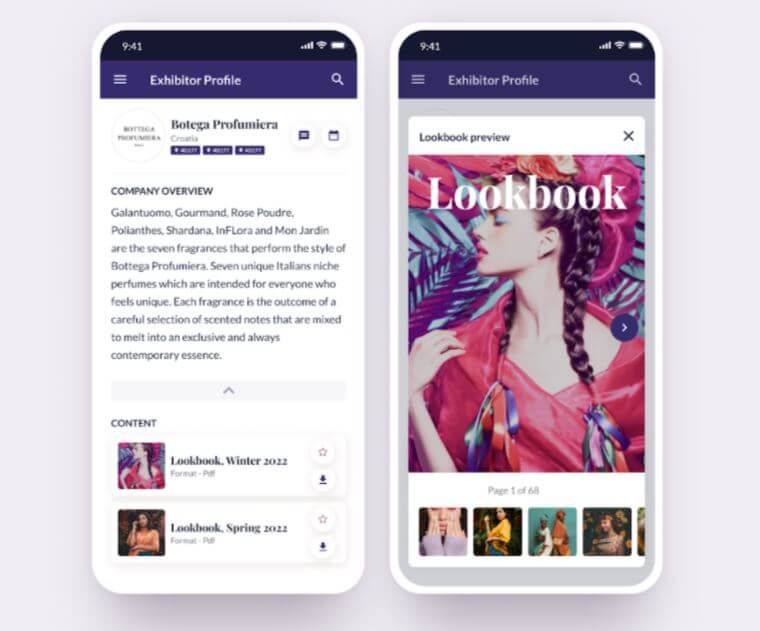 Provide the necessary marketing materials so visitors can make informed decisions about a product or service quickly.
This is done by using a PDF lookbook with scrollable images to get a clear view of the exhibitor profile.
It includes details like an image gallery of the product from various angles, walkthrough videos, FAQs, reviews and testimonials from previous buyers and social media profiles.
These materials can be found as part of content under exhibitor/product profiles while networking.
11. Exhibitor catalogue search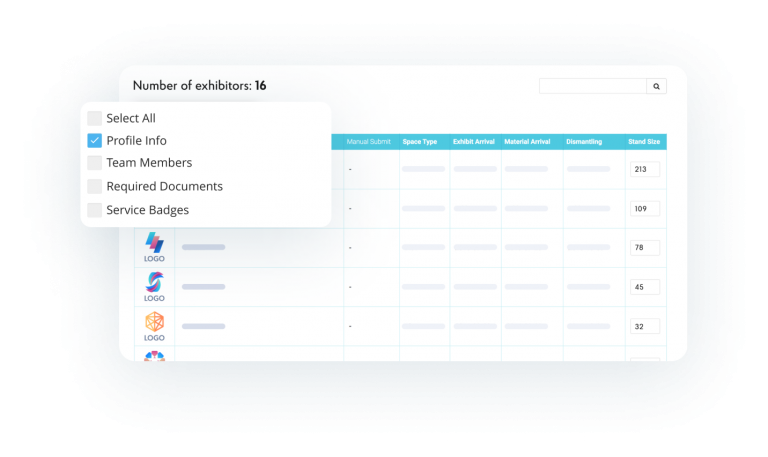 Exhibitor catalogue is a section of the app where one can see a collection of exhibitor cards.
You can sort and filter this collection according to their business needs.
Clicking on an exhibitor card leads to full profile and details.
12. Permission levels for different user types
Organisers can decide and give selective access to the exhibitor's team as well as attendees. For example, exhibitors are allowed a certain number of members or products they can showcase unless they upgrade their accounts.
Similarly, attendees who register for free won't gain access to content materials or take part in training sessions without upgrading.
How an event app fits into the customer journey
The journey of an attendee generally starts on the web. They receive email or social media invites to an event or come across an advert for a website promoting an upcoming show.
They click on the invite or ad and visit the website where they find information about the event and register if interested.
On confirmation, they are provided with the option to download the mobile app to get the latest updates and enhance their event experience.
Let's understand the visitor and exhibitor mobile app experience at the various stages of the event.
Before the event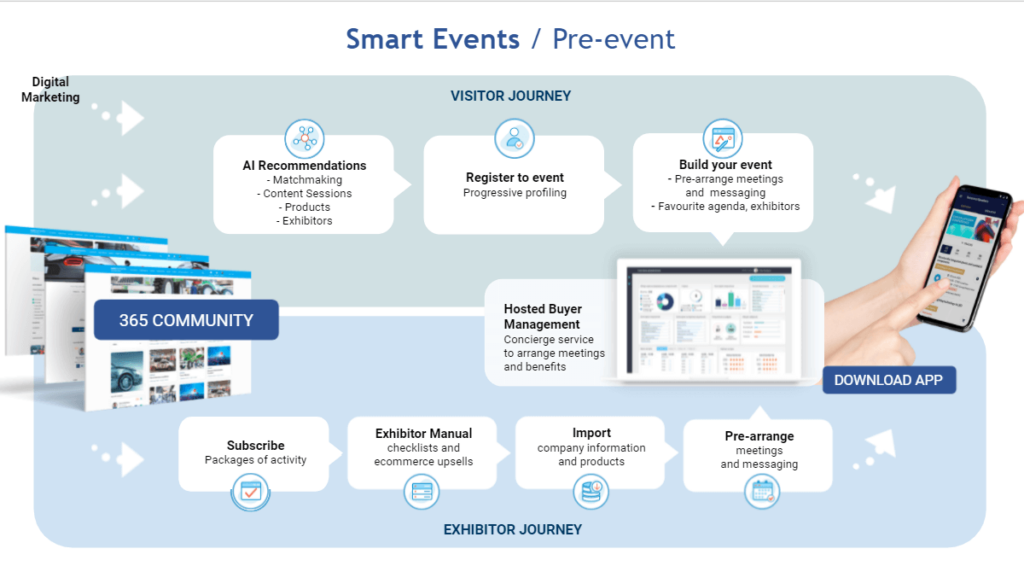 Visitors can join the event as part of the 365 community or participate as a new attendee.
Being part of the community allows an early look at the sessions, products and exhibitors on display. AI matchmaking recommendations help save their preferences during event registration and aid the organiser in progressive profiling.
For visitors, a mobile app:
Helps set up a personalised event agenda by favouriting sessions
Allows you to pre-arrange meeting and messaging
Research and connect with exhibitors
Exhibitors can use the event app to:
Schedule meetings and send messages
Import company details
Set up checklists and e-commerce upsells
Subscribe to the relevant exhibitor activity package according to business needs
During the event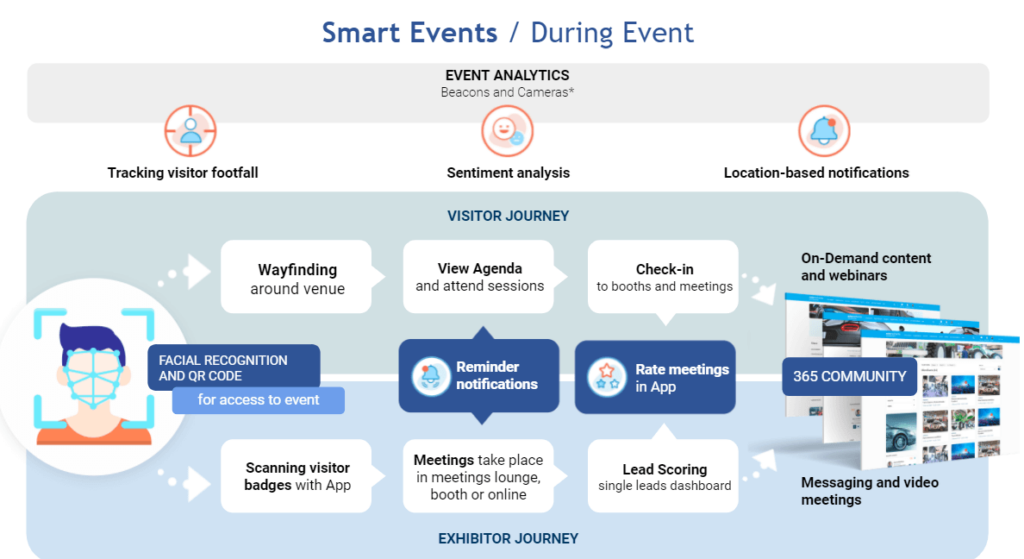 Once the event is live, visitors can use the mobile app to:
Use the wayfinding feature to navigate around the venue
View sessions agendas to attend the relevant ones
Check in to booths and meetings
Rate and review meetings
During the event, the mobile app helps the exhibitors:
Scan visitor badges – badgeless scanning is possible with apps
Provide location-based notifications by connecting apps to beacons and cameras
Score leads through the leads dashboard
Get access to analytics like tracking visitor footfall
When the event concludes, the app is used to send feedback surveys, provide access to on-demand content and webinars and onboard the participants to the 365 community. This helps visitors and exhibitors to connect throughout the year and provides organisers a ready pool of participants for the next event.
We hope you enjoyed reading this article and found it useful. At ExpoPlatform, we want to help you build better events and communities. Please get in touch and ask for a demo here. Thank you.