Monetising virtual events to maximise ROI
While seeking recuperation from the current crisis, event professionals have started evolving traditional norms governing the industry. These rapid reforms are a domino effect of event digitalisation and are transforming various facets of hosting events.
Event monetisation is one of the areas where these reforms are outrightly visible. The once mighty offline revenue stream that relied on in-person engagement or the sale of square metres has become impossible, paving way for online monetisation.
Here is a primer on how event organisers can monetise virtual events with the help of event technology and improve ROI for sponsors and exhibitors.
1. Offer Extended Visibility to Sponsors
In purely offline events, sponsored displays are limited to the venue location, the booth size and the presence of the sponsor. On the other hand, digital mediums provide better outreach to parties seeking brand exposure. Sponsorship information can be communicated to the virtual audience, even before the event begins, and carried over to post-event activities. Online mediums help event organisers to provide 24/7 coverage to their sponsors, a big limitation of offline sponsorship. Subsequently, they allow for quantitative analysis of events, which can then be shared with the sponsors.
To garner a significant number of eyeballs and provide maximum exposure to sponsors, the virtual ad placement needs to be thought out carefully. Strategically place the sponsor logos and ads in areas visited more frequently and by the highest number of visitors. These can be displayed on the event website and incorporated into the official communication channels – before, during and after the event.
Sponsored listings on prominent web-pages like the homepage, registrations page and various information listing pages is one way to improve sponsors' visibility. Here, sponsors can utilise banner ads, marquee texts, or even push notifications to reach out to more visitors than ever.
Organisers can also offer opportunities to sponsor news and articles in the blog section of the event website. Similarly, they can host sponsored sessions to improve visibility amongst the attendees. Prepopulating virtual event goody bags with sponsored content (e.g. user guides, onboarding manuals, discount coupons, access to exclusive workshops) is another great way to monetise on sponsors' branding.
Placing sponsored content on high-traffic pages like the homepage, registration page, news page and session-listing page can yield maximum visibility for sponsors.
2. Offer Targeted Outreach Opportunities
Targeted marketing is not a new concept. Google and various e-commerce websites, social media channels and even OTT platforms are minting money from this business. Native advertising is instrumental in maximising the average revenue per user and is adopted by industry counterparts. However, the event industry still lags on this front, despite the readily available technology.
The matchmaking functionality offers a good solution to implement targeted promotion by not just matching person-to-person, but also person-to-object. Adding a self-learning capability to this technology for simulating user behavior can ensure the dissemination of advertisements to relevant users only. This will allow organisers to serve parties with a niche offering or in some cases, budget constraints.
Taking cues from previously mentioned activities, advertisements in the form of display banners, videos, push notifications, and marquee texts can be shown to relevant attendees whose preferences match the context of the respective advertisement. The same approach can also be applied to sponsored search results, showcased when a user applies a particular filter on listing pages. These initiatives can easily be fuelled by the smart learnings of the event matchmaking algorithm, derived from the registration details and user behaviour on the platform.
  With AI-powered matchmaking, organisers can put sponsored content in search results, listings, or meeting rooms for targeting relevant users.
3. Offer Onsite Retargeting Opportunities
Visitors often require gentle reminders to complete a particular transaction or resume engagement on pages they seemed to be interested in. Onsite retargeting solves this problem and helps pave the way to lead nurturing and conversion. By using onsite behavioural data, exhibitors can implement targeted campaigns aimed at repeated customers and capitalise on their interests. For this, event organisers can offer a push notification facility. Once the users click the notification, they are taken over to the profiles of exhibitors, products, speakers, or delegates, where they are shown a popup card. This popup card can contain more information about the respective profiles, along with a call to action (CTA) like – 'message', 'set a meeting' or 'buy a product'.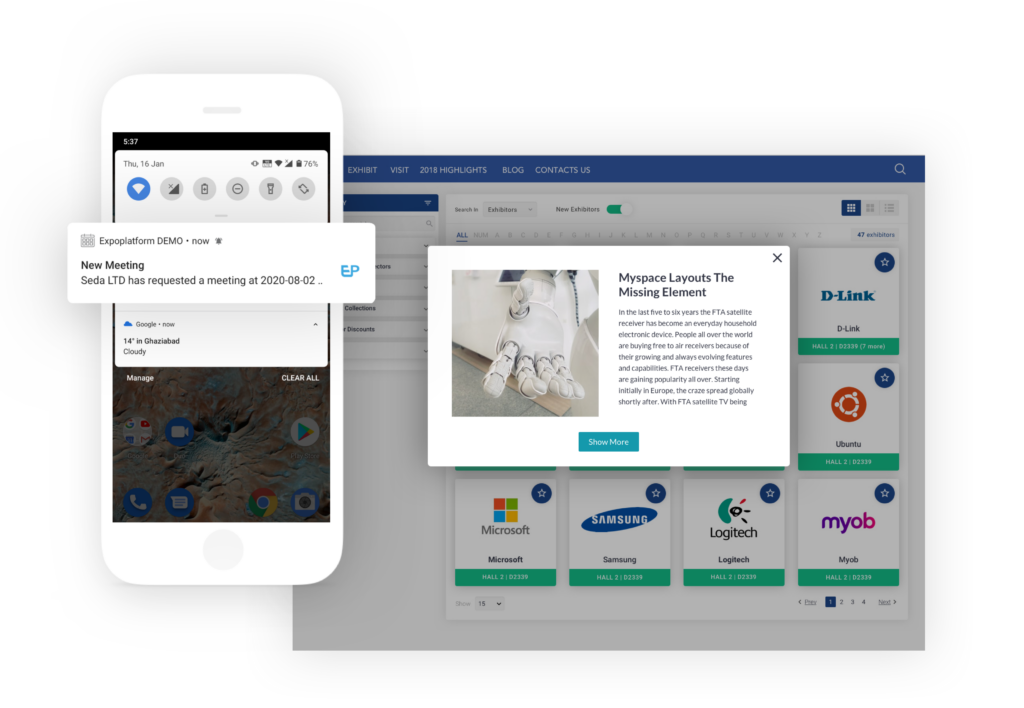 Retargeting strategies like push notifications and pop up cards can help in nurturing customers and coax them to take relevant actions.
4. Offer a Freemium Registration Model
Most events have a fixed pricing registration model for visitors. However, one way of encouraging visitors to increase their basket size is by using a freemium registration model. This allows organisers to segment the audience and provide a more personalised, immersive, and engaging experience to those who are willing to shell out a few extra dollar bills.
Similar to the airline industry which offers 'first class' and 'economy class' tickets, event organisers can use event-tech to offer 'premium tickets' (with VIP Access) and 'basic tickets', to differentiate attendee journeys. Premium ticket-holders can receive additional benefits in the form of access to extra sessions/workshops, comprehensive learning material, or even exclusive previews of product launches.
Offering a freemium registration model helps to increase attendee basket size and also create separate attendee journeys for different ticket holders.
5. Implement a Capping On Resources
Event resources are very limited. The best way to ensure they are utilised well and at the same time transformed into an additional revenue stream is to associate a monetary value with the extra resources, particularly for the ones deployed digitally. Event organisers can set a standard availability for various resources of their virtual event and levy charges if participants require more. For example, they may levy an additional team member cost on participating exhibitors (after a certain limit), or a cost for additional product listing or even for hosting webinars beyond a specified number.
Adding a capping on the number of team members added or products listed can help event organiser in monetising event resources.
Conclusion
Scaling up the virtual monetisation strategy is a pressing need of the hour. The crisis arriving from COVID-19 demands the implementation of newer virtual ways to not just mitigate the costs for event organisers but also widen the scope to maximise the ROI for sponsors and exhibitors.
Sponsors invest in the event because of the quality and accessibility to a wide (but relevant) audience. It is important to offer them various opportunities to extend their reach to their customers. Simultaneously, delivering measurable results and the desired return on investment is a must.
A virtual event will only become a commercial success if it involves a win-win situation for all. Selecting an event technology partner that aligns with the vision of the event and who can help create a user-oriented monetisation flow is the key.