Metaverse: what it means for tradeshows
The metaverse – in some form for another – is coming to tradeshows. That's the view of an expert panel which looked at how this futuristic reality will impact business.
How that world develops is still unclear, but we do know it is a theme of hot debate across business, technology and finance sectors.
That's why ExpoPlatform joined with EIN to take a deep dive into what the metaverse might mean for tradeshows, featuring some top industry contributors. Watch the session on demand here.
In this piece we will highlight some of the key takeaways from that event, as well as taking a closer look at some of the topics which emerged.
What is the metaverse?
The metaverse is a major buzzword at the moment, but finding a tight definition is rather elusive.
That's because it can mean almost anything to anyone: it can be a completely immersive gaming world, a way to try out new outfits, somewhere to buy virtual real estate or even just a way to do grocery shopping online.
It might also explain why almost one in five respondents to our poll said they had no idea what the metaverse was, with 35% saying they knew "just the basics".
A simple definition would be to describe it as an immersive virtual or augmented world which is accessed through online technology. Most scenarios involving the metaverse will have three common features: a VR interface, digital ownership and avatars. There is also likely to be a focus on being present, feeling like you're really there and that other people are there with you.
Matthew Ball, a venture capitalist who has written extensively about the metaverse, describes it as "a sort of successor state to the mobile internet". There was a time when smartphone apps were seen as an unnecessary addition, now they are ubiquitous money-making tools. The same is predicted for the metaverse.
Nick Rosier, digital director at 2Heads, said: "We already live in the metaverse. A lot of technologies out there are used day to day which make part of what the metaverse will be – digital identity and avatars.
"We have profiles all over the web, we use ecommerce to make online payments, we have relationships with people online – people meet and maybe never meet face-to-face – but are still able to form real relationships."
Children are spending a significant amount of time in virtual worlds, signalling a rising demographic of users comfortable with interacting in these environments. In 2020, Roblox generated $920 million of user revenue and a concert hosted on Fortnite was attended by 45 million users. 
Interest in this futuristic digital world was massively heightened in 2021 when Facebook announced it would be rebranding itself as Meta as it puts this vision of engagement at its core.
CEO Mark Zuckerberg announced his company would be pursuing the metaverse late last year.  He delivered a 90-minute online presentation which included talk about teleporting, holograms and communicating "across different layers of reality". He even echoed Matthew Ball by saying they believed it would be the "successor to the mobile internet".
The company's Reality Labs division – which makes virtual reality goggles, smart glasses and other future products – lost more than $10 billion in 2021 as it built the business. However, this development is key to securing their vision of an online world where people would share virtual experiences across different platforms.
For context, the $10bn investment in the metaverse is more than five times the amount paid for the Oculus VR business in 2014 and 10 times what it paid to buy Instagram in 2012.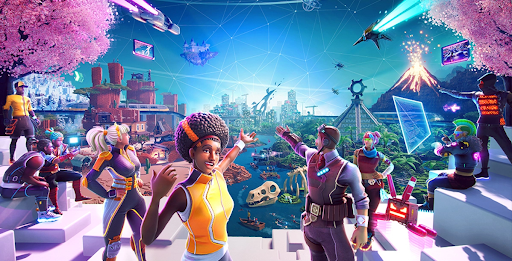 But it's a bet that the company is willing to place and estimates for growth could suggest why. For instance, figures from Statica show how the market size for augmented and virtual reality is due to grow to nearly $300 billion by 2024 – up from $30.7bn last year.
The Meta CEO has even claimed this metaverse will free people from screen addiction and enable more genuine human connection. Our industry has witnessed its own virtual transformation recently, but has seen a strong return to in-person experiences with digital enhancements: Smart Events.
Metaverse-enabled Smart Events
The metaverse is coming and some of the early features of this new world for our industry can be seen in Smart Events and 365 engagement.
Organisers now have a wealth of options through digitally-enhanced formats to connect with their event audience. For example, a year-round community and online marketplace allows people to interact and network with each other any time of the year, browse products and services, conduct transactions and more.
Smart Events utilise data-driven tech to enhance value at every touchpoint during in-person events. This creates a richer audience experience to deliver quality leads and higher ROI.
These developments have all followed on from the pivot to online events which was forced by lockdown restrictions. Now our industry is keen to learn from those experiences to improve their in-person offerings.
Luke Bilton, ExpoPlatform chief growth officer, said: "It was a real period of improving virtual platforms. Where we are now is the Smart Events era. What we're seeing is that organisers are very quickly moving away from doing virtual events and instead looking at how to blend some of the best bits from the virtual event period with in-person events."
The metaverse is yet another version of technology that seeks to take conversations, meetings and collaborations into a virtual world. It aspires to use globally interconnected virtual and augmented reality environments to achieve this on a massive scale.
At present, this future might sound far-fetched to be implemented for B2B shows, especially where tactile engagement is key to close deals. However, it's recommended that organisers start preparing the groundwork in case the need for a transition arises.
Face-to-face meetings will remain crucial to building trust, but there's no denying the possibility of a massive metaverse disruption to the events industry down the road. There are most probably going to be two main types of metaverse experiences: an augmented showfloor experience and a remote virtual attendance.
Augmented reality on the show floor
The first of these options would allow you to move around an exhibition using technology like a headset to see how products might interact with an individual or space. This could be a catwalk at a fashion show, or experiencing products in a new way at an engineering show.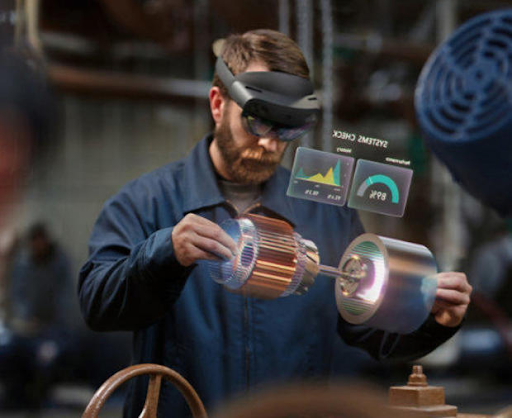 Remote virtual experiences
 The second is a more immersive route which allows attendees and exhibitors to take part in a show experience from afar. Similar to the virtual events of 2020-21 what this loses in face-to-face interactions, it can make up for in convenience – attracting global audiences and sustainability.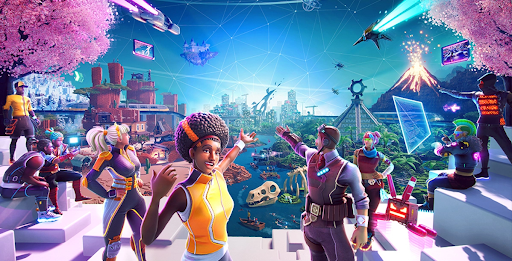 How far away is a tradeshow metaverse?
Some parts of metaverse are already here. But the full extent of this digital future is still some time away.
Our industry is strongly linked with consumer behaviour. There are many predictions that audience engagement opportunities in this new world are going to grow strongly.
Gartner research estimates that 25% of people will spend at least an hour every day in the metaverse by 2026 – whether for work, shopping, education, socialising or entertainment.
The rise of digital currencies and emerging tech like nonfungible tokens – known as NFTs – will further augment this new virtual economy, the report claims.
Marty Resnick, research vice president, said: "Vendors are already building ways for users to replicate their lives in digital worlds. From attending virtual classrooms to buying digital land and constructing virtual homes, these activities are currently being conducted in separate environments.
"Eventually, they will take place in a single environment – the metaverse – with multiple destinations across technologies and experiences."
According to Resnick, enterprises could improve and enrich their audience engagement models by "moving from a digital business to a metaverse business".
He added: "By 2026, 30% of the organisations in the world will have products and services ready for metaverse."
Applications of the metaverse are already being used by exhibitors such as SK Telecom's 4D Metaverse ride at Mobile World Congress 2022.
Further estimates from Bloomberg forecast the metaverse to reach $800 billion in value by 2024. Meanwhile, Statista data has projected consumer spending on this virtual shared space to almost triple by 2023.
Adoption of virtual reality in the mass market seems to be around 2024. It is through the adoption of the technology which enables a user to access the metaverse which is likely to be the real driving force for it being used as a feature in our industry.
Adam Parry, editor of EIN, said: "I think much of what we'll see in the events industry will be driven by the attendees acquiring the technology, acquiring the appetite to actually engage in events that way. It'll be interesting to see how tradeshows can or fix that into part of their event formats.
"We've got a long way to go. I'm really excited that we get to talk about this now because maybe we will look back in 10 years and some of the things we talk about today will be spot on and other things we might be totally off the radar."
Another important element to the metaverse becoming a useful tool for event organisers is how those platforms all come together. The idea is it needs to be a seamless experience for the attendee and exhibitor to enter into.
Nick predicts in around five years time we will see much better cross-platform networking which will allow for different "identities" to be tracked across this digital reality.
He said: "We're trading in a 2D view of the world, that is the internet as we know it. That turns into a 3D world that we can actually live inside and talk to people inside.
"A lot of the technology is there, but at the minute the price is high, which is when we're looking at trade shows and events and exhibitions you're not necessarily seeing a huge amount of adoption – 2D is a primary format because that is what people can do because that's what is affordable."
"If we skip forwards five years from now, what are we likely going to see? We're going to see increasingly networked platforms.
"Right now it's a bit of a wild west with virtual and hybrid events. You've got a lot of different platforms built by different people in-house. We're going to see all of those start to become more and more integrated and start to build this metaverse concept."
Making money in the metaverse
The role of a tradeshow is to return good value for all participants – whether it be in a physical or digital space.
Research from ExpoPlatform shows that digital platforms generate 20 times more data available to an organiser than there was at the start of 2020.
That's down to the digital transformation our industry has already witnessed, with tech tools becoming more and more of an expectation than a nice extra.
It is clear the amount of information you can gather will grow even further in a world where a person is acting out in the metaverse. This will allow for artificial intelligence to develop much better matchmaking, personalisation of content as well as targeted advertising.
Having more data allows you to much better train algorithms to carry out these tasks, something our industry has struggled with so far. The opportunities for collecting more information through the metaverse are "enormous".
Heather Holst-Knudsen, CEO of H2K Partners, said: "Why are you going to this event whether it's virtual or not – and how are you enabling this buyer-seller journey to be effective, worthwhile and meaningful for both sides?
"That has a lot to do with the engagement you're providing, how you're doing the matching, how all of the data is driving it. If the metaverse is part of that, the amount of information you could capture with this strategy is enormous."
The important thing to remember is that the metaverse should add value to your live shows. It is why Smart Events have become the favoured format of leading organisers moving forward – it is a format which uses technology to make in-person productions better.
Narisa Wild, SVP digital solutions at Informa, highlighted how monetisation opportunities can be created ahead of the show where you can attend the venue in the metaverse to work out what you actually want to see.
She said: "As a representative of Informa, I can't endorse moving away from live events. However, what I can endorse is the ability to create opportunities before we get there.
"Now, I could actually spend the time going into those booths and experiencing those products before the event – pulling those products samples, doing the work that I would do.
"Then I would have a much richer view and the data that we're collecting about me and the activities I'm doing would be much richer."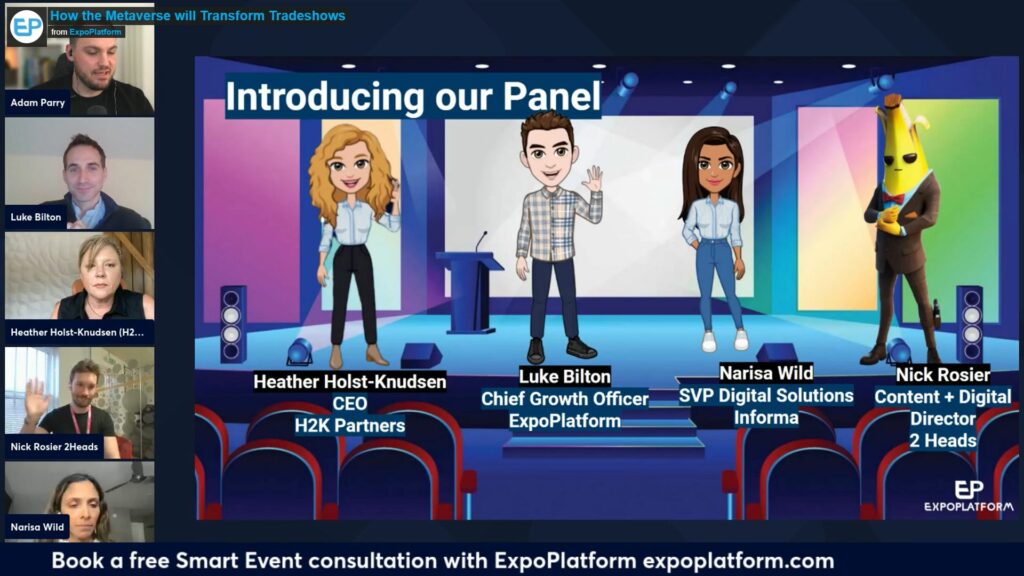 Nick added: "We're going to start working out where we're able to monetise, because in the tradeshow world we're selling space – we're filling this physical real estate.
"So how do you apply a comparable value to virtual real estate which is in theory limitless? Well, you can look at the cryptocurrency market to show how a virtual asset can be monetised and it's all a matter of controlling supply and demand. If there's a limited supply of something, then that's where you get value.
"We'll have all these platforms together, being able to track those identities across platforms. We're going to know so much better what our what our attendees are doing, what they're thinking, how to target them, how to talk to them and what they're interested in."
That is why privacy and transparency will be two key issues for organisers to grapple with as we delve deeper into this format. It follows on from the debate about who should control this information – the platform of the planner – which culminated in a resounding industry response that the responsibility should be with organisers.
Event planners must now work out how they can create an environment where buyers and sellers can trust each to interact on big deals in a totally immersive digital metaverse.
Tanya Pinchuk, CEO of ExpoPlatform, said: "It's extremely important. We are building a community and communities are about membership. We want to know who that member is. We are sharing knowledge and experiencing ideas, so having someone who is attending anonymously to be our choice, not a setting of the platform or of metaverse where this event happens.
"I am a strong believer in in-person events. When we are at an in-person event, we see this human being and we trust them. We want to know who we are communicating with. This is very important for the industry – to facilitate the identity, privacy and unique identity for every user at the B2B event."
A threat from Big Tech?
If you listened to the Big Tech giants, there should be nothing to fear from them pushing the metaverse on the events industry.
In fact, a Meta leader told ExpoPlatform their role is just to build this futuristic digital reality which can allow organisers to "thrive and make money".
Andy Mihalop, vertical marketing lead EMEA, told ExpoPlatform how the company formerly known as Facebook is concentrating on building a virtual and augmented reality platform which can help businesses make money.
Concerns have previously been raised that Big Tech players such as Meta could be moving into space occupied by traditional event organisers, with social media giants such as LinkedIn already showing an interest.
Andy said: "I don't think it's our core business. Our core business is really to build the hardware, to build products and platforms to enable you to thrive and make money through the metaverse.
"It's a completely new world and I think it's the next wave of tech. It is going to come and if you're working in the event space as an exhibition organiser, you need to be aware of how that technology is going to evolve and how quickly you can start to think about making that shift.
"The biggest opportunity at the moment is just understanding how the hardware works – what virtual reality actually is. You've almost got to try it to start to understand the potential.
"That's the place to start – get yourself a set of Oculus, experiment with it, see what virtual reality actually feels like – because it's pretty amazing."
Oculus is Meta's virtual reality headset which allows users to enter the metaverse. One of the barriers to opening up this new world to consumers and businesses is the cost of the technology, however it is suggested that prices could drop as the market grows.
We hope you enjoyed reading this article and found it useful. At ExpoPlatform, we want to help you build better events and communities. Please get in touch and ask for a demo here. Thank you.