The Battle for Event Data: How safe is your data?
What are the differences between the data policies of virtual event platforms such as ExpoPlatform, Swapcard, Grip and Hopin? Have the world's largest event organisers inadvertently given away their valuable customer data?

Explori co-founder Mark Brewster hosted a lively debate at the 2021 UFI European Conference about the data that virtual event platforms are collecting, its implications for the role of organisers, and the very real power struggle between organisers and some of the platforms they employ.

 The session pitted CEOs from ExpoPlatform, Swapcard, Grip and Info Salons together to debate their viewpoints on data control and usage – and it makes for interesting reading.
Who controls your data?
ExpoPlatform founder and CEO Tanya Pinchuk began by explaining ExpoPlatform's Data Manifesto, setting out her belief that event organisers should retain full and exclusive control of their user data. Tanya maintained that platforms should be the processor: using it for the sole purposes of their event, and giving organisers the ability to delete as they wish.

"The organiser allows users to interact on the platform and if the organiser wants to stop the relationship with the vendor, they can easily extract all the data that they passed over to the vendor and move to another platform," she explained, adding that:
"We don't need to take control of user data to continue to provide the best AI matchmaking. It's enough to get hold of the anonymous usage data."
Swapcard CEO Baptiste Boulard set out a different vision, in which Swapcard controls the data that organisers share with the platform, feeding all organisers' data into one large database of attendees and exhibitors spanning all events on their platform.
"Every individual using Swapcard has the same log in across all events, no matter if it's a white label solution or not. If an [event organiser] terminates your contract, you cannot delete that data."
Attendees can then manage multiple events through a single account. The participant data is segmented and stored at an event level so there is no direct data sharing among clients – one client of Swapcard won't have direct access to the participants of a competitor also using Swapcard.
"We will store this data for three years and after three years, if that attendee didn't log in again in his or her account to any event powered by Swapcard, we will delete that account," said Baptiste, adding that Swapcard is also deleting the account on attendees' request at any time. If the organizer request the deletion of attendees' account, Swapcard will do so only if an organiser can provide "proof that a specific attendee has asked for his or her account deletion". That way the attendees are the only one in control of their account and data.
Mark asked Baptiste to clarify the position on data sharing between competitors. He responded that it was a non-issue, stating that "Now that we're moving to a community approach, I think that would no longer be a concern of the industry. "
"[Swapcard customers] love AI and they are okay with having us analyse AI across all events. So where they used to see competition between them, now my clients are okay. You know, they all signed to Swapcard, the major exhibition organisers. If you delete data you are impacting other events that rely on Swapcard."
Swapcard has additionally stated that event content and data pushed in the platform are not shared with other organisations and the AI is only using anonymised data to create matchmaking results.
Jo-Anne Kelleway, CEO of Info Salons commented that registration companies such as InfoSalons "don't own the data. And I think that's the biggest risk that we have to think about right now. I understand why you want to do it Baptiste, but I think the organisers need to find out what they want to do themselves and what it means for them? You're saying that all the large organisers are pleased to use your platform, but I think it's something that they have to consider.
"I'm not sure that many organisers fully appreciate what a lot of the third-party platforms are doing with their data. So it is good to hear that you're very open and upfront about it Baptiste, but I hope that they are listening to understand exactly what's happening."
Tim Groot explained that Grip's position, like ExpoPlatform's, is that the sole data controller is the event organiser. "Grip is not a co-controller, Grip is a sub-processor to the organiser."
Tim compared the situation to what would happen if Amazon and Ebay decided to share user data.
"I mean, how crazy would that be? That would be a huge business decision for Amazon and for eBay in this case. And organisers need to look at themselves in the same way," he said.
"If you are Informa, the biggest organiser in the world, you are subsidising the growth of all other event organisers that are smaller than you, because you're putting all your millions of participants onto a platform that all the others can now benefit from."
"So it is actually something that negatively impacts the larger organisers. The smaller organisers and corporates are benefiting most from the likes of Hopin and Swapcard."
Tanya explained that by giving up control of their data to platforms, organisers could be giving themselves issues in the years ahead.
Recalling how Google dropped their once-famous motto 'Don't be evil', she explains that once a company has all your user data, they can do what they like with it. "Technology platforms can enable other competitors with all this amount of data, becoming an event networking platform where all organisers are just renting the place.
"As with Facebook, "it's a case of 'Buy Now' but 'Pay Forever' . There are a lot of risks here with incoming private equity and venture capital; the situation can be changed, management can be changed – and the nature of business can be changed."
How can organisers protect themselves?

Mark asked the panellists if their future owners might be tempted to then exploit that data and potentially take a competitive position against organisers, and how the event industry can prevent this from happening.
"I think the only genuine way to prove that the data will not be used in any way other than we meant to use it, is to have this written in our agreement," said Tanya. "And if we have the consent from the organiser, that they are happy to opt in, to participate in this shared pool of data owners and share their data with their competitors, then this is their decision. There has to be awareness about this and there has to be an open discussion. The only way to prove that it will not be used in their own way is to have it written."
Tim Groot made the point that awareness is critical. "That's why it's great that we're having this session. I think the risk of a VC coming in and changing the entire business model of an event tech company is highly unlikely. It won't happen. But I agree with Tanya that actually it's super important to write this into the contract.
"Organisers need to invest in independent advice from data consultants in order to really understand what the different positions are. There's a fundamental difference that I think all of us are very aware of. It needs to be written into contracts and clearly communicated with clients," he added.
Mark concluded that ultimately, there are risks.
"No one has a crystal ball to see exactly what's going to happen in future, who's going to acquire who, whether or not an organiser will acquire one of these platforms or any of the others out there" recommending that organisers become "absolutely aware of who owns what" and to get strong, independent, advice.
---
TLDR: How do virtual event platforms use your data?
If you want to know who does what with your data, here is our quick summary of the data policies of the main event platforms. There are two main approaches: the control of the data either stays with the organiser or the control goes to the vendor who can as they wish, subject to applicable privacy regulations as is the case with every relationship: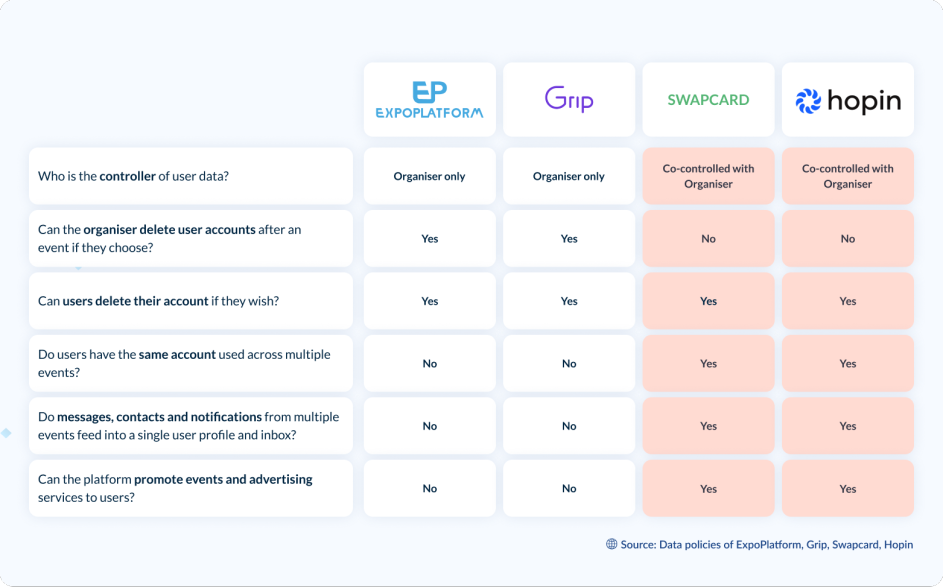 Keeping control of data is incredibly important for the future of events. and never more so than now, given the rapid accumulation of online event data over the past 18 months. Make sure you are clear on what you are signing up to, and all that this implies to your business – now and in the future.