Workplace mental health in focus 365 and in-person
Mental health at the workplace has become a growing problem for employees and employers across the globe. That's part of the reason behind Emerald's move to introduce a new 365 platform and in-person brand to tackle it.
Findings from the Harvard Business Review show more staff are leaving jobs for mental health reasons than ever, including those caused by workplace factors like overwhelming and unsustainable work.
This edition of the Week in Events highlights how Mentera aims to build a more connected community of relevant experts and leaders through a year-round digital platform and live forum.
Meanwhile, other top stories include the first ever sustainable wine and spirits show launched in Bourdeaux by Vinexposium.
We also highlight Snapchat's partnership with Vogue to deliver an augmented reality fashion show, Italian Exhibition Group gets its fingers green and Expo City Dubai has been announced as the venue for Cop28.
Emerald tackles mental health at workplace
Event organiser Emerald has announced the launch of a 365 and in-person brand to tackle mental health problems at the workplace in the US.
Mentera's aim is to create and foster a more connected community of relevant experts and leaders through a year-round digital platform and live forum.
The inaugural conference and exhibition is scheduled for May at the Hyatt Regency Salt Lake City, Utah, with hopes for progress in tackling workplace mental health issues.
Wilfred Krenn, brand leader, said: "Improving mental health has become a top priority for employers and this recent first-hand research further validates the degree to which leaders across all industries are struggling with how to serve the needs of many.
"Our goal is to help connect all key stakeholder groups while focusing their collective expertise in support of better mental health solutions and successfully addressing the associated challenges in new and creative ways."
Introducing Mentera, the first-of-its-kind brand focused on workplace mental health.

There's never been a more pressing need or a more critical time. Online or in-person, let's get better together. Read the release at: https://t.co/RrFx3iocfI

— Mentera (@JoinMentera) June 22, 2022
A recent nationwide survey by Mentera found top executives at more than 500 mid-to-large companies identified the mental health of their workforce and employee retention as the most important HR issues.
The research further revealed employers want to know more about how benefits programs, planning optimisation, tools, services and performance analytics can help create better workplace solutions for the mental health of their employees.
Mentera's 365 digital platform will be designed to create opportunities for stakeholders to connect virtually, provide ongoing collaboration and present new product offerings.
The conference and exhibition will be structured to help employers source effective services and solutions from providers while providing educational resources and networking opportunities.
Vinexpo stages first green-scheme wine show
The first business event for wine and spirits certified by a green scheme was staged by Vinexposium in Bourdeaux.
Vinexpo Meetings connected environmentally committed producers and qualified professional buyers with pre-planned business meetings, with the help of ExpoPlatform's event tech.
This two-day event attracted an global with a selection of more than 1,000 French and international decision-makers.
Shubham Goswami, ExpoPlatform technical account manager, said: "Two days of interactive business meetings between local and international wine producers and buyers, committed to an environmental approach was so magnificent – it is worth attending to see the convention live."
Snapchat partners with Vogue for AR exhibition
Snapchat has teamed up with Vogue for an augmented reality exhibition to showcase the possibilities of digital transformation.
The event – Redefining the Body – has been curated by Edward Enninful to illustrate how physical outfits can be digitally transformed using the platform's technology.
It will be hosted at the Centre d'art La Malmaison in Cannes, France, to showcase clothing designs from seven of the world's leading fashion brands and designers.
Experience more inclusive and accessible fashion through augmented reality with the Snapchat x @Vogue: Redefining The Body exhibition.

In partnership with @Edward_Enninful, #Cannes2022 @Cannes_Lions pic.twitter.com/l4SxeiqfUy

— Snapchat (@Snapchat) June 22, 2022
Edward  said: "It has always been important to me to make fashion accessible for all. Using augmented reality, Vogue x Snapchat: Redefining the Body is an exhibition that invites everyone – regardless of race, gender, sexuality and size – to experience and enjoy fashion from some of the world's very best designers and luxury brands. It doesn't get better than that."
Visitors can walk through custom designed rooms showcasing archive, contemporary and exclusive fashion designs from Balenciaga, Dior, Gucci, Kenneth Ize, Richard Quinn, Stella McCartney and Versace.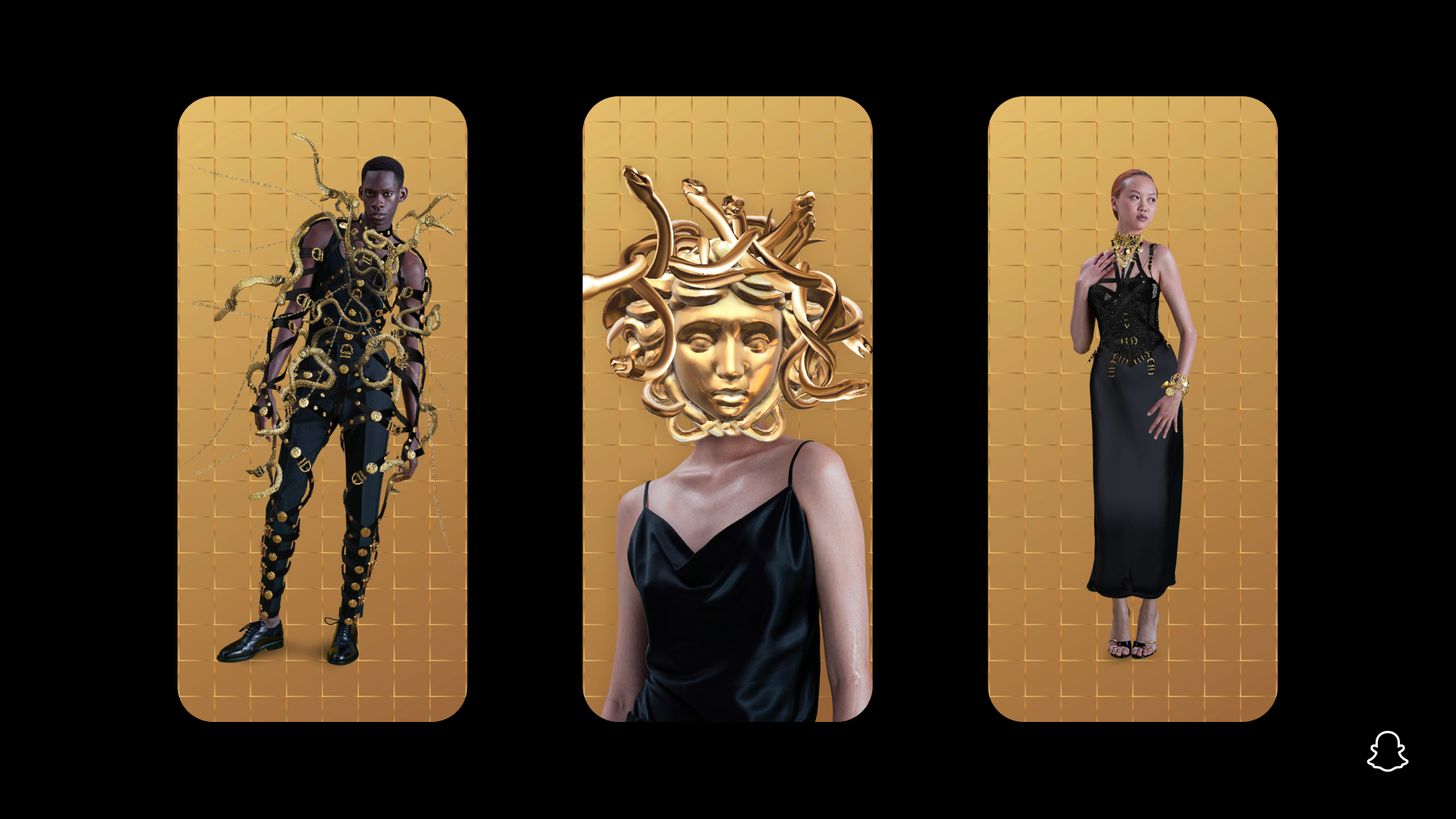 Snapchatters around the world will be able to try on Lenses from these designers which will are available in the Lens carousel and can be found in the Dress Up tab in Lens Explorer. 
The AR experiences were developed in collaboration by Arcadia, Atomic Digital Design and Snap's newly established Paris AR Studio.
Expo City Dubai to host Cop28
Cop28 will be staged at Expo City Dubai as world leaders descend on the UAE in a bid to find solutions for climate change.
The Cop28 conference will run for 12 days in November at the Expo 2020 legacy district, which was set to make a comeback as District 2020 before the new rebrand.
It will be held under the directive of UAE President President His Highness Sheikh Mohamed bin Zayed Al Nahyan.
الإمارات ماضية في التزامها بدعم العمل المناخي وتعزيز إسهاماتها في خفض الانبعاثات.. نتطلع إلى استضافة العالم في مؤتمر الأطراف #UAECOP28 وتحقيق تقدم عملي في مواجهة تداعيات تغير المناخ من خلال تضافر الجهود وتكاملها.

— محمد بن زايد (@MohamedBinZayed) June 17, 2022
Expo 2020 was a World Expo hosted by Dubai in the UAE which recorded more than 24 million visits in its six months.
IEG takes 75% share of company behind major garden show
Italian Exhibition Group has acquired a 75% share of the company behind a major horticultural and garden tradeshow.
V Group is organiser of Myplant & Garden which is described as the most important horticultural, floricultural, landscape and garden exhibition in Italy.
The move by IEG will not change the firm's governance and Valeria Randazzo – who created the show – sill still act as CEO.
Lorenzo Cagnoni, president of the Rimini-based company, said: "This is a strategic acquisition that further enriches IEG´s exhibition calendar. The aim is to generate new development horizons for companies.
"We will create new prospects for events connected to this business. We are perfecting a development project that will find mutual points of synergy between Myplant & Garden operators and some of our outdoor contract exhibitions.
"The plan will come into effect in 2023 and we will be presenting it in detail next November."
The next edition of MyPlant & Garden is scheduled to take place in the Fiera Milano Rho halls in February.
Something extra this week: Congrats to AEO Awards winners
This week saw the AEO awards ceremony take place in London – and we want to congratulate all who were recognise.
Among those to pick up gongs were IMEX for Best International Show – Americas, as well as Informa for Best International Show – Middle East, Africa and Asia Pacific – for Arab Health.
The winner for Best International Show – Middle East, Africa & Asia Pacific (sponsored by @ADNECGroup) goes to @InformaPLC for Arab Health Exhibition and Congress, congratulations! #aeoawards22 pic.twitter.com/79CXXRhB1M

— AEO (@aeonews) June 24, 2022
Informa also was took Marketing Campaign of the Year  – Trade Show – with Decorex. Meanwhile, Hyve picked up Best Conference for Africa Oil Week.
Congratulations to everyone who was recognised at the ceremony!
We hope you enjoyed reading this article and found it useful. At ExpoPlatform, we want to help you build better events and communities. Please get in touch and ask for a demo here. Thank you.