Tech and team: All you need for a 365 Community
The benefits of building a 365 Community are clear. They offer year-round opportunities to do business and forge relationships.
Events are a powerful tool to bring people together, but they are not the whole picture. Participants also need to keep those relationships alive all year long and digital platforms offer a way to do that.
Live shows can build trust face-to-face at an annual celebration of the industry, while an online community can reinforce that year-round. They benefit each other.
But they don't build themselves. An event organiser needs to make sure they have the right capabilities in their technology and workforce to do it well.
That's why we've put together this guide to explain how you should structure your team and technology to create a successful 365 Community.
Download your free copy of the Community Blueprint for more on how to build a 365 business model around your events.
Technology requirements
We've previously explained how an event organiser can build the right value proposition for a 365 Community. Now is the time to find a technology platform that can deliver that.
Technologies you need should be based on your value proposition, so you are prioritising the right features that will be of value to your community. These could be any of the following:
Hub and spoke model
The needs for most event-led communities will be something like this:
A strong central digital hub.

  One community per vertical should be the goal. A portfolio of fragmented event brands may make sense, it is far better to focus your precious resources into one community when it comes to digital.

A single 365 destination for your community

will perform better than lots of small sites. It will be a more comprehensive user experience, with a better chance of performing well on search engines. More content and more company profiles will make a better user experience and bring more advertising inventory.

Various events connected to this hub.

Exhibitor information and products get uploaded once and can go into each of the events they are participating in. The community and event websites should be able to be on different website URLs if that's the most logical user experience.

SSO.

This should all be connected with Single Sign On so users do not have to login multiple times. Remember: you're trying to create a

seamless experience

.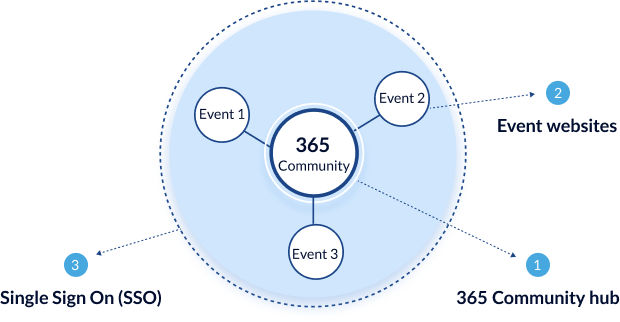 Minimum viable product
An important concept to start with is a minimum viable product (MVP), an idea popularised by entrepreneur Eric Ries. This is a version of a new product which allows a team to collect the maximum amount of validated learning about customers with the least effort. 
Your aim should be to get an MVP into the market as quickly as possible to prove your assumptions. It is better to get something imperfect live quickly than to spend a lot of time striving for perfection before launch. This way you can review, adapt and improve.
Try and find a platform that can cover 90% of what you need for your MVP stage. Make sure the vendor you choose is open to working with you on your future roadmap. You want to be able to work on this with your platform as you discover product improvements over time. 
Download your free 365 Community Tech-list to discover what your requirements are.
How do you build the right team?
RD Whitney, CEO of the Community Leaders Institute, told ExpoPlatform: "The skillset has traditionally been about operations in an event. The skillset here clearly shifts towards content strategy and marketing. I fully believe that skillset exists within the industry, they're just going to be re-emphasised."
Build your online community team like this:
Editor
Your first hire is usually your editor. Journalism skills are still the bedrock of quality content. A digital-savvy editor, ideally with experience from within your industry, is the catalyst for things to start to happen. Their day-to-day role will be to interview, write and edit copy as well as managing the calendar of content coming in from contributors.
Content producer(s)
It makes sense to then start to build a team around the editor who can support on managing the site and producing content with the community. This can be on a freelance or in-house basis.
Industry influencers
A key component of a successful community is to develop a network of industry influencers and advocates who can contribute in some way. This can include contributing columns from time to time, but you should assume their time will be precious so don't expect too much. The best way to get value from them could be to share the editorial calendar with them, involve them in advisory boards, panel discussions and interview them.
Data-driven digital marketer
It is important to have someone who can analyse and optimise the performance of your efforts. Areas of expertise are search engine optimisation, lead generation, creating reports and leading efforts to optimise the performance of the site against the agreed KPIs.
Multimedia designer
As visual content becomes increasingly important, so too is the ability to tell stories with video, audio, infographics and layout ebooks. Finding someone able to cover all these bases is useful.
We hope you enjoyed reading this article and found it useful. At ExpoPlatform, we want to help you build better events and communities. Please get in touch and ask for a demo here. Thank you.