Another major US tradeshow market makes comeback
This week we've seen the return of a major US tradeshow market, marking another significant comeback for the nation's events industry. Other key stories include a new Finnish trade fair partnership for Explori, comeback of Australia's event industry, review of sustainability initiatives as well as insights from Tanya Pinchuk, ExpoPlatform CEO, about Russia's war on Ukraine and its impact on the events industry.
Here's everything you'll find in this latest edition of the Week in Events:
Media tech industry shows return to in-person after two years
Finland's largest trade fair selects Explori for data insights
Boost for Australian industry's return
Event industry reviews sustainability initiatives
ExpoPlatform CEO speaks on the war and its impact on events
Media tech industry shows return to in-person after two years
A major media technology tradeshow is bringing the industry together again after more than two years, marking another major return for US exhibitions.
Leading film and TV technology tradeshow NAB 2022 opened its doors to industry professionals on April 23 in Las Vegas.
NAB, organised by the National Association of Broadcasters, is the world's largest convention for broadcast professionals in media, entertainment and technology. It was cancelled earlier in 2020 and 2021 due to the Covid-19 pandemic.
NAB President and CEO Curtis LeGeyt tells TVBEurope "people are ready to get back to doing business face-to-face and there's no replicating #NABShow when it comes to achieving that." https://t.co/wGvIi6QqdJ pic.twitter.com/5syrc5Pj8C

— National Association of Broadcasters (@nabtweets) April 20, 2022
Chris Brown, EVP and managing director at NAB said tradeshows getting back into action is "very critical, and in 2023 it's even more critical".
The news follows a broader trend of conventions returning to the US for the first time since 2019 – crucial to the recovery of the hotels and airlines industries.
Finland's largest trade fair selects Explori for data insights
Finland's largest trade fair organiser and venue is to work with Explori to advance its data and insights strategy. 
The partnership will help Messukeskus adopt a more customer-focused approach to its event strategy by using the company's services for event feedback, measurement and benchmarking.
This partnership will also help the Finnish organiser gain more clarity in understanding its audience's motives to deliver more fulfilling experiences.
We're pleased to announce our new partnership with @messukeskus.

Explori will support Finland's largest trade fair, conference and congress organiser and venue to adopt an event more customer-centric approach to event strategy.

Read more – https://t.co/1maTtd4wmu#eventprofs pic.twitter.com/iBUfMkow40

— Explori (@explori) April 19, 2022
Anni Vepsäläinen, CEO of Messukeskus said: "The upheaval caused by the pandemic has led us to fundamentally reassess the way we work and the market we serve. Using data to understand where an event has succeeded and identifying areas where it has fallen short will allow us to gain valuable insights that can be used to improve future events."
Richard Kensett, commercial director of Explori, added: "We're very excited to be working with Messukeskus and are looking forward to a collaborative relationship where we can share our insights to support their continued development."
"We also see this as another step towards being able to identify regional trends and benchmarks across the Nordics. We hope this will be a catalyst for more Danish, Swedish and Norwegian organisers to upgrade their customer insight strategy so we can deliver similar insights to this region as we do globally."
Boost for Australian industry's return
There are strong signs of full recovery for the Australian events sector as latest figures show a massive return to form.
Brisbane Convention & Exhibition Centre (BCEC) has just announced it secured 77 new conventions during 2021, worth an estimated $144 million in direct expenditure to the Queensland economy.
The events will attract around 50,000 delegates and generate 245,000 room nights to the city's hotels with flow-on benefits to local businesses across the hospitality and tourism sectors.
It is a good indication that business events will be a key driver for recovery going forward.
Bob O'Keeffe, general manager, said: "It is proven that business events have wide and enduring benefits associated with knowledge transfer and international collaboration – and everyone wants to regain that." 
Events industry reviews sustainability initiatives
Further work has been launched to help the events industry reflect on its environmental impact.
UK-based isla has launched Trace – a carbon measurement platform that can capture and report emission and waste data from live, hybrid and virtual events.
The news comes around the same time as Earth Day, a global campaign to raise awareness about the environment.
TRACE is here! Help reduce #environmental impact at live, hybrid and digital events with this clever platform purpose-built for the industry. Measure, manage and minimise your event #carbonemissions and report in real-time.

Join one of our weekly demos – https://t.co/NeRnm7l5ZR pic.twitter.com/wzCsPIaEDE

— isla (@weareisla_uk) April 20, 2022
Trace aims to support the events industry's commitment towards Net Zero by equipping organisers with the knowledge and date to make better decisions.
Recent reports have suggested the industry needs more environmental awareness and efforts to meet its sustainability targets.
ExpoPlatform CEO speaks on the war and its impact on events
ExpoPlatform CEO Tanya Pinchuk has said Russia's war on Ukraine "will fundamentally change lives now and for many years to come".
Tanya, born and raised in Ukraine, made the comments about long-term psychological and economic damage as she shared her insights on the impact of the war.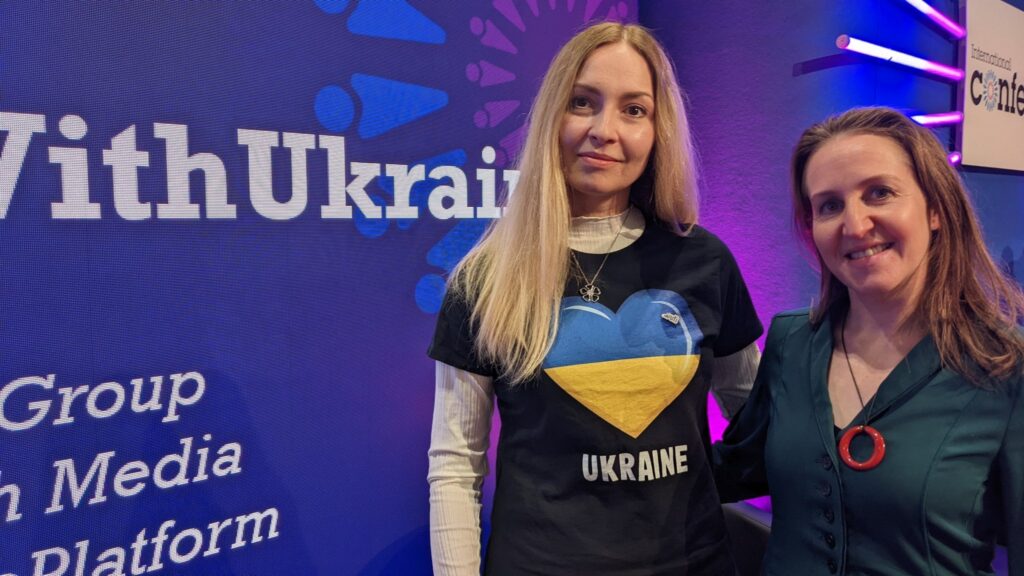 She said: "Millions have been forced to flee their homes – if the war continues, it's estimated 10-15 million Ukrainians could eventually leave the country to seek refuge abroad."
"There's also, of course, a huge economic cost – the World Bank forecasts that Ukrainian GDP could fall by 45% in 2022.  Many industries will be impacted, not least by the concern over energy supply." 
Tanya added the focus going ahead for our industry would be mainly on energy events as a disruption in supply would lead to use of more renewable resources.
She further said the "events industry will also play a big role in restructuring the food industry as there will continue to be significant disruption in this area".
For instance, sunflower oil exports could be affected and suppliers would have to switch to rapeseed oil to build their supply chains.
Tanya also called upon the international events community to play a bigger role in helping the Ukrainian economy rebuild faster. 
She said: "All of us in the events industry can now support Ukraine by helping companies that have connections, bases or employees there."  
"We can also create events inviting Ukrainian companies to participate at cost or at discounted prices providing the opportunity for them to showcase their products and reach out to a new audience of potential buyers."
Read the entire article here.
We hope you enjoyed reading this article and found it useful. At ExpoPlatform, we want to help you build better events and communities. Please get in touch and ask for a demo here. Thank you.