The week in events: Will shows be smaller in future?
Your weekly event news roundup from ExpoPlatform – Threat of Omicron variant pushes UK government to tighten travel restrictions,  UFI's new benchmark survey highlights potential for investment in event tech and findings from a report show planner's predict the future of events is going smaller.
UK tightens travel restrictions in response to Omicron variant threat
Business travel has been delivered another blow after the UK Government introduced a requirement for testing before flying.
People will need to prove a negative lateral flow or PCR which was taken no more than 48 hours before the departure time.
Ministers confirmed the new measures for international arrivals in response to the emergence of the Omicron variant.
Those arriving in the country currently only need to self-isolate until they test negative within two days of arrival, with the new measures coming into force on Tuesday.
Please see below the BTA's full statement on the re-introduction of pre departure testing for UK arrivals #businesstravel #covid19 #yourbta pic.twitter.com/ukTXfWCTdo

— BTA (@TheBTAorg) December 4, 2021
It comes after the Prime Minister's Office laid out a series of steps to curb the spread of the variant. These include:
All international arrivals must take a Day 2 PCR test and self-isolate until they receive a negative result.
All contacts of suspected Omicron cases must self-isolate, regardless of their vaccination status. They will be contacted by NHS Test and Trace.
Face coverings will be made compulsory in shops and on public transport from next week. All hospitality settings will be exempt.
The restrictions are expected to severely impact international arrivals to business and corporate events.
Clive Wratten, CEO of the British Travel Association, said: "The introduction of pre-departure testing with little warning is a hammer blow to the business travel industry.
"Public safety is a priority, but, businesses will fail, travellers will be stranded and livelihoods devastated by the lack of coherent plans from Government."
Meanwhile, health secretary Sajid Javid insisted there's no need to cancel events due to Omicron and urged people to take lateral flow tests before attending large indoor gatherings.
UFI survey shows event tech is 'best investment area' for the sector
Event tech presents the largest growth area for investment in the overall events industry, reveals an UFI poll.
Findings from the Industry Partners Benchmark Survey shows 78% of respondents considered this to be the "biggest investment" to enhance the quality of shows over the next 12-18 months.
It also showed that the move to incorporate more digital elements in physical shows remains a priority while demand for innovation is also high on the list. 
Read more about the survey and its implications for event organisers here.   
Germany locks unvaccinated people as government mulls vaccine mandate
Outgoing German chancellor Angela Merkel has announced plans to prohibit the unvaccinated from major parts of public life – including essential stores, restaurants, sports and cultural facilities. 
New nationwide requirements on wearing masks, limits on private meetings and reaching 30 million vaccinations by the year-end were also decided. 
The measures are backed by Merkel's successor Olaf Scholz.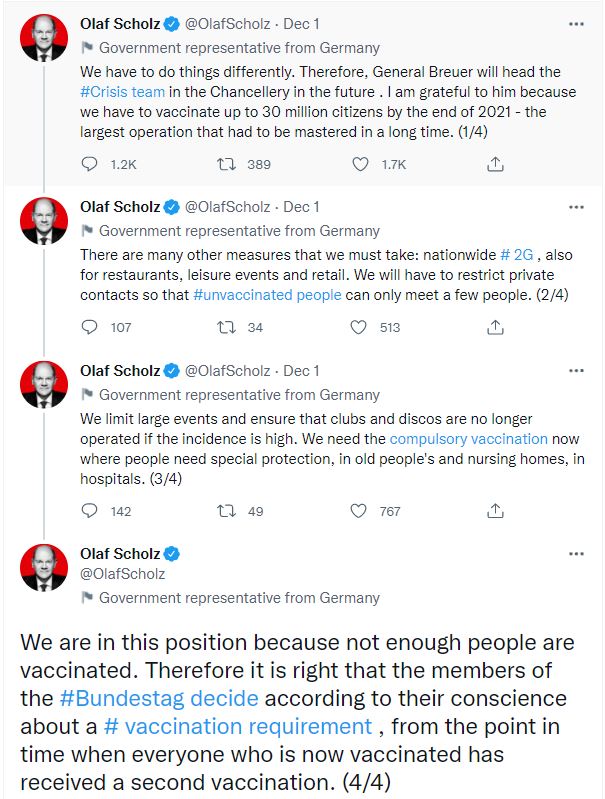 The announcement comes amid surging Covid-19 cases in the country – exceeding 70,000 over a 24-hour period – and growing fears around the Omicron variant.
A vaccine mandate is also under consideration by parliament in an effort to curb the spread of the virus.
So far around 68.7% of the total population in Germany is fully vaccinated – significantly lower than the government's target of 75%. 
Industry's future is in boutique events – report
Smaller and more localised shows are the future of our industry due to irreversible changes seen through then pandemic, according to a new study.
EventMB's latest State of the Event Industry 2021 report gives a picture of how event professionals managed and moved forward through Covid-19.
It suggests the most detrimental effects of the pandemic are now going away with companies in a better financial state due to the vaccine, meaning they can make a slow and steady recovery.
An increasing number of planners predict that events will be smaller in size, while hybrid holds its ground as the format of the future. Find out more by downloading the FREE State of the Event Industry 2021 Report! 📙 https://t.co/lOYY49M0mB pic.twitter.com/t7UpPYcKUT

— EventMB (@EventMB) December 3, 2021
The report found the industry's core nature has changed for good and the future will be characterised by smaller, localised and hybrid events.
However, challenges will continue to persist – including engagement and networking remaining as a sore point for virtual formats.
Monetising the digital medium will require more convincing and effort than usual. Hybrid events are also far from being standardised despite being deemed the new accepted format in the industry, the report suggests.
Get the complete insights by downloading the full report.
IAEE's Expo! Expo! goes hybrid – here's what we know
IAEE's flagship show for B2B exhibitions Expo! Expo! will once again bring together trade shows and event professionals to meet in person.
The event is being held in a hybrid format for the first time after a full-virtual edition in 2020.
Expo! Expo! will be hosted between Tuesday and Thursday at the Pennsylvania Convention Centre in Philadelphia and feature both physical and virtual learning experiences for participants. 
Sessions and exhibitor interviews will be streamed from the show floor on Tuesday and Wednesday while pre-recorded content will be available on Thursday. 
David DuBois, IAEE CEO, said: "The IAEE team is looking forward to bringing the exhibitions industry back together in-person in Philadelphia.
"Now is the time to look forward to the new year, as we have learned much in the past year about how to produce safe events."
More than 1,500 attendees and 180 exhibitors are expected to participate at Expo! Expo!. 
The event, dubbed as the "shows for shows", presents great opportunities for exhibition professionals to meet, network and gain crucial insights to prepare for the future.
Get more details about Expo! Expo! here. 
We hope you enjoyed reading this article and found it useful. At ExpoPlatform, we want to help you build better events and communities. Please get in touch and ask for a demo here. Thank you.