We're back in business – IMEX America marks new US milestone
Your weekly event industry news roundup from ExpoPlatform – IMEX America marks milestone as US travel restrictions ease, UFI CEO declares 'we need all the brains' to achieve net zero pledge and calls from a UK Minister for better information about our collective economic worth.
UFI CEO – we need all the brains to meet net zero pledge
Global event industry leaders gathered in Glasgow to deliver a commitment to a net zero future at Cop26.
A range of high-profile figures in our sector announced a pledge to hit the goal by 2050 "at the latest" – but there was optimism that target will be met sooner.
The Net Zero Carbon Events initiative has already brought more than 200 organisations together to tackle the issue.
Goodbye #cop26. pic.twitter.com/jTFxUtXLpr

— kai hattendorf (@kaihattendorf) November 11, 2021
Download our free sustainable events checklist to help  futureproof your business through a sustainable model.
It is the first-ever collaboration in the meetings, conferences, exhibitions industry working towards this goal.
Kai Hattendorf, CEO of UFI, said: "I personally believe we'll get their way before 2050, as we will learn, as we're collaborating.
"If mankind can find a vaccine that works against Covid-19 in a few months, we can find ways to get to zero carbon before 2050 if we just put our brains to it – but we need all the brains."
Meanwhile, the UN Framework Convention on Climate Change has officially announced the UAE will host Cop28 in 2023.
We're back in business, says IMEX America
"We're back – and we're back in business" was the declaration as IMEX America drew to a close after a successful 10th year.
The show in Las Vegas saw more than 3,300 buyers were attend over the week, the vast majority of them hosted buyers.
There were also over 2,200 exhibiting companies from 200-plus countries. 
It signalled a real return to strong business after two years of industry shutdown.
Join us as we wrap up Wednesday of IMEX America in under a minute! We may be over halfway through the show, but we look forward to see you back tomorrow for another day of business meetings, networking, education and fun at #IMEX21 pic.twitter.com/QZ3jHf80TX

— IMEX (@IMEX_Group) November 11, 2021
Carina Bauer, CEO, said: "Like so many of you, our team worked long and hard to make IMEX America 2021 come to fruition.
"We were buoyed up knowing you were watching, waiting and willing it into life because it means so much for our global industry.
"We couldn't have done it without you. More importantly we do it for you because we believe so strongly in the economic value and positive impact of this industry all over the world.
"This week has signalled that collectively we're back – and we're back in business."
Meetings in London triple month-on-month
Meetings being held across London tripled month-on-month after the relaxation of coronavirus restrictions, according to new research.
The findings show premises in the Capital hosted an average of 12.6 events per venue in September, compared to an average of 3.81 in August.  
This data from London & Partners research represents a 231% month-on-month increase in the number of events ran following the so-called Freedom Day in England in July.
Tracy Halliwell, director of convention bureau at the firm, said: "It is fantastic to see event planners putting their faith in London, as seen in the exponential growth of London events in recent months.
"London is a city that is constantly reinventing itself and it has been fantastic to see London's venues and hotels turn their attention to redevelopment and sustainability during the last 18 months of huge challenge.
"Thanks to these advancements and our fantastic host of new openings, I am confident that London will soon be back even stronger."
Re-Viva Las Vegas
It's been a week now since the first transoceanic flight carrying tourists touched down in Las Vegas for more than 20 months.
It came on the day the US reopened its borders to fully-vaccinated international travellers and has already seen a number of major shows. 
IMEX America – mentioned above – represented watershed moment as the very first international event to open after the lifting of the US travel ban.
This comes after figures show the city attracted 5.7 million international visitors in 2019, worth $4.8 billion to the economy. 
Meetings weren't the same without you. We are excited to welcome back our global friends. ✈️ 🌎@USTravel pic.twitter.com/3ljBvO13l7

— Vegas Means Business (@LVCVA) November 9, 2021
Steve Hill, CEO of the Las Vegas Convention and Visitors Authority, said: ""It's a watershed moment for Las Vegas as international borders open and we welcome overseas visitors back to the destination.
"In addition to being a world-class leisure destination, our major tradeshows and conventions draw large international delegations and we are very optimistic about the opportunities that lie ahead."
The move to loosen restrictions comes amid more good news for our industry in the US.
A new bill was reintroduced to the Senate that would help businesses which are forced to shutdown in future pandemics and public health emergencies.
This Pandemic Risk Insurance Act of 2021 is a version of legislation first proposed by Rep. Carolyn B. Maloney in May 2020 in response to the COVID-19 pandemic.
It will surely bring a sense of comfort and optimism to event professionals who are still suffering from massive pandemic-related financial losses. 
UK Minister – event industry 'needs better data' to prove worth
The UK's event industry needs to work together to produce data which can show its true economic value, according to a Minister.
Nigel Huddleston MP told mia's Ignite conference this is critical for the Treasury, however the Government was committed to working with the sector as we emerge from the pandemic.
Our industry was caught off guard by the coronavirus outbreak and it was difficult for policymakers to be convinced about its importance without information which was well presented.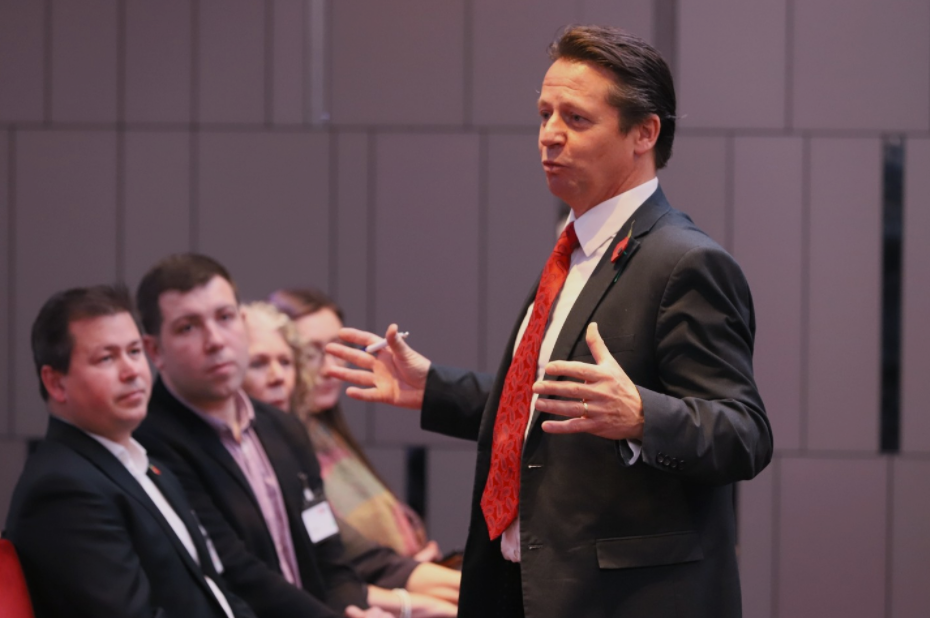 This is due to the range of businesses from different areas which come under the events umbrella.
The Tourism Minister said: "The more you can come together and get that data in a comfortable format, consolidate it as one informed industry voice, the better it is for the sector and enables me to do my job better as well.
"It empowers me to have meaningful conversations with the Treasury about the size and scale of the sector and how important it is.
"Fragmentation causes real problems dealing with the relationship between government and business."
We hope you enjoyed reading this article and found it useful. At ExpoPlatform, we want to help you build better events and communities. Please get in touch and ask for a demo here. Thank you.