New Releases
Introducing Exhibitor Events
February 27, 2023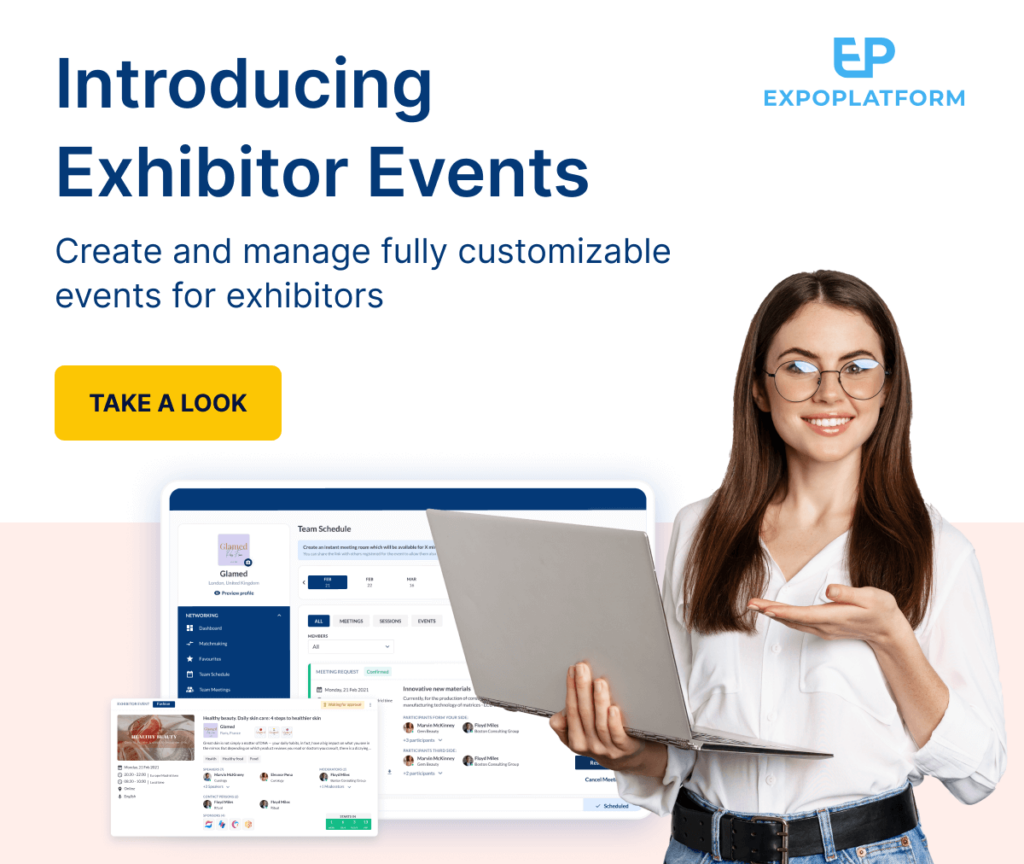 We are pleased to bring you our latest product release – Exhibitor Events.
You can now give your exhibitors the flexibility to create onsite, virtual and hybrid events at the front end – whether they are product demos, talks or networking sessions.
This provides exhibitors a unique way to make their offerings more appealing for event attendees while creating new monetization opportunities to drive revenue.
Organizers have full control of these features at the individual or category levels, allowing them to curate, customize and own the event experience.
Here's an overview 👇
What your Exhibitors can do
1. View event status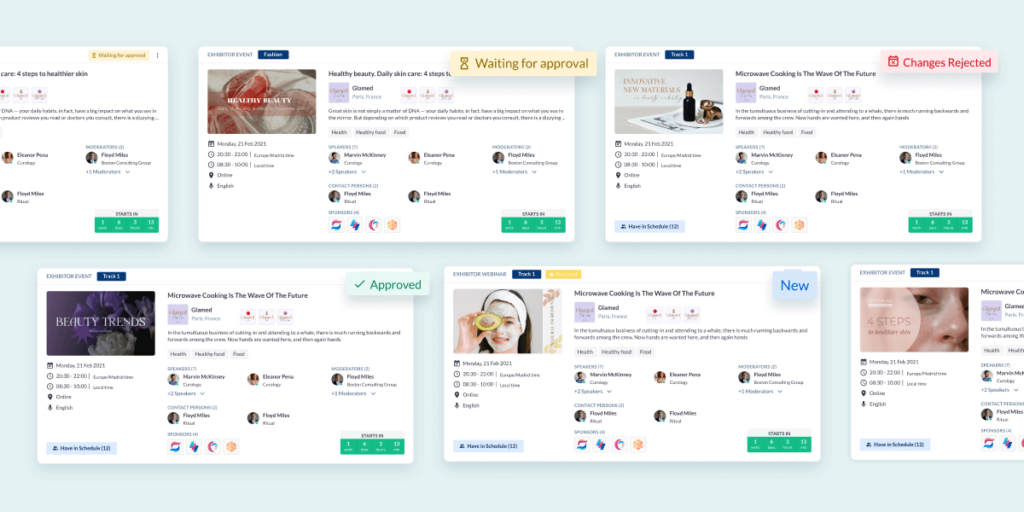 See the status of a new event after creation – waiting for approval, rejected, edited, changes rejected.
2. Promote private events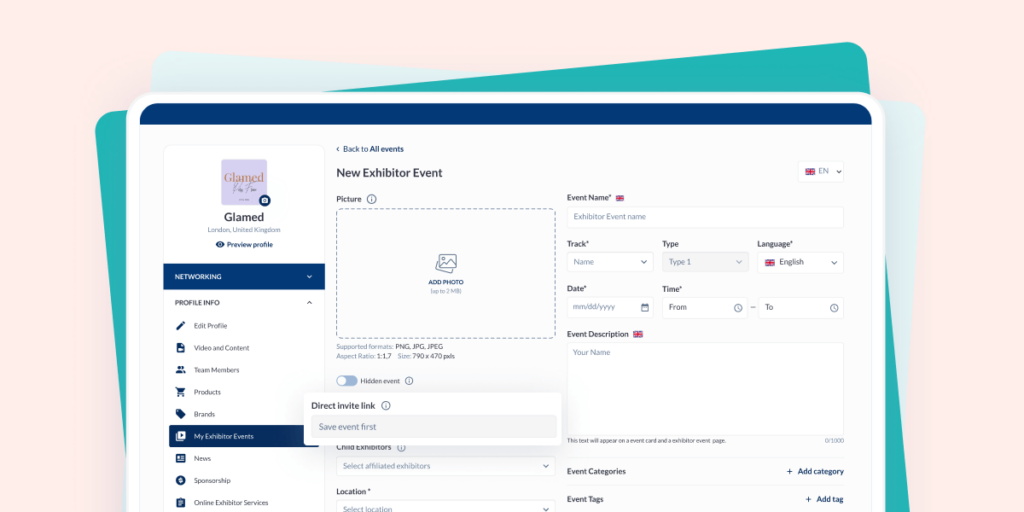 Promote hidden events by sending direct invite links to participants.
3. Attach relevant entities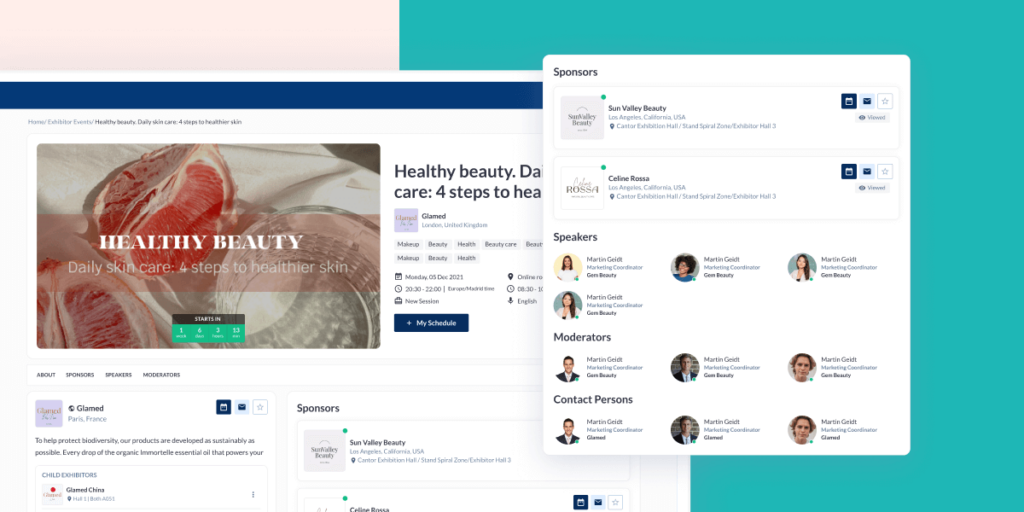 Attach speakers, moderators, sponsors, contact persons, child exhibitors to the event.
4. View booked event list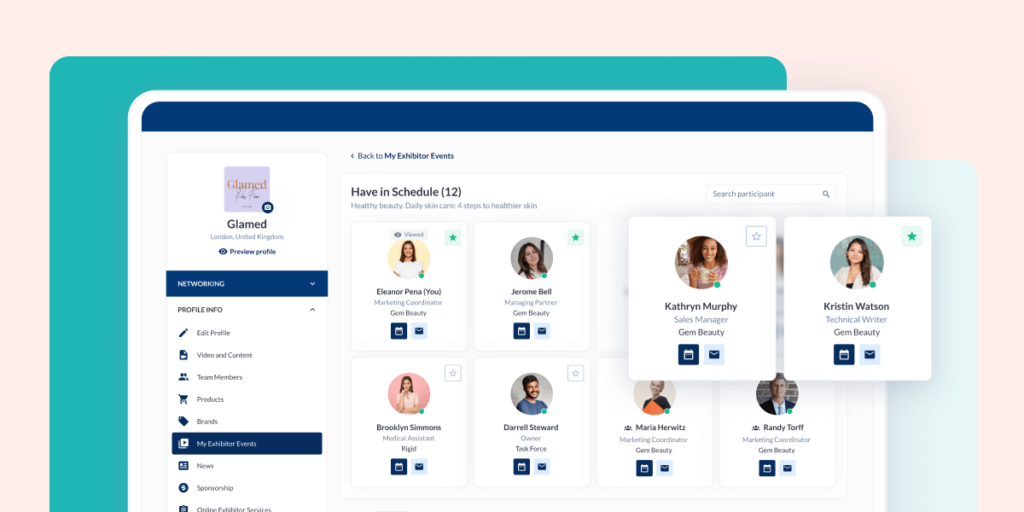 View a list of participants who have added the exhibitor events to their schedule.
5. Add search filters in the marketplace
Exhibitors can help participants search for approved events using Track, Date, Exhibitor Name and Product Category filters.
What the Organizer can do
6. Manage events at the backend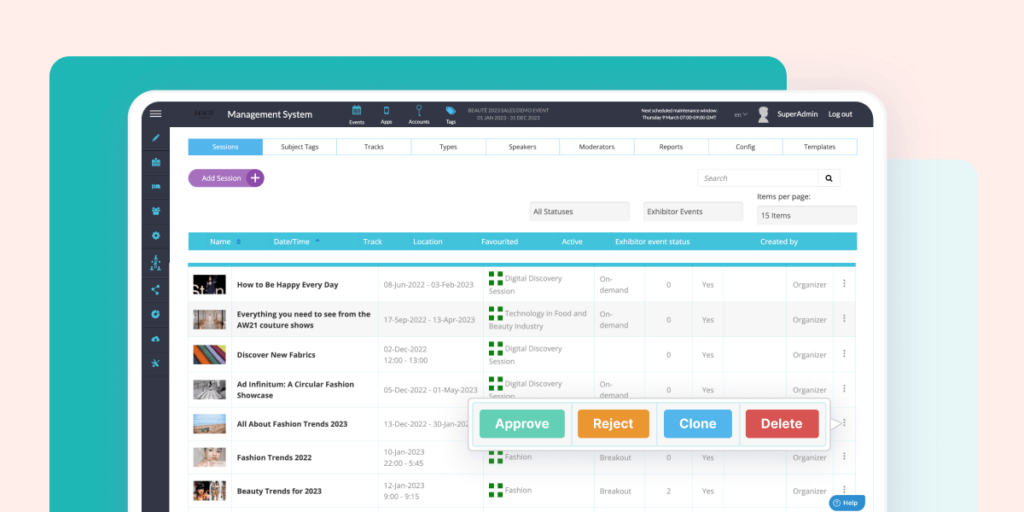 Control the overall event experience by approving or rejecting a new event created by exhibitors. Organizers can also approve or reject changes made to a previously approved exhibitor event.
7. Control event customization
Configure the global settings to control how the event is customized at the front end. Allow/disallow speakers, moderators, sponsors shown, include options for online and hybrid events, disable event tracks, show on-demand events, set event duration and more.
8. Set limits at individual and category levels
Decide the options available to exhibitors by setting limitations at both category and individual levels. Organizers can restrict the number of events an exhibitor can create as well as turn on auto-approve and block timeslot options.
9. Make events available to different user types
Make exhibitor events visible/available to different types of users. Enable calendar block for users who have added an exhibitor event to their schedule as well as turn on the option to disallow users from removing the event from their schedule.
10. Make events available for specific categories
Configure events at track level, where organizers can control availability for specific categories.
February product updates
February 20, 2023
An overview of the key product releases this month:
1. Ability to set marketing content description limits
As an organizer, now you can configure the number of characters for marketing content at the category level
This setting is an input field with name "File description characters limit" and hint "Leave "0" for unlimited"
Default value is 200.
What are the benefits?
Additional Monetization opportunity

Ability to specify more information about content attached to exhibitor profiles
2. Sponsor banners in profile
At the top of each front-end profile page, there are now spots for sponsor banner ads
Option for 1 banner ad spot or 2 as on other pages

Option to enable the ad spots for only visitor profile pages, only exhibitor profile pages, neither or both

Corresponding admin settings have been added, similar to banner ad settings for other pages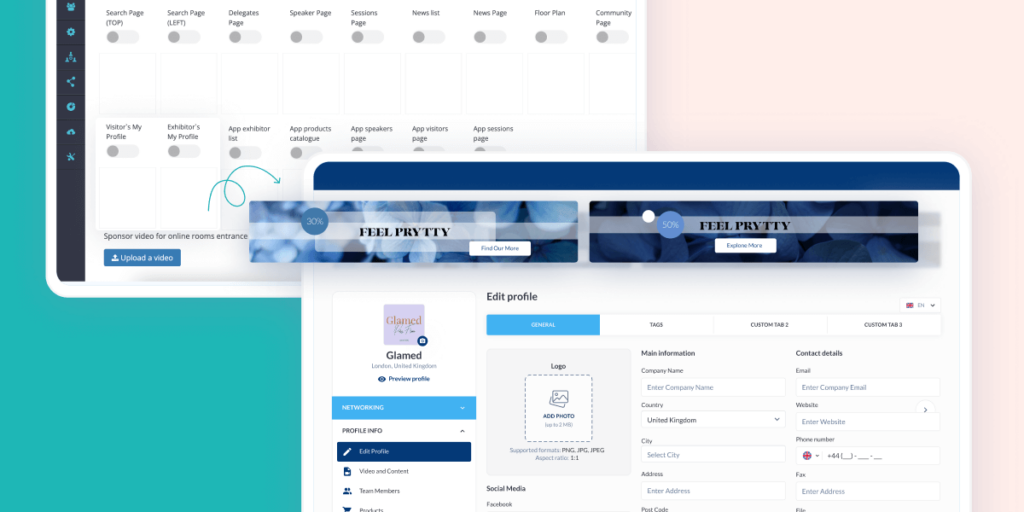 Enable sponsor banner ad spots at the top of each profile page for visitors/exhibitors or both/neither.
3. Display inactive speakers at the front end
A new setting is added at the backend: /admin/registration/settings, named "Show inactive speakers on the frontend", by default toggle is OFF. When the toggle is switched ON, speakers with inactive account statuses will appear on the front end.
All speaker profiles can be shown on the front-end, rather than only active speakers, for better networking
New 365 Marketplace Updates
January 30, 2023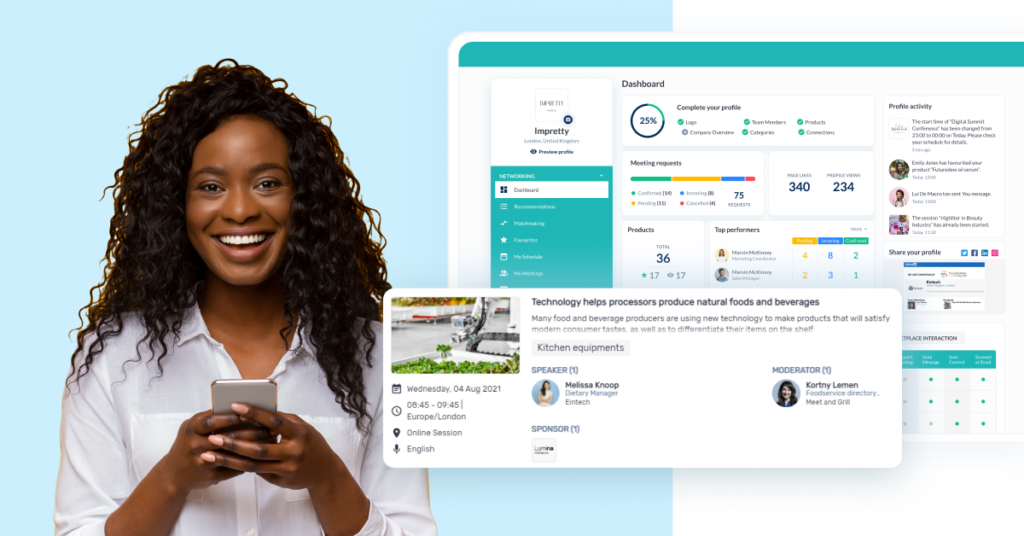 We have made a series of improvements in our Marketplace, all designed to help you to better connect buyers and suppliers year-round.
This month's product release includes:
Improved lead generation and notifications for supplier content
Webinars included in company profiles and Lead Intelligence dashboard
Take more control of sponsorship, product limits and search results
Here's an overview of all the updates:
1. Webinar sessions in company profile and dashboard
Sponsored content sessions – Live and On-Demand – are now included within the company's profile.
All interactions that users have with webinars are now made visible within the Lead Intelligence dashboard. Suppliers will be able to see the details of everyone who has 1) booked a sponsored session or 2) attended a sponsored session.
2. Supplier marketing content upgrade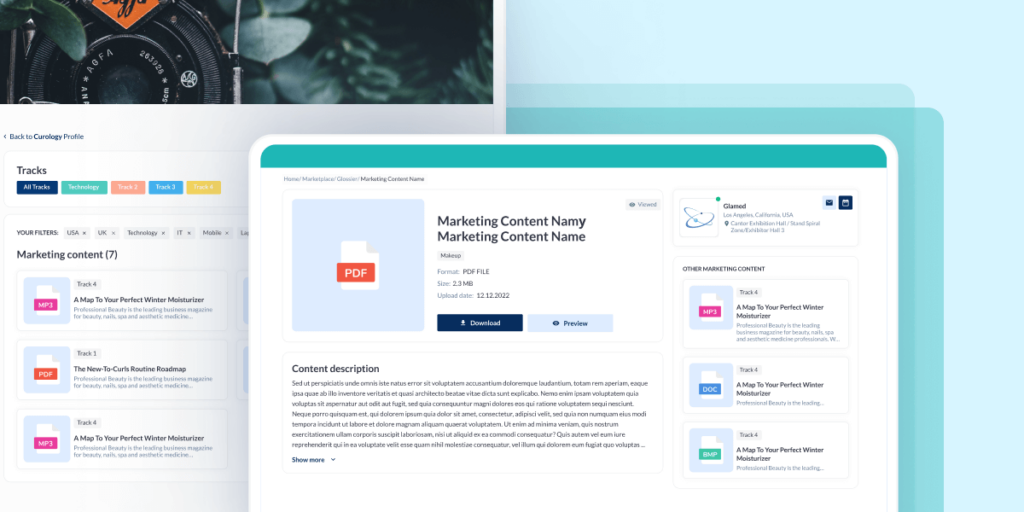 All supplier marketing content now has their own public page and unique link that exhibitors can share with their customers.
3. Supplier notification of leads
A new e-mail template is added "Marketing content download" to the "General" section of Registration e-mails builder (/admin/emails) which will fly to exhibitors whenever a user downloads their marketing content.
What are the benefits?
Show admin can now notify exhibitors by triggering an automated email for marketing content downloads.

User information can also be added to the email for lead visibility.
4. Sponsored category pages
In Admin panel – Event Setup – Networking & Matchmaking – Categories for local categories a new setting is added to attach custom banners with category pages. Category banners have a higher priority and replace the default marketplace banners when the user lands on the category pages.
What are the benefits?
Additional Monetization opportunity

Personalized display of banner based on category pages visited by the user
5. Customizable address field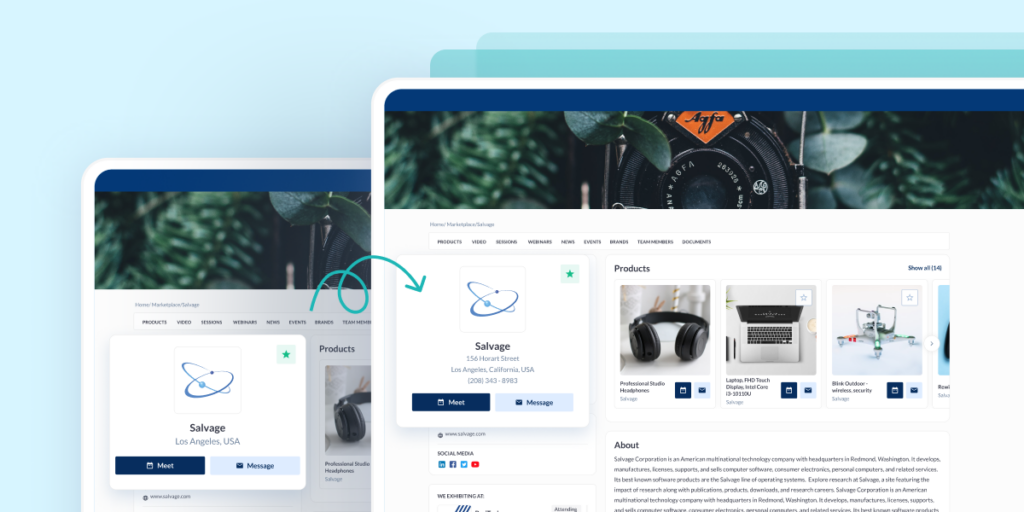 New setting "Show in exhibitor & product cards" inside /admin/registration/esettings is introduced.
Checkbox options are: "Country", "Region/State", "City", "Address", "Phone number".
What are the benefits?
It is possible to customize the location fields that appear on the public pages.

Improved visibility of exhibitor listing and page address fields.
6. Product descriptions, unlimited
There was a significant gap between the legacy interface and the new interface: in the past, there was no limit to the length of the product description, while in the new interface, there was a limit of 1000 characters, which led to a frustrated user journey. Now, organizers can use any integer value to set limits.
What are the benefits?
Makes monetization of product description easier for the organizer.

Prevents exhibitors from entering too long product descriptions.
7. Featured product limits, chosen by suppliers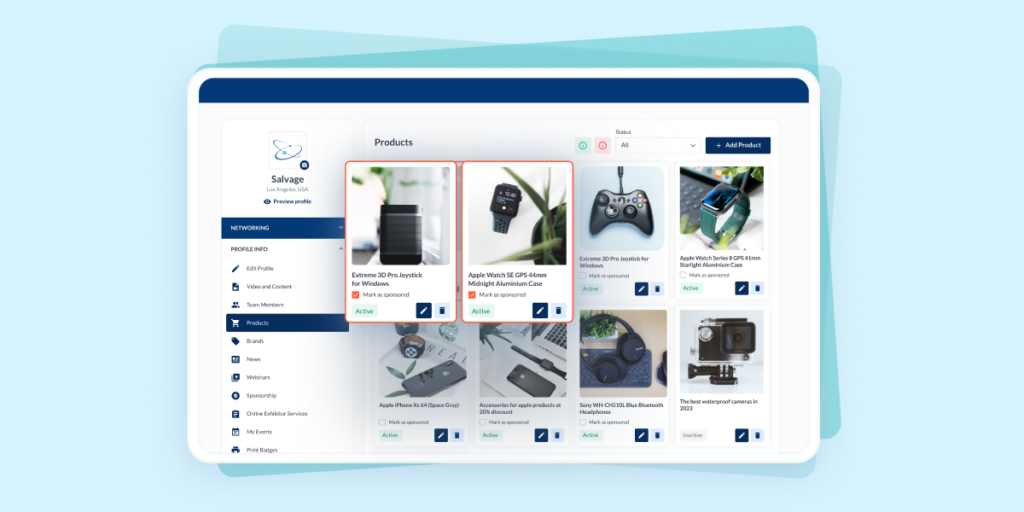 Organizers can now choose to set a limit on the number of featured products a particular exhibitor can have
In the admin,

Management > Sponsors will have a new column called "Sponsored Products Limit" along with a new "Sponsored Product Limit" field which will be empty by default and when empty will allow unlimited featured products
Under Management > Exhibitors in the sponsorship section of the exhibitor edit page, there will be

a new "Sponsored Product Limit" field, also empty by default
Exhibitors can now choose which of their active products should be shown as featured products through a new checkbox in the Add/Edit Product section
What are the benefits?
Prevents showing lots of featured products from one exhibitor at the top of the Products page, providing a better experience for visitors, better exposure for all exhibitors purchasing this sponsorship, and the ability for the organizer to include different levels of sponsorship
8. Re-usable fields in registration forms
In the registration form, organizers get more flexibility by re-using fields such as country, state and city. This helps exhibitors clearly define their warehouse or distribution country separately. 
9. Parent-child management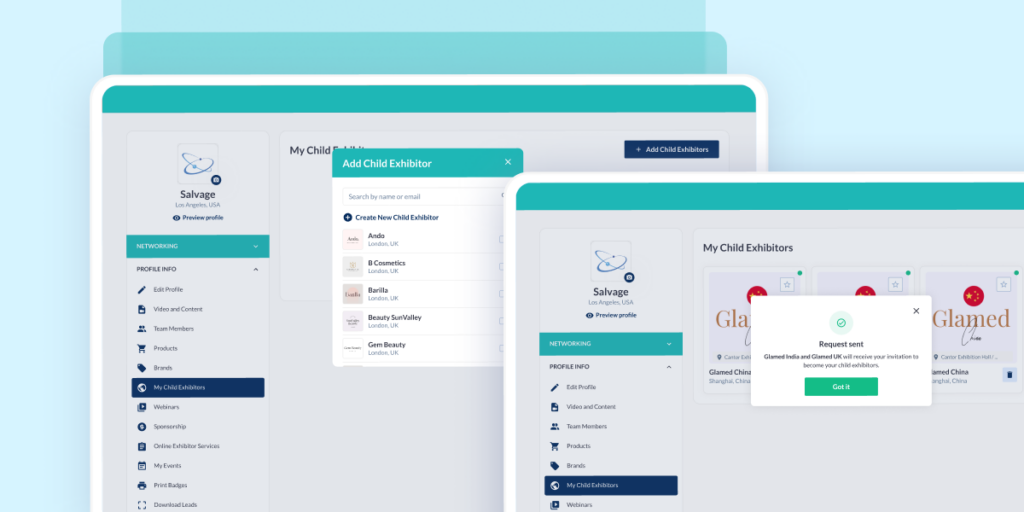 Parent exhibitors can now manage their child exhibitors through the front-end Edit Profile section
Here they can see a list of all of their existing child exhibitors and click into each one to visit that child's exhibitor page and the parent exhibitor can also add a new child exhibitor from this same section

Related to this, there are several new admin settings:
Option of whether to provide the ability to add a child exhibitor on the front end under Edit Profile.  By default, this will be OFF

When on, option for the organizer to configure what product category should be assigned for newly added Child exhibitors. There are 3 choices:  

"Without category"

"Inherits from parent" 

"Can have next categories:". Where the organizer can choose from the list of event product categories
What are the benefits?
Easier child exhibitor management for the parent exhibitor

Control over whether, and how, child exhibitors can be added by parents
10. Set default number of suppliers in Marketplace search results
A new admin setting allows the Organizer to decide how many exhibitors should be shown by default on the Marketplace/Exhibitors  page
What are the benefits?
Additional monetization opportunities for the Organizer (since there are more exhibitors shown by default, there are more Featured Exhibitor opportunities)