Event tech should be 'intrinsic' to exhibition improvement
Event tech should be an "intrinsic" part of improving exhibitions and increasing their value for participants, according to an industry expert.
Havina Sirohia, from Informa Markets, believes these tools can be transformative in developing tradeshows as more information is made available to organisers through them.
The digital operations and event technology project manager told ExpoPlatform that she sees a future where it is no longer a nice-to-have feature, but a central component of exhibitions.
She said: "I definitely see tech and events becoming more synonymous as one thing.
"It would be great if we no longer refer to an event app or to tech, as if it was just already a seamless part of that experience.
"It shouldn't be something we think of as separate, it should be intrinsic.
"The challenges are going to be keeping up with the ever changing demands of these markets.
"As the market evolves and as the world evolves, tech has to keep up with it.
"I'm really keen to see if that's something that we're able to do. It's something that we're trying to do right now."
ExpoPlatform research estimates that around 20 times more information about event participants is now available than in 2019.
This is through features such as omnichannel lead retrieval – which boosts exhibitor ROI by 300% – as well as online touchpoints.
Havina said: "Data is the only way to do a really robust discovery phase – but in order to do that, you need robust data.
"It's easy to do that with online sessions, but in physical sessions we only really get an overall sense of each activation if there's a way of really understanding how they move around the event.
"That then becomes really, really interesting. You know whether a category is taking too much valuable space that could be taken up by one that was twice as attended. That is where the value comes in for shows."
Digging deep into the data
Havina explained an organiser needs to dig deeper into the detail of app use to find out the real story behind the numbers.
This involves looking at more than those who have logged in once, but participants who continuously use the platform throughout the course of the event.
Then it is possible to analyse the activity on the app and uncover what an audience is moving towards, which is where "those data points will become essential" in developing your product.
Havina gave a "hypothetical" idea about organisers assuming that participants at a tradeshow are mostly just looking at an exhibitor list to inform them about the event that they are planning to attend.
This is only a "gut feeling" which is "useless to everybody" because there is no information available to back it up.
However, the event tech may reveal a different pattern of behaviour where users are using the interactive map function more than any other so they could better navigate the show floor.
Havina added: "We could then tailor our marketing, event experience and our messaging towards that."
She added: "The problem is you only ever hear the problems with the event, you never hear the benefits.
"So it's really easy to kind of walk in perception and that's where data comes in."
It was explained that teams should analyse any assumptions they have made before a show and use data to measure whether they were correct so that better business decisions can be made in future, this data will in turn, help customers find new value.
Digitisation in exhibitions
A recent study from UFI found that digitisation is the second-biggest issue facing exhibitions worldwide.
The association's latest Global Barometer ranked the challenge only behind internal management issues.
A total of 17% put it as a top hurdle, up from 16% in January – while it was ahead of media competition which was picked by 15%.
Download our AI Blueprint for a free guide on how to digitise your business with data science.
Havina said: "It's a natural shift in the market – everybody expects it now.
"They definitely expect something that is tailored a bit more to them that allows them to make connections easier.
"That's really what the aim of the game is – to help them do what they need to do on site."
Figures from McKinsey & Co show ecommerce grew by a decade's worth during the first three months of lockdown.
It means consumers are now much more used to the tailored transactional experiences offered by online retailers in their personal lives, which they want to see in their professional roles.
Havina added: "Outside of events, we expect it. The world moved towards that so we had to adapt.
"There's been some resistance because of the old trade show model people are familiar with, but that's just natural human nature.
"That's the way that we would go and we just want to help you, otherwise you get left behind.
Event tech does not replace the event
The return of live events has been met with some expectations that the need for technology would disappear.
This comes as headlines shout about the demise of virtual platforms who saw a boom in business during lockdown.
However, Havina wanted to make clear there is a distinction between those online events and the in-person exhibitions which are enhanced by technology.
She said: "They want to be in the real world talking to real people, but this can often seem a little contrived when done through virtual.
"That really hindered people's opinion of event tech early on in the pandemic, but it's come on leaps and bounds now.
Havina added: "The only way that you win people over is by explaining that event tech is not here to replace any aspect of a live event – it is here to enhance it.
"That human nature has to be taken into account, but also what the function of event tech is – it's an enablement piece, not a replacement."
Havina believes that one of the biggest bonuses of event technology is how it can expand an exhibitor's audience.
It was put forward as key to convincing markets to get on board with this digital transformation, regardless of what stage of uptake that industry may be in.
Findings from an ExpoPlatform survey show this is one of the top opportunities brought through data science.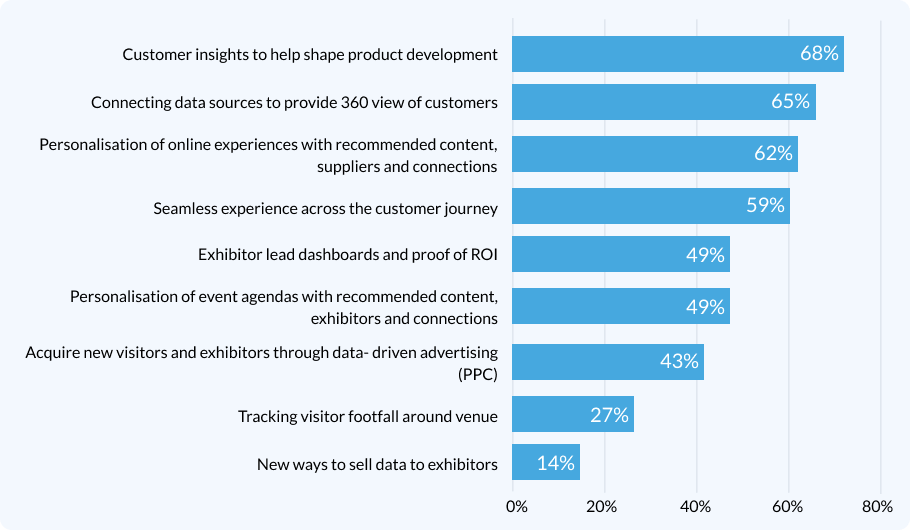 She said: "What really helps the markets get it is when you say that you can expand your reach – that's a really big part of it.
"We've already been focused on making sure that we're the events that people want to come to spend their money in the year.
"If you're at the end of the budget season, you've only got one event you can go to, hopefully it's one of our events because that value proposition is so high.
"But why is that value proposition so high? Now, you need to be able to connect people in a way that is easy, but also fairly robust."
Havina explained that it is about making sure you have qualified the people that are on your platform, such as industry experts.
Then you also have to try and extend your reach to new geographies, new markets, new areas of interest where you are able to give a bit more value.
This can include adding education sessions on top of a tradeshow where you meet exhibitors.
It could also mean more networking sessions where peers can meet inside a more "festival atmosphere" around the event.
Havina said: "People are intimidated by event tech because they hear it and they understand it as Big Tech or they think about a digital app that they could never understand.
"But if we lay it out to them and show how easy it is to use, people are often more willing to change than we give them credit for."
She added: "It's got to be absolutely imperative that tech not only enhances face-to-face interaction but it makes it ultimately boundless and limitless.
"Whether that means falling into a seven-year long view or just the simple idea of making a festivalised experience around an event, the tech should really enable and enhance the physical.
"The value will always be in those physical face-to-face connections and creative business in that way and actually facilitating more face-to-face connections."
Building relationships is key to success
Delivering a successful event requires lots of different departments working together towards one goal.
However that can be different when you have technical and creative teams coming up against each other when developing digital features.
Havina highlighted how it is "essential" to build strong bonds that allow you overcome these hurdles.
She said: "You don't get anything done without relationships. Ultimately, everybody just wants to feel as though what they do is understood.
"It's about creating a level playing field. If you're speaking to development it may feel very binary – we can do this, we can't do this, we can create this, we can't create this.
"When you're working with creative teams in the markets they're saying something more multidimensional and multifaceted.
"It's about translating those requirements across and if you can't do that, then that really becomes a friction.
"You need to be able to have someone in the middle who is able to be creative around the solution and translate requirements here.
"It's a tough job, but it's a very necessary one because you ultimately know that what these people are trying to achieve is the same thing – they're just not speaking the same language."
Havina added this is where the question of value comes into play again – highlighting the problem that needs to be solved so that a compromised solution can be reached which suits both teams.
We hope you enjoyed reading this article and found it useful. At ExpoPlatform, we want to help you build better events and communities. Please get in touch and ask for a demo here. Thank you.