A green roadmap for events at Cop27
The next step on the route towards a sustainable future for our industry has been taken.
Cop27 saw the launch of the Net Zero Carbon Events Roadmap, setting out a pathway towards reducing environmental impact.
It was described as the "biggest, most inclusive action" ever taken in our industry.
Download our free Sustainable Events Checklist for an easy guide on how you can make more sustainable live shows.
Meanwhile, new research has been launched as part of efforts to uncover how digital tools will help our industry next year.
Take part in the Event Tech Survey 2023 to give your insights into how things will shape up moving forward.
Read on for the events industry news you need to start your week.
Net Zero Carbon Events roadmap launched
The path towards a sustainable future for our industry was set out at Cop27.
World leaders gathered in Sharm El-Sheikh, Egypt, in a bid to tackle the growing climate crisis facing the planet.
Representatives from our industry were there to publish the Net Zero Carbon Events Roadmap, one year after beginning work on the project.
Kai Hattendorf, CEO of UFI, said at the launch:  "This is the biggest, most inclusive action ever from our industry. At Cop26 we just got started with our pledge and a lot of momentum.
"Now, at Cop27, we are launching the roadmap."
The plan has been designed to help eventprofs discover their own route towards sustainability through following best practices and recommendations.
Standard metrics for measuring the carbon footprint of events is one goal of the project, as a way to avoid duplication of efforts and better reporting.
Key takeaways for the industry were set out as:
Focus on obvious changes first

Apply measurements of carbon footprints and establish a baseline

Educate stakeholders

Join the initiative and work together across the industry

Encourage buy-in across the company
How will event tech develop in 2023?
A new survey has been launched to uncover the digital future of our industry.
The Event Tech Survey 2023 will establish how new tools can help live shows improve engagement, experience and value.
It is seeking input from eventprofs to establish what the biggest priorities, challenges and key features will be next year.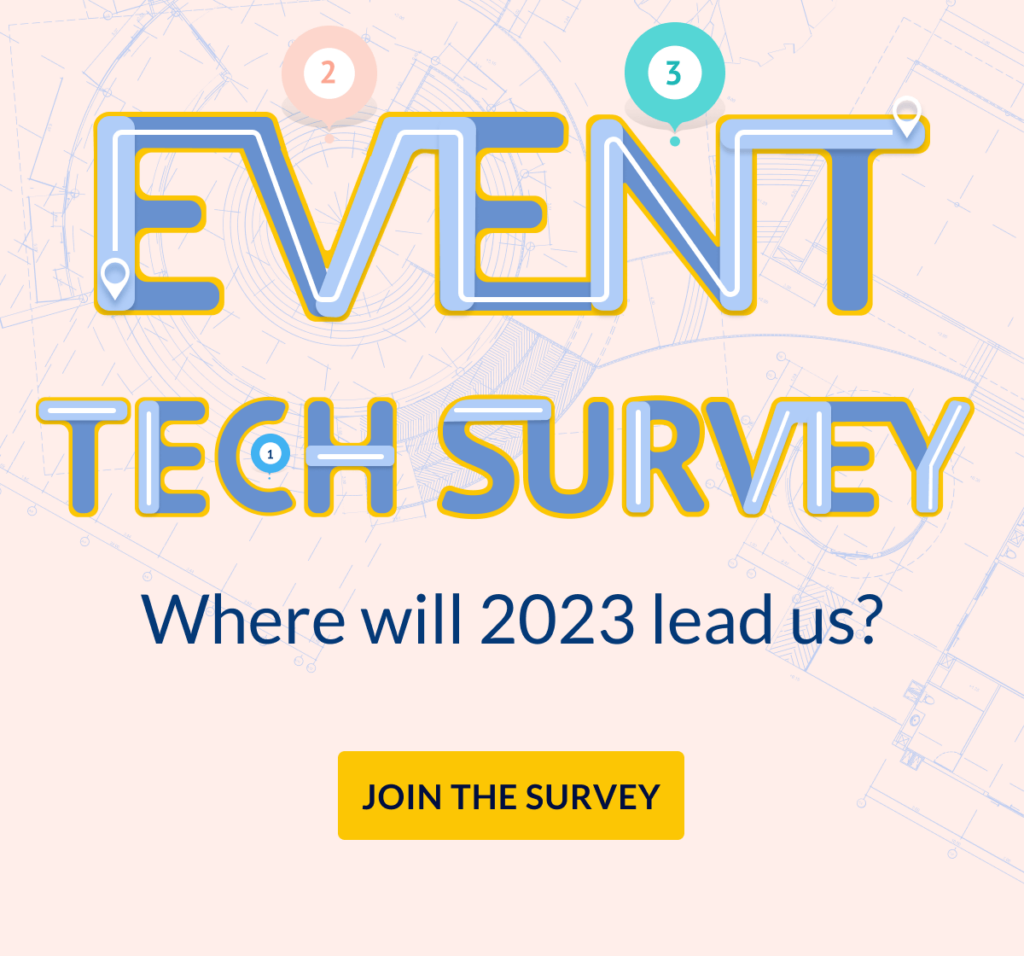 Conor Riordan, content editor at ExpoPlatform, said: "The events industry is going through a digital renaissance.
"Lesson learned from the pandemic mean there is now more technology than ever before, meaning more opportunities to improve our live shows.
"But there are also a number of challenges to bringing in this new generation of digitally-fuelled events.
"That's why we want eventprofs to give us their first-hand experiences and insights into how technology will develop in 2023."
Arab Health explores the metaverse
Arab Health has announced plans to explore the healthcare market in the metaverse.
The event is set to launch the Intelligent Health Pavilion and host the Future Health Summit under the proposals.
It comes as the healthcare market in the metaverse is expected to hit $5.37 billion in value by 2030.
Ross Williams, exhibition director at Informa Markets, said: "The healthcare industry has witnessed incredible changes in recent years, with technology and innovation the driving force behind how the industry is elevating patient care.
"These latest advancements are expected to increase further by utilising the metaverse and looking at how we interact with technology to utilize artificial intelligence, augmented reality and virtual reality to improve patient outcomes."
Arab Health, established 48 years ago, is the Middle East's largest healthcare event hosted by Informa Markets.
It provides a platform for global manufacturers and distributors to connect with the medical and scientific community in the subcontinent.
The pavilion will be unveiled at the Dubai World Trade Centre between January 30 and February 2.
AMR International acquired
AMR International has been taken over by a global strategy consultancy firm.
The acquisition by Stax represents its first expansion into London as part of its growth strategy.
It specialises in  commercial due diligence, value creation and exit planning within private equity firms, PE-backed companies, hedge funds and investment banks.
Jayson Traxler, president of Stax, said: "In the midst of global disruption, private equity continues to expand in the UK and Europe – and this move represents part of our planful growth strategy to better serve London and EMEA."
AMR is now a part of the @Stax team!
We look forward to combining our complementary offerings and expertise with Stax's to better serve current and future clients. Read more about the acquisition here: https://t.co/m4VnaTeS4A

— AMR International (@AMRIntl) November 8, 2022
Denzil Rankine, executive chairman of AMR International, added: "We at AMR are delighted to become part of Stax. We look forward to expanding relationships that our team has built over the last 30 years and serving our clients even more fully by benefiting from Stax's value-added, resource-driven infrastructure."
AMR is a leading European strategy consulting firm focused on guiding strategy and creating value for private equity firms, hedge funds and global corporations.
This is through commercial due diligence, value creation and exit planning engagements.
New online community for eventprofs
Mash Media and Guild have partnered to create an expert online community for eventprofs.
Events 365 aims to provide support to those in our industry who want to create more valuable year-round experiences for stakeholders.
Its launch comes as part of a rebrand for Coronavirus Response for Event Organisers community, which started as a peer support group for those in the events industry affected by the pandemic.
Jack Newey, group portfolio director at Mash Media, said: "Partnering with the Guild mobile app and team brings a unique set of benefits for our events community and a complementary set of skills to ours.
"Events 365 will support the events, exhibition and conference industry by setting the standard in community.
"As we move away from typical events models to one where there is a clear value proposition for attendees, exhibitors and sponsors 365 days in the year it is the central hub of discussion, debate and best practice in the events industry."
Guild is a mobile-first and ad-free community platform, while Mash Media is an organiser and publisher.
We hope you enjoyed reading this article and found it useful. At ExpoPlatform, we want to help you build better events and communities. Please get in touch and ask for a demo here. Thank you.