'No straightforward' answer to pound crash for planners
Storms hit Florida coastlines and the UK currency this week, forcing cancellations and concerns for planners.
The economic fallout caused by Number 10's uncosted policy changes forced Prime Minister Liz Truss into a U-turn on Monday.
Chancellor Kwasi Kwarteng dexcribed plans to scrap higher tax rates for top earners as a "distraction" after markets were spooked and the pound crashed.
We spoke to Carina Bauer, CEO of IMEX, about what this means for organisers.
Meanwhile, major tradeshows in Florida were called off over safety fears as Hurricane Ian caused death and disruption in the Sunshine State.
Read your full Week in Events below.
'No straightforward answer' to UK currency crash for planners
There is no "straightforward answer" to what the crash in the UK currency means for event organisers, according to an industry leader.
British Prime Minister Liz Truss has been forced to reverse a cut to the highest rate of income tax that helped spark turmoil in financial markets and a rebellion in her party.
The announcement had sparked a crisis of investor confidence in the government, hitting the value of the pound and government bond prices.
Sky's @EdConwaySky tracks the value of the pound vs the dollar and examines interest rates over the years, as they are expected to rise to 6% next year.

Latest: https://t.co/929hyQeK2x pic.twitter.com/LEQWOo7fJE

— Sky News (@SkyNews) September 29, 2022
Many UK-based event organisers would have been concerned by the outcome and what it means for their business internationally.
Carina Bauer, CEO of IMEX Group, told ExpoPlatform: "If, for example, your income is in GBP and costs in any other currency, obviously costs will increase and profit margins will be hit.
"The opposite will be true if income is in a currency other than GBP, but costs remain in sterling.
"Also to consider is the mix of the cost base – often event businesses based in the UK will have organisational costs in sterling, but event costs in another currency. The mix of these will impact organisations differently.
"In summary, there isn't a straightforward answer as to whether this is good or bad for international organisers based in the UK, as many factors are at play depending on the event portfolio and how you operate."
Doug Emslie, CEO or Tarsus Group, had spoke about how organisers were face with a difficult landscape as economies go through a "recovery phase".
He told the Dan Assor Show the next six months could be positive for the industry, however this is because our business trends can lag behind others.
Doug said: "The USA is very attractive at the moment because the economy is doing better – the dollar is very strong – and it's got energy.
"Germany's got problems with buying all of its energy in from Russia and selling its product to China.
"You've got a lot of moving parts, so I think it's going to be quite a bumpy period."
Carina added that organisers must be flexible to navigate this uncertain landscape, pointing to lessons learned during the pandemic.
She said: "At IMEX we have a strong tradition of hedging our currency to ensure that we aren't impacted one day to the next by currency fluctuations. That allows us to budget annually and be able to better manage such risks.
"As with all times of change and complexity, I would also advise businesses to try to reduce debt and build up some reserves to ensure that they are as well placed as possible to ride through turbulence.
"Many event businesses have also become very successful at pivoting and shifting or expanding their business models due to the pandemic and this adaptability stands us all in good stead for the future."
Tradeshows cancelled as lives lost to Hurricane Ian
Major tradeshows were forced to cancel as Hurricane Ian caused death and disruption across Florida.
The powerful storm killed more than 80 people in the Sunshine State and neighbouring Carolinas, with hundreds rescued by emergency workers.
Planners were faced with no option but to call off several largescale shows over  obvious safety concerns.
The remnants of Hurricane Ian drifted through Virginia while storm-ravaged residents in Florida and the Carolinas face a disaster recovery expected to cost tens of billions of dollars https://t.co/rlXY6WtV5E pic.twitter.com/Zq8tzRlBfy

— Reuters (@Reuters) October 2, 2022
President Joe Biden and first lady Jill Biden will see the devastation in Florida first-hand on Wednesday.
Major shows hit by the Category 4 hurricane include:
AABB Annual Meeting, at the Orange County Convention Center
IBEX 2022, at the Tampa Convention Center
DevOps World, at the Orlando World Center Marriott
A statement from AABB officials said: "First and foremost, our thoughts are with residents and members of the AABB community throughout Florida who may be most affected by this storm.
"We encourage you to do everything you can to keep yourselves, your loved ones and your neighbourhoods safe."
DevOps World said: "The DevOps World team has been closely following the state, local and federal guidance on Tropical Storm Ian.
""The safety of all attendees is our primary consideration. Therefore, out of an abundance of caution, we have decided to postpone this week's on-site event at Orlando World Center Marriott."
Recovery from the storm, which dissipated on Friday, is expected to costs tens of billions of dollars for the regions hit.
We live on the beach in Naples, Florida. We stayed through the Hurricane Ian. Thought I'd share a rather notable photo from the experience… pic.twitter.com/LziDWoVN78

— Dixie Whatley (@bothcoasts) October 1, 2022
People living in affected areas took to social media to show how the devastation had impact their lives.
One user posted an image of floodwaters covering half of her external glass doors in Naples, Florida – which she described as a "notable photo".
Canada lifts border restrictions
Travellers to events in Canada will face fewer measures after the nation removed all coronavirus-related entry restrictions.
The move came into effect on Saturday and will provide welcome news to planners trying to grow their international visitors and exhibitors.
It was claimed the move was made possible for several reasons which could include relative high vaccination rates, lower hospitalisation and death numbers as well as vaccine boosters.
Omar Alghabra, Canada's minister of transport, said: "Canada's travel measures successfully mitigated the full impact of Covid-19 for travellers and workers in the transportation sector and helped keep communities safe.
"Thanks to Canadians who rolled up their sleeves and got vaccinated, we are able to take this great step towards easing measures and returning to normal."
We're calling on @POTUS to immediately suspend proof of vaccination for qualified visitors from Canada and other nations—a critical step that will bring more travelers to the U.S., boost our economy and accelerate inbound travel's recovery. ⬇️ https://t.co/HJoiItoJW5

— U.S. Travel (@USTravel) September 27, 2022
US Travel Association responded to the announcement by calling on the Biden administration to follow in their northern neighbour's footsteps.
Tori Emerson Barnes, executive vice president of public affairs and policy, claimed Canada would now benefit from a "substantial boost" to its economy.
He said: "Washington should follow suit by immediately suspending proof of vaccination for qualified visitors from Canada and other nations, given the wide access to effective Covid-19 boosters and therapies."
It comes as Hong Kong also lifted requirements for travellers to quarantine in hotels, allowing inbound visitors to return straight home or to accommodation of their choice after arrival.
However, they will still be subject to certain restrictions and testing requirements depending on where they have come from.
These new rules came into effect on Monday September 26 and represent a major shift for the special administrative region which had one of the toughest set of restrictions to tackle the virus.
All eyes on international fair poster winner
The winner of the International Fair Poster Competition has been revealed.
Experience the rush was chosen as the Grand Winner of the 24th edition of the awards by UFI and International Fair Plovdiv.
Senior art director Parag Bandodkar and senior visualiser Kamlesh Murudkar, from Informa Markets India, were behind the piece.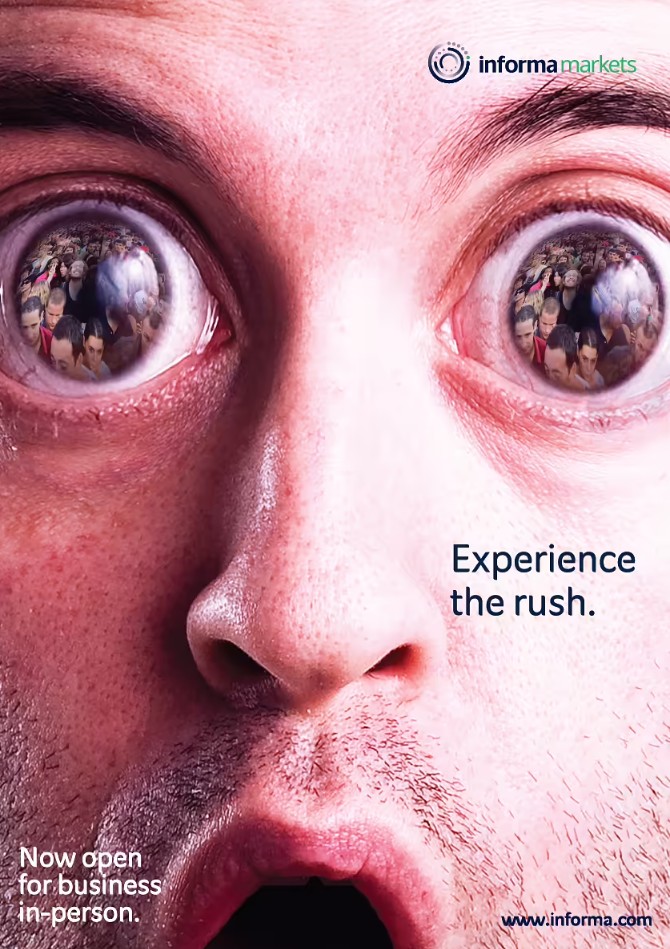 Kostadin Otonov, chairman of the jury, said: "We were very happy to see the quality and depth of entries this year. Congratulations to the team at Informa Markets India for their follow-up win from 2019."
This year involved a theme to promote the exhibition industry on the subject of face-to-face or post-pandemic recovery.
The jury evaluated the entries based on topic interpretation, design concept, originality and integrity of technical parameters.
They were particularly impressed by the execution of the piece, depicting a crowded fair reflected in a man's animated eyes.
Business activity gains momentum in events – report
Global business events have seen a strong return to form with the Middle East and USA leading the way, according to new findings.
The Event Industry Council's latest Global Events Barometer shows the restart of international live shows gathered momentum in 2022 Q2, with both group hotel room nights and RFPs increasing.
RFP activity index increased to 81, representing those sent by planners during the quarter for future shows equivalent to 81% of 2019 levels.
Amy Calvert, CEO of EIC, said: "Despite the global challenges we have been facing, including rising inflation, the energy crisis, and the continuing war in Ukraine, Q2 saw business events gather
momentum, with both group hotel room nights and business event RFPs showing strong increases.
"Most importantly, these improvements were seen across all geographic areas, but were particularly strong in the Middle East and North America."
Hotel group room nights index matched the gain with a rise to 83, representing stays during the quarter equivalent to 83% of pre-pandemic levels.
Recovery has been strongest in the Middle East and North America regions, shown by the hotel group room nights index.
However, global economic growth prospects have worsened since last quarter – with high inflation growing business costs, sapped consumer spending power and spurred central banks to increase interest rates.
We hope you enjoyed reading this article and found it useful. At ExpoPlatform, we want to help you build better events and communities. Please get in touch and ask for a demo here. Thank you.