Five top benefits of event data and analytics
Unlocking the power of data can have a transformative effect on a company's success. That's why ExpoPlatform has interviewed leading exhibition organisers to better understand the ways data science can make an impact on events businesses.
Our research shows the greatest opportunities for organisers are:
The number one opportunity is to uncover customer insights in the data which can be used to shape product development, with 68% responses.

Connecting data sources and providing a seamless experience across the customer journey are two areas that would make a positive impact – 65% and 59% respectively.

AI-powered recommendations to provide users with personalised online experiences (62%) and Smart Event agendas (49%)

Providing exhibitors with lead dashboards and demonstrating return on investment (ROI) was chosen by 49%. While leads are important, finding new ways to sell data to exhibitors is of lowest importance.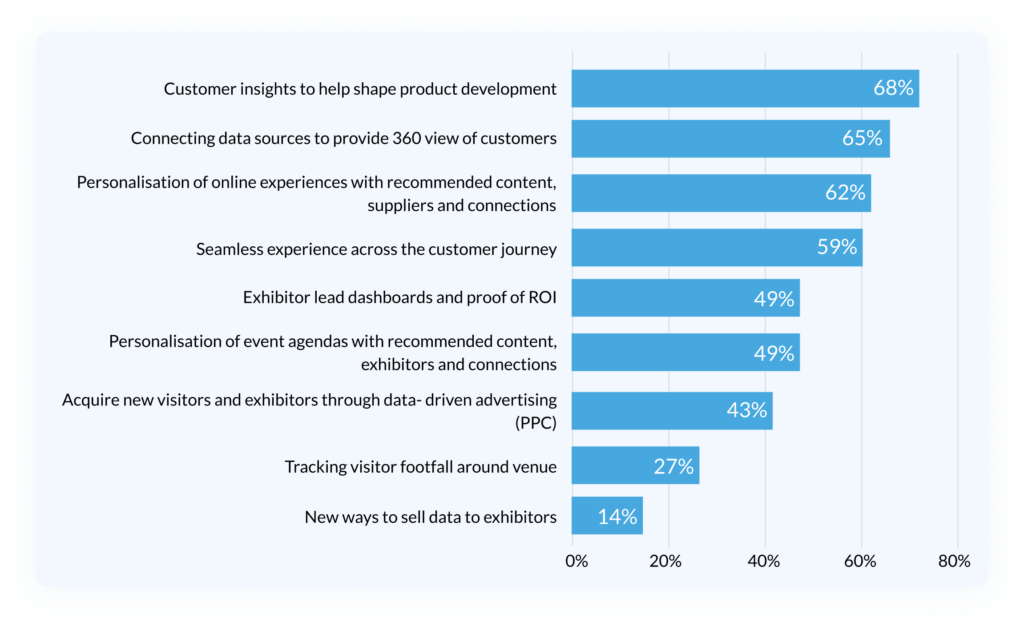 Paul Miller, CEO of Questex, highlighted the massive potential for those in our industry who are willing to adapt to change.
He said: "I do think the industry on the whole is full of very smart people who will find a way.  I think there'll be some big winners and some losers along the way, like there is with any kind of change. 
"Some of it I think is going to hurt us. Some of it if you get it right is going to be very beneficial."
Gunnar Heinrich, CEO of adventics, added: "You see there are so many outsiders of our industry that are linked to data: Alibaba, Facebook with a Metaverse.
"You can see what's going on, so there is a threat coming. Maybe you have a nice venue around but you will not be in the power position. 
"You will not be in the driver's seat driving the community. This will be then left to others and we should take care – but we still are in a good position."
You can find more insight about data analytics in our free AI Blueprint. Download it here.
Now, let's explore these areas in more detail.
Shaping product development
Our research reveals event professionals rank the ability to shape product development as the joint top opportunity for analytics.
Studying the data can give you insight into the trends within your community, which can be useful in making your upcoming events and online products more impactful.
These patterns could be related to the type of content being consumed by a group or the fundamentals of supply and demand within your community.
In this ExpoPlatform dashboard, supply can be tracked against demand from the visitor community. It is measured by the number of products and exhibitors in a category.
High demand and low supply could indicate a sales opportunity, while poor demand and high supply could indicate your exhibitors are not going to have a productive event and the visitor acquisition strategy should shift.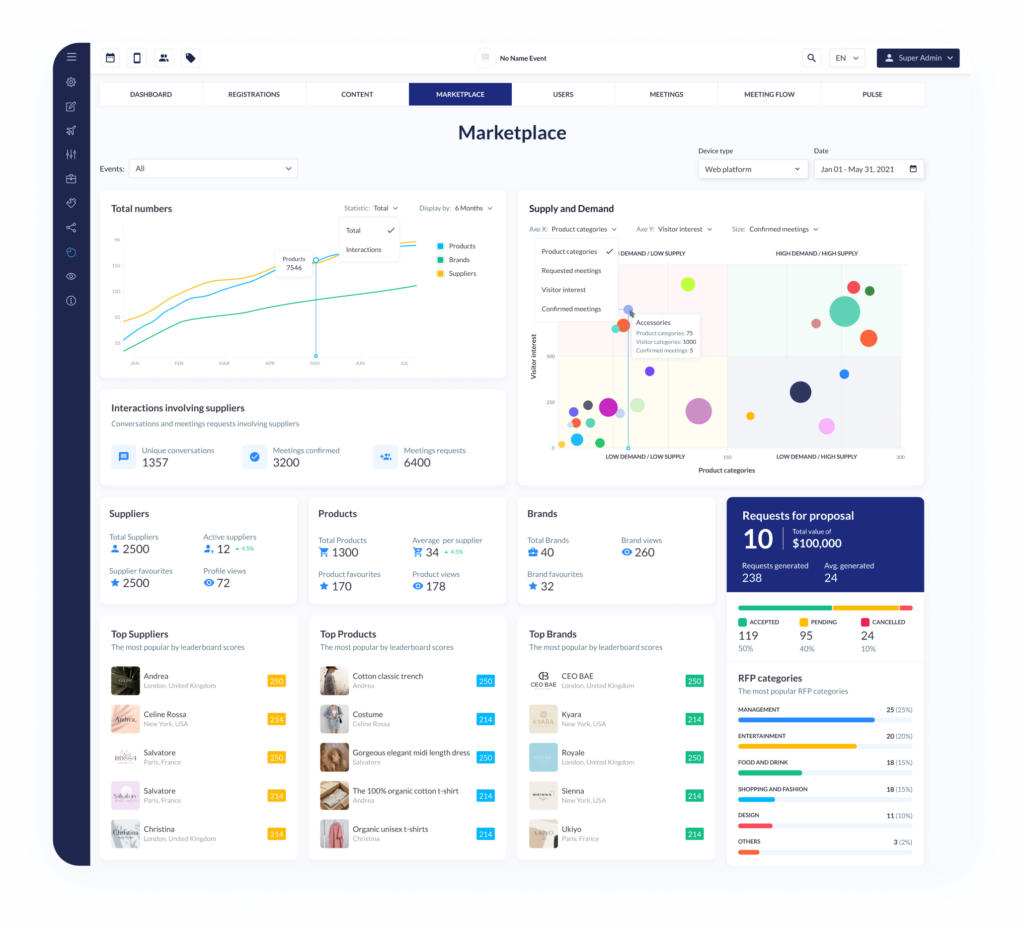 Gunnar Heinrich said: "Every product manager needs the product attributes at his hand to develop the product further over the lifecycle and the instances of a product."
Behavioural information, not just what they registered with, is important to understand to to move your product forward meaningfully.
Gunnar gave an example of how an agricultural fair may have attendees who say they are interested in corn, but their behaviour indicates they want rice.
This could be down to a number of reasons including a new demographic within your audience.
Organisers have several options then to develop their shows using this data.
Gunnar added: "If you have all this information you could manage spin offs, or mergers or you can make better decisions about whether you buy another company in this segment.
"Another strategic action could be to do a geoclone of a show – maybe go to South Africa or to China or to go to South America and make a clone of my show there.
Mark Parsons, founder of Events Intelligence, added: "People have got certain interests and are part of certain trends.
"It's important to have an ability to slice and dice and look at things in clusters to learn what your audience is interested in.
"That's the big data lens, it's the core competency of what an organiser needs to be doing.
"That's how you find your next show, that's how you find your next growth pocket."
Seamless experience
Event professionals rank this as very high in importance. The omnichannel experience should be a seamless transition from community to event and back again. 
This works better both for customers as they don't have to jump between platforms, while organisers can also progressively build richer profiles of the audience.
It means they can start to offer increasingly personalised products and recommendations.

Whether visitors are engaging online or offline, it is important to have a unified profile .
Stephan Forseilles, head of technology at Easyfairs, said:  "Create one profile which is the same for online and onsite.
"Everything you do online and anything you do onsite all ends up in the same place. 
"That means the people you interact with can be online or be onsite. 
"But it all happens on the same platform and you can decide to share your profile across different events."
Liz Irving, chief marketing officer for North America at Clarion Events, also believes it is important to use this wealth of information onsite and offline to personalise your offerings.
She said: "It always starts with the customer first – your stakeholders, your target audiences.
"Understand what their needs are, understand what they want to see and how they want to see it, then go and help create it.
"One of the things I've learned over the last 18 months is it always has to be about what the customers want or what your market needs.
"The great thing with digital is you have immediate results, you're not waiting until after the show – you actually have that data at your fingertips and you can improve as you go and be dynamic in your approach."
AI-powered personalisation
Machine learning – the branch of artificial intelligence (AI) which focuses on the use of data and algorithms to improve accuracy – has huge potential in the conferences and exhibitions industry. 
It's how Spotify makes 70 million tracks into a playlist of songs you might like, it's how Tinder can turn 57 million people into a list of potential dates or Amazon can transform 350 million products into targeted recommendations. 
AI matchmaking has changed the way connections are made at events. 
This technology can be used to turn a large-scale event into something highly relevant and personalised, providing focused recommendations for better, higher quality experiences for visitor and exhibitor alike.
It means an organiser can cut out the randomness of an event and maximise the most of a user's time at the show.
Stuart Ledden, Tarsus group marketing director, said: "Attendees and visitors have recognised the value of their own time. 
"What we need to do with the data is get a better handle on those consumer behaviours.
"We're going to find that people are going to attend live events with the same kind of mentality – they're here to do something specific."
Examples of event personalisation can include:
Recommended content agendas, including meetups and conference sessions

Recommended people to network with

Targeted list of exhibitors to meet

Use of request for proposals and hosted buying to connect buyers and sellers
Tracking visitors around venues
Badge-scanning technology can be useful at in-person events for working out what was successful at an event and why.
The in-show behaviour of these attendees can be analysed to see where they were interacting at the event.
The three main benefits of tracking visitors this way are:
Blue dot wayfinding:

visitors can't easily find their way around, which means they don't get to see exhibitors relevant to them.

Exhibitor ROI:

metrics for every stand across the entire show floor. Sales team can access at any time, during and after the event.

Push notification messages

to be hyper-targeted based on a visitor's current and /or historic locations.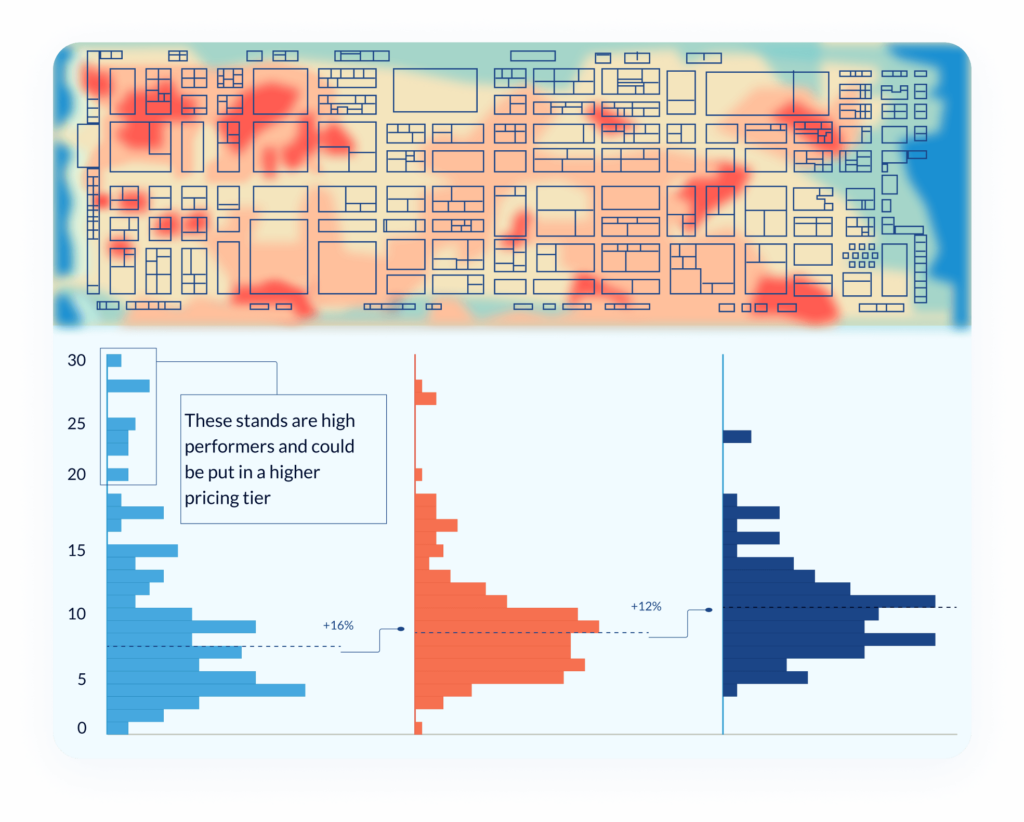 Mark Maydon, director at Crowd Connected, said: "It's no longer just about mapping, wayfinding and navigation – it's about discovering. The app becomes a kind of digital concierge service.
"It helps you find what you came for and discover what you didn't know was there."
He added: "We're helping the organisers by taking all of that footfall data and delivering it back via the organiser to the exhibitors. The customers then have evidence of how well they performed at the show." 
As with any data it's important to separate signal from noise. That's why technologies are being developed where historically disparate data sets are being joined up. 
This allows for key profiles to be targeted to find out how they are behaving at an event – identifying the big spenders, not the time wasters.
Paul said: "There's maybe a clown juggling on someone's booth and all of a sudden it's a hotspot for 20 minutes. 
"I'm more interested in whether someone spent 20 minutes at the IBM booth – that's much more interesting to me. 
"That opens up a whole layer of discussion of how you can work the show better, how we price the positions of the show."
Better ROI reporting for exhibitors
Today's marketers are used to using Linkedin, Google and Facebook – platforms which all show real-time statistics.
It means the event industry needs to be just as transparent about how budgets are being spent.
In fact, 44% of respondents to an ExpoPlatform data in events survey ranked return on investment as the metric which should be most focussed on.
Providing customers with useful information about who is engaging with their profile and content is now a must – organisers can no longer expect rebookings year after year without proof of ROI.
Virtual event platforms provide exhibitors a real-time dashboard of information about all customers who have engaged with them
Integrated mobile apps allow for lead scanning of badges – barcodes or QR codes – which is available for visitors and exhibitors who can rate and categorise leads and add notes.
All leads captured are stored in an exhibitor's dashboard, bringing together online and offline results together into a single view.
We hope you enjoyed reading this article and found it useful. At ExpoPlatform, we want to help you build better events and communities. Please get in touch and ask for a demo here. Thank you.