New Releases
New 365 Marketplace Updates
January 30, 2023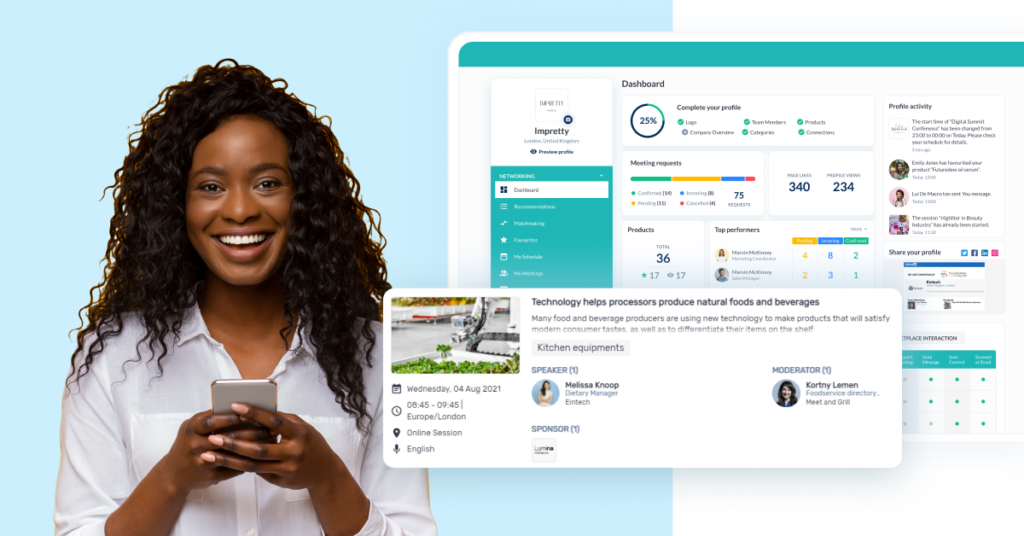 We have made a series of improvements in our Marketplace, all designed to help you to better connect buyers and suppliers year-round.
This month's product release includes:
Improved lead generation and notifications for supplier content
Webinars included in company profiles and Lead Intelligence dashboard
Take more control of sponsorship, product limits and search results
Here's an overview of all the updates:
1. Webinar sessions in company profile and dashboard
Sponsored content sessions – Live and On-Demand – are now included within the company's profile.
All interactions that users have with webinars are now made visible within the Lead Intelligence dashboard. Suppliers will be able to see the details of everyone who has 1) booked a sponsored session or 2) attended a sponsored session.
2. Supplier marketing content upgrade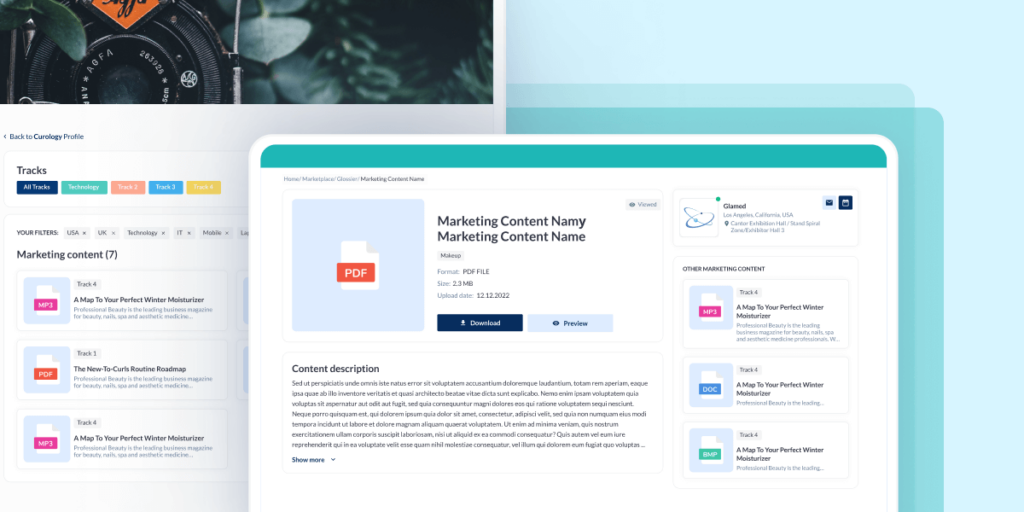 All supplier marketing content now has their own public page and unique link that exhibitors can share with their customers.
3. Supplier notification of leads
A new e-mail template is added "Marketing content download" to the "General" section of Registration e-mails builder (/admin/emails) which will fly to exhibitors whenever a user downloads their marketing content.
What are the benefits?
Show admin can now notify exhibitors by triggering an automated email for marketing content downloads.

User information can also be added to the email for lead visibility.
4. Sponsored category pages
In Admin panel – Event Setup – Networking & Matchmaking – Categories for local categories a new setting is added to attach custom banners with category pages. Category banners have a higher priority and replace the default marketplace banners when the user lands on the category pages.
What are the benefits?
Additional Monetization opportunity

Personalized display of banner based on category pages visited by the user
5. Customizable address field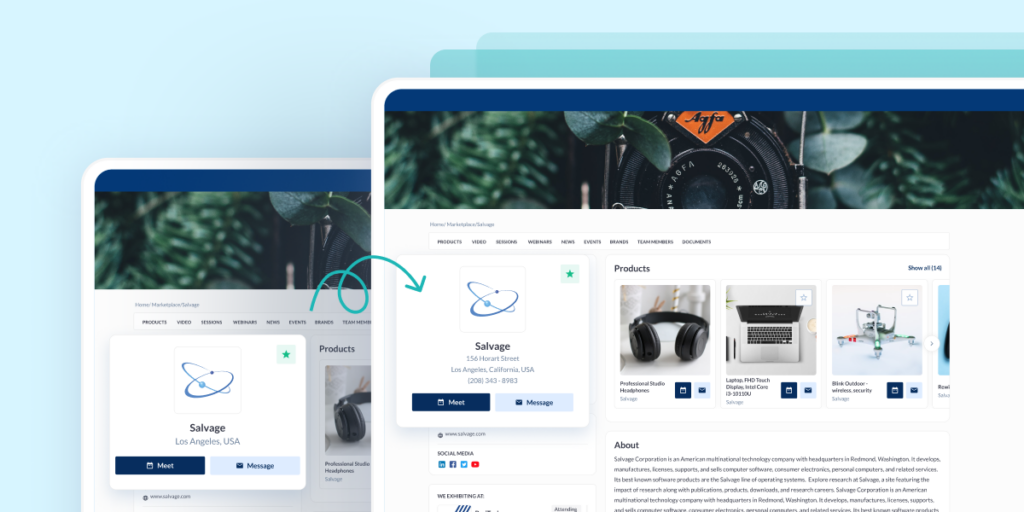 New setting "Show in exhibitor & product cards" inside /admin/registration/esettings is introduced.
Checkbox options are: "Country", "Region/State", "City", "Address", "Phone number".
What are the benefits?
It is possible to customize the location fields that appear on the public pages.

Improved visibility of exhibitor listing and page address fields.
6. Product descriptions, unlimited
There was a significant gap between the legacy interface and the new interface: in the past, there was no limit to the length of the product description, while in the new interface, there was a limit of 1000 characters, which led to a frustrated user journey. Now, organizers can use any integer value to set limits.
What are the benefits?
Makes monetization of product description easier for the organizer.

Prevents exhibitors from entering too long product descriptions.
7. Featured product limits, chosen by suppliers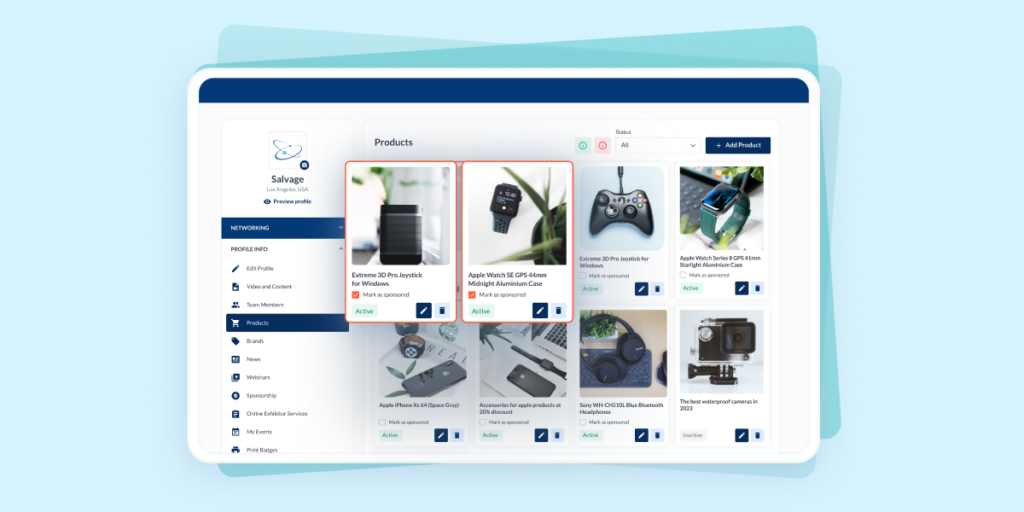 Organizers can now choose to set a limit on the number of featured products a particular exhibitor can have
In the admin,

Management > Sponsors will have a new column called "Sponsored Products Limit" along with a new "Sponsored Product Limit" field which will be empty by default and when empty will allow unlimited featured products
Under Management > Exhibitors in the sponsorship section of the exhibitor edit page, there will be

a new "Sponsored Product Limit" field, also empty by default
Exhibitors can now choose which of their active products should be shown as featured products through a new checkbox in the Add/Edit Product section
What are the benefits?
Prevents showing lots of featured products from one exhibitor at the top of the Products page, providing a better experience for visitors, better exposure for all exhibitors purchasing this sponsorship, and the ability for the organizer to include different levels of sponsorship
8. Re-usable fields in registration forms
In the registration form, organizers get more flexibility by re-using fields such as country, state and city. This helps exhibitors clearly define their warehouse or distribution country separately. 
9. Parent-child management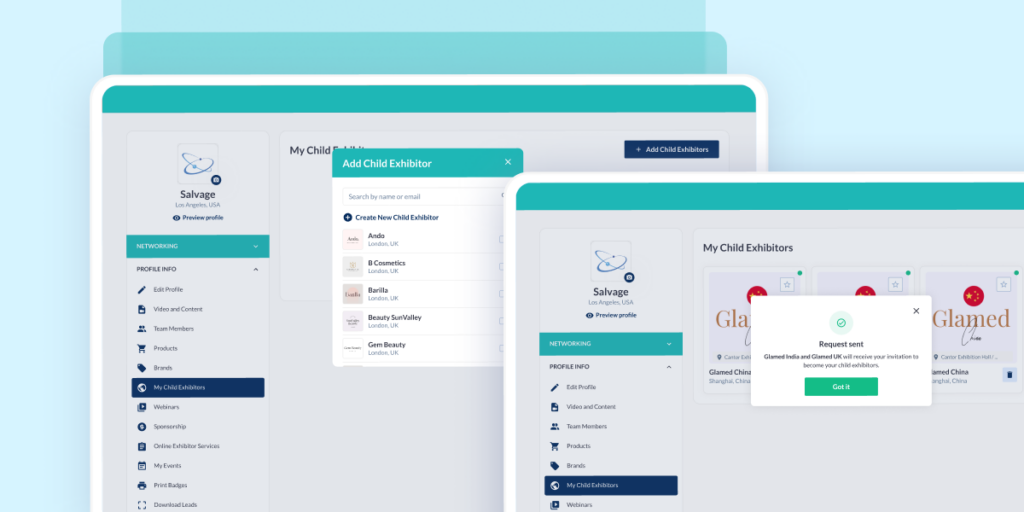 Parent exhibitors can now manage their child exhibitors through the front-end Edit Profile section
Here they can see a list of all of their existing child exhibitors and click into each one to visit that child's exhibitor page and the parent exhibitor can also add a new child exhibitor from this same section

Related to this, there are several new admin settings:
Option of whether to provide the ability to add a child exhibitor on the front end under Edit Profile.  By default, this will be OFF

When on, option for the organizer to configure what product category should be assigned for newly added Child exhibitors. There are 3 choices:  

"Without category"

"Inherits from parent" 

"Can have next categories:". Where the organizer can choose from the list of event product categories
What are the benefits?
Easier child exhibitor management for the parent exhibitor

Control over whether, and how, child exhibitors can be added by parents
10. Set default number of suppliers in Marketplace search results
A new admin setting allows the Organizer to decide how many exhibitors should be shown by default on the Marketplace/Exhibitors  page
What are the benefits?
Additional monetization opportunities for the Organizer (since there are more exhibitors shown by default, there are more Featured Exhibitor opportunities)
New Floorplan
January 5, 2023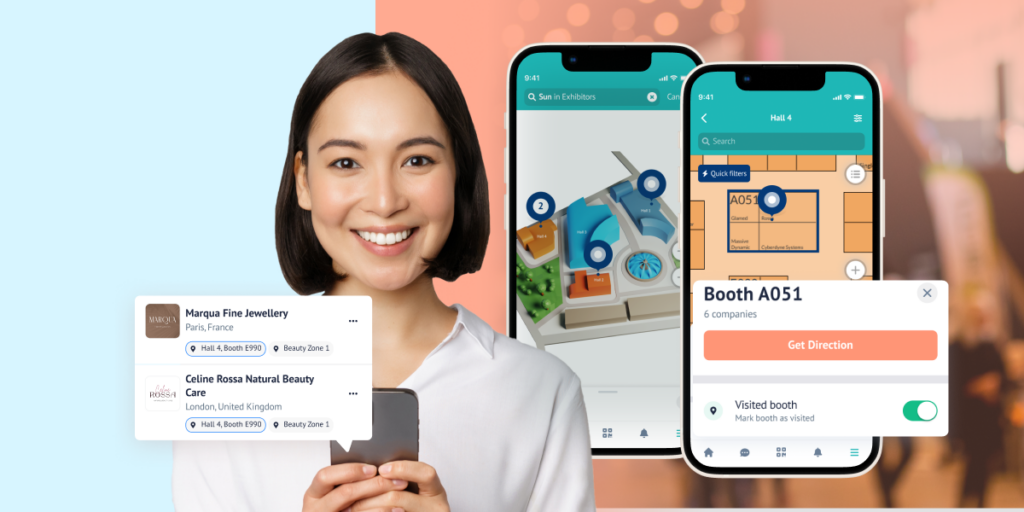 ExpoPlatform's new Interactive Floorplan empowers visitors to discover and navigate your events with ease.
The all-in-one editor and visualizer highlight the exhibitors, content and products they need as part of an integrated Smart Event experience.
Here are the new features:
1. Search and filter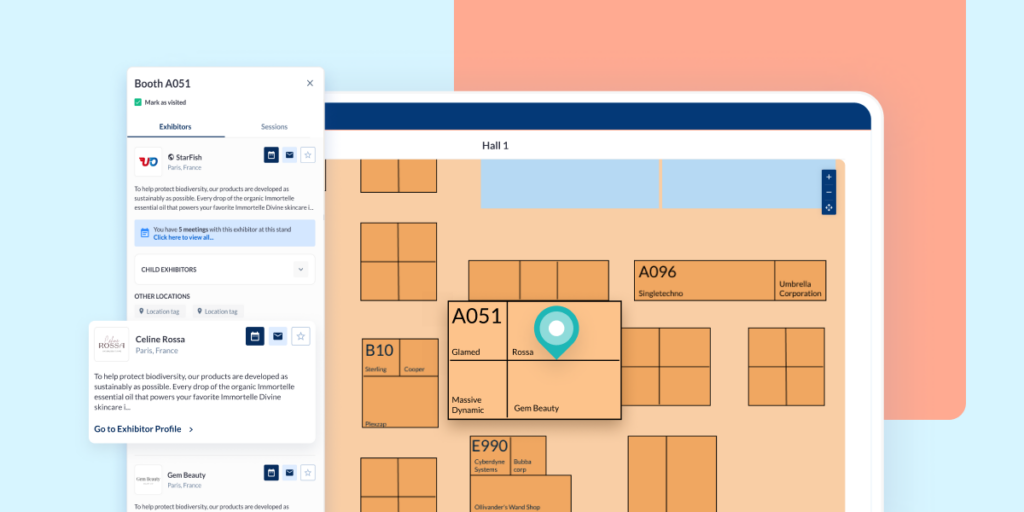 Easy to search and filter for exhibitors, using a range of custom tags. 
Personalized quick filters empower visitors to find bookmarked exhibitors, confirmed meetings, scheduled sessions, favorites, stands visited and more.
2. Wayfinding

Routing shows the most efficient way around the venue to help visitors navigate an event.
They will find the best direction between two points, supported with step-by-step automated directions.
3. New floorplan editor

The new floorplan builder allows organizers to make all edits from a single place. You can add, remove and move stands, rename exhibitors on a stand and more. 
Add/remove stands or zones for current exhibitors, and draw and edit interactive stand shapes.
Exhibitors can customize their stands on the map with brief information, custom branding and links to the individual profiles.
4. Visualize more than one hall
Support events of any size by using a general hall plan for large-scale shows and zoom in for a single hall layout.
Manage hall working dates and timings and apply it to the entire event. You can also indicate the hall will be closed on a particular date.
5. Upload map with DXF importer
Allows import of interactive stand shapes on top of the hall image – exhibitors get tagged automatically if the stand number is identical. 
QR Scans Report
November 23, 2022
Detailed report of QR codes scanned for a specific event:
Exhibitors

Products

Content

Visitors

All four tabs will consist of the basic system fields: scanee & the person (object) getting scanned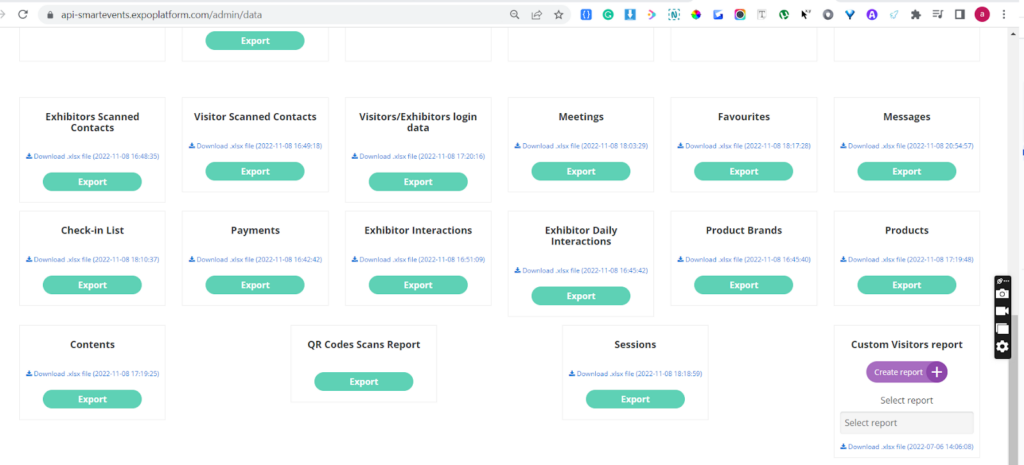 What are the benefits?
Measure which QR code was scanned onsite

Distinguish the lead retrieval route
Summary of features
In  Data > Import/Export > QR Scans report, data will be divided into four spreadsheets