Confidence boost as restrictions ease: The Week in Events
This edition highlights how the UK has been declared "open for business" as travel restrictions were eased and confidence returns. We've also got some top takeaways from the AEO Forums 2022. Meanwhile, Informa has seen its shares rise 7% after doing a deal for its Pharma Intelligence business, while a German travel trade show has gone on tour after a "rethink" of event concepts.
Here's everything you'll find this week:
Informa sees shares rise after pharma intel deal
UK confidence back to pre-Covid levels as restrictions lifted
ExpoPlatform announces partnership to drive Smart Events
German travel trade show 'rethinks concepts' as it goes on tour
Eventprofs must tackle climate change together – report
Informa sees shares rise after pharma intel deal
The world's largest organiser has seen its shares rise after agreeing to sell its Pharma Intelligence business.
Informa PLC has done a deal with New York-based investment fund Warburg Pincus worth £1.9 billion.
Share prices rose 7% after the announcement on Thursday with the businesses having drawn "significant" interest over the last few months.
Stephen A. Carter, group chief executive, said: "Since announcing the intention to divest our Informa Intelligence portfolio, we have received significant interest in its high-performing brand portfolio, leading to today's binding agreement for Pharma Intelligence, which reflects the quality and value created in this business, as well as its significant future potential."
Pharma Intelligence – which provides data on clinical trials, drug treatments and medical devices – made up about 40% of Informa's Intelligence unit in 2020.
This part of the division also reported revenues of £305 million and around 50% of reported divisional adjusted operating profit of £103m.
Informa's deal with Warburg is expected to be completed by June, while the group has separately announced it will also start a share buyback.
UK confidence back to pre-Covid levels as restrictions lifted 
The UK has been declared "open for business" as confidence returns to pre-pandemic levels for the first time after travel restrictions were eased.
Passengers arriving in the UK no longer need to show proof of a negative test as long as they are fully vaccinated, removing a great deal of uncertainty for our industry.
New figures from UKInbound released after the measures were lifted show business confidence has returned to pre-pandemic levels for the first time.
Today we are lifting the remaining testing requirements for fully vaccinated travellers entering the UK.

Britain is open for business.

Thank you to the millions of people who have come forward for their jabs and made this step possible.https://t.co/oDtjuZCn0e pic.twitter.com/VJBGcYXyCb

— UK Prime Minister (@10DowningStreet) February 11, 2022
UK Transport Secretary Grant Shapps said: "The UK has eased international travel measures for COVID-19 and now has one of the most free-flowing borders in the world – sending a clear message that we are open for business.
"As our travel sector rapidly recovers, and we accelerate towards a future where we want travel to remain open for good, these rule changes coming ahead of half term are good news for families, businesses and the travel sector."
Prime Minister Boris Johnson announced the restrictions would be eased in England last month, before coming into effect on Friday. Scotland, Wales and Northern Ireland also removed the measures on this date – but travellers to all nations must still fill out a passenger locator form.
UKInbound's Q1 Business Barometer Member Survey shows that 56% of inbound tourism businesses are confident about bookings, visitor revenue and customer orders for the next 12 months. The association said this figure has not been recorded since July 2019.
Joss Croft, CEO of UKinbound, said: "After a two-year hiatus it's fantastic that business confidence is finally returning, and that the UK is now open for business.
"Our members are eager to welcome back international visitors with open arms and start trading their way to recovery, but we can't let confidence levels mask reality – 2022 is going to be tough."
Meanwhile, France, Portugal and Greece have also updated entry requirements for fully vaccinated travellers. The changes mean these people heading to Portugal and Greece no longer need to provide a negative test to enter. France has said it will drop the measures in the near future.
German travel trade show 'rethinks concepts' as it goes on tour
A major German travel trade show has launched a foreign tour for the first time as it works to "rethink concepts".
ITB Berlin has announced it will host three event formats as part of its 2022 schedule, which includes networking opportunities abroad.
The virtual ITB Berlin Convention will take place from 8 to 10 March as well as the Digital Business Day on 17 March.
Two live in-person events will also be held in other European countries for the first time as they launch a new series of exclusive live B2B networking events.
David Ruetz, head of ITB Berlin, said: "If there is one thing that is good about the pandemic, it is that we can completely rethink concepts.
"In addition to the virtual formats of the convention and Digital Business Day, it was important for us to satisfy the urgent need for face-to-face meetings by offering fascinating networking events.
"These events give us an opportunity to spread out services over the course of the year and bring some 200 senior decision-makers together with relevant providers in selected markets. This is a first and we are already looking forward to it."
The exact dates and locations of the B2B networking event series will be announced soon.
Top takeaways from AEO Forums
The AEO Forums 2022 signalled a "reset" of the events industry as professionals gathered to share insights for the year ahead.
Conversations focused on topics such as mental health support, sustainability and embracing flexibility to tackle recruitment challenges.
Anna Knight, vice president of the global licensing group at Informa Markets, gave us her top takeaways from the event.
She said: "Is it time to reset targets or are we going to go back to the time of quantity over quality? In the same way engagement trumps volume in the digital space, what's the happy medium for in-person?
"Recruitment is harder than ever but it's not just about the money. Any workplaces that think expecting employees to do 5 days a week in the office or that don't fully embrace flexibility will struggle with recruitment and lose existing talent.
"Surprise surprise – everyone wants data driven marketers. My view is all marketers should be data-driven or at least data-curious.
"Mental health is a super important topic. Lots more people have found the balance now with balanced working so don't screw it up by under-resourcing teams again.
"We should be getting to the stage where our clients are partners not suppliers or one-off transactions. How much do we know about our clients to truly drive a partner relationship?
"Marketing should be given a seat at the table in all decision making and hope to see more commercial leads coming through marketing."
Eventprofs must attack climate challenge together – report
The events industry must rethink its relationship with climate change, according to a new report.
BCD M&E's new Sustainability Report for Meetings & Events shines a light on the impact shows and corporate travel has on the environment.
It also places a focus on how event profs can move together towards a more sustainable future.
Our 2022 Sustainability Guide for Meetings and Events, in partnership with Radisson Hotel Group and Liberty International Tourism Group, is here! Download your copy at: https://t.co/Ibh2MZDIhw #BCDME #sustainability

— BCD Meetings & Events (@bcdme) February 9, 2022
The report highlight five key areas of concern that have a "big opportunity" for change:
Events with many in-person attendees (100 or more), such as a congress or sales meeting
Events with a high proportion of delegate travel (especially via air)
Events with a tradeshow or exhibit hall component (which tends to produce high waste)
Events that don't require RSVPs or have a history of no-shows (potential for high food waste)
Events that take place in venues, regions or countries that don't prioritise sustainability
Kathy Jackson, vice president, said: "As an organisation, we would be remiss not to acknowledge the impact that climate change is having on our planet and our industries' role in that
impact.
"By working together with our industry partners, we can attack this complex challenge with intention, discipline and cautious optimism to build a better future for us all."
EXTRA: ExpoPlatform announces partnership to drive Smart Events
Here's a final extra from us – ExpoPlatform has entered into a strategic partnership with Crowd Connected to drive the exhibition industry's Smart Event agenda.
Our mobile apps will now be location-aware by harnessing the fellow UK-based technology provider's best-in-class indoor positioning solutions – benefitting organisers, exhibitors and visitors as live shows return post-pandemic.
The integration of Crowd Connected's software into our offerings means ExpoPlatform now provides an enhanced suite of data-driven services, making our mobile app ever more valuable through the partner's full toolset:
In-app blue-dot navigation and wayfinding, overlaid on an interactive floorplan
Location based personalisation and recommendations
Footfall-based exhibitor performance insight for every stand/booth at a show (via Crowd Connected's Bluebird product)
Real time data visualisations such as heatmaps
Industry leading visitor behavioural analytics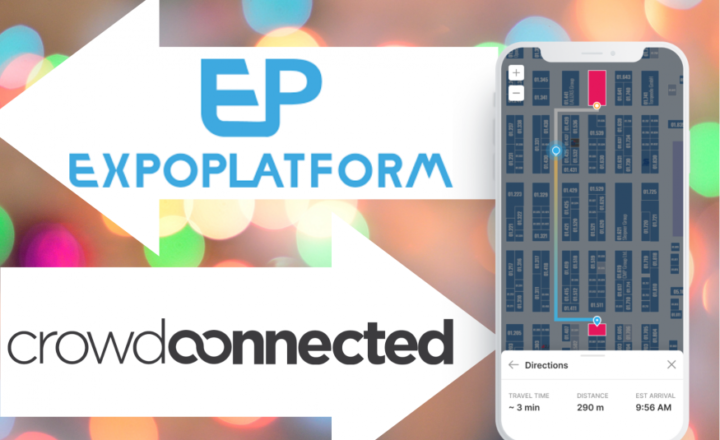 Tanya Pinchuk, CEO and co-founder of ExpoPlatform, said: "Our mission is to accelerate the digital transformation of the event industry through smart technology. Crowd Connected's credentials meant they were the natural partner for us when it came to the location technology component of our platform."
Mark Maydon, commercial director at Crowd Connected, added: "ExpoPlatform's focus on helping organisers create more valuable live experiences is completely in tune with our own approach. We're delighted to be working closely with their team to help organisers deliver smarter, data-driven in-person events."
Read the full announcement here.
We hope you enjoyed reading this article and found it useful. At ExpoPlatform, we want to help you build better events and communities. Please get in touch and ask for a demo here. Thank you.