10 Minute Meetings
March 30, 2022
The duration of the meetings can now be selected as default 10 minutes, in addition to the existing default 15 min format. This setting is available as "Meeting time step" in Networking & Matchmaking / Meeting.

If 10 is selected, users will select time slots in 10 min format. For example: There would be 6 slots of 10 meeting minutes each, instead of 4 slots of 15 meeting minutes each. (previous case)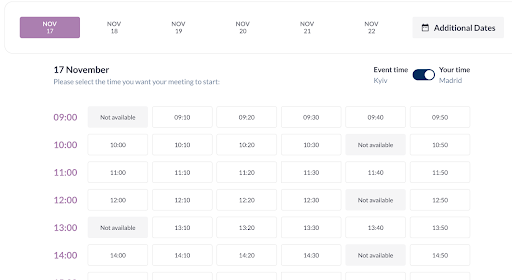 What are the benefits?
Reap big returns from meetings that can run for only 10 minutes or multiple of 10's.
Speed networking with other parties
Optimize your calendar & promote efficiency

Summary of features
Universally easy to understand for people who are not good with numbers as default time slots would be in the multiples of 10.

Organizer can optimize the number of meetings to be scheduled by different users when the length of the show is small.