Will the metaverse transform tradeshows? The Week in Events
This edition of the Week in Events showcases a special session focusing on the metaverse and tradeshows. This event was held by ExpoPlatform and EIN to provide some expert insight into how this futuristic world might impact our industry. We also take a look at how some nations are benefitting from relaxed travel rules, as well as a return to form for US exhibitions. Here's everything we'll cover:
How will the metaverse transform tradeshows?
US B2B exhibitions see significant bounceback
Singapore travel rules removed as confidence grows
Eventprofs' views sought on UK reinsurance scheme
Boost for business Down Under as borders relaxed
How will the metaverse transform tradeshows?
It's the buzzword of business, tech and retail – but was does the metaverse mean for tradeshows?
That's been the question on the lips of many eventprofs ever since Facebook rebranded itself as Meta, with a $10 billion investment to go with it.
ExpoPlatform joined forces with EIN to answer that very question. In short, it seems this digital reality will be an extension of the Smart Event format we see emerging now.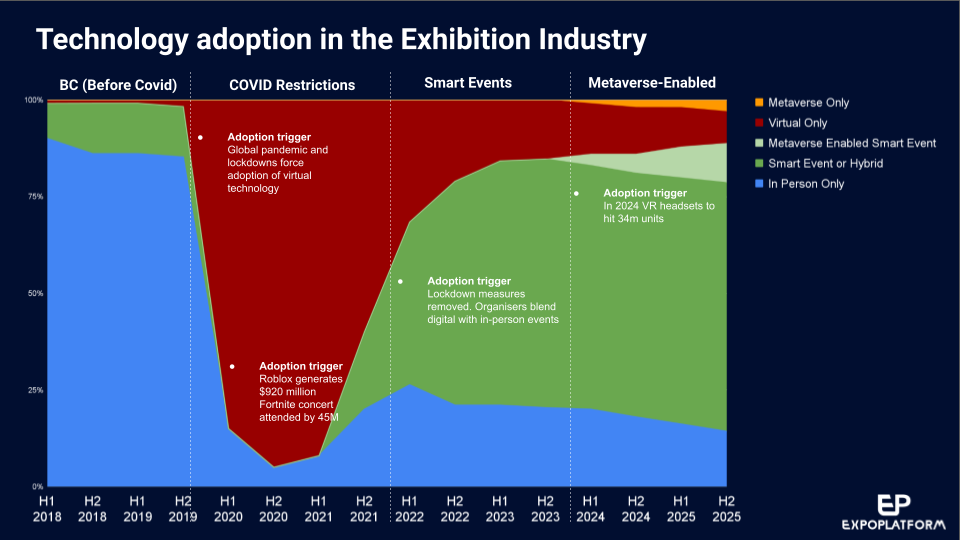 Luke Bilton, ExpoPlatform CGO, said: "We're starting to see how Metaverse only events could start to take over from virtual events. I think that transition seems like a relatively straightforward one.
"Next, we've got metaverse-enabled Smart Events. Taking that Smart Event platform and starting to add in Metaverse tools and technologies, augmenting that product set with different elements of the metaverse.
"We should be expecting a relatively slow adoption based on having organisers having the right product offering, the demographic shift of people who've grown up on those virtual virtual worlds entering the workplace and of course the mass adoption of the technology itself."
Adam Parry, editor or EIN, added: "I think much of what we'll see in the events industry will be driven by the attendees acquiring the technology, acquiring the appetite to actually engage in events that way. It'll be interesting to see how tradeshows can or fix that into part of their event formats."
Download our Smart Event checklist to make sure you have the right live show tech.
Face-to-face meetings will remain crucial to building trust, but there's no denying the possibility of a massive metaverse disruption to the events industry down the road. There are most probably going to be two main types of metaverse experiences: an augmented showfloor experience and a remote virtual attendance.
The first of these options would allow you to move around an exhibition using technology like a headset to see how products might interact with an individual or space. The second is a more immersive route which allows attendees and exhibitors to take part in a show experience from afar.
Watch the full session on demand now for more insights from our expert panel:
Nick Rosier, digital director at 2Heads
Tanya Pinchuk , CEO of ExpoPlatform
Adam Parry, co-founder and editor EIN
Luke Bilton, CGO at ExpoPlatform
Narisa Wild, SVP digital solutions at Informa
Heather Holst-Knudsen, CEO of H2K Partners
US B2B exhibitions see significant bounceback
The US B2B exhibition industry saw a "significant" bounceback in the final quarter of 2021 with a major drop in cancellations.
Figures from the latest Center for Exhibition Industry Research (CEIR) report shows the rate of events been called off dropped to 12.5% from 91.3% in the first quarter, 66.2% in the second quarter and 20.6% in the third quarter of 2021.
Despite this, the sector still remains below 2019 levels for its overall performance, registering a decline of 45.3% compared with the pre-pandemic results. This improvement still has given eventprofs a boost in confidence – but fears have not completely disapperead.
CEO Cathy Breden said: "With more vaccine mandates and safety measures implemented at large gatherings – and with a majority of the population vaccinated – the recovery of B2B exhibitions should continue in 2022, unless a new variant causes a severe fifth wave of Covid-19 infections."
The US economy has been growing since May 2020, with a sharp rebound in the third quarter of 2020 and a continued recovery through the fourth quarter of 2021. Real GDP in Q4 2021 exceeded its peak in the fourth quarter of 2019 by 3.2%. 
Singapore travel rules removed as confidence grows
Singapore's restrictions are to return to almost pre-pandemic levels as the country continues to capitalise on growing event industry interest.
Testing and quarantine requirements for travellers will be streamlined under a new simplified Vaccinated Travel Framework, while most restrictions for fully vaccinated visitors entering the country will also be lifted.
This will provide another boost to Singapore's events industry which has already managed to poach major shows from Hong Kong, which has some of the toughest border rules in the world.
Prime Minister Lee Hsien Loong said: "I thank everyone for your collective effort, especially businesses and essential workers who kept our economy going and healthcare workers who have made great sacrifices at heavy personal cost.
"Do resume more normal lives, gather in larger groups with family and friends, go outdoors without masks, or reunite with loved ones abroad. But please also continue to exercise personal responsibility, test yourself if unwell, and self-isolate if you test positive.
"We are not at the finishing line yet, but we are getting closer. Let's get through this pandemic as one united people."
Informa Markets has moved Jewellery & Gem WORLD (JGW) from Hong Kong for a "special edition" in Singapore this year, with relaxed borders cited as one of the reasons for the decision.
Cosmoprof Asia will be also held in Singapore instead of Hong Kong, as it would make the experience "more convenient" for exhibitors and visitors who want to attend in November.
Eventprofs' views sought on UK reinsurance scheme
The UK Government is asking eventprofs for their views on a reinsurance scheme which was launched late in the pandemic.
Ministers introduced the £750 million initiative in September and are now seeking out feedback on its effectiveness.
It has been criticised for its limited scope – only providing cover for events cancelled due to government mandated lockdown or local authority bylaw – as well for its timeliness.
A Department for Culture Media and Sport spokesman said: "In September 2021, the Government launched the Live Events Reinsurance Scheme to support live events across the country — such as music festivals, conferences and business events — that are at risk of being halted or delayed due to an inability to obtain Covid-19 cancellation insurance.
"Cover through the scheme is available to purchase alongside standard commercial events insurance for an additional premium.
"We committed to a review point for the scheme in spring 2022, as part of our ongoing efforts to make sure the scheme achieves its objectives to support live events following the impacts of Covid-19.
"We are gathering views on the scheme from the live events sector to help inform this review. The purpose of this survey is to gather views from organisations and individuals in the live events sector on key issues relating to the Live Events Reinsurance Scheme."
The survey asks about how business turnovers were hit during the pandemic and what other insurance they hold, however it doesn't specifically ask whether they took out policies under the Live Events Reinsurance Scheme.
Boost for business Down Under as borders relaxed
Australia's federal government has given business a boost after announcing coronavirus-related travel restrictions would be lifted.
The decision to remove pre-departure testing for international arrivals from April 17, having previously had some of the toughest rules globally.
Melissa Elf, general manager of global corporate travel management brand FCM Australia, welcomed the move and called for firms to return to the air for business.
She said: "The removal of pre-departure tests for international arrivals is the last major step in Australia truly reopening to the world for corporate travel – big businesses now have the confidence to book and fly without the fear of last minute cancellations.
"We've already seen small-to-medium-sized enterprises roaring back to recruitment, events, and trade since domestic borders reopened as they recognise this is their window of opportunity to make big leaps forward – now is the time for big business to do the same."
We hope you enjoyed reading this article and found it useful. At ExpoPlatform, we want to help you build better events and communities. Please get in touch and ask for a demo here. Thank you.