Exhibitor Manual: tradeshow onboarding made easy
Online exhibitor manual are the easy way to onboard sellers at your tradeshows. This is a digital service in the event management platform that helps sellers work towards their goals.
These tools cut out the hassle and help to encourage repeat investments for future exhibitions by providing tools to:
Track invoices and payments
Manage documentation
Review task completions
Help in booth selections and more
Here we explain what an Exhibitor Manual is, its advantages and how organisers can use it to design a multistep pipeline for sellers.
Here's what you will learn:
Current scenario for exhibitors
The event industry landscape has changed significantly. Live shows are back but with a strong focus of tech-enhanced offerings.
But increased use of digital tools at tradeshows has created new challenges for exhibitors. This is a new landscape with more ROI generated by technology-driven events.
A big issue is the lack of knowledge and experience required to get familiar with different event management platforms. Organisers need to boost exhibitor confidence by building a seamless onboarding process.
Different tools can be used for onboarding, team management and logistics. However, this affects the data flow and integration. It's important to have all these in one place, preferably within your tradeshow management platform.
This is where an exhibitor onboarding platform comes in. At ExpoPlatform, we call it an exhibitor manual – you can take a look here.
What is an exhibitor manual?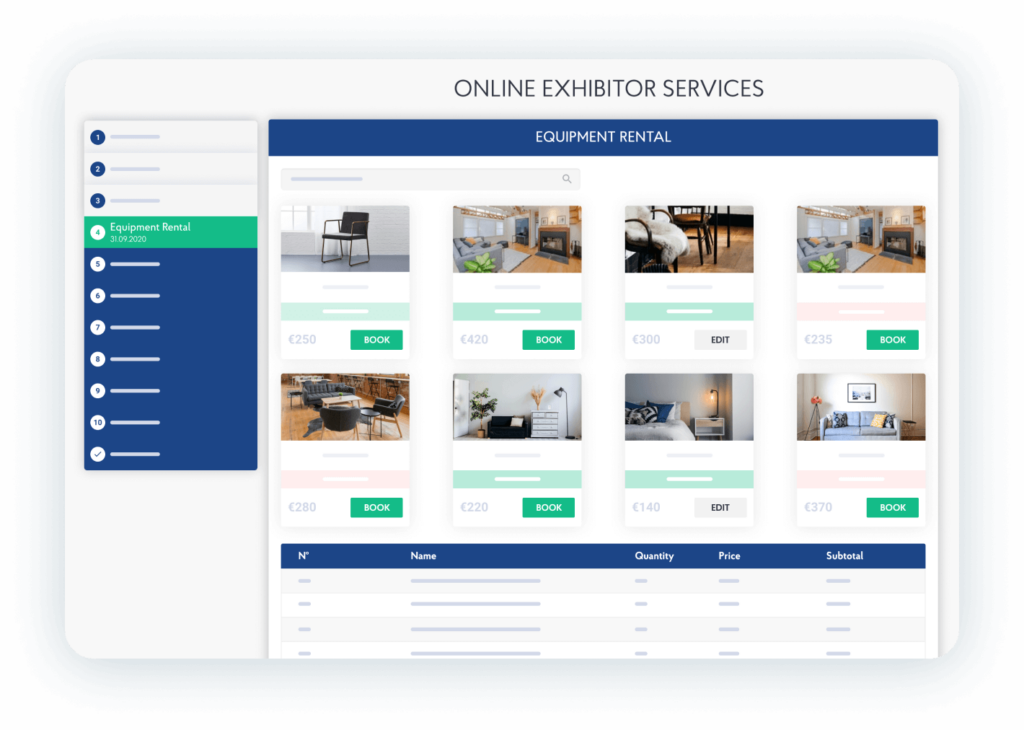 An exhibitor manual is a tool that helps onboard your sellers to the event. It is a set of documents setting out the rules and regulations for exhibiting at a tradeshow.
It prompts exhibitors to complete key information and upsell them into a variety of services. In a nutshell, it can be explained as:
A set of dynamic and interactive information gathering forms

An ordering system, that can collect payment on checkout through invoice or credit card
Exhibitor manual advantages
An exhibitor manual provides all the information needed by those selling at an event – from details on the event schedule and rules, to contact information for the organisers.
Having these details upfront helps exhibitors be better prepared for their time at the event, which leads to a more productive experience for both them and attendees.
The seller's journey is made more hassle-free by providing customised options for registration profile management, operations and logistics, cataloguing and more. Here are some key benefits:
Helps onboard your exhibitors, set checklists and deadlines
Provides relevant info if exhibitors and sponsors want to purchase additional services for the event
Helps manage health and safety submissions and other documentation
If you need to review the submitted information
Let's understand the seller's journey to get a better sense of how the exhibitor manual can help.
Explaining the exhibitor journey
Once an exhibitor decides to exhibit at your show, here's how their journey unfolds:
They need to get themselves and their team onboarded to the event management platform.
Set up their online exhibitor profiles as well as those of their team members and products
Managing these profiles – adding and removing team members, products, editing
They also need onboarding videos, guides and reading materials to get better acquainted with the event
Exhibitors will require certain logistical support and material from the organiser or buy them from vendors at the event
They will need a payment management system to manage their finances.
All this needs to be managed by the organiser. The introduction of an exhibitor manual makes this much and no longer requires to be a drawn-out process involving a lot of paperwork.
Design the exhibitor journey with a multistep pipeline
The exhibitor manual has powerful functions that allow an organiser to craft the seller's journey as they want.
This comes all with the comfort of drag and drop builders. Let's look at how:
Customise exhibitor's journey with multistep pipeline
You can create multistep pipelines to build profiles, collect documents, provide equipment orders and more. For example, you can make sure exhibitors read the necessary materials and submit the required documents. Then you can start filling profiles as well as going through tasks and deadlines. 
Modify flows for exhibitors using conditional logic
Build unique flows for different exhibitors using conditional logic. This can be based on their type, space type, stand size or just answers in previous sections. For example, sellers will get unique customised flows showing the various levels of access and benefits they have based on their package tier.
Cater to exhibitor's needs with vendor support
Provide vital vendor support to exhibitors in lending out products and services with a dedicated vendor section – backed by constant email support. An organiser who needs more services apart from equipment rental, it can be found through the exhibitor manual.
Analyse all exhibitor data on a single page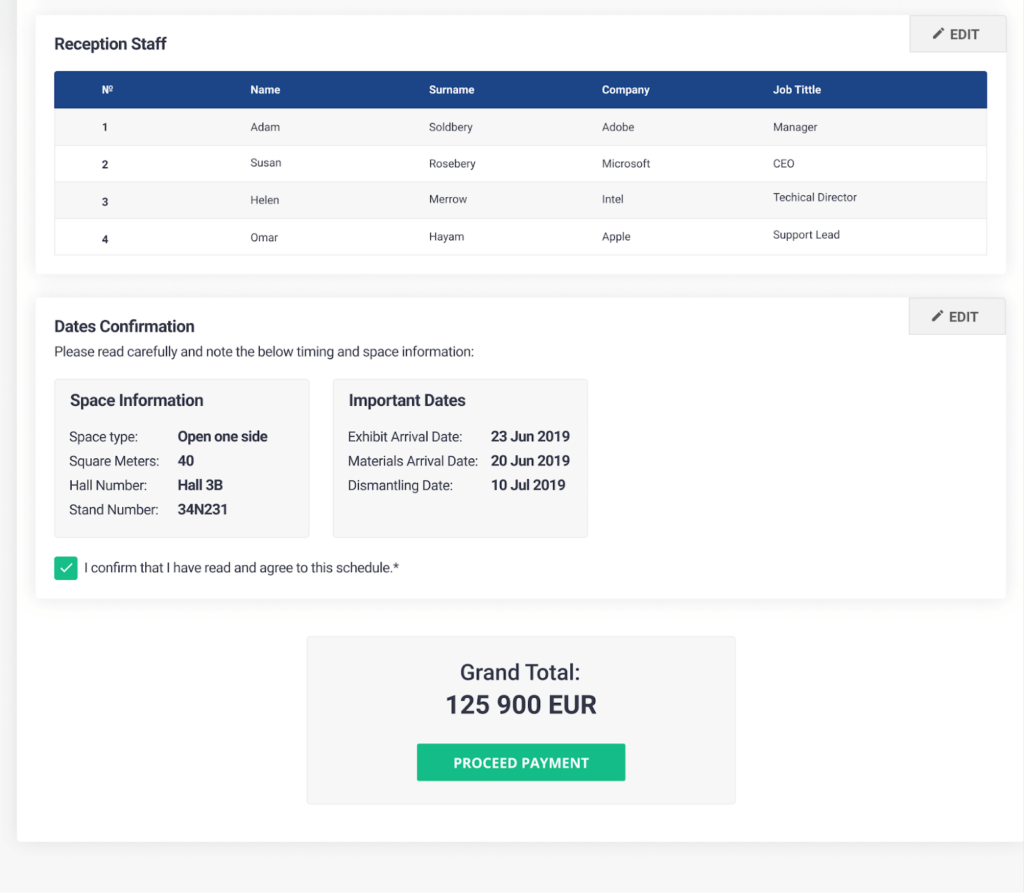 Get a tabular view of all exhibitor profiles and their submitted data respectively from the manual with expandable information under each field.
Conclusion
The exhibitor manual is one of the most important tools you can have as a tradeshow planner.
Exhibitors are an integral part of your event, so having a comprehensive guide helps them be prepared and successful.
Your online exhibitor manual can help them find more value through participation and focus on generating leads and driving ROI. Find out how you can onboard your exhibitors effortlessly with our exhibitor manual module.
We hope you enjoyed reading this article and found it useful. At ExpoPlatform, we want to help you build better events and communities. Please get in touch and ask for a demo here. Thank you.