What are the best online networking tools for events?
Online networking tools are really good at facilitating the right connections at in-person industry trade shows and conferences.
The right gadgets can help you connect with others, explore products and follow up with helpful contact information.
This helps to make the most of your trade show experience and build lasting business relationships.
Read on to learn about the most popular online tools for networking at events and how they help drive meaningful connections.
Here's what we will cover:
Need for online networking tools for trade shows
Nothing can quite compare to face-to-face interactions – you bond with people, discuss business interests and potentially build long-term relationships.
But there are limits to human capabilities and only so many people who you can talk with at a physical show. Here are some reasons how digital tools can help:
Get the most out of attending and exhibiting at events
When you invest your time and money in attending or exhibiting at an event, you want to make the most of it.
That means networking with the right people without spending too much time.
Digital tools like AI matchmaking and Smart Event apps help you make the right connections and engage before the show gets underway.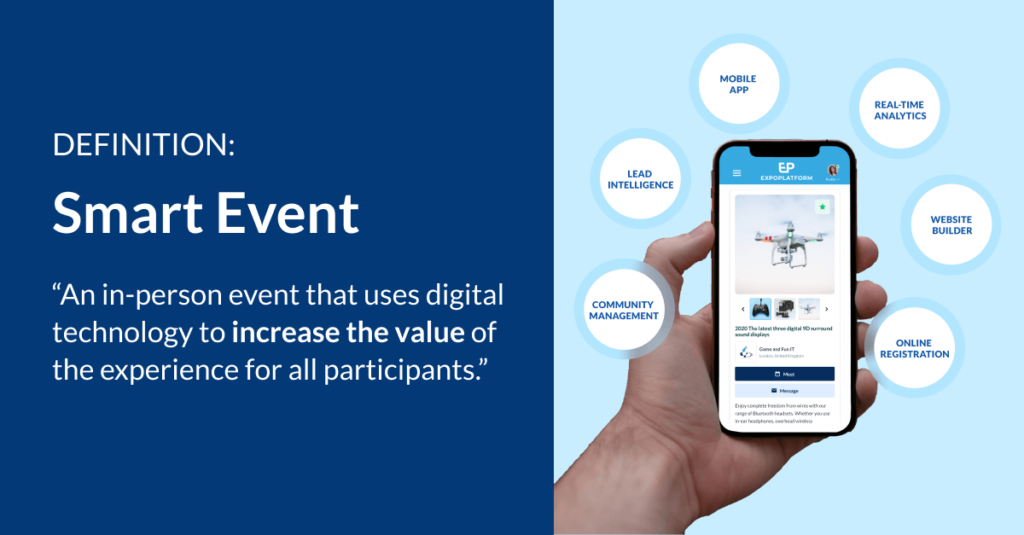 This gives you a good idea of the kind of people you want to do business with.
Large events can be overwhelming for new eventproofs
Starting out as an event professional might mean you don't have much experience meeting new people – and large events can feel intimidating.
But digital tools helps quickly find people who share similar interests and goals, making connecting easier and more efficient.
You can also plan your event experience in a better way – such as meeting speakers and peers relevant to your industry, getting valuable feedback and knowing how to build your network.
Need to prove ROI to stakeholders – engagement through networking is a good metric
Networking is a good step toward generating higher leads and increasing sales, but it's important to understand what metrics matter when measuring the effectiveness of your efforts.
For example, if you're looking to measure the impact of networking on lead generation, then you need to know whether attendees are actually talking to each other after the event.
You will require relevant tools to track the touch points, interactions and conversations to their conversion as a lead.
This helps shape the desired buyer journey and proves to your stakeholders the value of networking at events.
Make relevant connections – people, content, products in a limited amount of time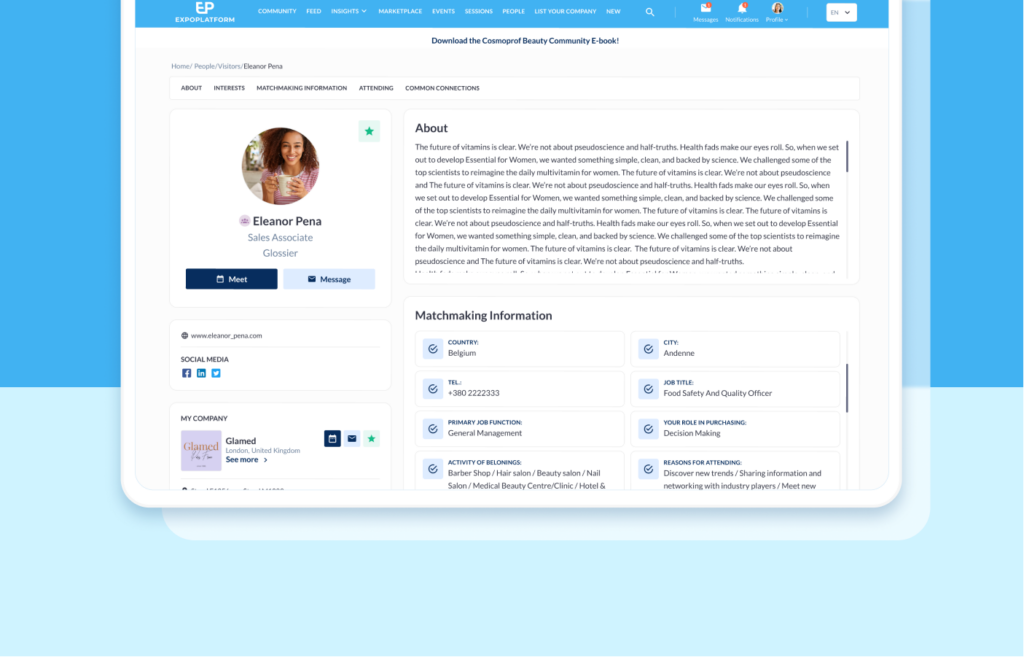 You don't always get the chance to speak to everyone at events. So, you need to prioritise which people you engage with.
Digital tools like AI matchmaking solutions help you identify the right prospects based on their profiles and preferences.
They also give you recommendations for content and products so you can make informed business decisions.
Another option is a hosted buyer programme where you get access to pre-qualified buyers or a select pool of exhibitors to boost sales. Read more about it here
Create an engaged pool of leads throughout the year
Business conversations can stretch beyond the confines of a typical three-day event.
The best way to keep your audience engaged before and after an in-person show is by onboarding them to your online community.
Create opportunities for members to interact through online forums and discussions. Also provide them exclusive offers, discounts and access to members-only shows.
This way you can create a thriving community of engaged event professionals and nurture them for brand loyalty and lead generation – all year round.
Learn how a 365 community can benefit your events.
Advantages of using online networking tools
Online networking tools can be an efficient, cost-effective and convenient method for building engagement.
They allow for more targeted and specific communication than broadcasting your message to a large group of people who may not be interested.
Here are some key advantages they offer:
Reach out to a larger audience
You can connect with a larger audience by creating your online profile, sending messages as well as sending and receiving connection requests.
With these tools, you can reach out to thousands of people within minutes instead of hours. You can send personalised emails, text messages, chatbots and even video messages.
Connect with more people in less time
Online networking tools help connect with more people in less time by providing a platform for users to share information and communicate with each other.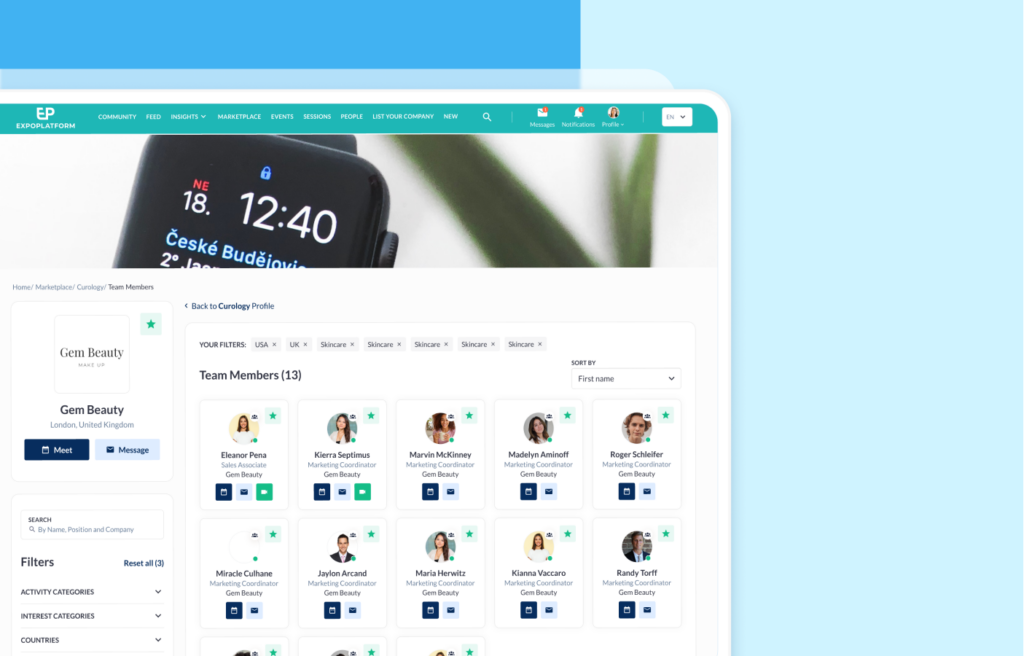 These tools can be used to build relationships, find new opportunities, and exchange ideas.
Helps as an ice-breaker for in-person meetups
Online networking tools can help break the ice when meeting people in person for the first time.
By getting to know people online first, you can build rapport and get an idea of their interests.
This makes it easier to approach them and strike up a conversation when you meet in person.
They are especially a big help if you are shy or introverted as you can find common ground with people before you even meet them.
Find relevant leads
Digital tools help accelerate the process of finding quality leads.
Exhibitors can quickly find relevant matches through smart AI algorithms, microsites or event communities and see whether they are a good fit for their product or service.
The selected ones can be nurtured into potential customers by gaining insights into their buying patterns and decision-making.
Similarly, buyers can learn more about different companies and their services and get relevant info and research on potential business partners.
Provides valuable data analytics
Event networking tools provide a wealth of data that can be used to improve the event experience.
Organisers can track meetings requested, engagement rate, messages sent and other engagement metrics to find out what worked during the event and what did not.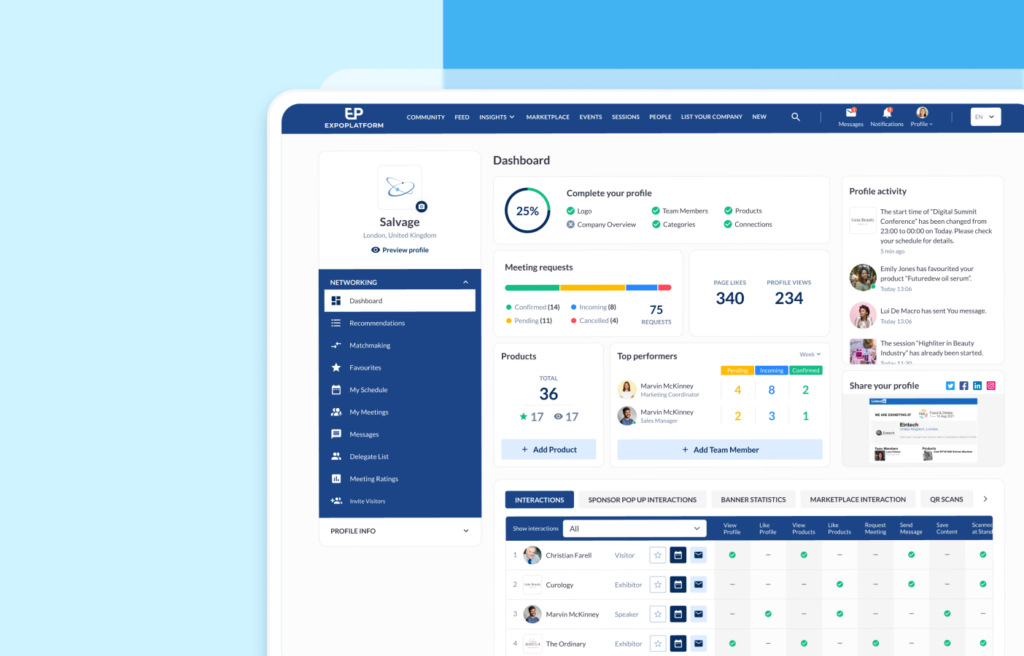 Additionally, these tools give valuable insights into attendee behaviour and preferences that can be used for business decisions.
Facilitate year-round interactions and business deals
Tools like 365 community and online marketplace are effective ways to futureproof your events from any abrupt cancellations or postponements.
These platforms provide an 'always-on' option for conversations and business dealings for buyers and sellers in any part of the world.
Setting up a 365 business model is key to creating an omnichannel sales solution for your audience. Get more details in this free ebook.
Best online tools for networking at events
From conferences and mixers to exhibitions and tradeshows – events are an excellent way to meet new people and expand your network.
But the hustle of getting there and wracking your brain for things to say can be more stressful than helpful.
The best way to get the most out of your event is by pre-planning, creating a game plan and using online networking tools.
Which are the most popular ones? Here's a lowdown:
What it is:
Microsites are small interactive websites that are typically used to promote events, special offers or new products and services.
You can use them to provide more information about exhibitors and sponsors and build relationships with potential customers and partners.
How it helps:
You can display exhibitor profiles, team and product information, marketing resources (images, text videos) to improve networking and engagement.
What it is:
Finding the right people to connect with becomes a formidable task when there are a large number of participants at the event.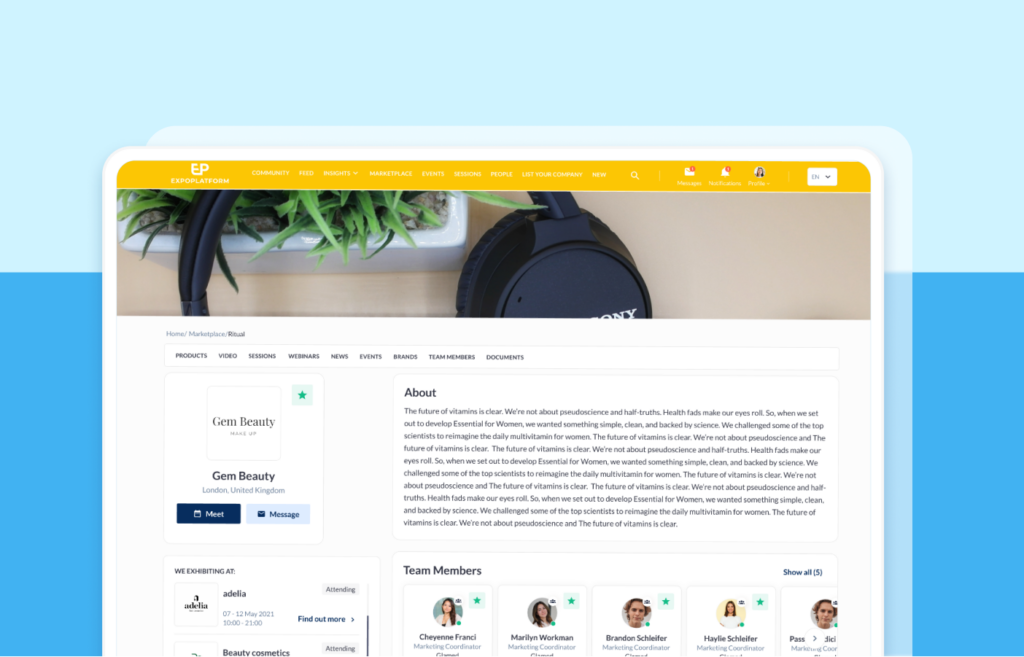 AI-powered matchmaking solutions use smart algorithms based on user interests, details and preferences to recommend relevant people, content, products and companies.
How it helps:
AI matchmaking tools help create a more personalised and efficient networking experience for event attendees. You can save time and have more productive conversations by connecting with people and resources that matter.
What it is:
A Hosted Buyer programme is an online platform that sets up scheduled appointments between pre-qualified buyers and interested sellers.
These buyers are usually hosted (sponsored) by the exhibitors or organisers who manage their travel, accommodation, meals and transfers to create a bespoke experience.
How it helps:
Hosted buyer solutions provide high-quality matchmaking and networking opportunities for buyers and sellers.
The highly-targeted nature of a hosted buyer programme means new industry exhibitors can cut through the noise and connect with relevant leads to drive business growth.
What it is: A mobile app equipped with advanced features to create a smart event experience.
These features include container apps, customised homepages, personalised agendas and streaming sessions, meetings and messaging, product Tinder view and more.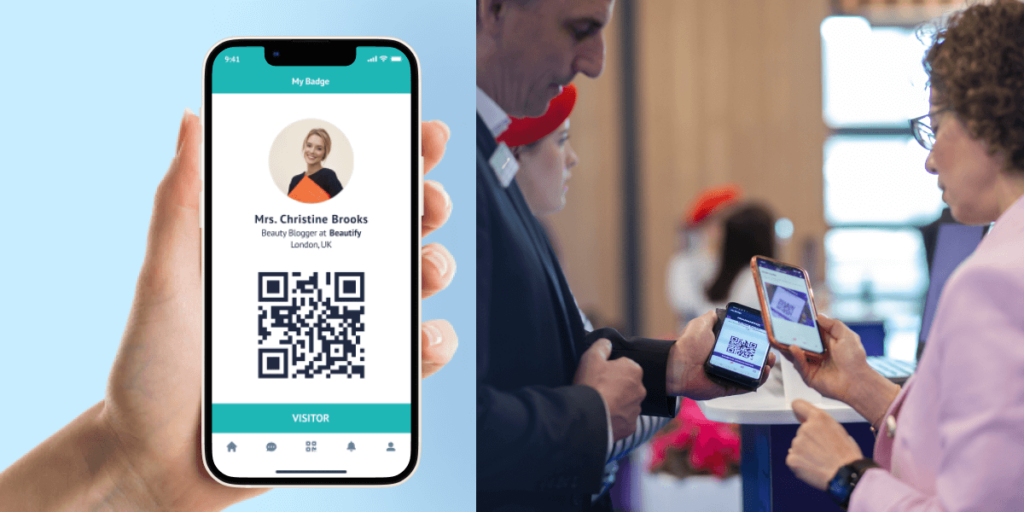 How it helps:
Create meaningful interactions with a click of a button. Attendees can exchange contact information, schedule meetings, send messages and explore business profiles.
Most online networking tools are integrated within the app for a streamlined experience.
Interactive product catalogue
What it is:
An interactive product catalogue allows attendees to browse through a range of products and services offered by exhibitors.
It includes features such as being able to zoom in on products, view product details and add items to a wish list or shopping cart.
This is a great way for exhibitors to showcase their latest offerings and attract more visitors to their stand.
How it helps:
Exhibitors can collect data on which content or products are of most interest to visitors. They can then tailor their future offerings to meet the needs of their target market better.
What it is:
A year-round online platform where your event audience can interact and network for mutual business gains. You can also create an engaged pool of buyers and do promotions before, during and after the event.
How it helps:
Online communities and marketplace are a hub of year-long engagement activities. They bring together like-minded people through community forums and social discussions.
Businesses can use these platforms to promote their products, build relationships, foster customer loyalty and drive sales.
Conclusion
Trade shows are all about meeting the right people and learning about new products, services and trends in your industry.
But in a crowd, it's important to cut through the noise and find the connections that matter.
That's why online networking tools are so important. Learn more about how these digital tools can enhance connections at your events.
We hope you enjoyed reading this article and found it useful. At ExpoPlatform, we want to help you build better events and communities. Please get in touch and ask for a demo here. Thank you.