Online meeting software: an ultimate guide for 2023/2024
Online meetings software for events has evolved greatly since the start of the pandemic.
Their role now extends beyond webinars and conference calls to full-fledged additions to in-person events.
The industry's growth is now increasingly reliant on digital components to go alongside face-to-face events, with rising spending on online meeting software.  
This guide will cover the rise of online meetings and their impact on business, tips for organizers and advantages of using online meeting software.
Here's an overview:
What are online meetings?
An online meeting or video conference is when two or more people get together through audio or video technology over the internet.
These can be webinars, interviews, conference calls conducted through tools like Webex Meetings, Zoom calls and Google Meetups.
An online meeting is typically for people who are too distant to work together.
It is used to collaborate on projects, work on problems and find solutions.
A full-fledged virtual event is a more complex form of an online meeting. They are the digital equivalent of a physical show – complete with virtual booths, online sessions, breakout rooms etc.
Such an event is entirely managed by organizers and features remote speakers, digital emcees and participants logging in from around the world. 
Attendees can join sessions, participate in surveys, interact with other participants and explore exhibitor booths just like in live exhibitions and trade shows. 
Even with a renewed focus on in-person events, online meetings and virtual events will continue to play a key role in future shows.
That's because they can be effectively used to create year-round connections e.g. hosting webinars or a series of conferences to build hype for a physical show.
It's a low-cost, low-risk model that can reap rich rewards in the form of a steady stream of leads, drive revenue and contribute to community building.
Examples of virtual events that replaced in-person ones
PGA Merchandise show 2021 was a virtual gathering of more than 40,000 golfing industry professionals.
The event was held in digital format for the first time by Reed Exhibitions. It had presentations, sessions and an online marketplace showcasing exhibitors' products and solutions.
Give it a read here (especially if you are a golf fan!)
WeCosmoprof International 2021 was another digital event organized by BolognaFiere and Informa Markets for the beauty and cosmetics industry.
The exhibition brought together people from across Europe, APAC and the US. Despite the different time zones, it connected the western and eastern markets using multilinguistic capabilities offered by the event tech platform. Learn more about it here.
Evolution of online event software
To understand how online event tech platforms have grown, let's consider the era before and after Covid.
Before Covid-19, online meetings were usually in the form of educational webinars or company and client conference calls. Events with huge participation like seminars, exhibitions and trade shows were hosted in-person at convention centre. 
Now we have large-scale complex events being hosted entirely online.
Virtual exhibitions – like WeCosmoprof – are organized across different time zones spanning a few days to even weeks and months. These are attended by thousands of people around the globe and showcase the latest products, exhibitor booths and content. 
Organizers use event management technology to create rich personalized experiences for attendees at virtual events.
These platforms provide unique features like AI matchmaking, hosted buyer programmes, online meeting and messaging, live polls and surveys, automated chatbots, 3D flooring and data analytics. 
All current and future trends suggest online meetings and event tech software are on an upward trajectory – and this is supported by industry data.
According to research, the global online meetings software market is projected to expand at a compound annual growth rate (CAGR) of 11.1% between 2019 and 2024 to reach £4.6 billion ($6.23bn USD) by 2024.
Growth will be mostly driven by the increasing adoption of online meeting software by businesses, enterprises and government agencies to host meetings and conferences.
Video conferencing solutions are also forecast to see remarkable growth.
A report by Fortune Business Insights shows the global market is anticipated to grow at a CAGR of 10.9% during 2021-2028 to reach £9.5bn ($12.99bn) by 2028.
Integration of the internet of things (IoT), AI and cloud technology is expected to boost market growth.
Other factors influencing growth are the rise of remote workforce management and need for video collaboration solutions.
Now, let's dig deeper into how virtual meetings are transforming business growth in different industries.
How online meetings are changing the way we do business
The massive transition to virtual has resulted in a fundamental shift in how businesses operate.
A new era of digital collaboration and engagement has given firms fresh opportunities to interact with customers and prospects.
The advantages are plenty: reduced carbon footprint due to less travel, access to more people without being limited by region or location as well as more efficient communication.
But how has this digital transformation actually impacted industries?
Let's understand through the lens of financial services and pharmaceuticals and life sciences industries.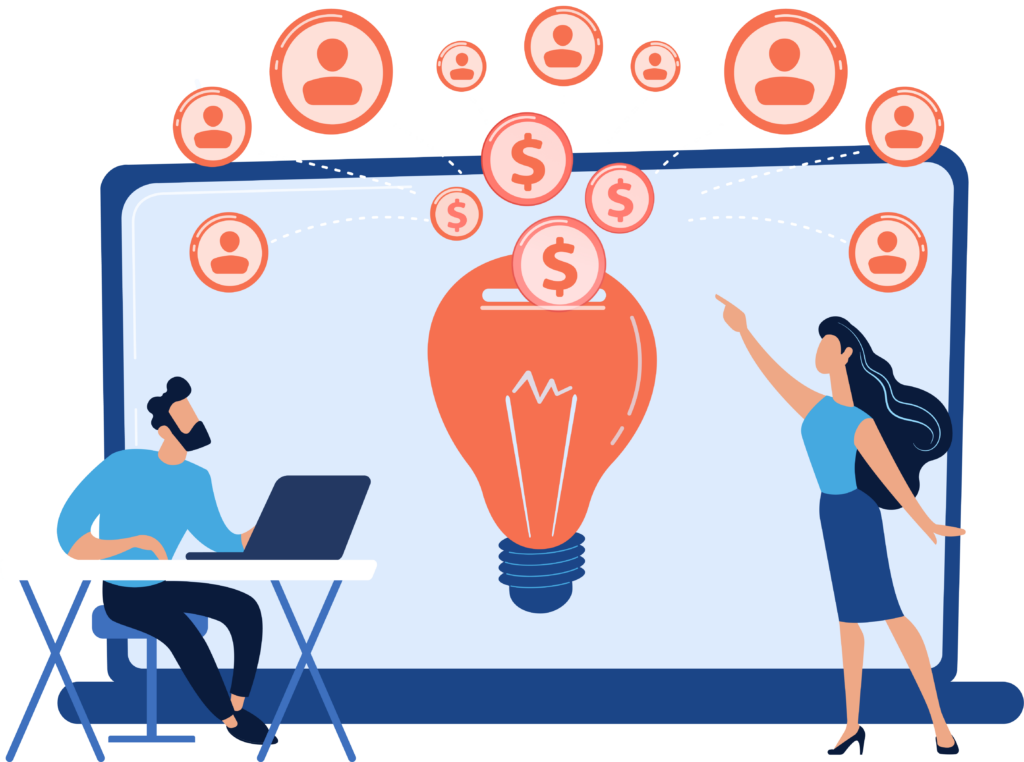 Financial services has witnessed rapid growth of fintech and adoption of digital solutions like online trading, mobile banking solutions and contactless payments.
This has forced financial services providers to create a digital strategy based around virtual events.
Banks and financial firms like Wells Fargo, Oracle and JPMorgan Chase have been organizing webinars, virtual conferences and trade shows to educate people while also showcasing the latest solutions.
Read more on the growth of virtual events in financial services.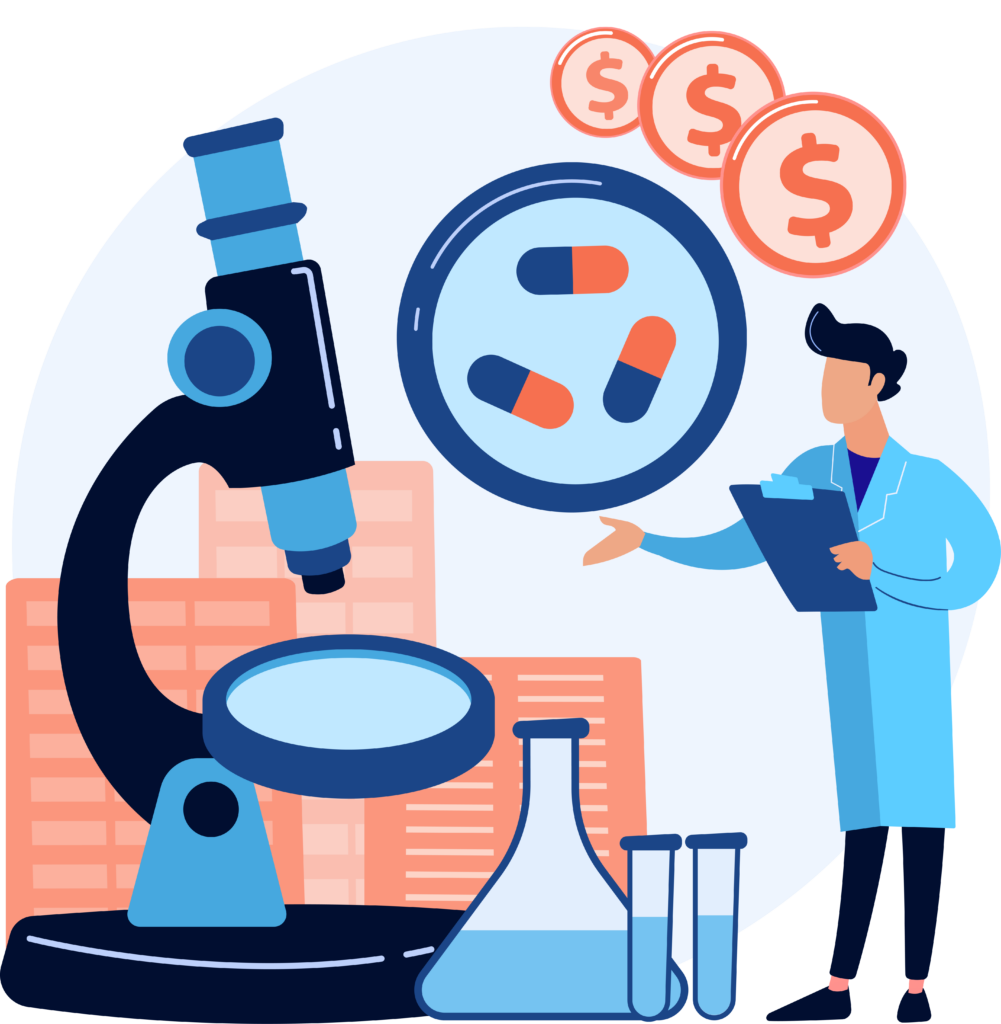 Rise in digital healthcare initiatives and use of online technology by patients and doctors has fuelled growth in the pharmaceuticals and life sciences sector.
This includes increased use of electronic health records, mobile apps, telemedicine and new point-of-care systems.
Pharma businesses now regularly hold webinars, online seminars, virtual conferences and summits to better understand the needs of their target audience.
Learn more about the role of online meetings and events in pharma and life sciences.
Benefits of online meetings over physical ones
Here's a summary of the advantages digital meetings offer on top of face-to-face ones:
Cost and time savings – Hosting online meetings cost significantly less than in-person ones as organizers don't have to deal with finalising venues, audio-visual equipment, food and beverages, travel and accommodation costs etc. 
Location – Any participant can join the meeting irrespective of location. A computer and an internet connection is all that's needed
Accessibility – People with disabilities who can't travel to far-flung locations can also attend online meetings. 
Easy to set up – Online meetups are relatively easier to host as organizers can plan and execute the entire process using online meeting software.
Flexibility – Those who are not able to attend the online meeting can view the on-demand video recording at their convenience later.
Remember: Virtual events are here to stay as an addition to in-person events – but the human touch still trumps all the digital wizardry.
Tips to collaborate effectively for online meetings
Collaboration is essential if you're planning an effective virtual meeting. Here are three things to remember:
Keep it short – The shorter the meeting, the easier it is to focus. Aim for no longer than 40 minutes per session. 
Be clear – Make sure all participants understand exactly what they need to do and who else needs to be involved. 
Have fun! A good laugh keeps stress levels down and encourages participation. Use funny videos, jokes and memes to make the sessions more interesting.
Note: Engagement at online meetings and virtual events has been a sore point for most organizers. Your online meeting strategy should aim to make the sessions as engaging as possible.
Online meeting challenges for organizers
While many organisations have embraced online meetings, common issues persist. Some of these are:
1) Lack of training – Participants might not know how to conduct successful online meetings due to a lack of training. They may struggle to keep their attention focused during presentations or find it difficult to follow discussions because they miss out on nonverbal cues. 
2) Confidentiality concerns – Information shared by a participant can be easily shared across multiple devices. Organizers should ensure confidentiality measures are put in place to protect sensitive data. 
3) Security risks – If you plan to hold an important conference online then you must address security threats such as hackers targeting vulnerable systems. 
4) Time zone differences – Meeting times vary depending on where participants live. It's important to set up meetings that are convenient for every participant or spread out the sessions across several days so maximum people can attend.
5) Glitches, errors and disruptions – Issues due to poor internet quality and technical glitches caused by online software can disrupt meetings. Try to smoothen these problems by doing dry runs of the format. It's also good to get your team trained on how to best use the software.
Tips to host successful online meetings
Here is how to make your next online meeting run smoothly:
1) Plan well – Before the day arrives, think through everything you want to achieve with the meeting then write up detailed notes outlining key points. You can also create a checklist to remind yourself of tasks. 
2) Set a clear agenda – Understand what is to be discussed and how it can be accomplished. Establish a time frame for the meeting – how long will the meeting last? Who will be the presenters and how much time will they take for their part?
3) Use technology wisely – Don't rely solely on video conferencing if you're planning to share documents or other files. Use cloud storage services like Dropbox or Google Drive which allow people to access content offline. Most modern online meeting tools have these functionalities integrated within them.
4) Set expectations – Explain clearly why you've chosen to meet remotely before the day begins. For example, you could discuss upcoming projects or review progress reports. 
5) Keep things simple – Avoid complicated agendas and long introductions. Stick to topics relevant to everyone involved – and remember to take breaks!
6) Give clear instructions – Inform attendees on how to join the call and what to do in case of any technical issues. Let them know whether any recording will be shared with them.  
End-to-end online meeting software for B2B events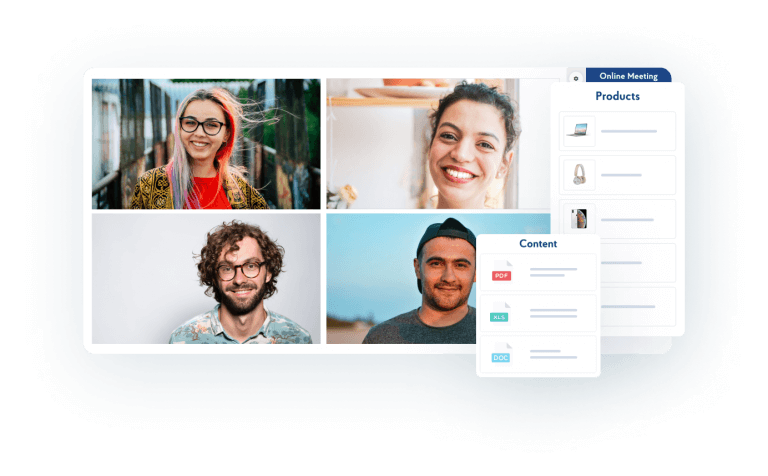 Organising virtual or hybrid events such as corporate trade shows and exhibitions can almost be like operating complex machinery. All the components need to work in sync to ensure the successful execution of the event.
B2B events involve many stakeholders. You need to convince exhibitors and sponsors of its ROI, create a value-driven experience for attendees and ensure your event goals are met – building brand, engaging customers and driving leads.
Using a simple online meeting software like Zoom or Google Meets doesn't do the job. You will need an integrated event management platform that can cover key aspects described below:
Setting up the event
Create a highly optimised event website to attract users
Set up automated email marketing campaigns with pre-built templates
Use interactive 3D floor plans to help your audience navigate through the event easily
Online and onsite registration with digital check-ins and automated reminders
Live streaming, social streaming and interactive audience experiences
Customizing for engagement
Options to set up one-to-one meetings and use engagement tools like live polls and surveys
Use native mobile applications to send push notifications and manage everything on the fly
AI-powered matchmaking to help attendees connect with relevant people, content, products and sessions
Customized profiles and microsites to facilitate connections with exhibitors, products, delegates and speakers
Tools to analyse ROI
Lead capture solutions to drive quality leads
Access to data-driven analytics on touch-points like registration and engagement to understand attendee behavioural patterns
Data can be used to improve events and respond to real-time issues
Questions to ask before selecting a B2B online meeting software
Online event platforms have evolved at a rapid pace since the onset of the pandemic.
Organizers can now opt for different feature-rich tools that can support complicated B2B events like virtual exhibitions and trade shows.
With endless options available, how to select the best business online meeting software?
Here are some questions you should ask before shortlisting one:
1. Does the online event platform have all the desired features?
Different events require different functionalities. If you plan to host a conference or exhibition that spans multiple days or even weeks, you will need platforms that support the various requirements of such events.
You might be looking for attendee networking features like AI matchmaking, hosted buyer program, personal meeting schedulers, virtual floor plans, data-driven dashboards and social media integration.
Schedule demos with the provider and get more details once you have selected the platform best suited for your event.
2. Is the platform scalable?
Virtual business events like conferences and trade shows can be hosted for a period of a few days to several weeks.
This provides the audience ample opportunities to network and connect with their peers.
Organizing large-scale events with huge number of participants requires the event platform to be scalable and offer personalized experiences.
It's important to invest your time into a platform that allows you to grow your event whenever required.
3. Is there a 365 community option?
The digital transformation spurred by the pandemic has led to an increased focus on community building.
Buyers and sellers expect conversations and business dealings to happen beyond the timeframe of an annual exhibition or trade show.
In such a scenario, event platforms with highly engaged communities provide year-round opportunities for people to connect.
Make sure the platform you select provides 365 community solutions for attendees, exhibitors and sponsors to stay connected.
4. What integration is offered with the platform?
The event platform should be able to integrate with various marketing and sales tools through open API, web hooks or other out-of-the-box solutions.
This ensures the data is not siloed and organizers have access to insights to help them build complete attendee profiles, improve engagement and drive leads.
5. Does the vendor provide training and support?
Most online meeting platforms tend to have a learning curve. To help your team use the platform in the most optimal manner, find out the level of training and support provided by the event tech provider.
Look for tutorials, guides, forums and active customer support.
The quality and speed of support will be crucial when it comes to dealing with any disruptions or glitches when the event goes live.
6. What is the event data policy of the platform?
The digital medium has created an explosion of event data.
Organizers can analyze in granular detail the attendees' digital tracks before, during and after the event.
This has also led to concerns about the ethical usage of the user data.
Apart from complying with privacy regulations like GDPR, it's essential to clarify who will be in control of the user information – the event tech provider or the organizer?
Here's an idea of the data policies of leading events and exhibitions software platforms: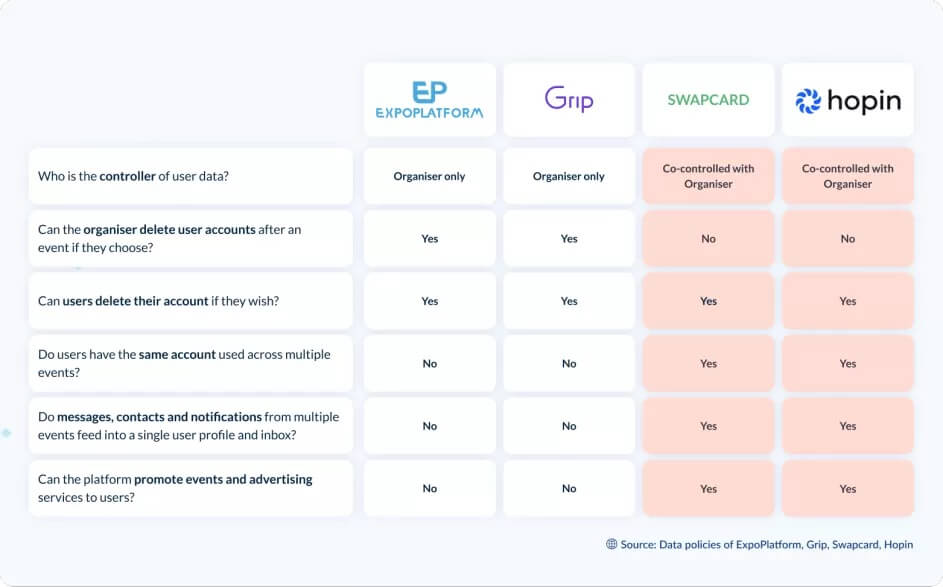 How digital technologies will shape future events
Digital has become an integral part of the new event industry landscape – organizers are reinventing their strategies to include a virtual component for their future events.
The Covid-19 crisis has forced them to rethink everything – from marketing campaigns to ticket sales.
As we move forward, new technologies will play a key role in shaping the meetings of the future. We explain some of these below:
1) Virtual reality
Virtual reality (VR) creates immersive experiences by simulating real environments using computers.
For instance, VR headsets enable users to walk around 3D models of buildings while seeing 360-degree views of those spaces.
They provide a realistic way to view places like museums, hotels, restaurants and more – which would otherwise require visitors to travel long distances.
For virtual and hybrid events, VR can be used to:
Provide guided 3D tours and product demos to attendees

Offer real-time experience through live 360 streaming

Create interactive 3D simulations of events

Engage the audience through VR games
2) Face emotion detection
Face emotion detection is a technique used in facial recognition systems that analyses faces based on expressions.
These expressions can include happiness, sadness, anger, surprise, disgust, fear, contempt, neutral and others.
Face emotion detection uses machine learning algorithms to identify emotions expressed through facial features.
It also helps detect changes in mood over time.
This emotion recognition technology can help organisers understand how attendees feel about different aspects of the event.
For example, they can analyse the emotions to divide the audience experience into 'happy' and 'unhappy' areas and take corrective action accordingly.
3) Augmented reality
Augmented reality (AR) refers to live images overlaid onto physical space.
AR enables information to appear within your field of vision.
You might have seen examples of AR at conferences: speakers wear glasses equipped with cameras that display additional content related to presentations.
AR also lets attendees interact directly with objects or locations in real life.
They can point their smartphones towards conference rooms, hotel lobbies, or even landmarks to learn more about what they're looking at. 
At virtual and hybrid events, AR can be used to:
Gamify attendee experience

Create holograms for shareable media moments

Showcase products that can't be displayed at in-person events
4) Chatbots
Chatbots are artificial intelligence-powered chat applications designed to simulate human conversation.
These programmes respond to questions posed by humans via text messages, phone calls, emails, social media posts or voice commands.
In recent years, chatbot developers have created conversational interfaces that mimic natural language conversations between two people.
These tools may eventually replace customer service agents as AI becomes increasingly sophisticated.
Learn which two AI technologies apart from chatbots are playing a key role in virtual event engagement.
Conclusion
Engagement remains continuous in the virtual world.
The lines between a traditional annual event and year-round interactions and networking have started to blur.
Organisers can leverage modern online meeting software to tap into the opportunity of 'always on' digital communities and offer more value-driven experiences for attendees, exhibitors and sponsors.
Explore our 365 community solutions to learn how you can support and grow your events.