Boosting exhibitor ROI needs lead intelligence – here's why
Exhibitor ROI is such an important topic right now and for many reasons, but the expectation to see measurable results on investment is higher than ever.
The digital transformation of buyer and seller behaviour has massively accelerated over the last two years – and marketing is is no different to that.
One of the major trends over the last decade has been the use of platforms such as Google, Facebook, LinkedIn and PPC tools that have measurable and transparent metrics.
Lockdown meant marketing was forced to go completely through digital channels, but the return of in-person events means customer expectations have risen with that.
Luke Bilton, Chief Growth Officer at ExpoPlatform, said: "It was a problem anyway, but now more so than ever. Exhibitors expect to see really measurable, tangible results for their investment.
"I believe it is probably the biggest issue that the exhibition industry needs to deal with right now – how do we justify to our clients that we're worth the money?"
ExpoPlatform was joined by Heather Holst-Knudsen, CEO of H2K Partners, to do a deep dive into how boosting exhibitor ROI can be a gamechanger for your events.
Why is exhibitor ROI an important metric?
Put simply, ROI is the most important metric as it's the one valued most: almost half of respondents to an ExpoPlatform survey ranked it as their highest priority.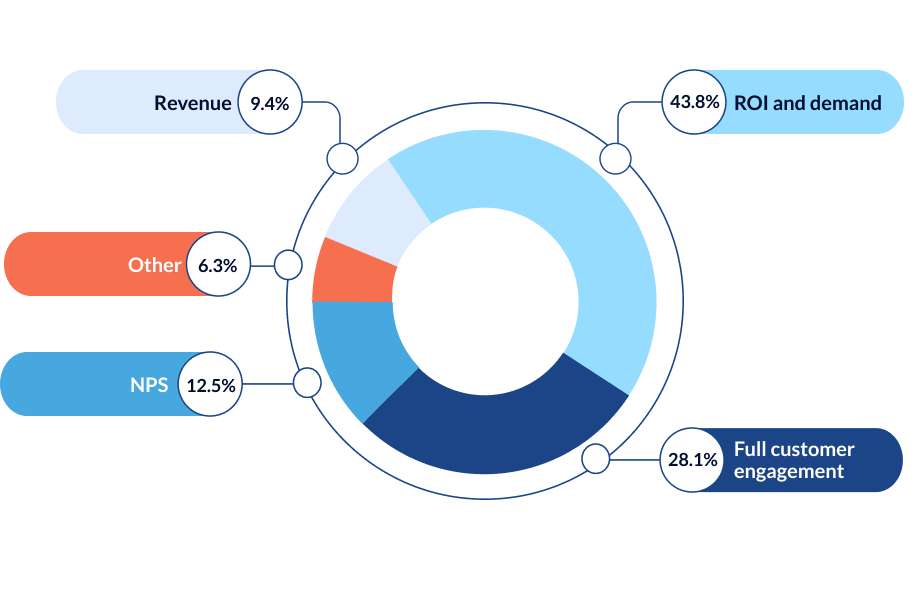 This is backed up by comments from Brian Field, COO of Emerald, in an interview with ExpoPlatform about event tech and marketing.
He said: "The way things used to be done was increasingly dissatisfying to CMOs because of the ROI factor. Being able to use data and tools to produce clear mechanisms and metrics around ROI – that are going to be satisfying to a CMO who has many other channels to achieve success in their business – is required, we have to do it."
Smart Events – digitally enhanced in-person shows – create several opportunities for creating more value. Let's go through them in detail:
Curating better connections (before and after)
Personalised recommendations and meeting scheduling

Hosted Buying concierge programme
Extending the value (before and after)
Increase the duration of event with digital weeks for remote participants

365 Marketplace

On-demand content streaming
Measuring the impact (before and after)
Full-funnel omnichannel ROI analysis of all customer interactions
Luke said: "Lead Intelligence is an omnichannel view which can bring together all of these different touch points can generate at least three times more leads to exhibitors than if they were just relying on people who walked up to the stand alone.
"When you bring together all of the online views of your exhibitor list – people who have looked at products looked at content, messages, advertising, webinars, white papers, as well as visitors being able to scan as well – this event has far more touch points than just people being scanned at a stand.
"If we don't find some way to value that, then there's a real risk that exhibitors are just going to measure everything based on just a small part of what the overall picture is."
'It's not just about a lead, it's about a lead that is a prospect'
Heather argues that tradeshow lead retrieval is not what exhibitors are really after, they want leads that end with results – prospects that are qualified and generating qualified demand.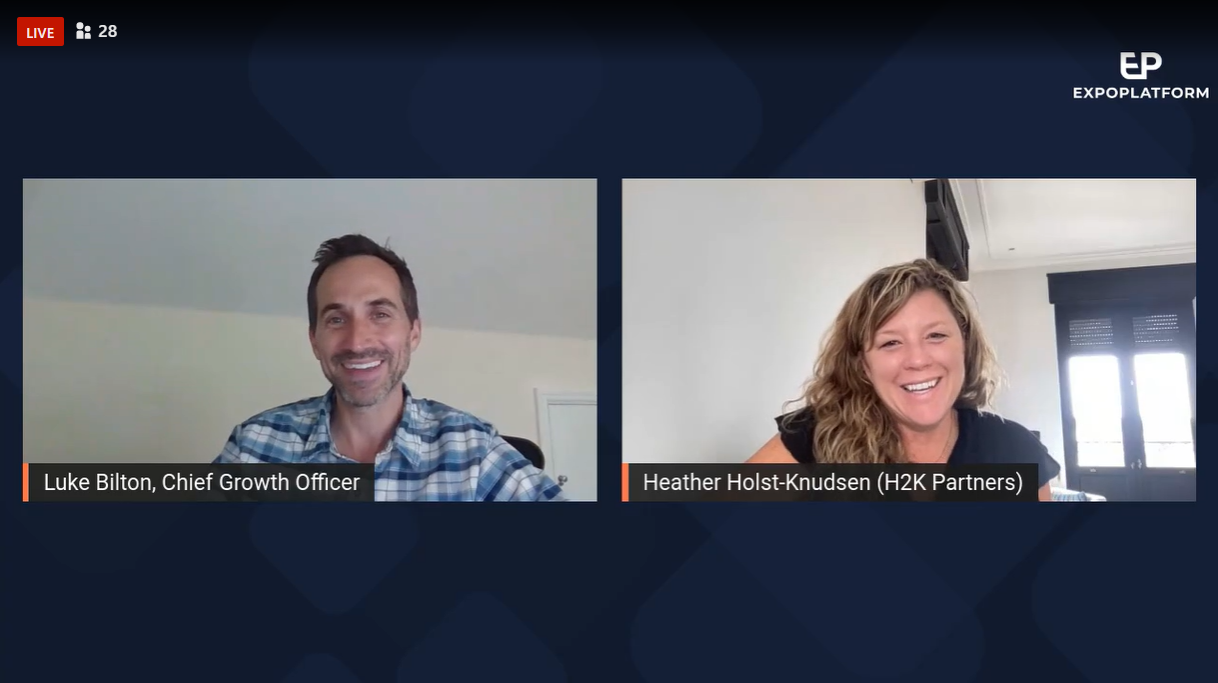 She said: "It looks like a duck, it's walking like a duck and it sounds like a duck, but then it's got to actually be a duck.
"You want it to go into pipeline, you want to accelerate pipeline and you want to make sales and marketing more efficient, thereby taking up your entire pipeline process.
"You can't do that with leads, leads are just context in order to get to a prospect that you know has interests that will then enter the pipeline which you then can accelerate because you're smarter and know more about that prospect. You have to have data."
What the data can provide you with
Bringing all of these data points togethers gives you an omnichannel view of all customer interactions.
Lead Intelligence shows all online and onsite exhibitor engagements in a single dashboard – which has been shown to quadruple the number of leads.
This is one area that Heather sees as increasingly important for an event organiser to offer.
She said: "That to me, has an exponential dollar figure premium that I can absolutely see anyone who actually wants to generate the best ROI from the event,  because it's also their responsibility and now you're giving them the tools to do so."
But Heather also highlights that demographic data can be collected alongside this behavioural information to build up a bigger picture.
Combining these two allows you to pinpoint prospects who are the ideal targets of your exhibitors.
For instance, someone may scan at your booth who is in the same company as five others who have visited your profile or engaged with your content.
It makes it much more likely that this attendee is someone you want to spend time with, as there is more evidence of interest.
Heather added: "It's not just about a lead, it's about a lead that is a prospect that is qualified and has interest and intent that can then get into the pipeline.
"You want to make sure that your sales team and marketing team are doing everything possible to capture that person before your competitor."
Another area the data helps is that it allows you as an organiser to provide a curated meeting package that offers shorter meetings with the right people – by utilising data.
Heather said: "One of the big complaints I hear both on the exhibitor side and the attendee side, especially with large events, is you feel like you're lost in the sea of people.
"There's this networking event with 1,000 people – wonderful, it's fun – but did I really get any value out of it in terms of meeting great people?"
Technology is the enabler for this to happen – you have to have the right architecture to enable all of these different types of curated experiences. But you also need the right team in place to do that.
Using online to benefit onsite exhibitor ROI
One of the best areas for increasing exhibitor ROI is through building a 365 Community.
But that year-round model needs to suit your audience – some value content while others want a marketplace.
This gives more touchpoints with customers which can then be used to learn and improve the in-person experience at your events.
Heather said: "You want to know that buyer discovery information before they get there because you want to give a terrific experience to the audience.
"You want to be able to actually follow up after the event with more awesome information and do other micro-events perhaps, but you need to have a way to understand what their needs are first.
"You have to do it by behaviour, not just sending out surveys and having to fill out forms. It means creating a very robust digital strategy that you can invite your audience and your suppliers to engage in and monetise."
Final thoughts on boosting exhibitor ROI and event value
Heather has pinpointed the proper management of data and system integration as the key starting point for improving event value.
This allows for you as an organiser to start delivering personalised offerings which target the right people.
But it also means you have learned a lot about these buyers and can bring those quality profiles to your sellers.
Heather said: "I would talk to maybe 10 or 20 of your top customers and I would say 'we have some really important data that we're capturing on a real time basis about your prospects'. If I was to show you what we could possibly deliver to you – before the show, at the show and after the show – would this be something that you'd find valuable?'"
We hope you enjoyed reading this article and found it useful. At ExpoPlatform, we want to help you build better events and communities. Please get in touch and ask for a demo here. Thank you.